Washing your recreational vehicle can seem like a daunting task, but it doesn't have to be. Whether you're a DIY-er — ready to roll up your sleeves and tackle an RV bath — or you know this is a task you'd rather delegate to a pro, don't panic. Here at Carefree Covered RV Storage, we've got all the information you need to make sure the job gets done right and your RV stays in top condition.
We spoke with two Arizona-based pros — Brian Andrus of Andrus Auto Detail and Jeff Elliot of Action RV Detail — who both specialize in RV detailing and washing. We asked them for their best RV washing advice, and they had plenty of wisdom to share with our Carefree customers. With their guidance, you'll have your recreational vehicle sparkling clean in no time, so you can get back to the fun stuff — like planning your next adventure.
Should I pressure wash my RV?
RV exteriors are usually fiberglass or paint-coated metal. If you've got a vintage RV or trailer, it might have unpainted metal like stainless steel or aluminum. Most RV exteriors are pretty tough, but pressure washing can easily damage caulking, sealants, bolts, rivets, gaskets, awnings, and other accessories and finishes on your RV. Washing your RV by hand takes time, but it is much easier on your RV.
PRO TIP
Remember it's always best to work with paint that is cool to the touch — and to work in the shade if possible. If your paint and glass are hot it will make it very difficult to get good results when washing your RV. —BA



What supplies do I need to wash my RV?
Brain Andrus says that having the right equipment is the first step to great results. He recommends the following items if you're planning to wash your RV at home:
Filtered or deionized water

(also known as DI water)
Automotive soap

(Andrus is a big fan of

Meguiars #62 Carwash Shampoo & Conditioner

, a high-foaming auto shampoo rich in lubricating suds)
Synthetic lambswool wash mitt

(

this one by Shurhold is a good example

)
Extension pole

(There are different types, but Andrus recommends this

Shurhold extension pole

)
2 5-gallon buckets

(This bucket

is a great option)
2 Grit Guard inserts

(

Grit Guards

fit in the bottom of your buckets and filter out sediment as the wash mitt gets dirty during the wash process)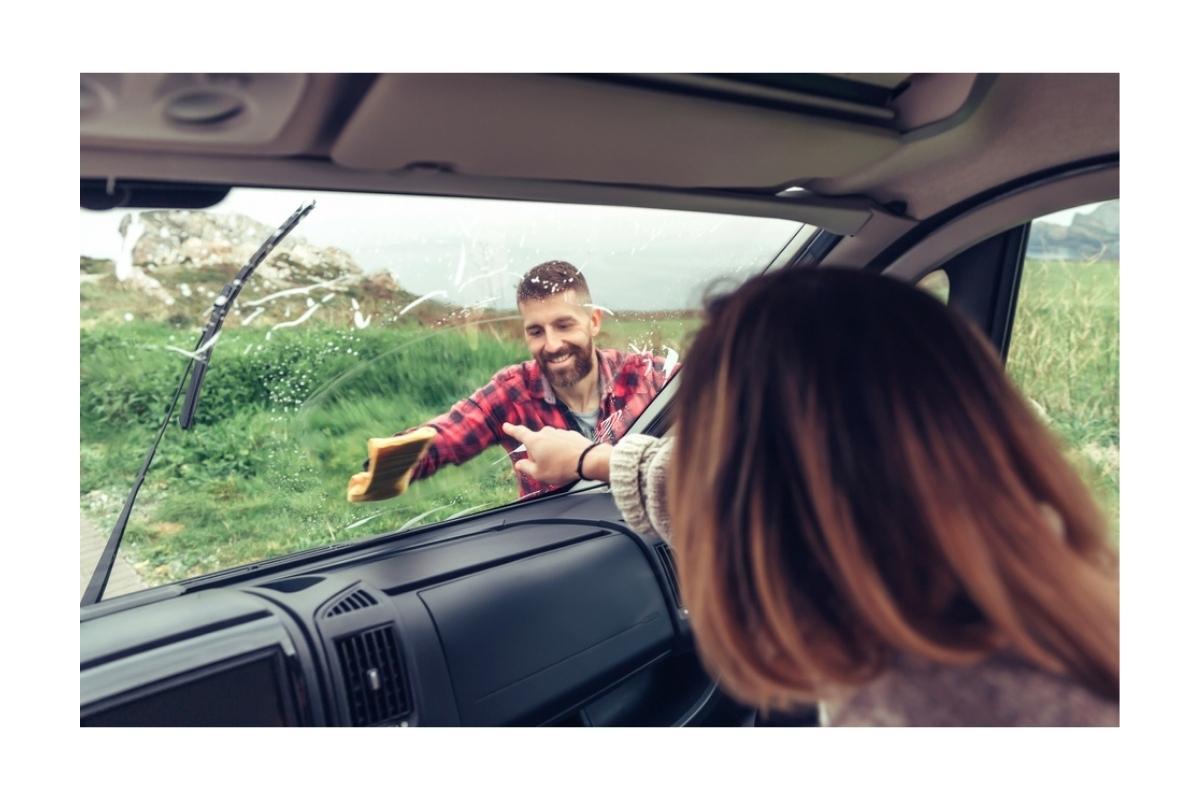 Why is filtered or DI water so important?
Andrus says the most important thing to understand when washing an RV is that the water must be clean with little to no mineral content. DI water is the way to get the very best results.
"Washing your RV with tap water straight from the garden hose without filtration is a big no-no and will leave hard water spots on the surface of your RV," Andrus warns.
Why? Because tap water is loaded with minerals that will be left behind on the surface of your RV when the water evaporates. "Hard water spots are not good for your RV and can be very difficult to remove — especially if your RV is left baking in the sun for an extended period of time," Andrus explains.
"The best water you can use to wash your RV is called deionized water, also known as DI water. DI water has been filtered in order to remove all the mineral content and is the absolute best of the best water to use for washing your RV," Andrus says. "I recommend using DI water for the best possible results. The really cool thing about DI water? You don't have to dry the RV once you're done with the wash — and you get a spotless finish."
Where do I get DI water?
"You may be asking yourself how do I get my hands on DI water? Great question," Andrus says. "You can go online and purchase an attachment for your garden hose to convert to DI water."
Can I just filter my own tap water to use to wash my RV?
"Yes, but when filtering tap water, you must check the output frequently to ensure the mineral content is below 20 parts per million (PPM) on a TDS meter. A TDS meter will measure total dissolved solids and will give you exact readings on how much mineral content is in your water. I recommend checking the PPM every 25 gallons to see how clean the water is and change your filter once you're over 20 PPM," Andrus explains.
PRO TIP
Spend the extra cash and use a concentrated automotive soap formulated for vehicles. Do not use Dawn dish soap — it's a degreaser and will strip any and all protection (like wax) from your rig. —BA
What's the best method for washing my RV?
Andrus urges RV owners to go slow and tackle one small section at a time. He recommends starting at the top of the RV, moving right to left, or left to right, and working your way down. It's best to work on very small sections at a time and to rinse the soap off quickly before it has a chance to dry.
RV Washing Steps
Fill one of the two buckets with clean water and set it aside.
Pour automotive soap into the bottom of the other bucket and add several gallons of water to create a soapy solution.
Begin rinsing the RV from top to bottom to knock off as much dust and grime as you can before adding soap to the RV surface.
Once the surface is rinsed thoroughly, take the lambswool wash mitt (attached to your extension pole) and dip it in your soap bucket.
Each time you need to reload your mitt with soap, rinse the mitt first in the bucket of clean water. All the dirt you've taken off the RV will float off in the rinse bucket. This technique keeps your wash water clean so no dirt is transferred back to your RV.
Need a little motivation? You can also go on YouTube and search for RV detailing videos to gather helpful tips from other RV owners who wash their own RVs. Check out this YouTube video on how to wash your RV in under an hour.
Washing my RV seems like a big job. Is there someone I can hire to do it?
Absolutely. Many RV owners would rather not tackle the job themselves. "There's no shame in hiring a specialized RV detailer to do the job," Andrus says. "Washing an RV is very different from washing a car. It can be quite challenging if you've never attempted it before. For those of you who don't want to do it yourself, you can always try to find a professional detail service to do it for you."
Andrus's advice: "If you should choose to hire out the work, I highly recommend looking for an owner-operated company that specializes in RV detailing. Most quality washes start at $200 and go up from there depending on the size of the RV."
We also spoke with Jeff Elliot, owner of Action RV Detail for 17 years and primary detailer for SportTruckRV in Chandler, AZ, as well as LA Mesa RV in Phoenix. Elliot has also served as the primary detailer for numerous RV dealers in San Diego.
Elliot's passion for RVs is evident. "I've been in the RV business for over 20 years. I don't do cars or boats," Elliot says. "Only motorhomes."
Like Andrus, Elliot acknowledges that washing an RV or motorhome can be an overwhelming task for some. For those leery about tackling the job themselves, Jeff Elliot also recommends hiring a professional.
"Ultimately, the best way to get your coach washed would be to use a mobile RV detailer," Elliot says. "One that uses a gas pressure washer, deionized water, and the proper RV products."

PRO TIP
Always check with a mobile detailing company to see what products they're using. The wrong product can damage your rig and undo any investment you've made into the maintenance of your coach — like a proper wax, which isn't cheap at $10 to $15 a foot. Also? Never let a mobile detail company use harsh brushes on your RV. Lambswool is always best and won't damage your coach. —JE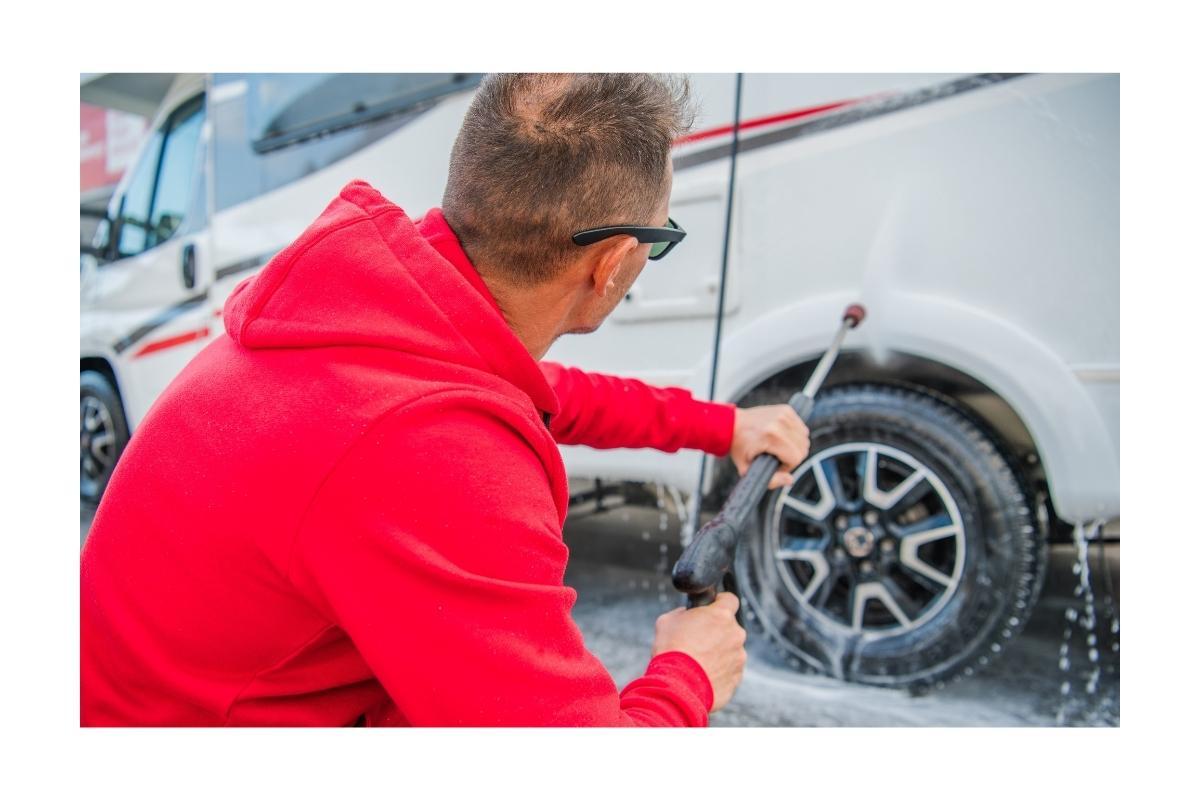 Do I need to wax my RV?
Elliot recommends keeping your RV waxed properly year-round for a very good reason. "Doing so will yield an RV that doesn't need to be washed as often," Elliot explains. "Obviously, traveling through snow or rain can cause your coach to get dirtier, even if it's waxed." Plan on having your RV washed more often if you're on the go more often than not.
Can I take my RV to one of the truck washes off the interstate?
Elliot doesn't recommend going that route. "Never use the truck or RV washes at highway rest stops," he says. "These facilities don't use the proper products for RVs and can damage your clear coat. You spent a lot of money on your coach, so be sure you protect your investment."
What if I need a wash while I'm on the road?
Elliot recommends traveling with your own cache of vetted supplies. "If you are traveling and need a wash, carry your own RV or automotive soap and have a mobile RV detailing service use your product," he says. "It's your investment, and you need to help protect it. Believe me, a lot of these companies won't prioritize your coach — they just want your money. These days the cost of an RV wash will cost $3 to $5 per foot, so it's good to do your homework and read reviews of different detailing companies before you hire anyone.
Got RV detailing questions in Arizona?
Elliot and Andrus encourage you to reach out to them with any questions — both pros want to make sure your RV washing goes as smoothly as possible, and so do we!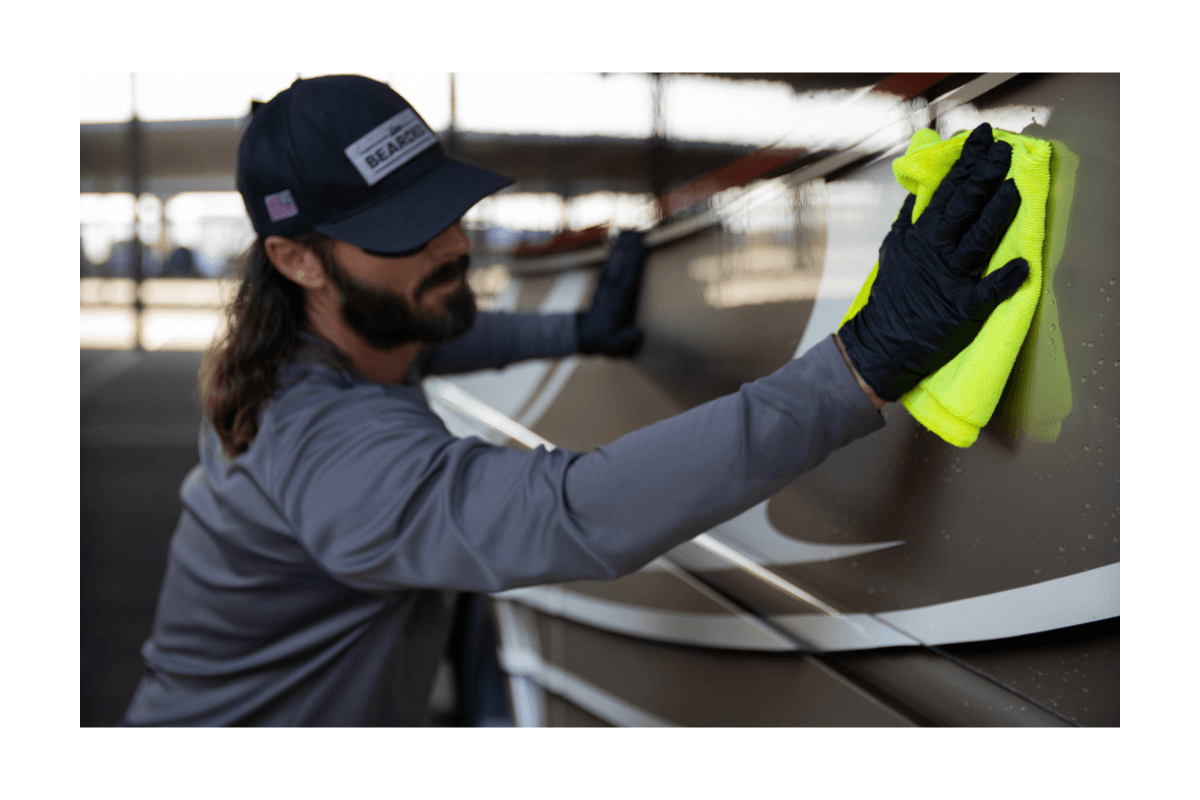 [1]
Brian Andrus: Andrus Auto Detail
Chandler, AZ
602-228-3555
Instagram: @andrusautodetail
Jeff Elliot: Action RV Detail
(858) 761-7798
Facebook: facebook.com/ActionRVDetail
Come Home to Carefree Covered RV Storage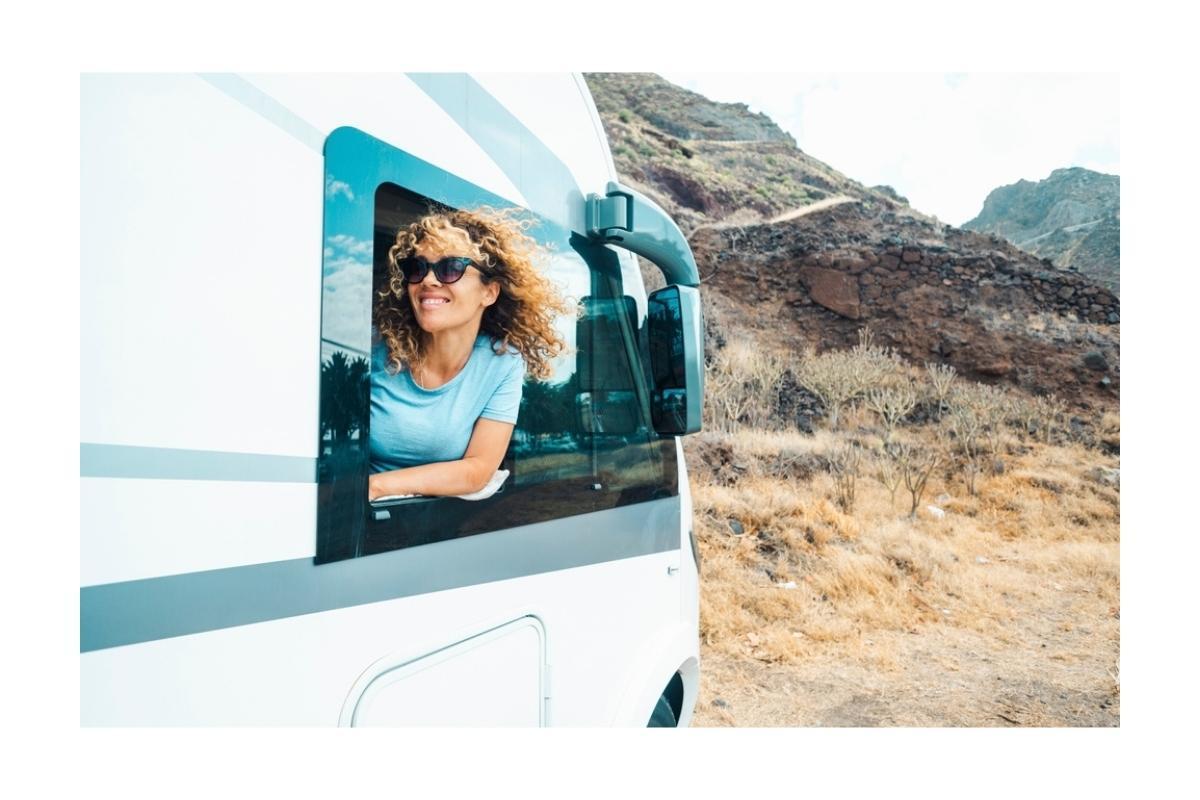 Cruising cross country in a recreational vehicle does lead to wear and tear. So in between all the fun in the sun, always remember to wash your RV in order to extend its lifetime. For offsite RV storage, come home to Carefree Covered RV Storage to keep your vehicle safe, and to take advantage of our free self RV wash!
Check out our facility video and tour, then stop by, and we'll get your rig set up. When you store your recreational vehicles with us, you'll enjoy secure, quality covered RV storage with our extensive camera video surveillance, along with 365-day automated access with our phone gate app, charging outlets, free wifi, and free self RV wash and sewer dump not to mention a dog park for our furry friends. We've even got complimentary bags of ice! Also need a storage unit for other small recreational toys, equipment, and supplies? We've got them!
At Carefree Covered RV Storage, you're guaranteed peace of mind, protection, and personalized, old-fashioned service. We make it easy for you to rent and make payments online, maintain your vehicle, and get on the road — so that you can keep living the carefree life.
Add a caption below the image when publishing the blog: "Brian Andrus of Andrus Auto Detail" - If you need the caption built into the image instead, let us know, and we can add it directly to the graphic.