Camping is an amazing experience, but it can also be a lot of work. Whether you're living in your RV full-time or more of a weekend trip person, you'll desire to bring all the comforts of home with you on your adventure.
In order to make your particular space work for you, you'll have to find the organizational tools that suit it best. In this article, instead of just showing you how to arrange your shelves, we've compiled some universal camping organizational techniques that are worth considering for tiny campers and large RVs alike.
Tip #1: Multi-Use, Stackable, or Collapsible Items Are Your Friend
Always look for chances to get multi-use or stackable items for your RV or camper. Items that have multiple uses or sizes but fit in condensed spaces are the best for limited storage capacity areas. This includes larger items that collapse into small and convenient packages for storage.
Especially in the kitchen area, these types of items will free up space. This will either allow you to bring more things with you or fit your necessities into a small and limited space.
A few examples you might consider are a collapsible wash basin and dishpan, combo utensil flatware, or a retractable laundry line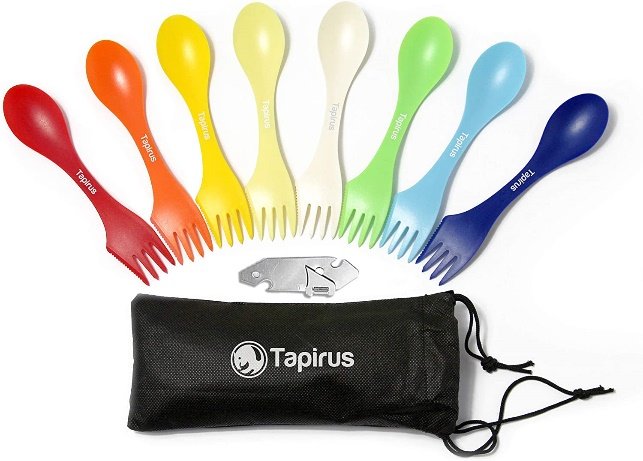 Tip #2: Use a space Vertically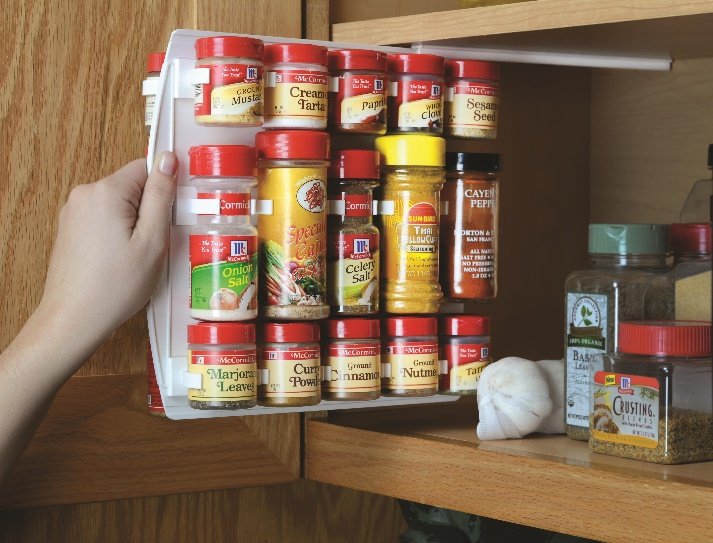 One of the best RV storage hacks is to use your space vertically. This doesn't mean just stacking things sky high but instead using vertical spaces like walls, the backs of doors, and the inside of cabinets to create additional storage.
The vertical area inside kitchen cabinets and on closet doors can be repurposed. Bonus, these types of storage will also help you keep your walkways clear, and your items secure during travel times.
Consider installing a sliding spice rack in one of your RV cabinets, making sure you have all the seasonings you need for your campfire cookout!
Finding organizers that hang from the ceiling or off the wall will also use vertical space more efficiently.
Locating a hanging wastebasket under the kitchen sink or an organizer of the back of a door is a common RV space saving tip. This creates storage where there was previously just unused space. With many different types of hanging storage to be found you can store a variety of items from shoes to toiletries.
Tip #3: Invest in cabinet and drawer organizers
A simple kitchen cabinet organizer can keep unruly pans and lids at bay, both increasing your usable storage space and making it way more comfortable to find the pieces you're looking for.
Finding organizers that fit your drawers and cabinets will help you maximize most of those little areas in your RV.
With loose items tucked securely into organizers this will also help keep your items in place while you are driving and save you time on prepping your RV for travel! This applies not only to your RV kitchen but to all the other drawers and cabinets.
Tip #4: Think About What You Pack & Remember Less is More
This is also a general tip to have in mind when packing. Ask yourself, "Do I need that much stuff?" RV life is created to prioritize experiences over material items. By finding methods to minimize the amount of stuff you bring on your travel trailer you don't really have to worry as much about RV storage space.
By treating your next RV trip as an opportunity to minimize your load, maximize uses of remaining items, and to better utilize every nook and cranny, you can spend more time enjoying and less time stressing about RV organization!
Author's Bio:
Gavin lives in beautiful South Wales, the UK with his wife, Didem. He is the chief writer and co-founder of the hiking blog, Roaming Spices. When he's not out on the trail, the chances are that he's researching and planning his next outdoor adventure!
Linkedin Profile: https://www.linkedin.com/in/gavin-evans-bab01247
Website: https://roamingspices.com/
Headshot: https://bit.ly/3bIvre6