As RV aficionados, we know there's no shortage of trends in this rapidly developing industry. From high-tech advancements to cultural shifts in the workplace, RVs complement and reflect the changes we see around us in our daily lives. Whether you're working from home, looking to go more RV eco-friendly, or have an RV delivered to your doorstep, 2023 brought interesting developments to the RV world that are perfect for you.
Learn More About Five RV Trends in 2023:
1. Home Sweeter Home
As housing costs rise across the U.S., more and more people are considering making a home on wheels their part-time or permanent residence. With median monthly apartment rent prices near $2k in urban centers (gulp!), the idea of hitting the road and staying on the road in an RV with all the comforts (and aesthetics) of home is mighty appealing.
2023 has seen a surge in sales for recreational vehicles with cozy, family-friendly features and impressively spacious floor plans. At the RV SuperShow, the Forest River Salem Villa 42VIEW was a big hit thanks to its expansive two-story loft design and stunning open kitchen and living space. The Crossroads Hampton HP374BAR is a true tiny home of a vehicle perfect for full-time or seasonally sensational living, thanks to its 8' ceilings, beautiful hardwood cabinet panels, powered theater seating, and much more.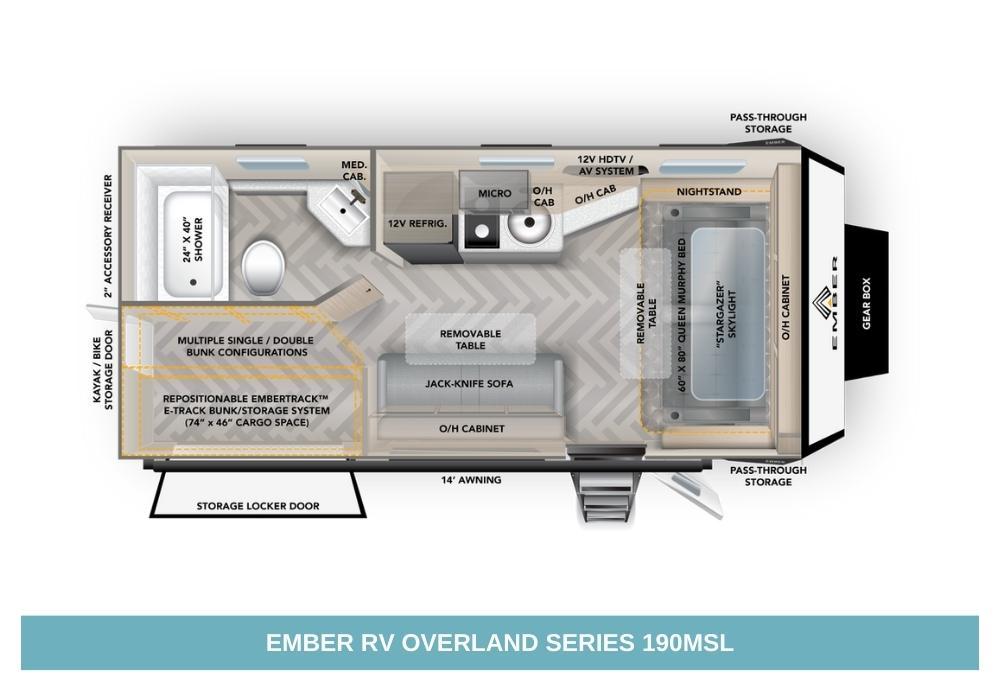 Ember RV Overland Series MSL trailers are designed for high-end customization and homey versatility. Double-over-double bunk bases can be easily reconfigured into mobile office space, shelving, or storage. A jackknife-style sofa and removable table provide serious sleeping space, and there's a queen Murphy bed too! Built-in wardrobes and entertainment areas up the cozy factor for long stints on the road. And the Ember trailers also offer a very nifty Stargazer Skylight, so you never lose touch with the great outdoors.
2. Off Road Vibes
Another 2023 RV trend is customizable, smaller footprint vehicles and camper conversion vans like the Ford Transit Trail. Designed to appeal to adventurers with van-life vibes and off-grid aspirations, the Transit Trail comes in medium- and high-roof configurations (that's full standing room for a 6 '5'' traveler) and 14' extended length, boasting more than 480 cubic feet. Happy DIYers can create any combination of shelving, storage, bed area, and more with smart, strategically positioned drillable areas. Attractive privacy glass, illuminated sun visors, swivel seats up front, an overhead shelf, and an optional roof vent fan make life inside the Transit Trail the perfect den.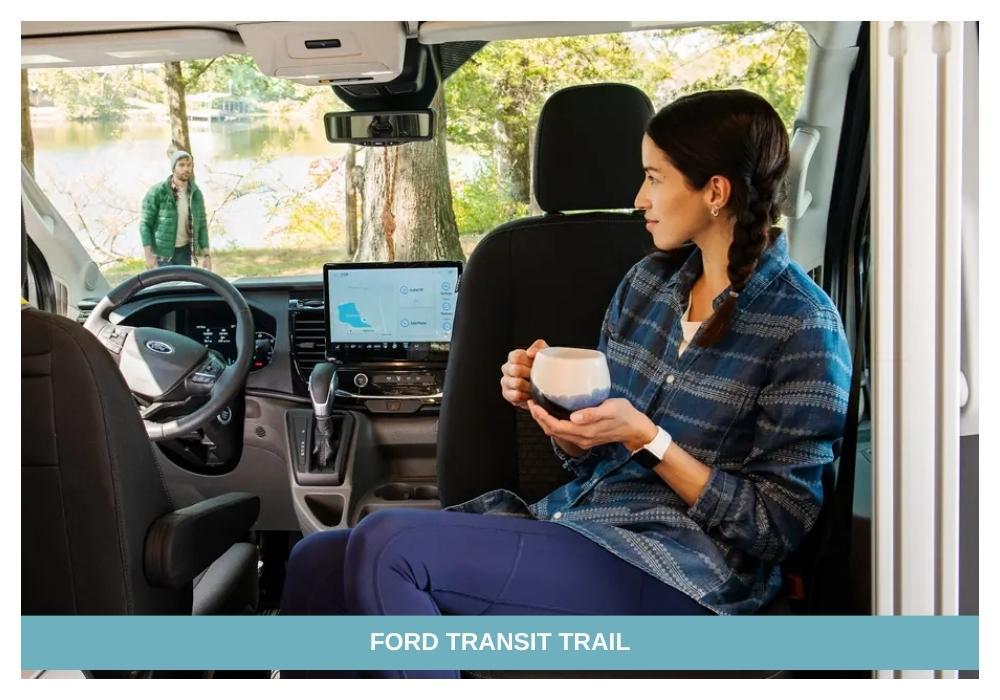 The Transit Trail's 3.5l EcoBoost V6 engine (310 horsepower, 400-lb. torque) and 10-speed automatic transmission make for a perfect ride on back roads or highways. The all-wheel-drive system and all-terrain tires can take on slippery surfaces as well as muddy, rutted roads. Other features that make the Ford Transit Trail seriously impressive? Blind Spot Assist, reverse and side sensing systems, adaptive cruise control, and terrific sound, display, and power for all your adventuring gadgets.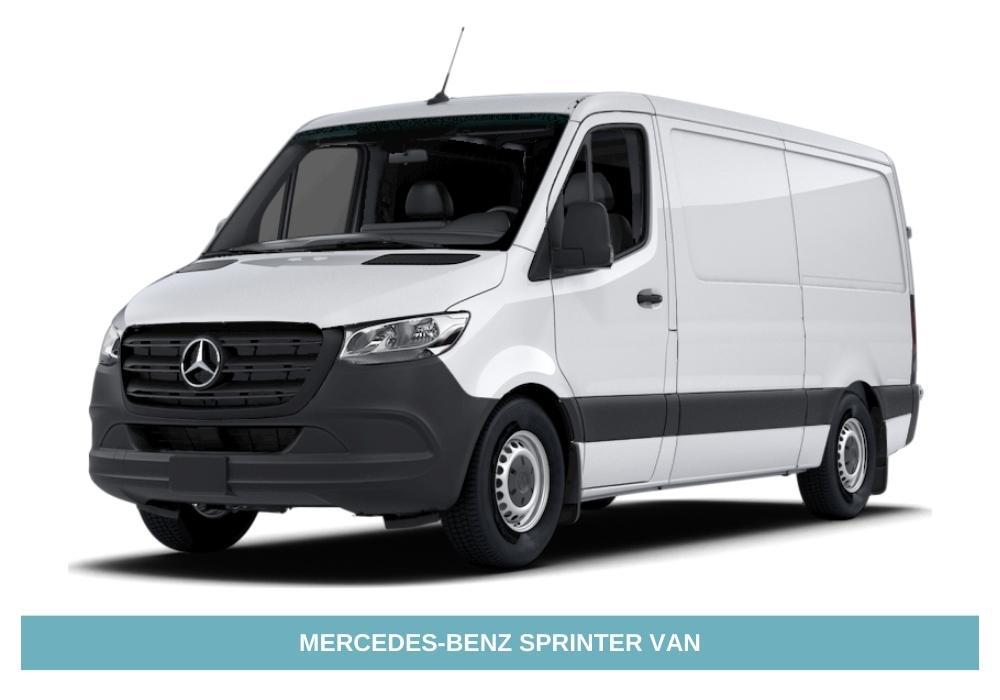 A popular alternative to the Transit Trail that's garnering lots of attention? The super-snazzy Mercedes-Benz Sprinter, with a new AWD system and 9-speed transmission, turbocharged diesel engine, and fab off-road abilities.
3. Working From the Road
Have you taken a hush trip lately? Hush trip is 2023's biggest travel catchphrase, according to WorkLife.com: "It refers to when remote workers don't inform their bosses that they are going to a new destination—even if it's a tropical island or known tourist spot." The theory behind the term is that there's no need to let the boss know you'll be out of town if you're putting in the same hours. Whatever your opinion on hush trips and "employee nomading," there's no denying that working from your RV is even more appealing these days, with more and more rigs offering dedicated mobile office spaces on board. RVs like Keystone's Montana 3941FO fifth wheel showcase a roomy and private front office area, and Forest River's fifth wheel Wildwood FSX 163RDSK (perfect for couples) delivers a sharp-looking workstation in its main living area.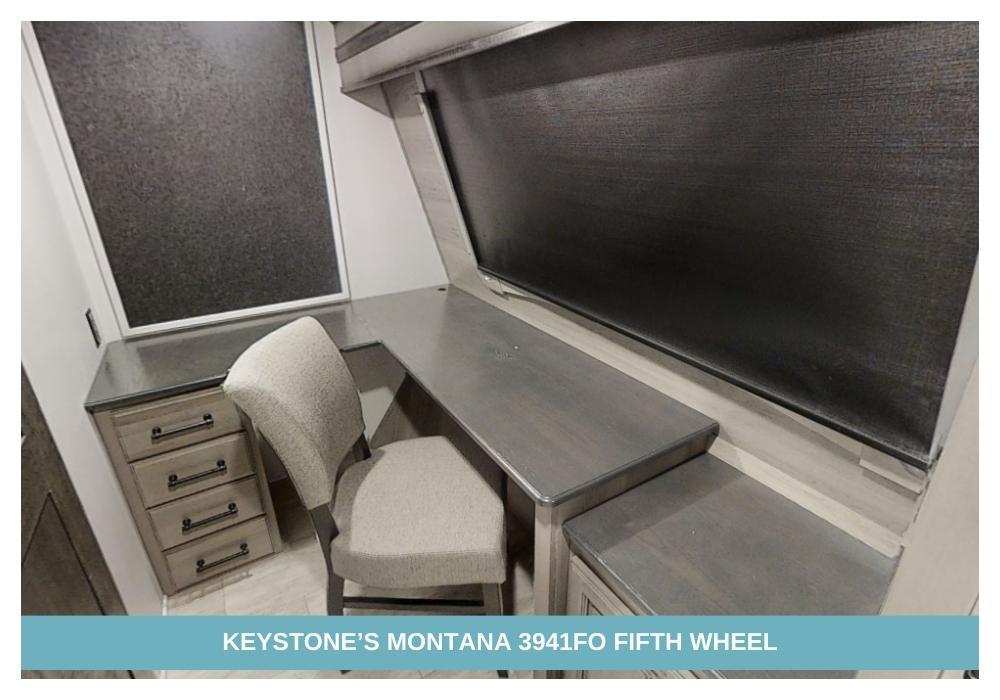 As for wifi on the road, well, that's not always as guaranteed as the fantastic view from your RV office window. Most RV parks have decent internet these days, but it depends on the management if the wifi is free or not. We like this breakdown of RV internet options and gadgets, and your choice will really come down to just how many hush trips (or not-so-hush trips) you plan to take and where. Mobile hotspots, wifi extenders, and portable 4G internet service will satisfy most digital nomads, but those laboring away in the most remote locations might consider Starlink Roam, Starlink's newest and purportedly most reliable portable satellite wifi connection. In fact, THOR Industries recently shook hands with Starlink on an exclusive deal to provide low-drop, high-speed internet (even while you're going 65 mph!) in select Jayco, Airstream, Tiffin, and Entegra Coach models this year.
4. RV Delivery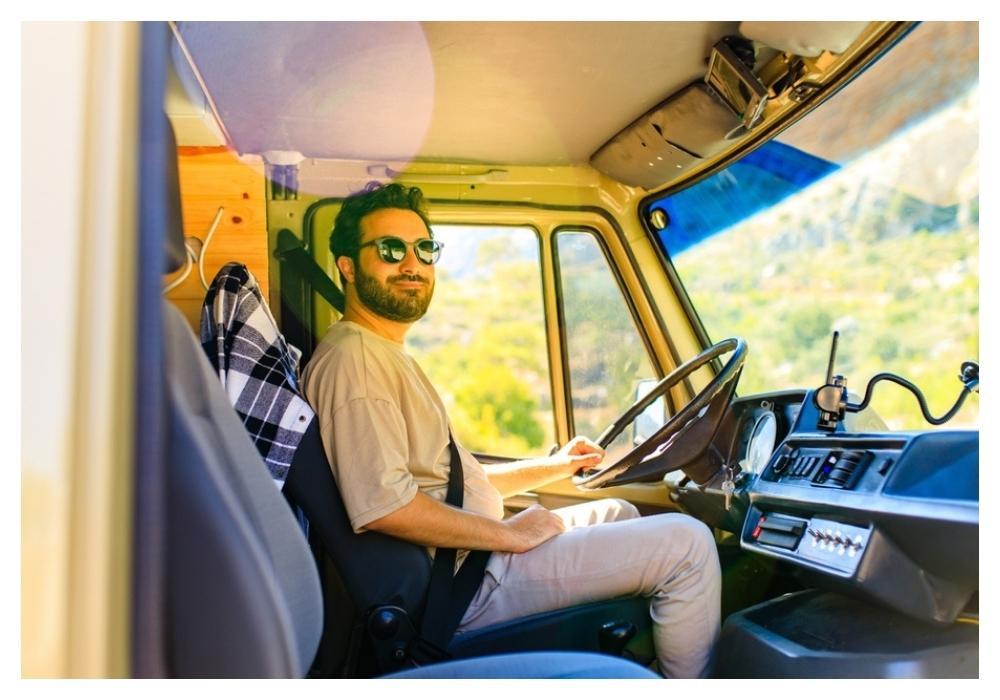 Now you can have an RV rental delivered to your door like a pizza (you have to give it back, though, unlike the pizza) thanks to RVshare, the AirBnB platform of recreational vehicles. RVshare reports that RV rentals with delivery included are increasingly popular in 2023, up 150 percent from 2020. First-time RV drivers make up one-third of RVshare's rentals, and it seems like delivery has particularly sweetened the pot for that crowd—especially for those with kids. The 2023 Travel Trend Report showed that 71 percent of respondents who were parents said they'd be far more interested in an RV trip if a rig were delivered to their starting point.
5. Electric Vehicles
Fossil fuels haven't gone the way of the dinosaurs yet, but electric vehicles in the RV world are definitely turning heads and attracting scores of admirers. The 2023 RV SuperShow featured the (still in the future) electric THOR Vision Vehicle, jam-packed with savvy tech like long-life, high-voltage batteries with an integrated fuel cell and a motorized platform, combined with superior solar power for extended off-grid adventures.
Another electric someday-star from the 2023 RV SuperShow comes from Winnebago. The eRV2 all-electric van is still a prototype, but the airplane was, too, once, so an RVer can dream. The eRV2 boasts zero-emission power to the living area and the drivetrain, as well as a reported seven days' worth of boondocking juice, for supremely comfortable off-grid living. Sustainable materials will also be prominently featured in the eRV2, meaning less carbon footprint and more beautiful memories.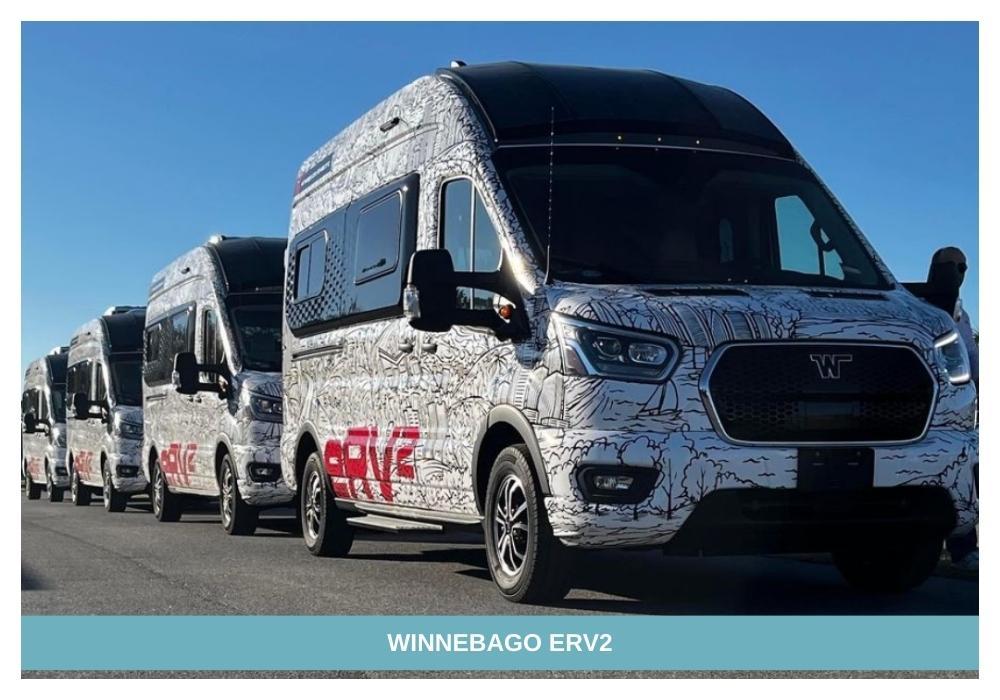 Come Home to Carefree Covered RV Storage
Did we miss a recent RV trend you'd love to see covered? Let us know! At Carefree Covered RV Storage, we love all things RV, just like our clients, and we're sad to see the summer holidays creeping to a close. Where have you been lately with your RV crew? And more importantly, where do you plan to store your RV after your adventures come to a close?
When you store your recreational vehicles with us, you'll enjoy secure, quality covered RV storage with our extensive camera video surveillance, along with 365-day automated access with our phone gate app, charging outlets, free wifi, and free self RV wash and sewer dump.
We've even got complimentary bags of ice! Also need a storage unit for other small recreational toys, equipment, and supplies? We've got them! We're always here for our customers at Carefree Covered RV Storage. Check out our facilities in Texas and Arizona, then stop by, and we'll get your rig set up.
At Carefree Covered RV Storage, you're guaranteed peace of mind, protection, and personalized, old-fashioned service. We make it easy for you to rent and make payments online, maintain your vehicle, and get on the road — so that you can keep living the carefree life.