When it comes to buying an RV, you have the option of either buying new or used. While purchasing a new RV may have its perks, purchasing a used model and renovating it to your liking can be a fun and exciting experience.
With many individuals joining in on this hobby, RV restoration has become a popular activity over the years. Thankfully, you don't have to be a skilled contractor to complete this project. Almost anyone who has an interest or passion for restoration and a willingness to learn can create a beautiful RV home themselves.
If you feel that you're up for this challenge, whether it be for full-time living, traveling, or to flip and sell for a higher price, there are considerations that you should take into account before getting started. Between planning, budgeting and the actual restoration, it can become overwhelming for any first-time renovator. As you begin this process, keep these five things in mind to successfully renovate your first RV.
Choose The Right RV
The first step of this process is to choose the right RV. There are many retailers and private sellers that you can search through to find the one that best fits your needs, but it's important to know what you're actually looking for before you start shopping seriously.
With all of these available options, it's hard to know where to start. One way to make this easier is to decide how big of a project you are willing to invest your time and money into. Would you rather have a newer RV that has a strong structure or one that is outdated and may need completely new systems? You could even opt for something in the middle of both options that will give you the best of both worlds.
The stronger the "bones" are on the RV, the less expensive the repairs tend to be. This can be a great starting point for any first-time renovator. However, some people like the added challenge. No matter which option you choose, be sure to shop around before deciding on one. It's best to start by making a checklist of all of the features you want included and compare different models. This will help you narrow your search down and ultimately find the best price.
Make a Priority List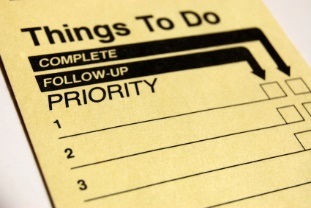 Once you've purchased the right RV for you, you'll next want to go through and make a priority checklist. Fully inspect all of the structures and systems inside so you know exactly what is functioning and what needs to be repaired. If you're not fully confident in doing this on your own, you can hire a professional to help you through this process.
Once you have this information at hand, you can make a priority list. This will help you stay organized throughout the process and tackle the renovation more efficiently. While it can be tempting to completely gut the interior and start fresh, you may be surprised to learn simple ways that you can repurpose existing items.
Always do your research. Whether you use the internet, read a book, or ask a professional, you can obtain valuable insights from others who have gone through this process before. Any way you can save a few dollars or save yourself time in labor can significantly increase the success of your project.
Set a Reasonable Budget
Before you can start the actual demolition and construction phase, you'll need to set a reasonable budget. Having this information at hand will help you better allocate your finances to all of the items on your priority list. It will also help you avoid overspending on unnecessary or expensive items.
This budget needs to account for all aspects of the renovation process from start to finish. Some of the most important things you should consider including are:
Total cost of the RV

Paperwork and title registration

Cost of all materials

Automotive parts

Furniture and decor

Appliances and systems

Any professional services required
Once you have all of this information written down, you'll have a clear picture of how much money you'll be spending upfront. If this number shocks you at first, don't worry. There are plenty of financial resources you can utilize to help you finance your project. If you don't have the proper savings set aside, you may want to consider using a personal loan, credit card, or home equity loan. WIth any of these options you'll be given the funds you need to pay for your project. Just make sure that you meet the requirements and will be able to pay the loan off over time.
Make Functional Upgrades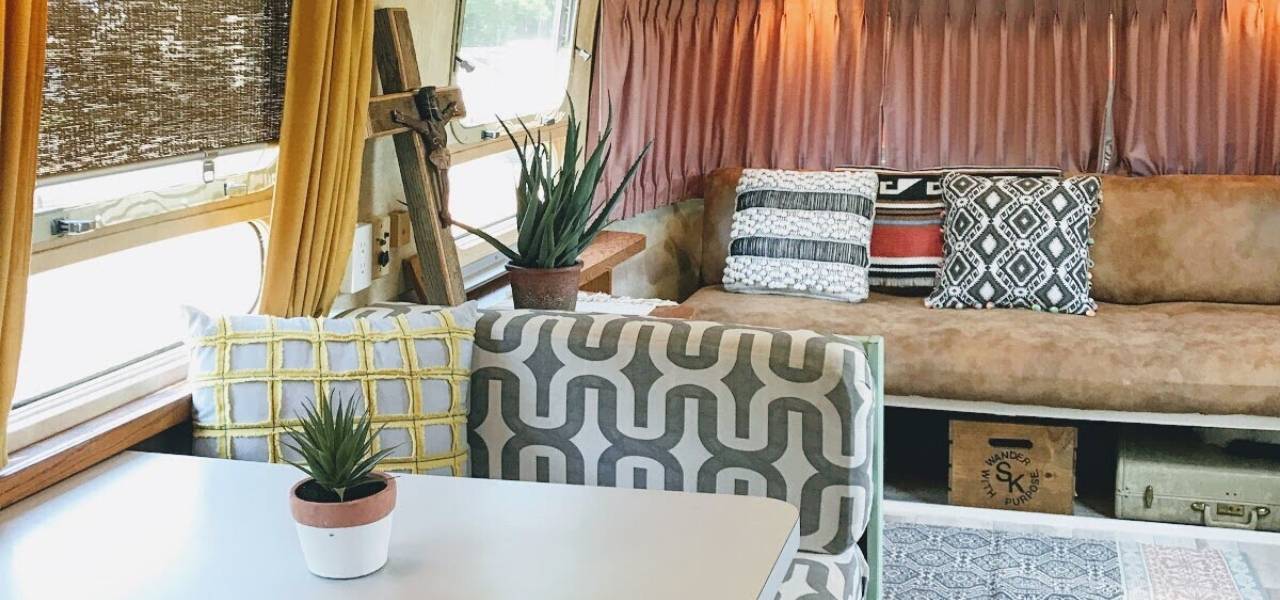 If this RV will be your family's new travel companion or full-time living corridors, it's important to design the space with functional upgrades. Beyond having enough space and rooms for each person to sleep in, you'll want to consider a few other factors as well.
Tiny home living or traveling may require individuals to live a more minimalist lifestyle, but that doesn't mean that you have to get rid of everything you own completely. It means that you need to use the space you have available in the most efficient manner. Incorporating creative storage solutions can help reduce the clutter and provide you with enough space to store your items.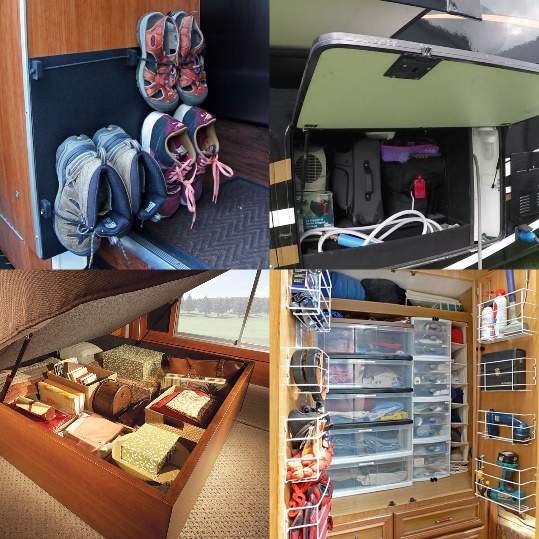 Tables that can fold away, benches with storage underneath, and shelving units are all great ways to maximize your space.
Another way to increase functionality is to opt for multi-functional appliances rather than several separate ones. For example, an all in one cooking appliance can save you a great deal of room in your compact kitchen. Same goes for smaller electronics, like a tablet, which can be used for almost anything you need but store away easier than larger electronic devices such as TVs and computers.
For times when your RV is safely parked, an outdoor patio space and furniture can make your space feel bigger. Many RVs come with pull-out awning systems or ones that store under the body of the vehicle. If the one that you purchased does not have an exterior space, consider adding one on. You'll be glad you did. Especially when you want to enjoy the outdoors and scenic views.
Minor Details Matter
Have you ever heard the expression "a little goes a long way"? Well, this expression remains true even in the RV industry. Some RVs can benefit greatly from the smallest of projects like new paint or furniture. All of these smaller details play a vital role in the larger picture, which is why they shouldn't be overlooked. Even if your budget has been exceeded in this stage of the process, you can still make the minor details happen.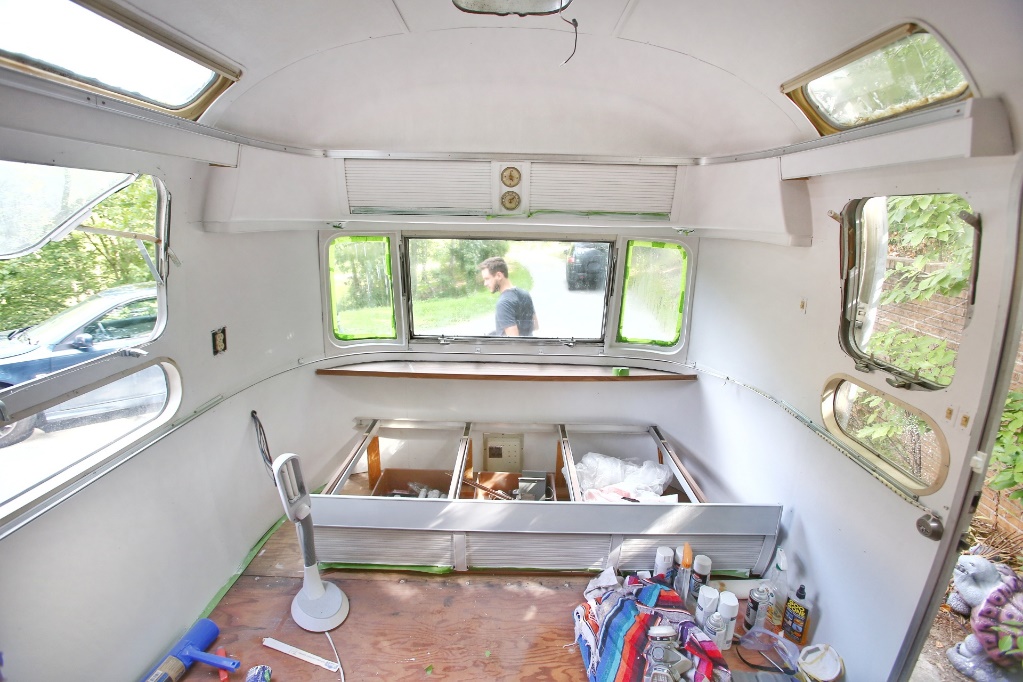 When shopping for furniture or other decor items, you don't have to spend a fortune. Repurposing furniture that you already have laying around your home or shopping at second-hand stores and online marketplaces can help you save a great deal of money. If you're handy with a few crafting supplies, you may even be able to restore and recover some of the existing pieces yourself.
Even if you're not keeping the RV and plan to sell it after you've flipped it, decorating the interior is still important. Staging the interior can help you show off the potential of the RV to prospective buyers and may even increase the asking price. The smallest details of this staging such as artwork, plants, or new pillows can really help sell a space. Presentation is one of the first things a new buyer will be judging the RV on — so make it stand out.
Renovating an RV may seem like it's only for the most experienced of individuals, but in reality, almost anyone who is eager to learn and has the passion for it can successfully renovate an RV. Don't let it intimidate you. With these tips in mind, you'll be able to confidently tackle the renovation and soon enough you'll be out enjoying the open road.
Once you've purchased and renovated your RV, it's equally important to find a place to store it in between adventures. There can be issues with storing it at home, so if you happen to live near Apache Junction or Chandler, Arizona, then we invite you to store it at one of our two convenient locations.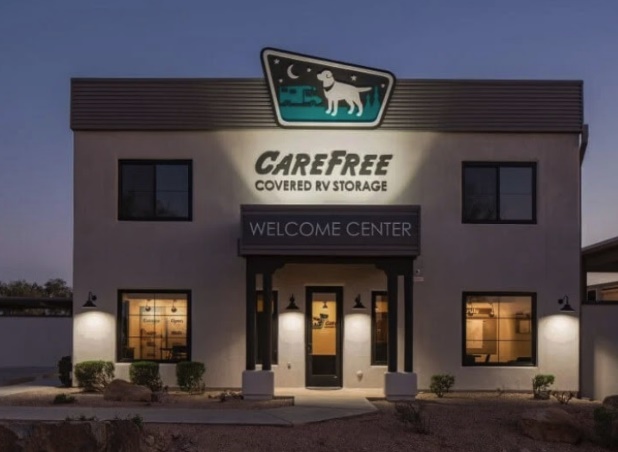 Check out our facility video and tour, then stop by and we'll get your rig set up. When you store your recreational vehicles with us, you'll enjoy secure, quality covered RV storage with our 42-camera video surveillance, along with 365-day automated access with our phone gate app, charging outlets, free wifi, and free self RV wash and sewer dump. We've even got complimentary bags of ice! Also need a storage unit for additional small recreational toys, equipment, and supplies? We've got them!
At Carefree Covered RV Storage, you're guaranteed peace of mind, protection, and personalized, old-fashioned service. We make it easy for you to rent and make payments online, maintain your vehicle, and get on the road — so that you can keep living the carefree life!
Photo Credit Dwell
Photo Credit The RV Advisor
Photo Credit Busy Budgeter
Photo Credit Outdoorsy
Photo Credit RVillage
Photo Credit Mavis the Airstream