Be warned: Wherever you go in Texas, you'll find eats so good you might never head home. The Lone Star State is a foodie's dream, with thousands of top-notch restaurants, diners, and cafes serving up a taste of Texas to hungry travelers. The state has long been hailed for its mouthwatering barbecue and its state dish, savory no-beans-allowed chili, but that's just for starters.
Other Texas culinary treasures include an array of seafood freshly caught off the state's more than 3,300 miles of coastline, drool-worthy chicken-fried steak, and plenty of sweets, like the official state dessert, pecan pie. From the Gulf Coast to the Texas Hill Country to the metro areas and beyond, you can trust that no matter where you go, a memorable meal or terrific treat is waiting for you. Just be sure to leave room in your itinerary (and your belly) for a visit to a few of our favorite Texas eateries.
Road-Trip Restaurants in Texas to Add to Your Bucket List:
ADDRESS: 402 W. Commerce St., Brownwood, TX.
PHONE: 325-646-1776.
HOURS: Mon–Sat, 10:30 am to 8 pm, closed Wednesdays.
GOOGLE RATING: 4.4 stars, 2,036 reviews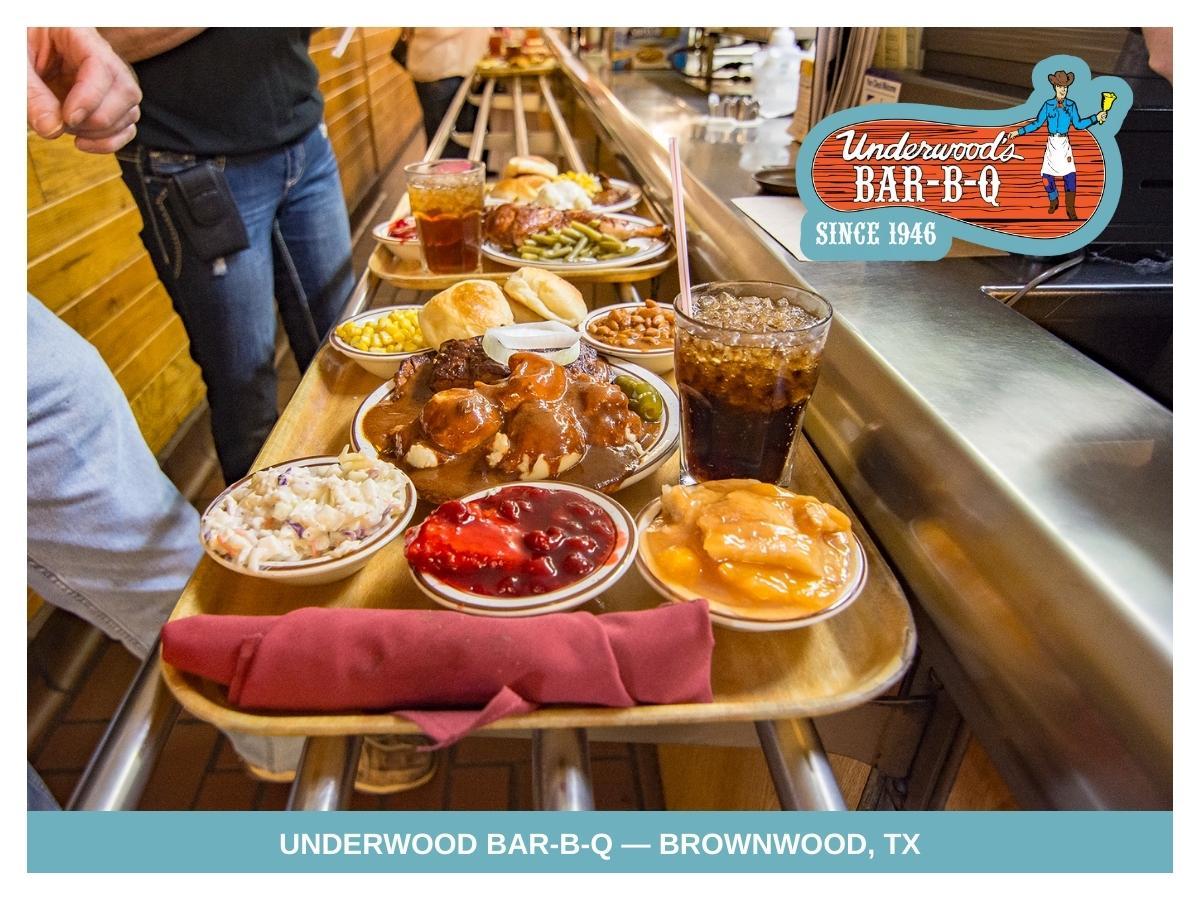 This cafeteria-style restaurant grew from a butcher's modest roadside stand to a popular eatery adored for its Texas menu of classic "Bar-B-Q beef steak," ribs, smoked meats, German sausage, delectable fried and roast chicken, sandwiches, and yummy sides. Cheery servers are always on hand to make sure you've got fresh homemade rolls and plenty of whipped cream for your perfect Texas cobbler (available in luscious apple, peach, or cherry). Watch their food sizzle and work up an appetite by watching this video by The Texas Bucket List on Youtube.
ADDRESS: 900 E. 11th, Austin, TX.
PHONE: 512-653-1187.
HOURS: Tues–Sun from 11 am until 3 pm or until the meat runs out.
GOOGLE RATING: 4.7 stars, 5,228 reviews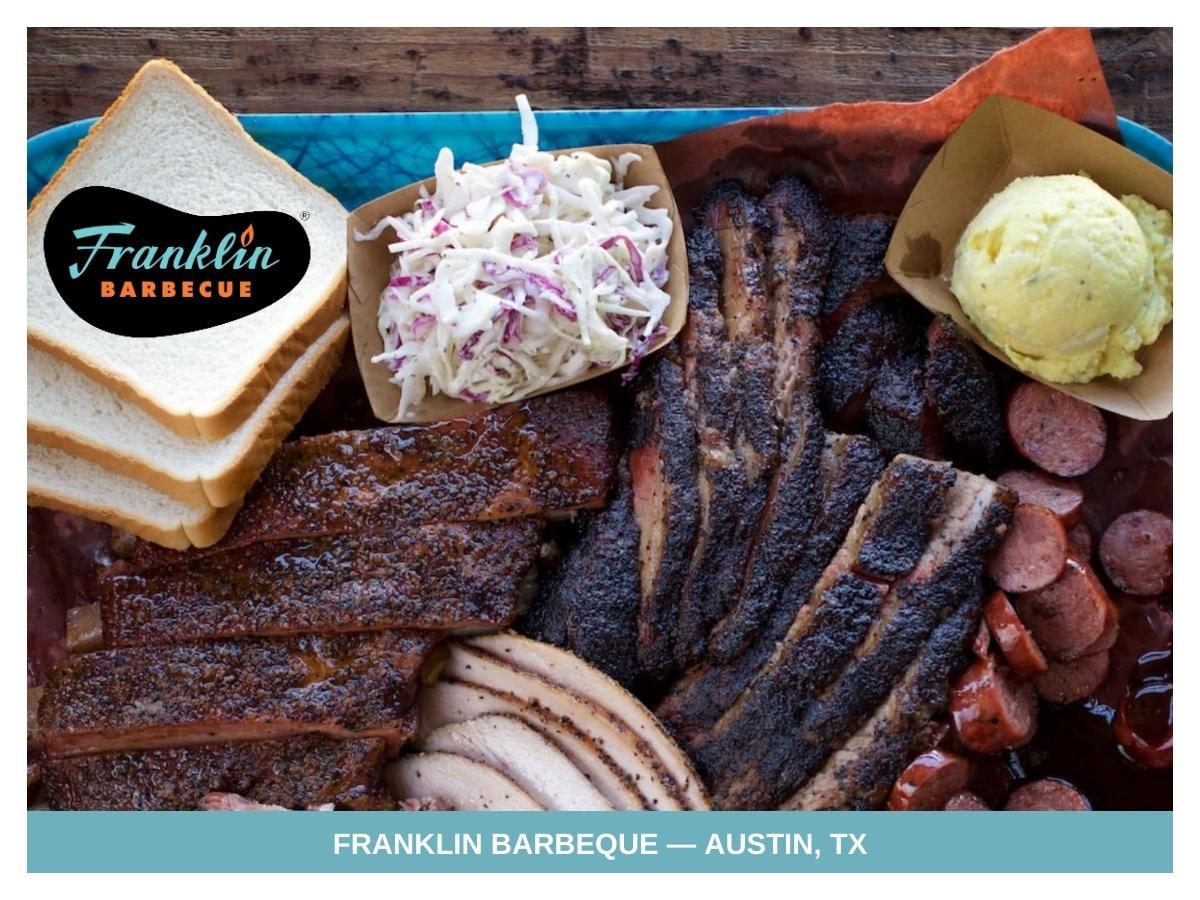 Discussing where to get the best barbecue in Texas can get pretty heated (no pun intended). We're not saying Franklin BBQ is the best in the state, but then again, it might just be. Street parking can be tricky, but not impossible, with a bigger RV or motorhome. But if you're traveling with a car in tow, you can leave the RV at your Austin-area campsite — we're telling you, it's worth the trip. Texas Monthly argued that the joint is "serving the best barbecue in the known universe," and we can see why.
The tender brisket is quite seriously out of this world, and the pulled pork can make a grown man cry with its heavenly smoked flavor. There are also succulent pork ribs with a black-pepper crust, great sandwiches, and a ridiculous banana-bourbon pie to conclude what might just be the meal you never stop talking about. They ship nationally, too, if you wind up addicted to their offerings. If you're not quite ready to make the trek yet, get your mouth watering by watching Aaron Franklin teach a Masterclass on Texas-style BBQ.
ADDRESS: I-35 Exit 353, West, TX.
PHONE: 254-826-4161.
HOURS: Open daily, 5 am to 11 pm.
GOOGLE RATING: 4.6 stars, 2,881 reviews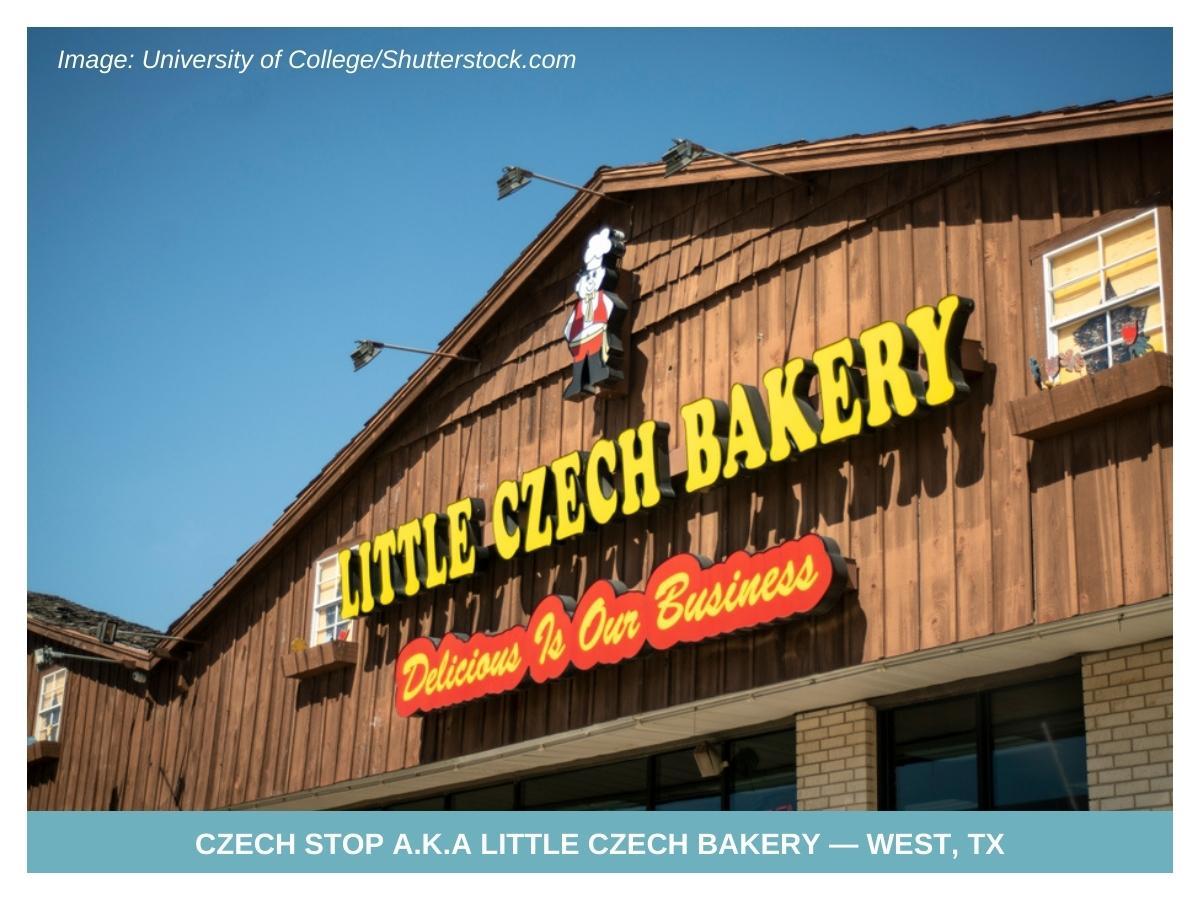 If you're headed down I-35 between Dallas and Austin, do your sweet tooth a favor and keep an eye out for exit 353 for West, Texas. Here you'll find the beloved Czech Stop, a combination bakery, deli, and convenience store with a reliably clean restroom. The shop delivers on its motto, "Delicious is our business." The Czech baked goods here are legendary: fresh-baked kolaches filled with everything from apricot to pumpkin to cherry, klobasnek with savory stuffings like sausage, jalapeno, and cheese, and perfect airy strudels. They're also happy to ship their specialties nationwide.
ADDRESS: 1925 Speight, Waco, TX.
PHONE: 254-753-1421.
HOURS: Open Mon–Sat, 6:30 am to close.
GOOGLE RATING: 4.5 stars, 4,024 reviews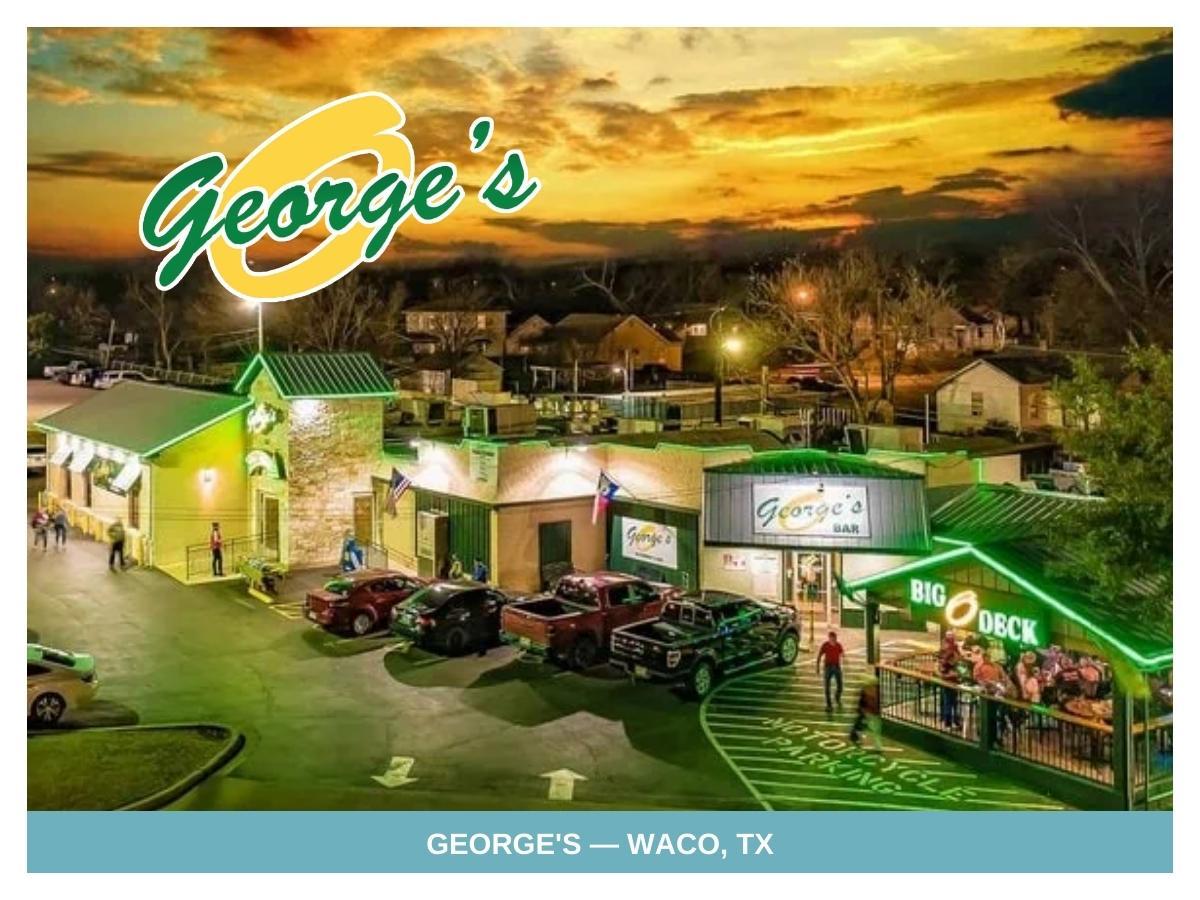 This Waco mainstay has been serving delicious Texas-style eats for over 75 years. Fans of this Traveler's Choice 2022 winner include President George W. Bush and First Lady Laura Bush, and thousands of Baylor University sports fans, for whom George's is party central. You'll be a fan, too, once you try George's mouthwatering chicken-fried steak and perfectly seasoned fried catfish. George's menu is as extensive as it is delicious, with Tex-Mex offerings, killer burgers, chicken tenders (a kid fave), seafood, and Texas sides like fried okra, black-eyed peas, and crazy-good mac and cheese. There's also a full bar — if you're not driving, kick back with one of the restaurant's famous Big O cocktails or a cold beer.
ADDRESS: 103 N. Thompson St., Suite 101, Conroe, TX.
PHONE: 936-286-8081.
HOURS: Open seven days a week—call for hours.
GOOGLE RATING: 4.7 stars, 920 reviews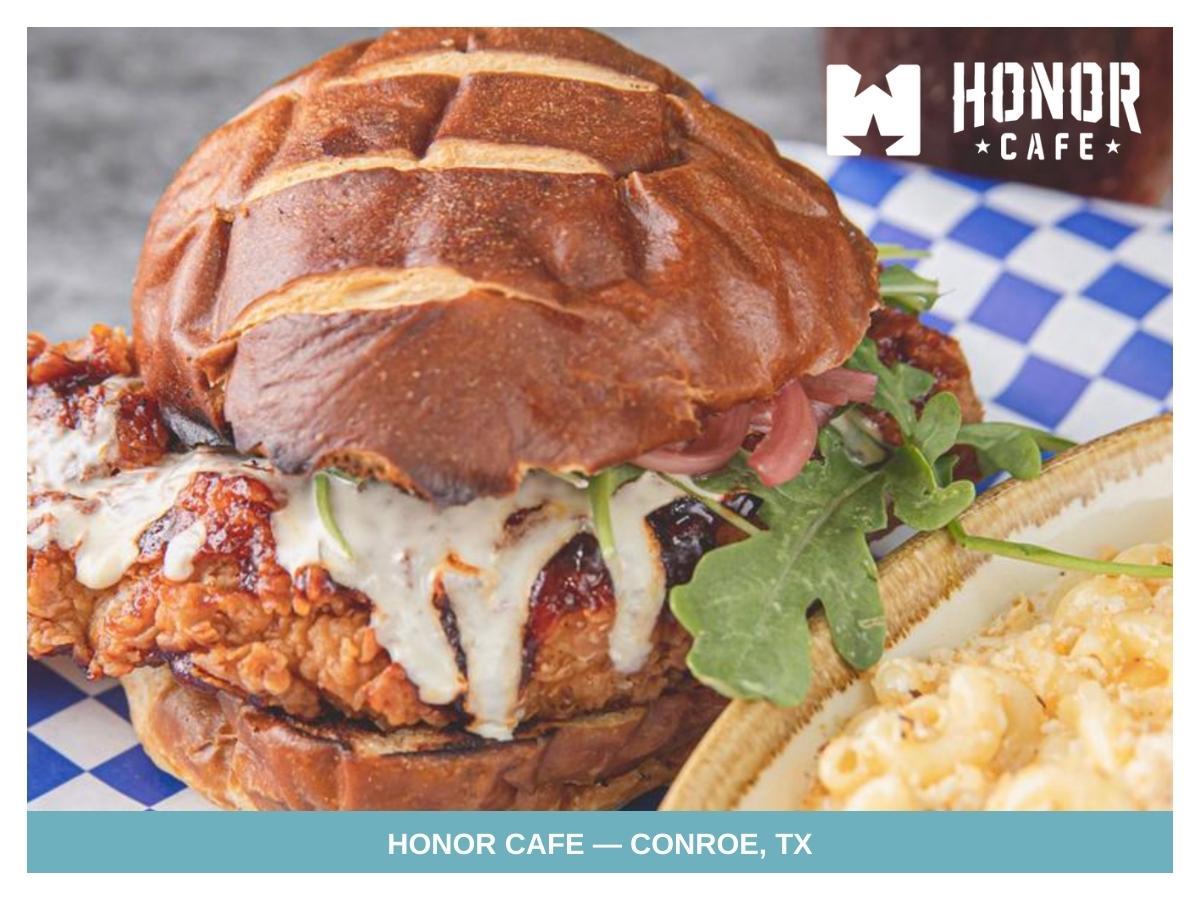 You might easily miss this cafe tucked into a nondescript building, but there's a treasure inside. The Honor Cafe's mission is to serve terrific 5-star food while paying tribute to our country's soldiers. This military-themed cafe is a must-stop experience for veterans, active service members, and anyone looking for a truly memorable meal on the road. Executive Chef Oscar Sandoval crafts upscale comfort food inspired by U.S. military campaigns across the globe, and a portion of the cafe's proceeds go to veterans' organizations and charities. Customer favorites include smoked chicken quesadillas, taquitos, fried mac and cheese, and Baja seafood tacos. The Honor Cafe also offers a fantastic breakfast menu if you're on the road early.
ADDRESS: 2626 Hwy 71 West, Cedar Creek, TX.
PHONE: 512-303-6157.
HOURS: Open seven days a week. 9 am to 5:30 pm (January–March) and 9 am to 7 pm (Mid-March–December).
GOOGLE RATING: 4.7 stars, 1,290 reviews
Berdoll Pecan Candy & Gift Company is not a restaurant, but it's a road-tripper favorite, thanks to fab treats and photo ops with the world's largest squirrel statue. The Texas-sized Ms. Pearl the Squirrel stands 14 feet high and reigns over this pecan-treat mecca with the motto, "Come for the squirrel. Stay for the pie." If you're there during regular hours, you'll be able to stock up on road trip sweets like lush homemade fudge, plump chocolate-covered strawberries, extra-large Texas pecans farmed by the Berdoll family, and divine confections like bourbon pecan bars. But don't worry if you miss the store's regular hours: You can score a fresh pecan pie 24/7 here thanks to their nifty pie vending machines. Bonus: RV and truck parking is a breeze.
ADDRESS: 11804 FM 470, Tarpley, TX.
PHONE: 830-562-3727.
HOURS: Open Thurs and Sun, 11 am to 2 pm, and Fri and Sat, 11 am to 4 pm and 5 pm to 9 pm. Closed Mon–Wed.
GOOGLE RATING: 4.7 stars, 305 reviews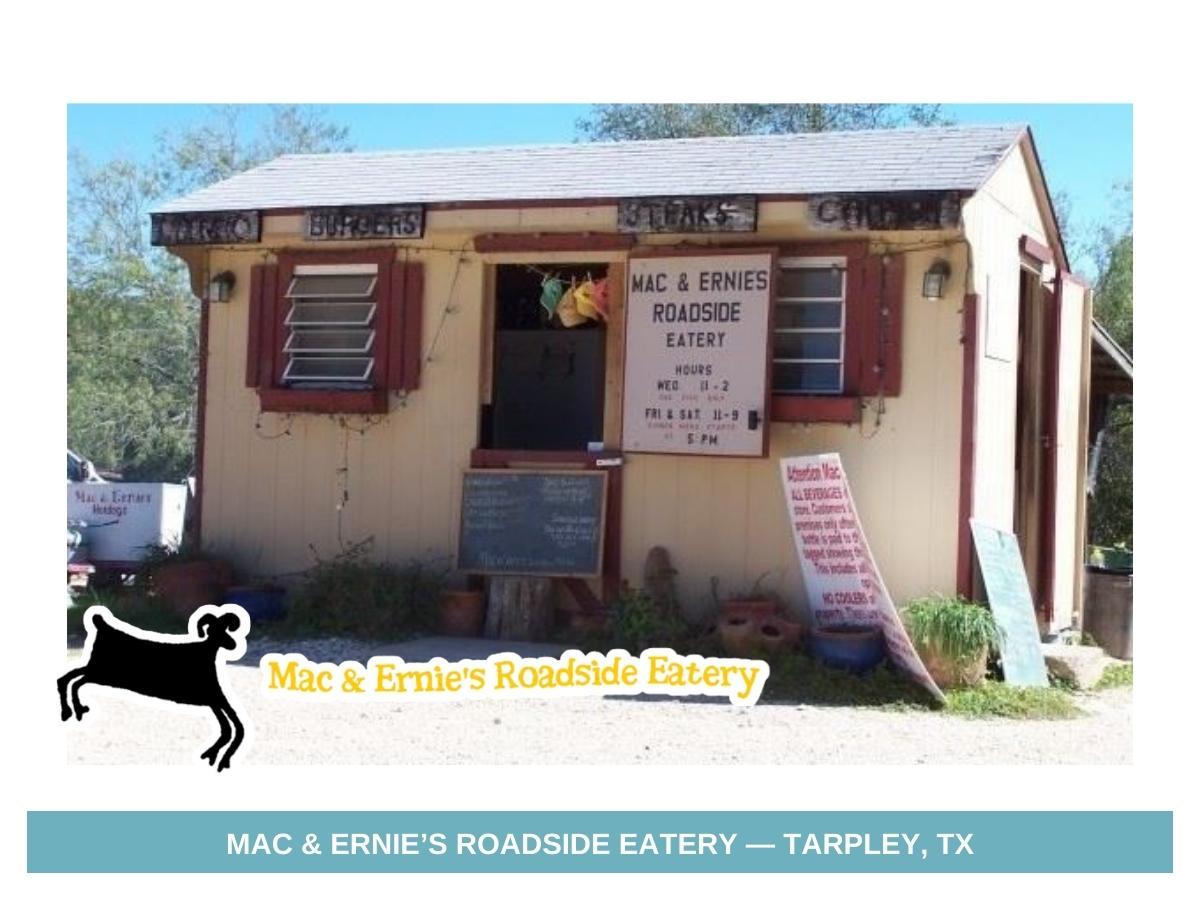 Mac & Ernie's was the first restaurant featured on Diners, Drive-Ins, and Dives on the Food Network. It's tucked away in the Texas Hill Country, "out in the boondocks," as one Yelp reviewer stated, but it's well worth the trip. Adventurous eaters will love the Cabrito burger (that's Spanish for "little goat") and the ancho-chile-honey basted quail. Other standout dishes include the chicken-fried lamb chop (Guy Fieri's fave), the fried catfish, and the pasta salad. Delish!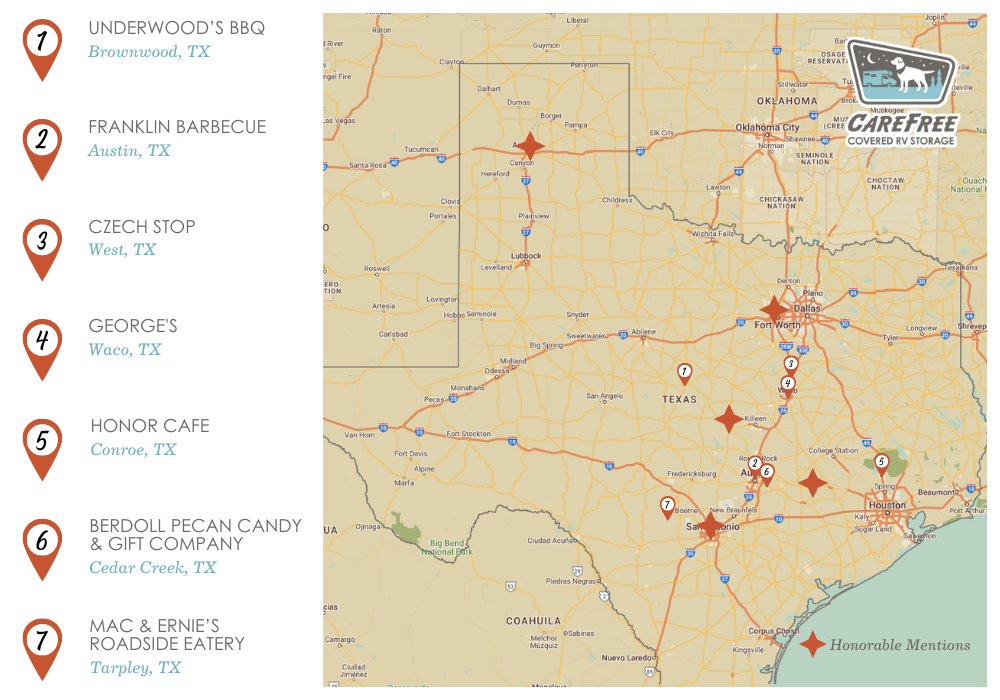 HONORABLE MENTIONS:
Got Questions About Texas Eateries? Carefree Has You Covered!
This list is in no way all-encompassing! Texas is a vast state peppered with unique eateries from border to border. If you're hungry for more, check out this Texas Monthly list of small-town cafes and browse the Texas Highways guide to worthwhile grub hubs in The Lone Star State. When your travels come to a close, come home to Carefree Covered RV. We've always got your back, on the road and off.
Check out our facility video, tour, and video resources, then stop by, and we'll get your rig set up. When you store your recreational vehicles with us, you'll enjoy secure, quality covered RV storage with our extensive camera video surveillance system, along with 365-day automated access with our phone gate app, charging outlets, free wifi, and free self RV wash and sewer dump. We've even got complimentary bags of ice! Also need a storage unit for other small recreational toys, equipment, and supplies? We've got them!
At Carefree Covered RV Storage, you're guaranteed peace of mind, protection, and personalized, old-fashioned service. We make it easy for you to rent and make payments online, maintain your vehicle, and get on the road — so that you can keep living the carefree life with the whole family.