Anyone who owns an RV knows the importance and luxury of space. You want to live with all the creature comforts you have in your own home but need to make compromises because of the limited amount of space in your RV.
Nowhere more evident is this space issue than in you RV's kitchen area. Everything gets a reduction from the refrigerator, RV tankless water heater, cooktop and oven, down to the small sized microwave.
With everything being compact and smaller for your RV kitchen, you may end up wondering where you will store all of your groceries or how you will have enough room for meal preparation and cooking. Are you going to have to give up on some of the comforts of your home when you are using your RV?
Here at Carefree Covered RV Storage, we have some great suggestions that can help streamline the journey, making your RV kitchen as comfortable and functional as the kitchen in your house. Take a look below at the 8 must have items for your RV kitchen. We think you will appreciate the efficiency and storage space saving qualities of these products.
1. Pot and Pan Protector Pads
Living in the smaller confines of on RV will require you to master the art of stacking things to save space. This holds especially true for your pots, pans, and other cookware.
This presents a problem, however, in that as your RV trailer moves, the pots and pans will rattle, and their surfaces and non-stick coatings can scratch and become damaged. Before you know it, you might find yourself having to replace all your cookware from this wear and tear of life on the road.
Putting a protector pad in between each of your pots and pans will help to eliminate this issue. You will find this a simple and economic fix. There are DIY options or for as little as $10 they can be purchased. Either way these protective pads will help your cookware last a lifetime!


2. An Organizer for your Coffee Pods
A coffee pod system is one the most convenient options for your daily cup of joe while on the road. Regardless of whether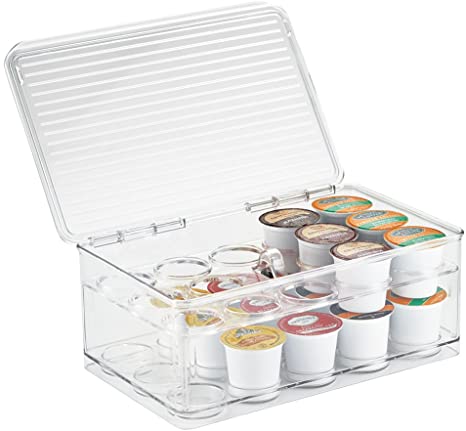 you prefer Nespresso, Keurig, or some other k cup pod coffee maker system, rest assured you will need something to contain the pods in for your daily use.
Best option for this task is to invest in a clear see-through coffee pod organizer so that they not only stay contained in one place but it easy to see what you have on hand for your brewing pleasure.


3. Dish Holders
Unless you plan on using paper plates the whole time (which is tempting!), another must have item to consider is a holder for your dishes. Not only does it secure them during the road trip, it makes it more convenient accessing them for meals to have them in a holder.
There are many options to choose from out there. It all depends on what you want to carry and the space where you are able to keep it. You can also use similar pads like suggested for your cookware to make sure your dishes are secure during travel.


4. Add a Paper Towel Holder on a Cabinet
Is there anything more useful than a paper towel? Particularly when you are living in your RV kitchen, paper towels are a necessity for so many reasons from food preparation to accidental spills and easy cleanup.
Adding a paper towel holder, particularly to one of your RV kitchen cabinets, is a good way to address this need and still save storage space. Fix the holder on the interior of a cabinet door and you will have sufficient paper towels on the go without taking up much needed space. No cabinets to really attach the paper towel holder? No problem! There are several other handy paper towel holder options out there for you from under cabinet to magnetic options, there will be a way to work this important item into your kitchen without consuming any storage space.


5. Storage for your Spices
An important staple in any kitchen, even an RV kitchen, is a collection of spices used in cooking. Who doesn't need a little spice in one's life, even on the road? A good quality spice rack that is designed with your RV travelling lifestyle in mind is a sound investment.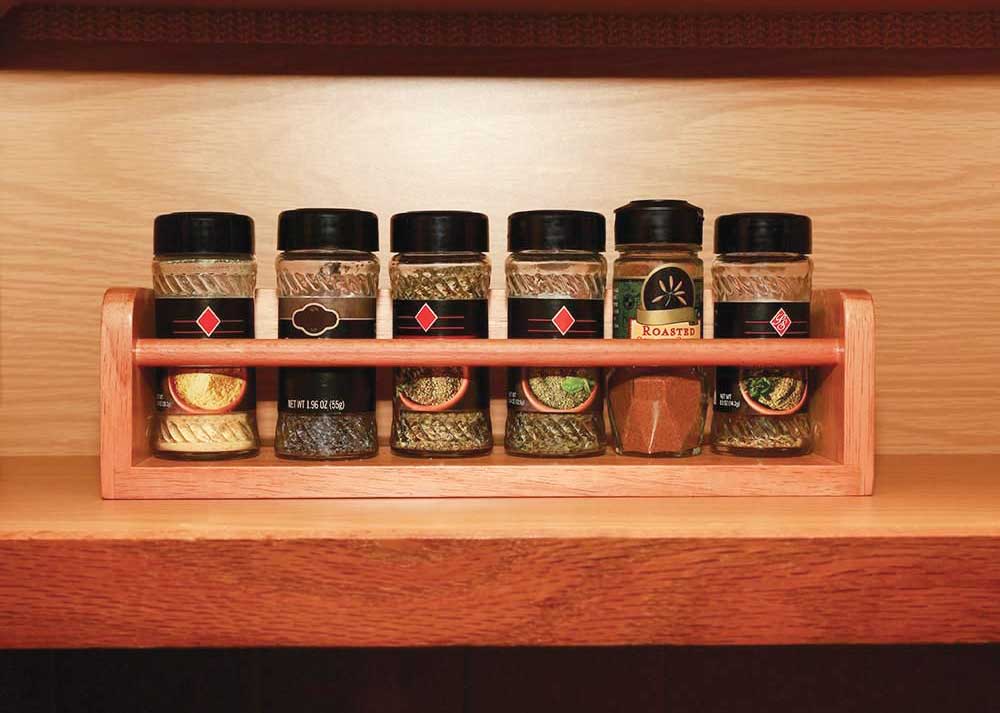 There are a lot of options and ideas to choose from out there so how does one decide which is the best one to use? Ideally you want one that can easily hold twelve different spice jars in place no matter how bumpy the ride gets. Hanging this spice rack onto the wall or on the inside of a kitchen cabinet will not only handle the bumpy terrain of the road but will free up some space in your kitchen cabinets. The internet is an invaluable resource that can provide you with reviews and ideas to help you decide which one would work best for your RV kitchen.


6. Compact Ice Cube Trays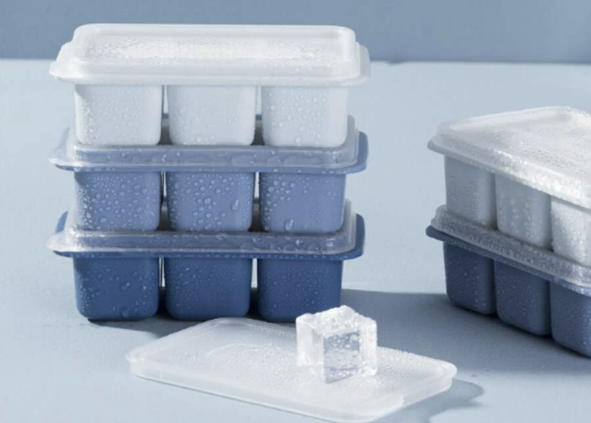 Honestly, can any modern-day RV camper survive without ice? Whether it is for your favorite soft drink, lemonade, iced tea, or an adult beverage, a supply of ice cubes is a necessity in your RV kitchen.
Considering how everything is on a much smaller scale, especially the freezer in your RV, it's not very efficient to try to use normal sized ice cube trays while traveling on the road. You could try but these trays are usually just too long and consume much needed storage space for food items.
Just like all our other suggestions, it's time to miniaturize your standard ice cube trays and buy some that are more compact for the space. These mini-ice cube trays are usually available in packs of two or three, fitting perfectly into your RV freezer and the small sized cubes they provide freeze quickly for your immediate use.


7. A Collapsible Dish Rack
Even if you use paper plates quite a bit, you will have to face the fact that there will be dirty dishes and utensils to wash and dry in your RV kitchen.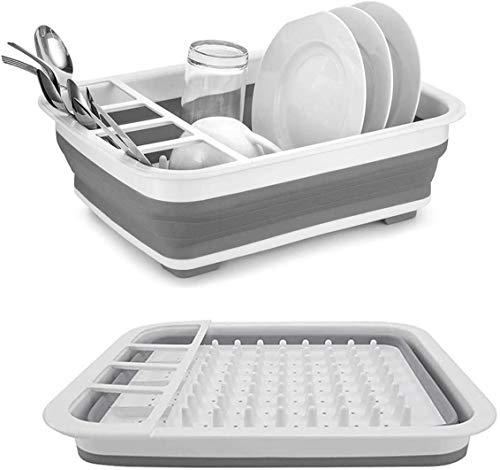 In fact, every meal you're going to find dishes of some sort in your sink that need to be cleaned and with the limited space in your kitchen you'll need an efficient way to deal with them.
Lucky for you there are many collapsible dish racks available that take care of this task and collapse afterwards for convenient storage in your tiny kitchen. Make your RV lifestyle easier and purchase one of these must have items for your kitchen.


8. Save Space With Nesting Items
Cupboard space in an RV kitchen is at a premium. Making room for all the various cooking implements can be difficult. If you stick with traditional styles of kitchenware, you will likely have to eliminate some items to be able to fit all of the necessities.
One way to make room for all of your favorites and maybe some of the extra luxury items is to utilize items that nest together. Specifically, finding sets that combines several kitchen tools into one compact area can help you save a lot of space.
For example this set of nesting bowls has many different kitchen tools. It contains mixing bowls, a colander, measuring cups and measuring spoons. All in just the space of one large bowl.
New to the area — or looking for a new home for your RV? Check out our facility video and tour, then stop by and we'll get your rig set up. When you store your recreational vehicles with us, you'll love coming home from time on the road.
Our clients enjoy secure, quality covered RV storage with our 42-camera video surveillance, along with 365-day automated access with our phone gate app, charging outlets, free wifi, and free self RV wash and sewer dump. We've even got complimentary bags of ice! Also need a storage unit for additional small recreational toys, equipment, and supplies? We've got them!
At Carefree Covered RV Storage, you're guaranteed peace of mind, protection, and personalized, old-fashioned service. We make it easy for you to rent and make payments online, maintain your vehicle, and get on the road — so that you can keep living the carefree life!