It goes without saying that purchasing an RV is a huge decision. You're not just buying a vehicle, but you're also investing in a lifestyle that will dictate how you spend your road-tripping days. The choices you make before you sign on the dotted line matter.
As the title says, we've written this article focusing on questions to ask an RV salesperson…once you get to that point. To be more accurate, we might even say salespeople, but we'll get to that later. To take it even further, if you're really serious about buying an RV, our biggest piece of advice is this: Don't make the RV dealership your first stop on your RV-buying journey.
We actually recommend you do a little legwork first and answer a few questions for yourself — and allow plenty of time to do it. To put it another way, don't start looking at RVs a month before you want to hit the road.
Put in the legwork, and when you finally do make it to the showroom floor, then you'll come in with some basic decisions made that will help a salesperson steer you to the right rig. Skip this step, and you'll only be setting yourself up for an exercise in futility and overwhelm that could lead to an unwise and uninformed purchase.
The Pre-Game: 3 Questions to Ask, and 3 Ways to Answer Them
As RV storage experts, we've had the opportunity to talk with many of our customers about why they chose the RVs they did. And, as RV enthusiasts ourselves, we know from experience what it feels like to make such a big purchasing decision.
Based on this, we encourage you to answer these three questions before doing anything else:
What type of RV will best fit my camping style[1] ?

What am I willing to spend on my RV? And, will it be used or new?
And, if you're looking for a towable versus a motorhome:

Will my tow vehicle handle the size of RV I want?
The last question is an easy one to answer; just consult your vehicle's manual for towing capacity, both for dry and gross vehicle weights. You can also take advantage of handy online calculators to help you determine this.
The first two questions will take more time and thought, and are wholly dependent on what you want out of your RV experience. And, if you're making this purchase with a partner or spouse, then you've got two sets of dreams and desires to wrangle into some concrete decisions.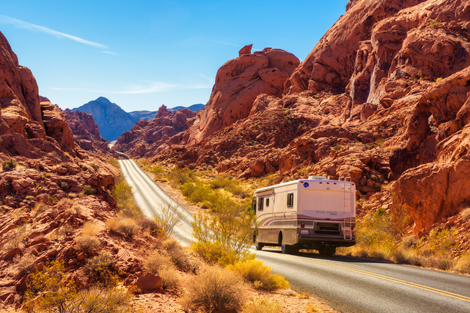 3 Routes to Your New RV
Conduct online and real-life research
School yourself: Do some online searches to understand the differences between a Class A or Class C, toy hauler and travel trailer, Class B, fifth-wheel, and so on.
Crowdsource feedback: Identify helpful RV forums like iRV2.com, RV.net, RVForum.net, or RVForums.com, where you can ask questions and read through answers to questions that others like you have asked. RV'ing is all about community, so if you're looking for one, it's likely that you know someone with an RV. Ask them what they love about theirs, or better yet, what they'd do differently if and when they ever buy a new rig.
Rent an RV
As the saying goes, nothing beats real-life experience. In addition to your research, we think it's a great idea to get out there and try RV living for yourself. Luckily, with peer-to-peer RV rental networks like Outdoorsy, RVShare, and RVezy, you can easily hit the road for a "try before you buy" trial run. Better yet, dedicate several weekends to field-test different types of RVs. Notice what you like and don't like about each of them. We can think of worse ways to spend your free time!

Go to RV shows
RV shows are a great way to figure out what kind of RV will work best for you. Some are massive expos, while others are small affairs. If you're hitting a bigger show, take advantage of the short seminars that industry experts often offer at these events for their industry guidance.
Whatever show you attend, do advance legwork: Check the website for a list of vendors and floorplan, and then create a plan of attack so that you're not overwhelmed. And, if you've got an hour to spare, check out this informative podcast for tips and tricks to navigating RV shows.



Game On: 7 Questions to Ask An RV Salesperson
Once you've answered the above 3 questions and have done all the due diligence you think you can possibly do, you're now in a good position to visit an RV dealership. You're going in with some self-education, and your RV salesperson will thank you for it.
We alluded to this earlier: We recommend that you visit a few RV dealerships in your area and speak to several RV salespeople — and then crowdsource (and compare) their answers, just as you did with your preliminary research. Oh, and see at least 20-30 RVs by different manufacturers if you can. The more you see, the more you know what you like.
What brands do you recommend and why?
Different RV manufacturers like Tiffin, Coachmen, and Thor specialize in different things, like high-end interiors or a solid service plan. Decide on your priorities and then ask the salesperson their opinion on what may best meet your needs.

2. What comes standard with the RV?
It's important to know what comes standard versus what will be an add-on with an extra price tag. Make sure to get a features list to know what your full investment may be if you want some of the bells and whistles that the showroom model has.
3. How much does the RV really cost?
You probably already know this from buying a car, the sticker in the window is just the manufacturer's suggested retail price (MSRP), which dealerships often change. There are a number of factors that impact dealer pricing. Check out this post by RV living advocates Jason and Nikki Wynn to better understand RV pricing and how to leverage negotiations to your advantage.
4. What does the warranty and maintenance package include?
Whether you buy a new or used RV, both should include a warranty. You'll want to be very sure about what the warranty covers, and for how long. You can then decide if you want to purchase extended coverage once it expires. Repairs are a constant given in RV life, so we encourage you to give an extended warranty serious thought.
5. What are the dealer's and manufacturer's service levels?
You'll definitely want to ask what kind of service levels both the manufacturer and dealer guarantee after you drive your RV off the lot. Definitely ask the dealership the average amount of time it takes to perform repairs. It's not uncommon for a dealership to ask you to leave your rig with them for a couple of weeks or longer, which just may not be possible with your road trip schedule.
6. Do you offer any dealer perks?
A number of dealerships will offer "freebies" like memberships to RV camping clubs, which usually sport a price tag of $300-$500. These are a great way to offset other RV costs.
7. What financing options are available?
Given the cost of an RV, a vast majority of RV buyers finance their purchase. If you need financing, you can choose from a secured bank loan, an unsecured personal loan, or dealership financing. All three are worth a look, and we've written an article that explains each one.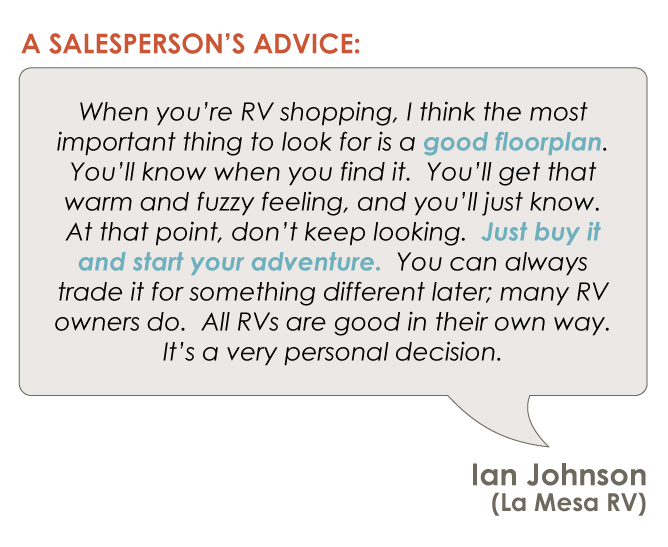 Post-Game Analysis: Final Thoughts
Taking the plunge and buying an RV can be a fun and invigorating experience, especially if you're prepared. These 10 questions — 3 for yourself to answer, and 7 for you to ask RV salespeople — will help you navigate the process.
Once you've purchased your RV, it's equally important to find a place to store it in between adventures. There can be issues with storing it at home, so if you happen to live near Apache Junction or Chandler, Arizona, then we invite you to store it at one of our two convenient locations.
Check out our facility video and tour, then stop by and we'll get your rig set up. When you store your recreational vehicles with us, you'll enjoy secure, quality covered RV storage with our 42-camera video surveillance, along with 365-day automated access with our phone gate app, charging outlets, free wifi, and free self RV wash and sewer dump. We've even got complimentary bags of ice! Also need a storage unit for additional small recreational toys, equipment, and supplies? We've got them!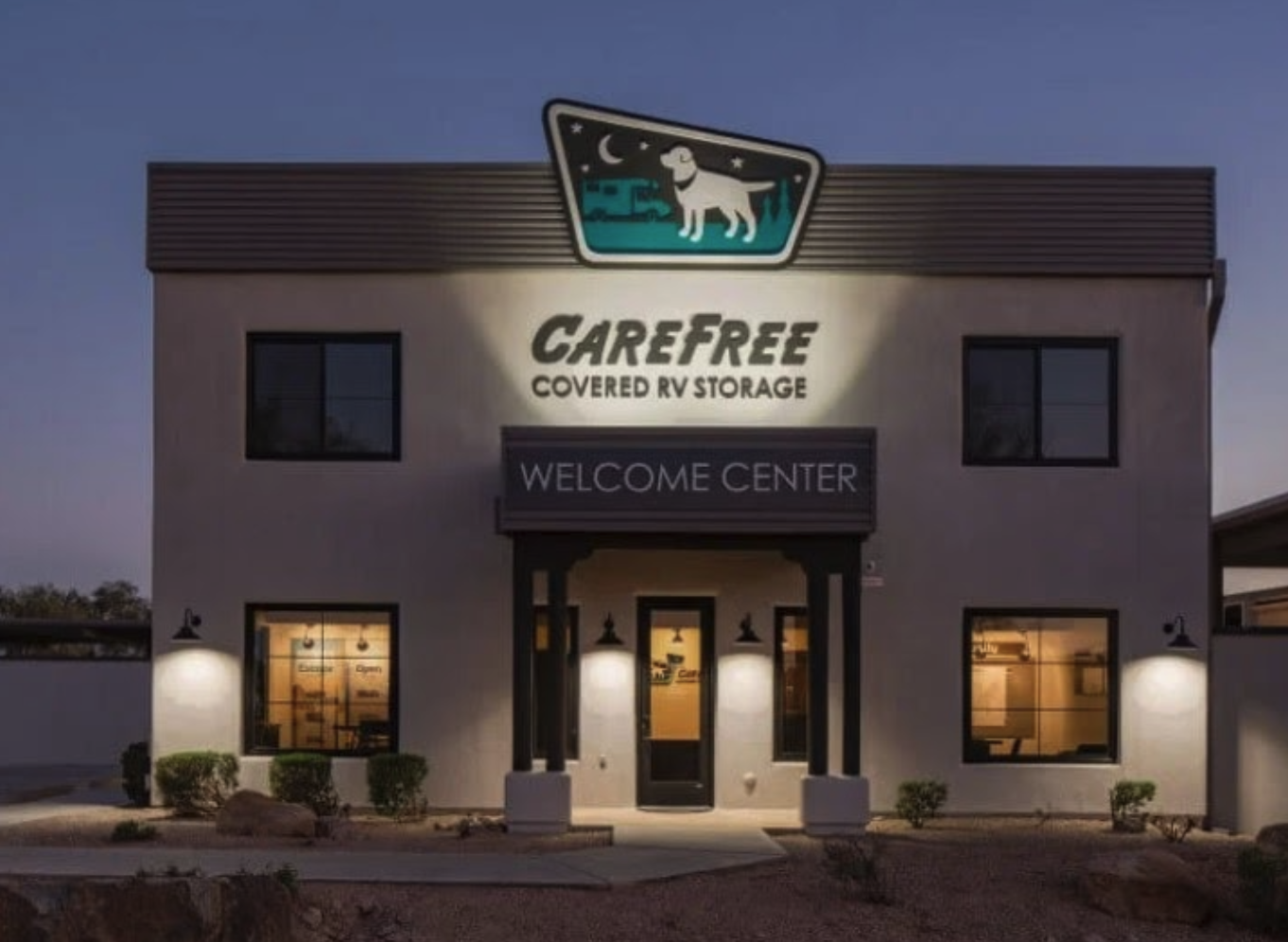 At Carefree Covered RV Storage, you're guaranteed peace of mind, protection, and personalized, old-fashioned service. We make it easy for you to rent and make payments online, maintain your vehicle, and get on the road — so that you can keep living the carefree life!