Whether you're a newbie to hitting the trails or you're geared up, ready to go, and looking for another challenging hike, Phoenix, Arizona, has a lot to offer. So, lace up your hiking boots (or sneakers if you're not ready to commit), and get ready to adventure across the Valley of the Sun.
There's no need to venture deep into the Tonto National Forest for fantastic sights, though we highly recommend the trip. Phoenix has more than 200 hiking trails dispersed throughout the city, making it easy to pick a journey that's nearby and right for you.
Phoenix is draped in sunshine for 85% of its annual daylight hours, meaning that it's bound to have more sun than any other metropolitan area in the U.S. With so many hours of sunlight, there's no reason not to try a few of the invigorating hiking trails on our list!
According to Visit Phoenix, "Phoenix is home to one of the largest municipal parks in North America," covering "more than 16,000 acres." South Mountain Park and Preserve "has more than 50 miles of hiking, biking, and equestrian trails". But, if you've got a bike or you're saddling up a horse, mosey along because today, we're focused on awesome hiking trails to trek on foot.
We've broken out 10 top hikes in the Phoenix area by difficulty level, and there's something for everyone on the list. No matter whether you're looking for a family-friendly hike or a dog-friendly path, we've got a recommendation. Just click the blue trail names to learn more.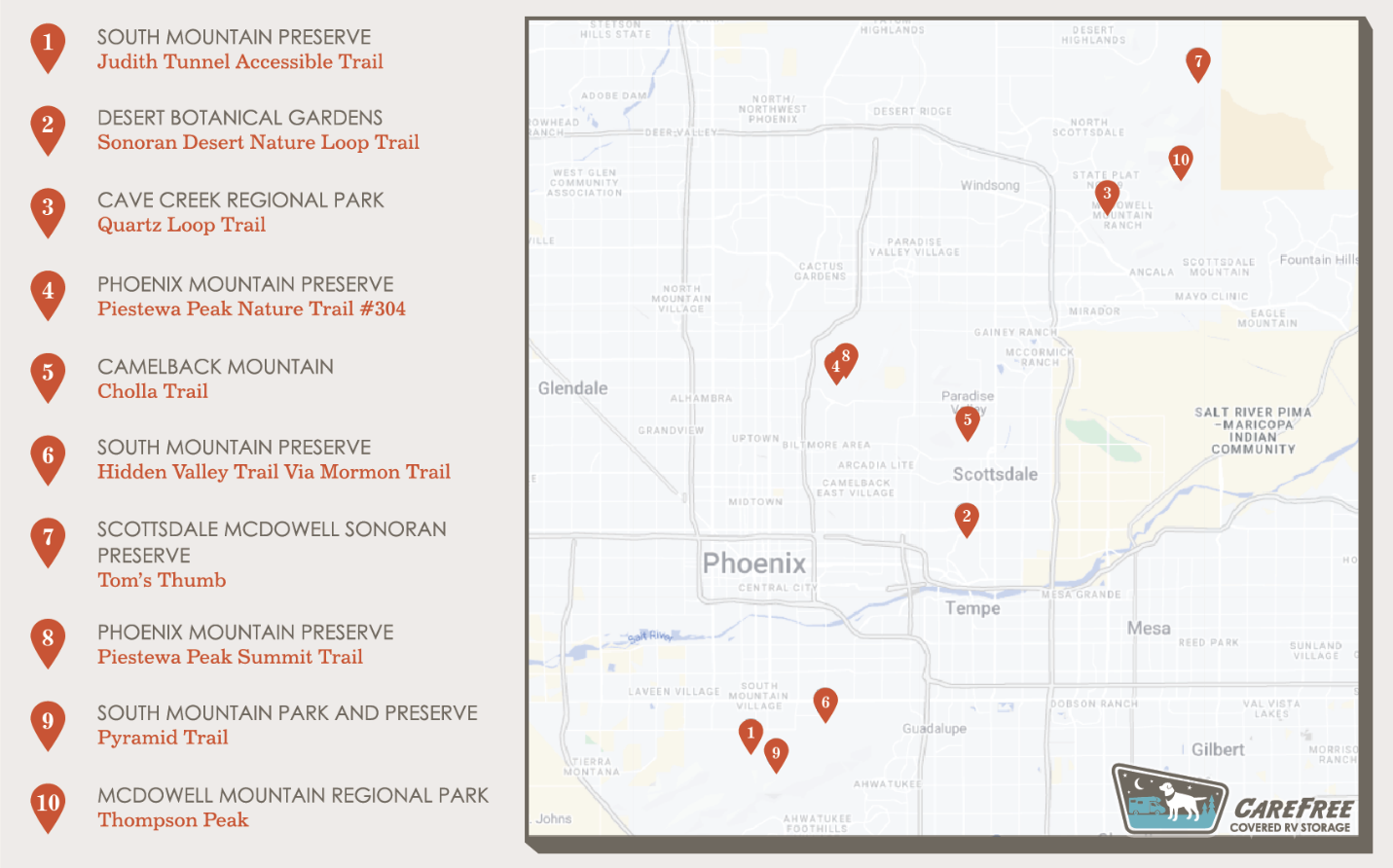 EASY HIKING TRAILS FOR ALL AGES NEAR PHOENIX, AZ
The Arizona landscape is a unique, diverse expanse populated by cacti, sandstone, and lush greenery. If you're looking for a hiking trail that has minimal elevation and is an all-around easy-going experience, then these options are right for you. Stroll the Sonoran Desert with the whole family and soak up the sights of towering saguaro cacti on these three easy hiking trails.
Distance: 1 mile
Trail Type: Loop
Elevation Gain: 105 ft
Pets Allowed: Yes
This trail is paved, making it an excellent option for sightseeing on wheels. Strollers and wheelchairs can easily navigate the family-friendly loop that includes a great lookout spot for photos. The parking lot has disabled-accessible parking at the trailhead, plenty of shade, and ample educational signage to learn from along the way. There are benches for snack time and generally safe paths for little ones to toddle. Ancient petroglyphs carved into boulders and lush desert foliage make you feel like you're deep in the desert despite always being close to the park entrance. All ages and abilities are welcome on the Judith Tunnel Accessible Trail!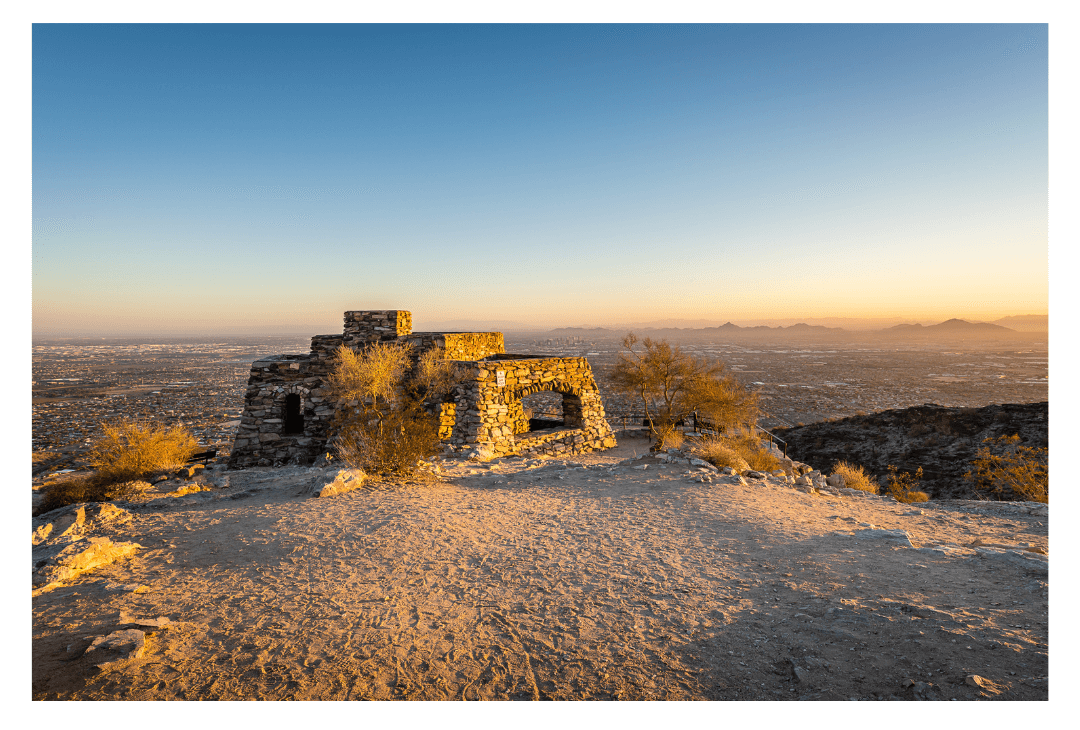 Distance: 2.1 miles
Trail Type: Loop
Elevation Gain: 78 ft
Pets Allowed: No
Paved and packed dirt paths weave through enormous cacti, botanical sculptures, and educational placards on the Sonoran Desert Nature Loop Trail. A must-do, family-friendly outdoor activity in Phoenix, this easy and accessible hike is a great chance to learn about flora and fauna of a diverse and beautiful region. While the other hikes on our list offer more rugged, traditional trails, this trail offers a unique chance to immerse yourself in the scientific aspect of trailblazing. Hit the trail with the whole family, but you'll have to leave any pets at home for this one.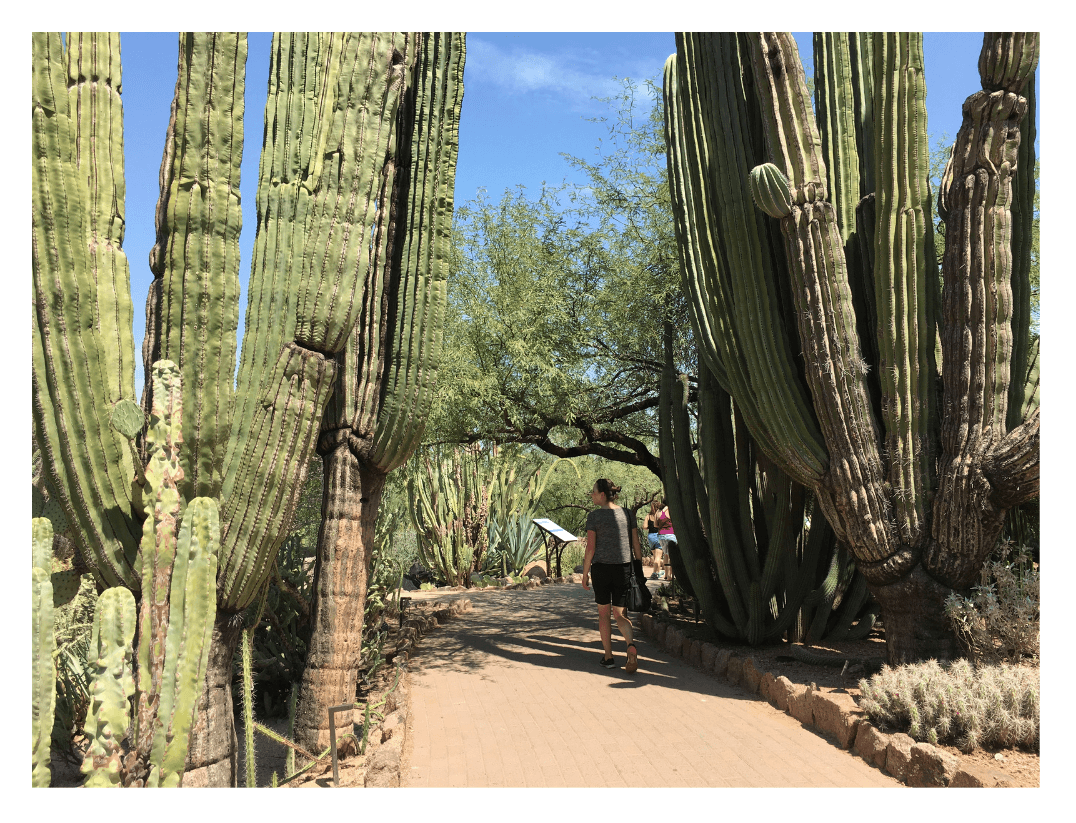 Distance: 3.6 miles
Trail Type: Loop
Elevation Gain: 380 ft
Pets Allowed: Yes
Quartz Loop Trail offers ridge-hugging paths amid the remains of old, shuttered mining sites and classic Arizona views. Bird-watching and wildflower identification are excellent activities to plan for the family at Cave Creek Regional Park. The trail remains relatively flat, with little increase in elevation, allowing you to enjoy the sights without too much exertion. These wild views will put you in touch with nature and make you fall in love with Arizona's scenery.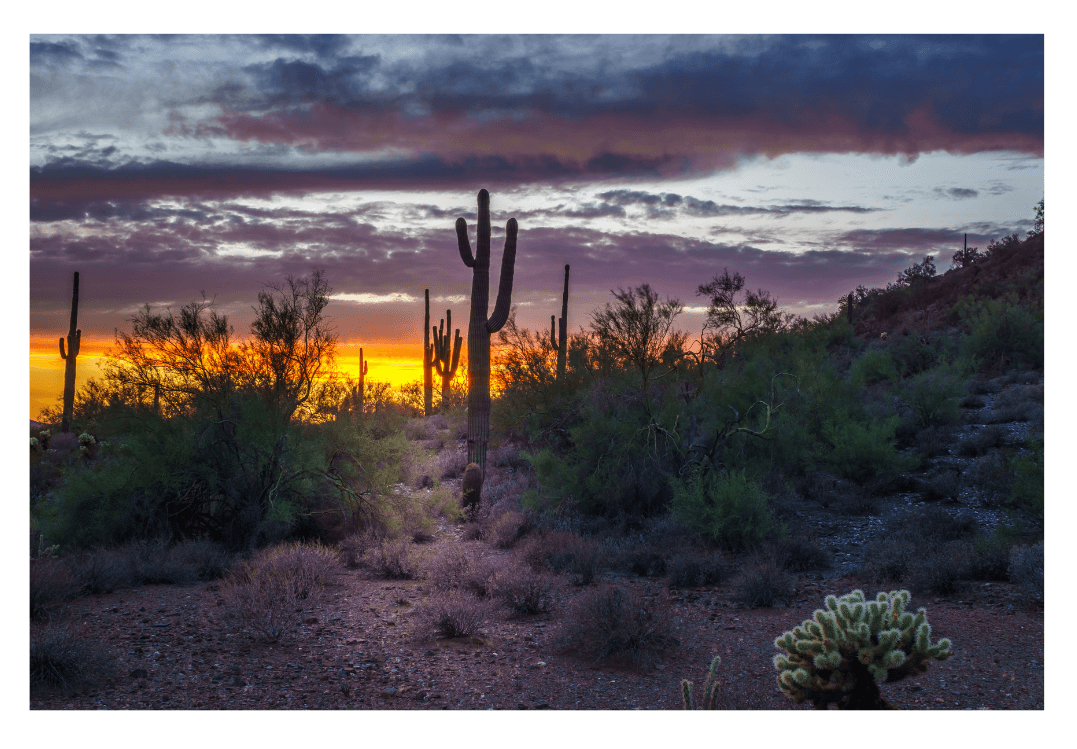 MODERATE HIKING TRAILS IN THE VALLEY OF THE SUN
Break a sweat on these beaten paths! Moderate means steady climbing, steep and often quick elevation gains, plus some rocky trails. If you want a bit of a challenge but nothing too intense, these moderate hikes are for you.
Distance: 1.3 miles
Trail Type: Loop
Elevation Gain: 269 ft
Pets Allowed: Yes
Bird watchers and wildlife lovers flock to this moderately difficult trail at Phoenix Mountain Preserve. If you're not quite ready to sweat it all the way to the top of Piestewa Peak via the Summit Trail, then this hike is a great chance to experience similar sights. Odd rock formations and abundant wildflowers dot the scenic desert landscape. According to reviews, the trail can be rocky and steep at times; however, it is family-friendly for children over eight years old. If you're in the mood for quintessential Arizona views, family fun, and breaking a bit of a sweat, Natural Trail #304 will satisfy.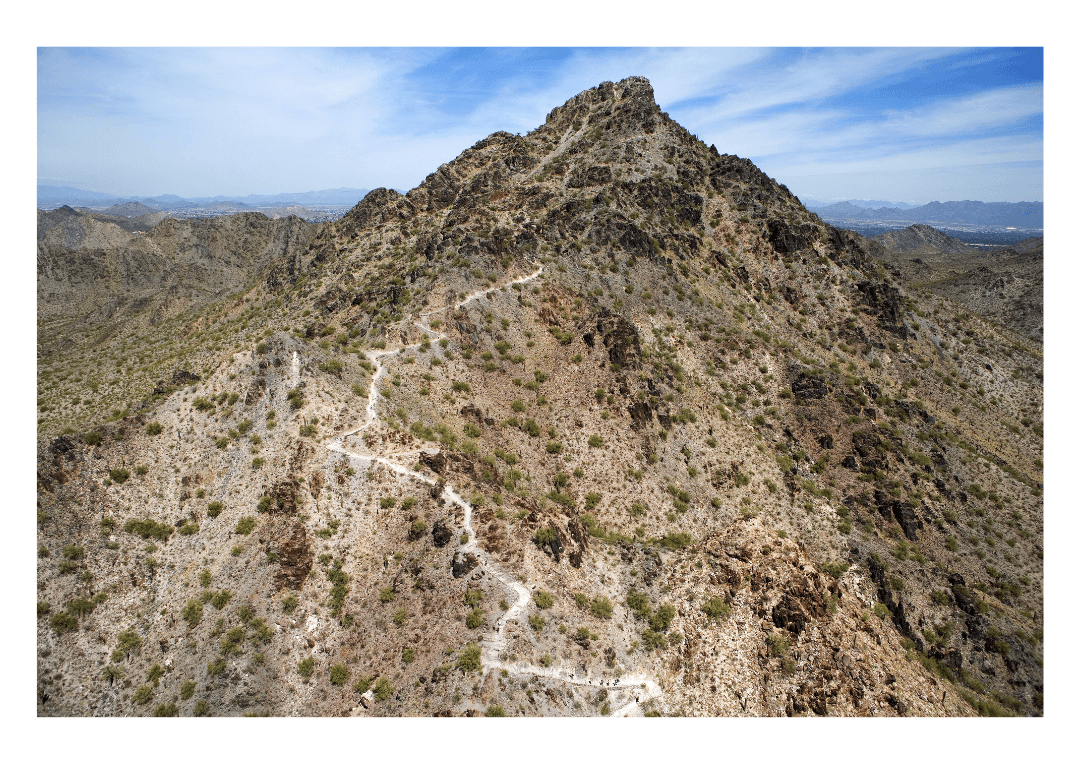 Distance: 3 miles
Trail Type: Out-and-back
Elevation Gain: 1,264 ft
Pets Allowed: Yes
Cholla Trail at Camelback Mountain is right in the middle of Phoenix, making it an excellent urban destination for daily workouts. Because this route is heavily traversed, your chances of seeing wildlife are low, but botanical enthusiasts will spot all of Phoenix's classic Sonoran plants on this trail. Saguaro cacti, cholla, and Christmas cacti are among the dense foliage along the Cholla Trail.

Distance: 4 miles
Trail Type: Loop
Elevation Gain: 945 ft
Pets Allowed: Yes
A fantastic view of the Superstition Mountains, undulating wildflowers, and a heart-pumping workout awaits you on Hidden Valley Trail. If you're interested in squeezing through the famous Fat Man's Pass, this trail is an excellent choice. South Mountain is expansive, with a lot to offer, but if you choose this hike, you'll get to walk through strange landscape features, including rock tunnels. The path is rocky but well cared for and makes a great date for you and your dog! Scramble the mountains through some of the most unique terrains in Phoenix on the Hidden Valley Trail.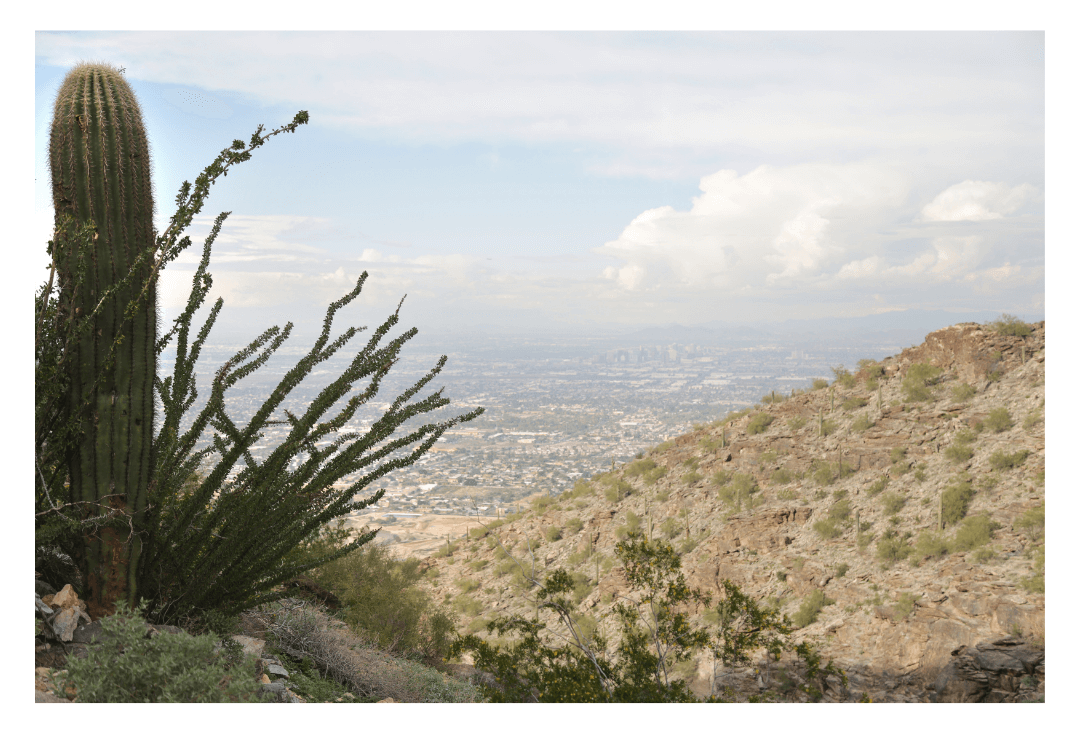 Distance: 4.3 miles
Trail Type: Out-and-back
Elevation Gain: 3,793 ft
Pets Allowed: Yes
Deceptively flat to start, Tom's Thumb trail increases elevation quickly with a steep climb up switchbacks. After the initial push, the path levels out and reveals otherworldly scenery populated by massive boulder formations. This preserve has ample parking, a plus for urban trail exploration. If you want to see a favorite local photo spot and also feel like you're on another planet while strolling amidst car-sized boulders, Tom's Thumb is a must!
CHALLENGING HIKES TO TACKLE NEAR PHOENIX, AZ
Distance: 2.26 miles
Trail Type: Out-and-back
Elevation Gain: 1,168 ft
Pets Allowed: No
Don't let the short distance of this trail fool you; it is quite the challenge. You will hoist yourself up multiple sets of large stairs carved into rock while, at times, holding onto a metal rail to keep your footing on loose ground. Panoramic views from the top of the peak are coveted in Phoenix, but not everyone is up for the task.
Heed the sign that reads "extremely difficult" at the trailhead. Despite the difficulty level, this hike is popular and crowded. Upon ascent to the peak, you will be blown away by the endless landscape and cooler temperature, thanks to the elevation. If you're ready for a great workout in a short period of time, head out to Piestewa Peak Summit Trail.
Distance: 6.25 miles
Trail Type: Out-and-back
Elevation Gain: 1,080 ft
Pets Allowed: Yes
Pyramid Trail is a more remote and challenging hike than many others at South Mountain Park and Preserve. Expect little shade and steep elevation. In just over half a mile, you will gain around 900 ft of elevation. This trail is one of the furthest trailheads in the park from downtown Phoenix; however, the extra drive is worthwhile if you prefer solitude on a less-congested trail. The path is well-maintained and offers up expansive views of the park.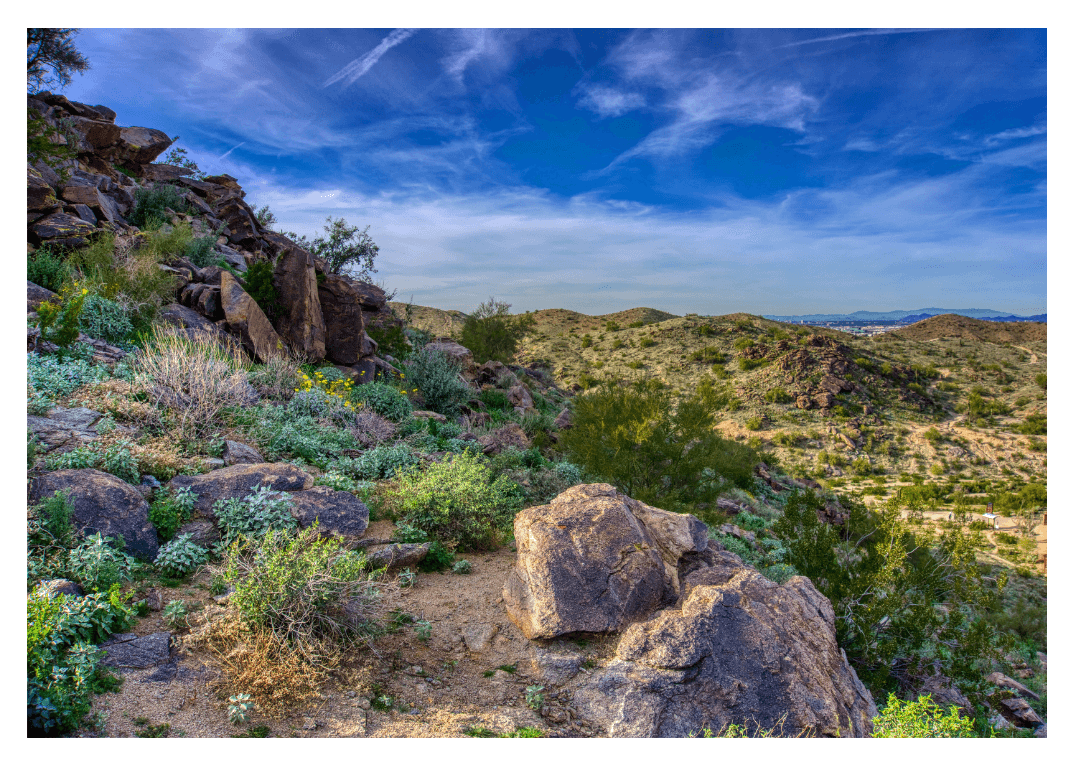 Distance: 9.5 miles
Trail Type: Out-and-back
Elevation Gain: 2,066 ft
Pets Allowed: Yes
Thompson Peak is the longest hike on our list, and it is not for the faint of heart. When setting out to tackle this trail, pack plenty of water. Your endurance and leg strength will be tested along the way as you ascend 2,066 feet up the mountain. Experienced hikers say that you have to love a challenge to enjoy Thompson Peak, and the challenge is worth it for the gobsmacking 360-degree view.

It is imperative to follow proper safety guidelines for hiking no matter what trail you traverse. Doing so protects you and the environment that you visit. Be wary of dry heat, pack plenty of water, slather on the sunscreen, and stay on the designated trails! The City of Phoenix Parks and Recreation Department and Fire Department provide a comprehensive list of safety guidelines that we highly recommend you follow. Take advantage of their educational materials that teach how to "take a hike and do it right."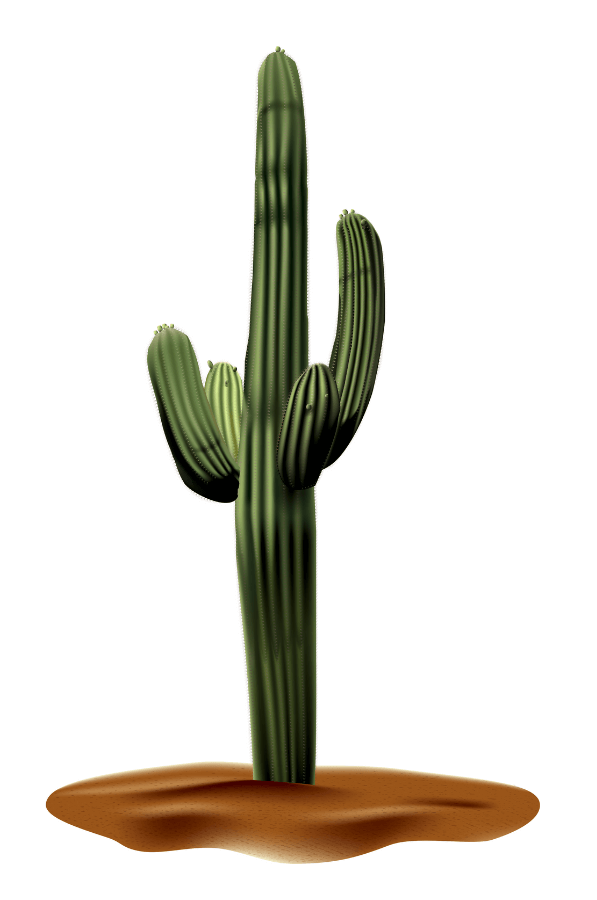 Barry Raber is a recreational hiker that appreciates the uncommon perspectives provided on these hikes. He's also President and CEO of Business Property Trust, a real estate investment firm located in Portland, Ore. that owns and manages covered RV and self-storage in Arizona and Texas, and he is a member of the Portland chapter of the Entrepreneurs' Organization. He provides resources for businesses at realsimplebusiness.org.