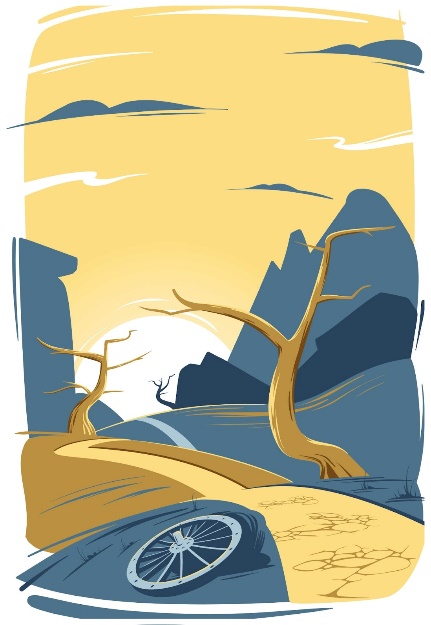 Whether you're a first timer on Texas trails or an outdoor aficionado looking for another challenging hike, North Texas is a superb destination for your next adventure. Texas treks that are dog-friendly, kid-friendly, and populated with wildlife for the excited explorer are a dime a dozen! It's not news that the Lone Star State has vast landscapes across its 171 million acres with hiking trails, swimming holes, and incredibly diverse wildlife populations.
When planning a trip down a Texas trail, pinpointing somewhere on the map can be difficult, with such a range of options to choose from. Today we're zooming in on North Texas, one of the most densely populated and family-friendly Texas regions.
The Dallas-Fort Worth area — with its world-class restaurants, high-end shopping, fascinating culture, and packed sports arenas — also boasts a number of top-notch nature preserves and parks. So whether your speed is a paved urban trek or an intensely challenging ascent, North Texas is a hiker's paradise with terrain for everyone, from sparkling lakes and rushing rivers to rolling hills and rocky ridges.
We've broken out 7 top hikes in the North Texas area by difficulty level, and there's something for everyone on the list. So lace up your hiking boots and get stepping down one of these hiking trails in North Texas: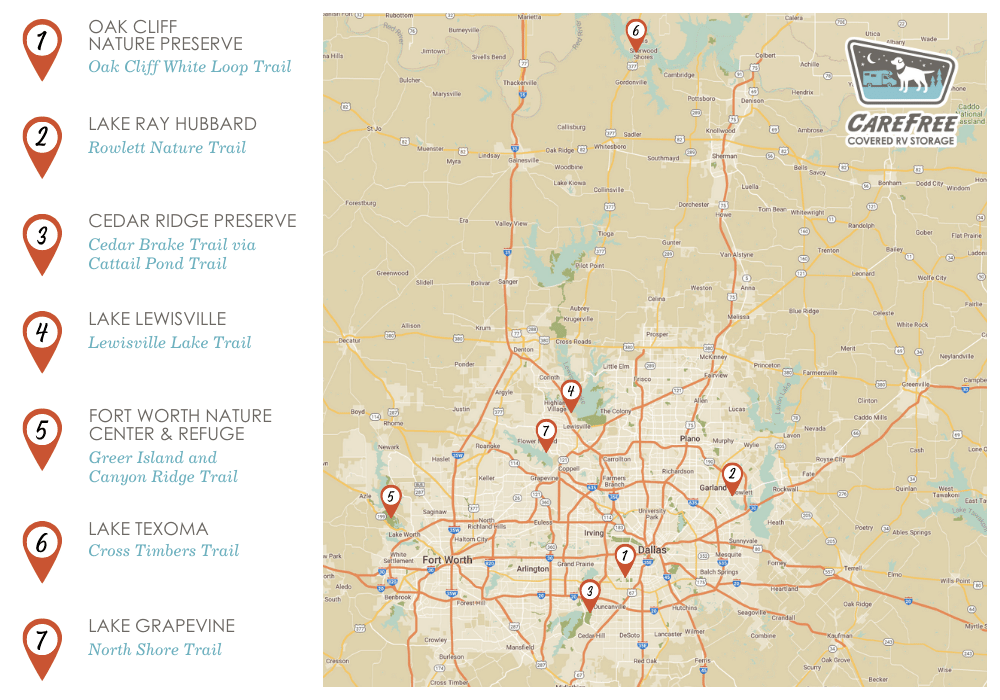 EASY HIKING TRAILS FOR ALL AGES NEAR NORTH TEXAS
Our Trail Pick: Oak Cliff White Loop
Trail Type: Loop
Length: 2 miles
AllTrails.com Rating: 4.3 stars
Dallas-area gem, the Oak Cliff Nature Preserve, boasts eight beautiful miles of hiking trails — a perfect respite from the fast-paced city. There's a terrific loop trail of seven miles, the Oak Cliff Nature Trail, with wildflowers and woodland scenes guaranteed to please, but the Oak Cliff White Loop is a bite-sized version for those wanting to take it easy. Mountain bikers and birders share the trail with hikers, but despite its popularity, there are always serene moments of stillness along the way.
Our Trail Pick: Rowlett Nature Trail
Trail Type: Out and back
Length: 2.6 miles
AllTrails.com Rating: 4.2 stars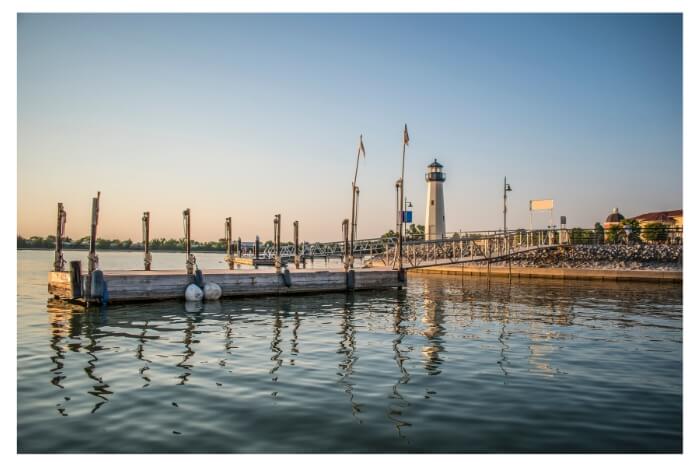 The Rowlett Nature Trail is a favorite of Lake Ray Hubbard visitors, thanks to its easy accessibility and shady forested path. The whole family can enjoy this trail with its minimal elevation — and at the end of the trail, you're rewarded with a glimpse of the sprawling blue lake.
MODERATE HIKING TRAILS IN THE DFW AREA
Our Trail Pick: Cedar Brake Trail via Cattail Pond Trail
Trail Type: Loop
Distance: 2.7 miles
AllTrails.com Rating: 4.6 stars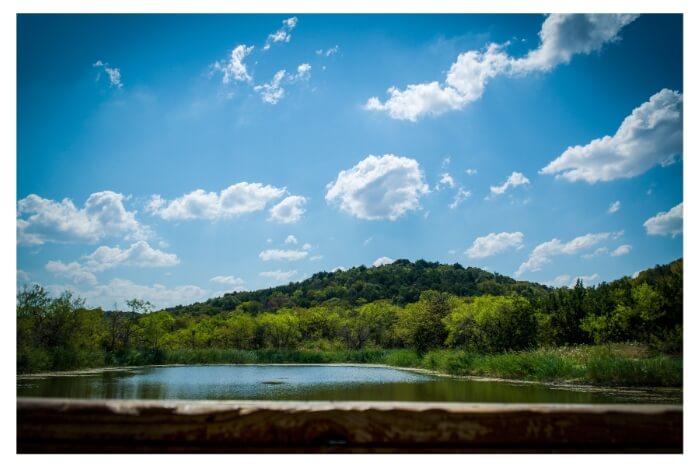 This trail is just one route at the 600-acre Cedar Ridge Preserve, with nine miles of trails of varying difficulty. Love fantastic views and don't mind trekking uphill? The Escarpment Trail and the Cattail Pond Trail are more challenging but offer spectacular scenery.
Need a short, sweet hike without too much elevation? The Prairie Trail and Little Bluestem Trail are fantastic for little kids and low-key hikers. You'll also love the preserve's education center, full of facts about the local wildlife.
Our Trail Pick: Lewisville Lake Trail
Trail Type: Out and back
Length: 3.7 miles
AllTrails.com Rating: 4.2 stars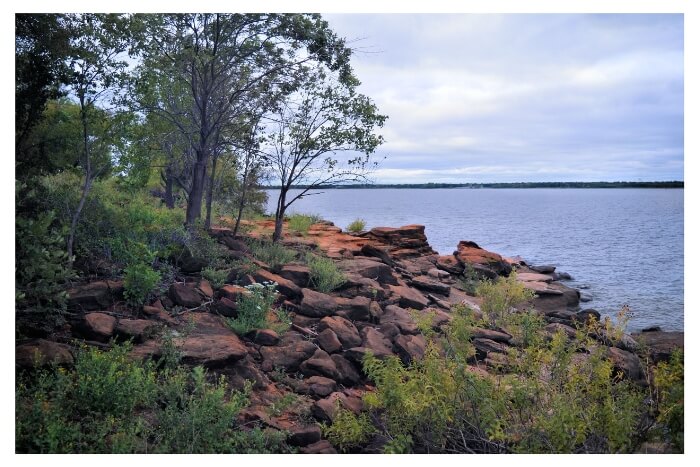 Lake Lewisville is one of numerous North Texas lakes that offer scenic hiking opportunities, and the Lewisville Lake Trail is a great start! There are seven miles of trails around the Lake Lewisville area, all worth a trek. The trails here are relatively easy but offer excellent opportunities to view wildlife, making them popular among birdwatchers. Near the lake is the Lake Lewisville Environmental Learning Area, which is worth a visit if you're hiking or strolling with little ones.
Fort Worth Nature Center & Refuge, Fort Worth
Our Trail Pick: Greer Island and Canyon Ridge Trail
Trail Type: Out and back
Length: 6 miles
AllTrails.com Rating: 4.6 stars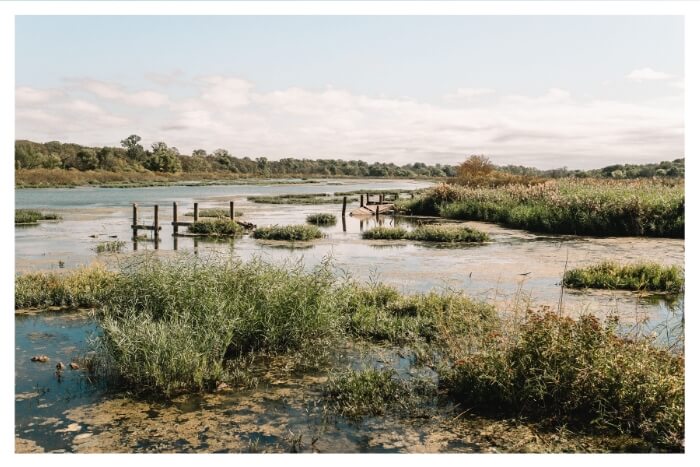 Fort Worth isn't necessarily known as a hiking mecca, but we're impressed with the 20 miles of beautiful trails at the Fort Worth Nature Center. Enjoy 3,600 acres of canyon and grassland panoramas. There are also paved nature trails that are ADA accessible, so everyone in your crew can enjoy the view.
The combined Greer Island and Canyon Ridge Trail is moderately challenging, usually taking over two hours to complete. It's a favorite for hikers as well as runners and birders.
CHALLENGING NORTH TEXAS HIKES TO TACKLE
Our Trail Pick: Cross Timbers Trail
Trail Type: Point to point
Length: 14 miles
AllTrails.com Rating: 4.5 stars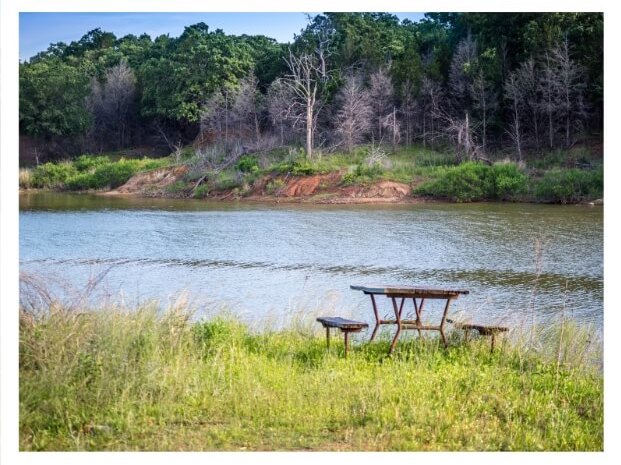 Known casually as "the toughest little trail in Texas," the Cross Timbers Trail at Lake Texoma might also be one of the prettiest — if you've got the grit to take it on. The moderate-to-advanced Cross Timbers Trail is owned and operated by the U.S. Army Corps of Engineers and offers more than 14 miles of heart-pumping ascents rewards with gorgeous views.
You'll likely see a handful of ultra-runners training here in winter and spring, but mountain bikers tend to steer clear of this area. Fair warning: There's quite a bit of poison ivy, so be careful if you wander off the path. The trail lopes along the shores of the west side of Lake Texoma. There's a trailhead at Juniper Point Campground and primitive campsites at Lost Camp on the Lost Creek Loop, Eagle's Roost, and 5-Mile Camp. Camping here is dreamy, but keep an eye out for coyotes, snakes, and the occasional bobcat.
Our Trail Pick: North Shore Trail
Trail Type: Out and back
Length: 18 miles
AllTrails.com Rating: 4.6 stars
Lake Grapevine has several great trails that hug the shoreline. Experienced hikers will love the North Shore Trail but watch for passing mountain bikers. The trail is open all year long and never fails to please visitors with its lovely views.
After reading about these North Texas faves, we bet you've got your hiking boots laced and ready to go! Of course, these are just a few suggestions for North Texas trails, and we can guarantee there are plenty more worth discovering.
Honorable Mentions: North Texas Hiking Destinations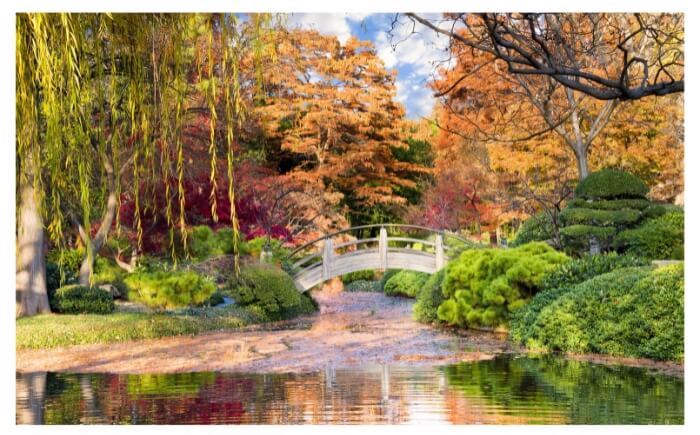 Check out these links for more Texas hiking trail inspiration:
If you're looking for the best Phoenix, AZ, hiking trails, explore our companion article here!
Come Home to Carefree Covered RV and Boat Storage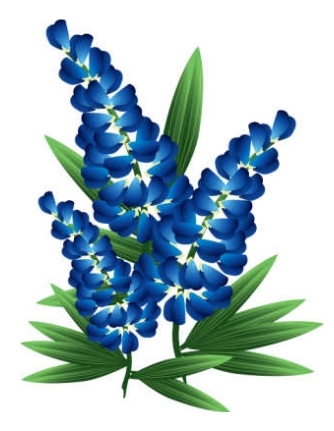 If you're an eager outdoor explorer who loves to hit the trails and find adventure along the natural shores and cliffs of Texas, then there's a good chance you love boating and RVing too! Wherever your journey takes you, whether you're navigating to these trailheads by boat, car, or foot, you should always have somewhere cool and shady to retire to after a long hike - especially under the Texas sun.
Bringing an RV on the road is a great way to travel the country with your own private lodging, always close by. And towing a boat on a trip means your whole group can stay nice a cool in the refreshing waters of North Texas. And when you're all done with your next RV or boating expedition, the best advice we can give you is to store your RV or boat at a secure RV storage facility like one of our Arizona or Texas locations.
Check out our facility video and tour, then stop by, and we'll get your rig set up. When you store your recreational vehicles with us, you'll enjoy secure, quality covered RV storage with our 42-camera video surveillance, along with 365-day automated access with our phone gate app, charging outlets, free wifi, and free self RV wash and sewer dump. We've even got complimentary bags of ice! Also need a storage unit for other small recreational toys, equipment, and supplies? We've got them!
At Carefree Covered RV Storage, you're guaranteed peace of mind, protection, and personalized, old-fashioned service. We make it easy for you to rent and make payments online, maintain your vehicle, and get on the road — so that you can keep living the Carefree life.