Not only has renting your RV become the latest trend in the peer-to-peer rental market, but several popular online rental platforms have made the process easier than ever.
So, if you're considering joining the growing number of RV owners revving up revenue from their RV purchases, then follow along in our ultimate guide for renting out your RV in a safe and profitable way! By the end of this article — about a five-minute read — you'll be able to drop some serious knowledge on:
The rise of the RV revolution and rentals

What to expect from renting your RV — pros and cons, rental platform features, and potential income

Our top 3 RV rental company picks

How to attract renters


The Rise of the RV Revolution — and Rentals
If you're on this website, then you know that the days of stacking sports equipment and suitcases a mile high on top of the family station wagon are officially over.
The hashtag "vanlife" has been used more than six million times on Instagram, and according to The Wandering RV, almost 40% of the 40 million recreational vehicle owners in the US are millennials. Goodbye Griswald family vacation and hello to hitting the road in style with the whole gang, including the dogs!
And, RV ownership has only risen in popularity in this COVID era. Staying healthy on vacation can feel difficult when you have to stop at gas stations to use the bathroom or check in at a crowded hotel counter. With a bathroom onboard and a bed for each head, your RV offers the ultimate socially distanced vacation escape.


But...RV Ownership Can Get Expensive!
Yep, RV purchase prices range from $6,000 to $500,000+ (whoa!). When you consider that most RVers only use their rigs 3-4 weeks each year, having a plan to offset the purchase can make the option to buy more sustainable in the long term.
As you consider the return on investment of making such a big purchase, know that today's popular share economy allows an alternative to driveway depreciation. Taking a page from AirBnB's and Vrbo's books, a new crop of online peer-to-peer RV rental platforms allows you to rent your RV to travelers with less hassle than managing it yourself.
Putting your rig to good use the other 45+ weeks out of the year has proven to be an attractive income-generating option for many RV enthusiasts. And, it's something that travelers are trending toward in a big way:
According to the popular travel blog

RV Lifestyle

, bookings through RVshare have nearly tripled since last year and are up more than 1,600% from early April.
An

RVshare

survey found that more than half (51%) of owners are able to cover 76% or more of their RV's financing cost through renting to travelers, with more than a third (35%) covering all or more of their financing cost.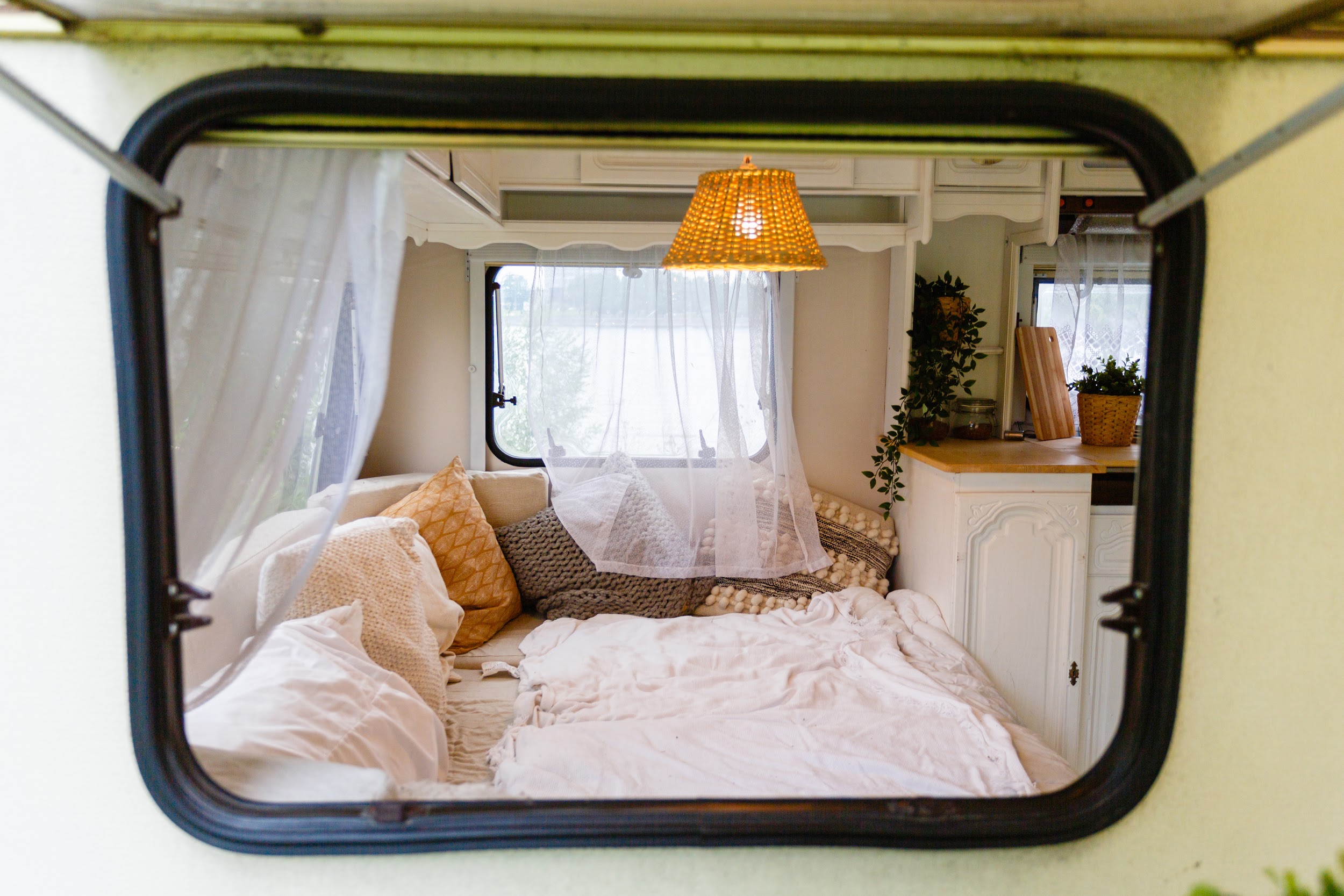 Is Renting My RV Safe?
Great question. Understandably, many RV owners have reservations about handing the keys to their home-on-wheels over to strangers.
Thankfully, home vacation rentals have set the standard with required government IDs, verified reviews, insurance, and other protective measures for both owners and renters.
Like AirBnB, Vrbo, and countless other home-share companies, peer-to-peer online RV rental companies have their reputations at stake, so their top priority is protecting your investment. So much so, that the best ones have created extensive best practices and implement thorough safety measures to ensure that renting your RV is a win for everyone involved.
If you're warming up to the idea of taking a plunge in the RV rental pool, then read on for what to expect, our top three picks, and how to attract renters.


RV Rental Platforms: What to Expect
Consider the Pros and Cons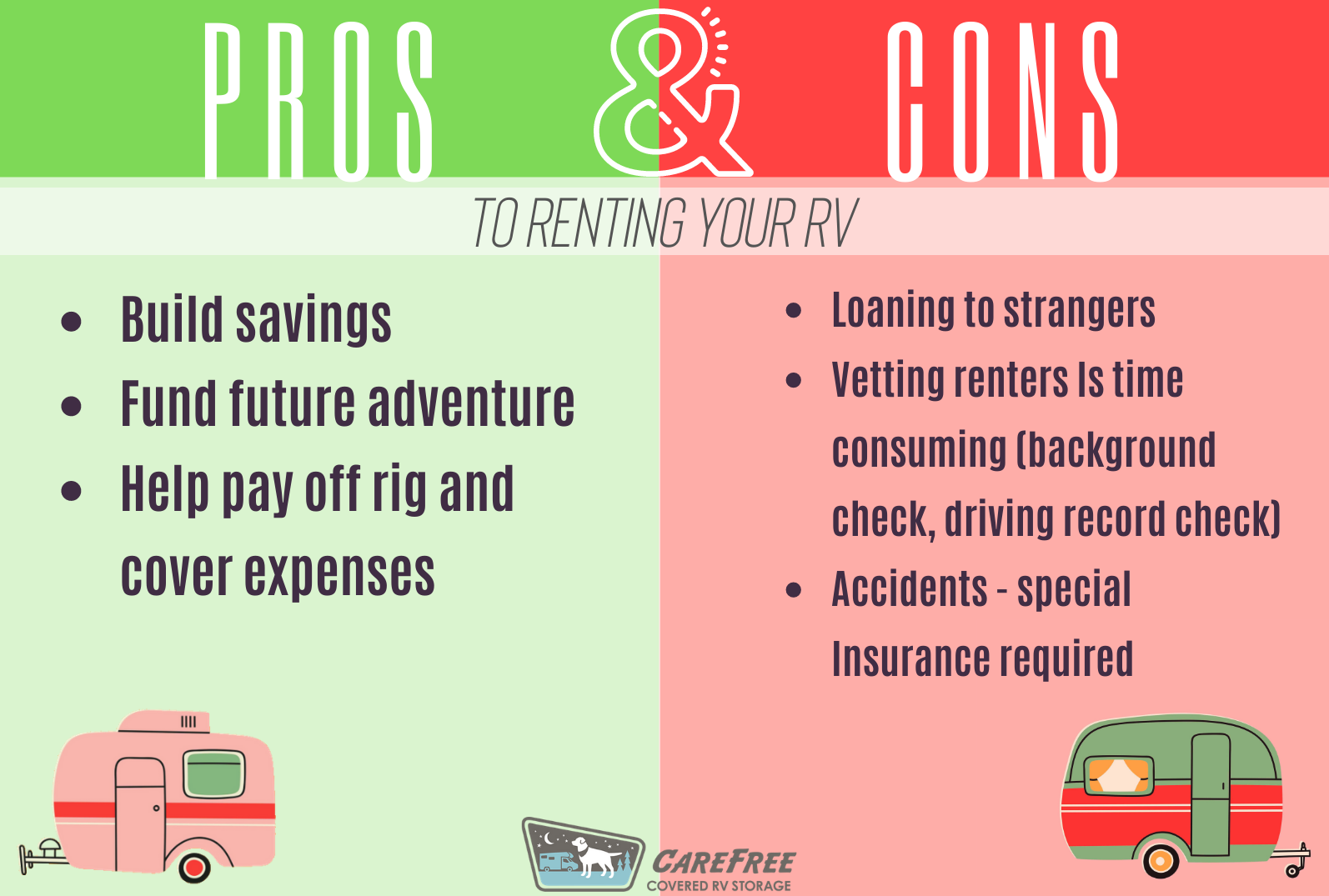 No matter which peer-to-peer RV rental platform you commit to, you can expect the following common denominators:
Company Takes Percentage of Rental Income.

25% is Common, but in addition to your 75% cut, you get peace of mind, free advertising, and insurance coverage

Direct Interaction

Between Hosts and Guests, Online and In-Person

Public Reviews

of Your RV, Must Be in Great Shape!

Expectation of Great Customer Service

, Hosts Must Commit To Representing the Company in a Professional Manner
The above points are important to consider when weighing the pros and cons. Speaking of which, here are a couple more benefits you might appreciate:
Pay off your rig before you retire.

If you're drawn to retirement on the road, and you're 2-5 years out from that final day on the job, getting an RV and renting it out can be the perfect way to dip your toes in and pay off the rig before your last day on the job.

Make new friends.

Renting your RV is a great way to expand your social network outside of work colleagues and close friends. Plus, introducing new campers to the RV lifestyle has its own intrinsic joys.


Features to Watch For in RV Rental Platforms
Once you understand the general pros and cons, your next step is to choose the right rental platform. While the market is currently small, the companies in the industry offer slight variations. Be sure to research the features that matter most to you. Doing so can mean the difference between a fun, profitable venture, and a stress-filled side gig.
Keep an eye out for these crucial characteristics:
Verified Government Identification Requirement

Guest Reviews of Hosts

Host Reviews of Guests

Insurance Coverage for Both Parties

Customer Service Support Team

User-Friendly Booking Option - including Instant Book (preferred by travelers)


What You Can Expect to Earn
You can expect to pocket some pretty good rental income from renting out your RV. See our handy chart below. Remember to allow for various rates due to season, RV type, and location — plus the RV rental company's typical 25% cut. It's also helpful to study the going rates on the RV rental platform you choose. This will keep you from pricing too high and getting undercut by your competitors.
| | | | | | |
| --- | --- | --- | --- | --- | --- |
| Class A | Class B | Class C | Travel Trailer | Fifth Wheel | Pop-Up Trailer |
| $175 - $275/night | $100 - $200/night | $150 - $200/night | $50 - $125/night | $60 - $150/night | $50 - $100/night |
Tax Savings Alert!
Did you know that you can take a mortgage interest deduction on a second home — and that an RV qualifies for that? However, if you rent your RV out to others, then you must use it as a home at least 14 days or more than 10% of the days it was rented out, whichever is more. You'd just need to keep track of the nights used for personal vs. business for tax time.
You may also be able to claim additional business expenses and tax deductions, like depreciation, commissions paid to the RV rental company, advertising fees, insurance, cleaning, and other maintenance. Just chat with your tax advisor about your options.


Our Picks: Top 3 RV Rental Companies
As we've already said, the list of current RV rental platforms is small, but it can still be hard to choose. To make it even easier for you to decide, here are our top three picks. None of the following websites require you to list exclusively but having multiple booking calendars can be a recipe for disaster. Double-booking RV guests will lead to negative reviews and affect your ability to attract customers again. All three companies have unique perks, so be sure to study up before making a choice.
Outdoorsy

(4.4 / 5)
Outdoorsy replicates the Airbnb approach, showcasing a range of vehicle types and luxury levels, including camper vans, pop-ups, and motorhomes. The online rental interface is modern, user-friendly, and designed to protect guests as well as hosts. Outdoorsy guarantees:
$1M insurance Covering Both Renter and Owner

DMV Check On All Drivers

24/7 RV Rental Roadside Assistance

Dedicated Customer Support Team

93% Average 5+ Star Reviews
This RV Renter Review speaks for itself:
"We love that Outdoorsy allows us to connect with families and help them have incredible camping experiences of their own. I also love not having to worry about any of the administrative details of renting my RV. Outdoorsy brings peace of mind to the transaction, with insurance, DMV checks, roadside assistance, and secure payments." – Corey L.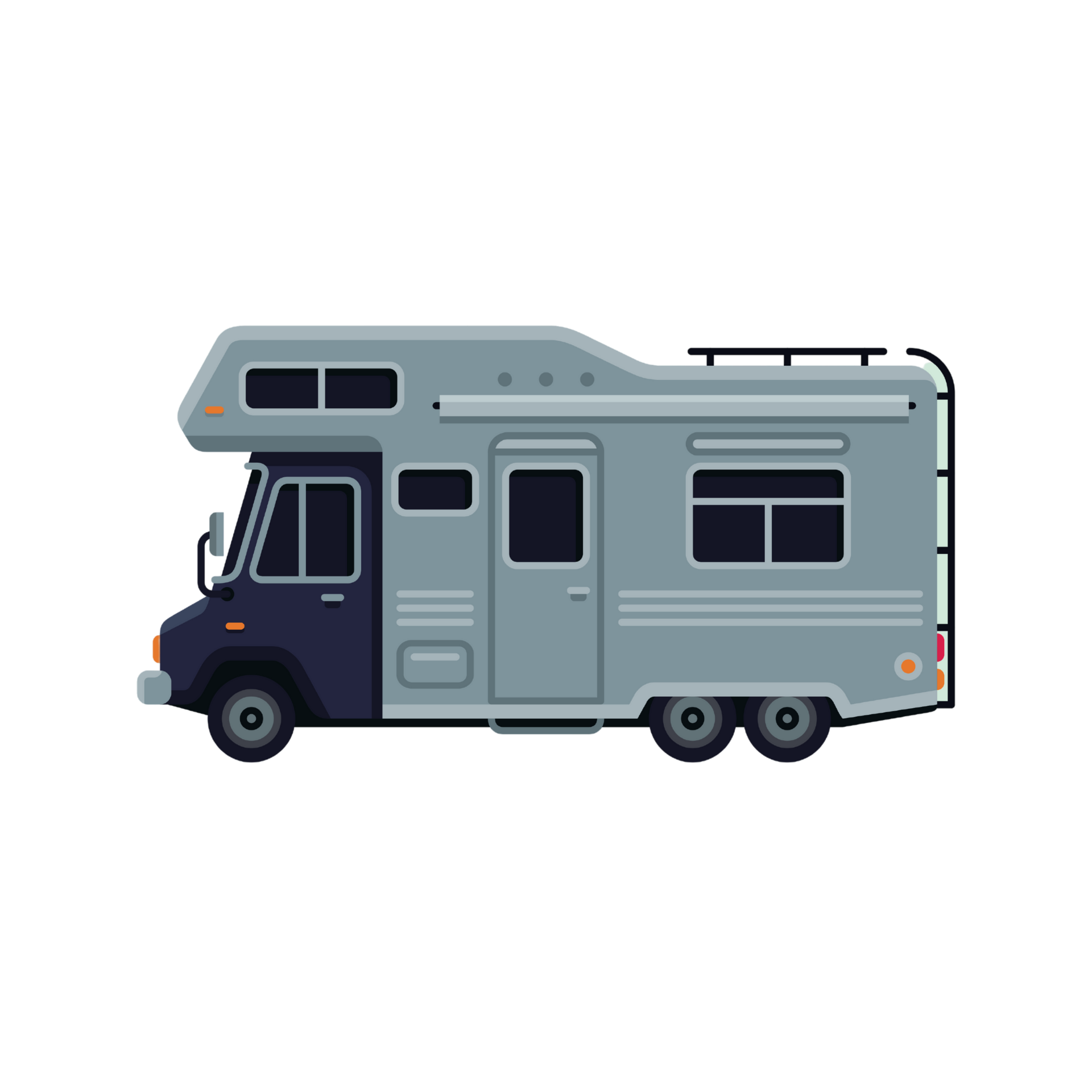 RVshare (4.4 / 5)
RVshare is the biggest of the three companies, offering the broadest global reach and the most extensive vehicle inventory.
Hosts who list on RVshare can expect to be up against a vast catalog of options, but with thousands of eyes on the website and no need for outside advertising.
Because RVshare is operating on a larger scale, it goes without saying that a few comforts are lost in the cracks. People have complained of hosts canceling reservations at the last minute, lack of response or delayed response times from hosts, and worst of all, poor conditions of rented equipment. However, RV Share does have similar safety precautions and guarantees in place as Outdoorsy.
RV Rental Review:
"This site is very clear and concise. If you ever have any questions, you can call or email and they respond to you right away." – Erin R.










RVezy(9.4/10)
RVezy was founded as a Canadian company but has since expanded to service US patrons. It offers rolling rentals in far fewer locations than its competitors, but the company's boutique feel extends to their treatment of motorhome owners and travelers according to reviews. RVezy's customer support team is just a phone call or chat away, and their insurance coverage measures up to competitors.
RV Rental Review:
"I found it to be an excellent website marketplace to rent an RV. It's easy to use. I trust it." – Nathan B.













How to Attract Renters to Your RV
If you've decided to list your RV with an RV rental platform, then it's time to set up your listing to lure the right renters. RV renters are looking for something enticing, reliable, and fun, so that's exactly what your listing should reflect! Here are a few pro tips on pumping up the personality of your listing and attracting stellar guests.
Style:
Hire a professional photographer.

Great photography makes your listing stand out above the rest. Hiring a pro will pay off.

Upload a video tour of your vehicle

if the platform allows. Many users don't take advantage of this, so it's another way to make your listing unique.

Freshen up your RV interior

with new throw pillows, blankets, and wall art. Travelers love comfort, but unique decor is bound to get rave reviews.
Hospitality:
Create a guest guidebook that includes more than just the house rules.

Be sure to cover quirks of the rig, great recipes to cook on the road, and other fun ideas.

Be available 24/7 to address issues or confusion.

You never know when the Netflix password decides to stop working.

Provide basic amenities, such as cutlery, cooking supplies, and paper products.

Think about what you use the most in your own home and provide that for your guests.

Wow guests with a curated gift basket.

Think local snacks, beauty products, and emergency supplies.
Maintenance:
Clear out personal belongings

and replace them with amenities like mini toiletries.

Nail down your pet policy,

keeping in mind that more than 50% of RVers take their pets with them.

Get the rig in excellent working condition

(brakes, engine, electrical, tires, etc.).

Record mileage and generator hours

before and after each rental.

Have a daily mile limit.

Most owners have a 100-mile daily limit and charge a fee per additional mile hour.
If you're yearning to learn even more about how to build a successful RV rental side hustle, we highly recommend checking out the courses offered by RV rental school. It's like a boot camp for your RV rental! This article by The Wandering RV is also another great resource.










When Renting Your Wheels Isn't the Right Move
While the prospect of pocketing extra cash is enticing, renting out an RV doesn't come without a workload — even if you do let an RV rental platform help with most of the heavy lifting.
Being a short-term rental operator may appear to be an easy, passive generating business opportunity to an outsider. However, given that listing your rig for rent means that you're entering the hospitality industry, you have to put time and energy into the process to be truly successful.
Plus, playing "host(ess) with the
most(ess)" requires being available to
guests, stocking amenities like gift
baskets, and maintaining a tip-top vehicle. No rental platform is going to manage the entire process for you. For busy professionals and individuals who don't have spare time to oversee a side business, this probably isn't the best option.


Come Home to Carefree Covered RV Storage
If you've made the decision not to rent out your RV, that doesn't mean you have to squeeze around a huge vehicle in your driveway every time you head to work. Luckily, securely storing an RV is a piece of cake with Carefree Covered RV Storage here in Apache Junction, Arizona.
We offer safe and secure covered storage near you for your RV, boat, or trailer storage needs and understand what your vehicle means to you. It's a big investment and a cherished memory maker, and our on-site managers treat it like our own. With offsite RV storage, you can spend less time worrying about happy campers and more time being one at home!

Check out our facility video and tour, then stop by and we'll get your rig set up. When you store your recreational vehicles with us, you'll enjoy secure, quality covered RV storage with our 42-camera video surveillance, along with 365-day automated access with our phone gate app, charging outlets, free wifi, and free self RV wash and sewer dump. We've even got complimentary bags of ice! Also need a storage unit for additional small recreational toys, equipment, and supplies? We've got them!
At Carefree Covered RV Storage, you're guaranteed peace of mind, protection, and personalized, old-fashioned service. We make it easy for you to rent and make payments online, maintain your vehicle, and get on the road — so that you can keep living the carefree life!