You might not have known this, but you can ship any kind of trailer or RV, including fifth wheels and travel trailers. This could be useful if you buy a trailer or RV online and do not want to travel to bring it home yourself. It could also be useful if you need a trailer or an RV at a destination cross-country but do not feel like driving all the way there. Regardless of why you might ship a travel trailer, fifth wheel or RV, the possibility for you to do so exists, and these types of shipments occur more frequently than you might think.
Trailer and RV Shipping Basics
Trailers and RVs cannot be shipped using a typical car carrier. Instead, trailers will be shipped using a flatbed trailer or a heavy-duty truck capable of towing a trailer. However, a shipping company using a heavy-duty truck to tow something is extremely rare. The vast majority of travel trailer shipments occur on flatbed carriers while all RV shipments will occur on flatbed carriers.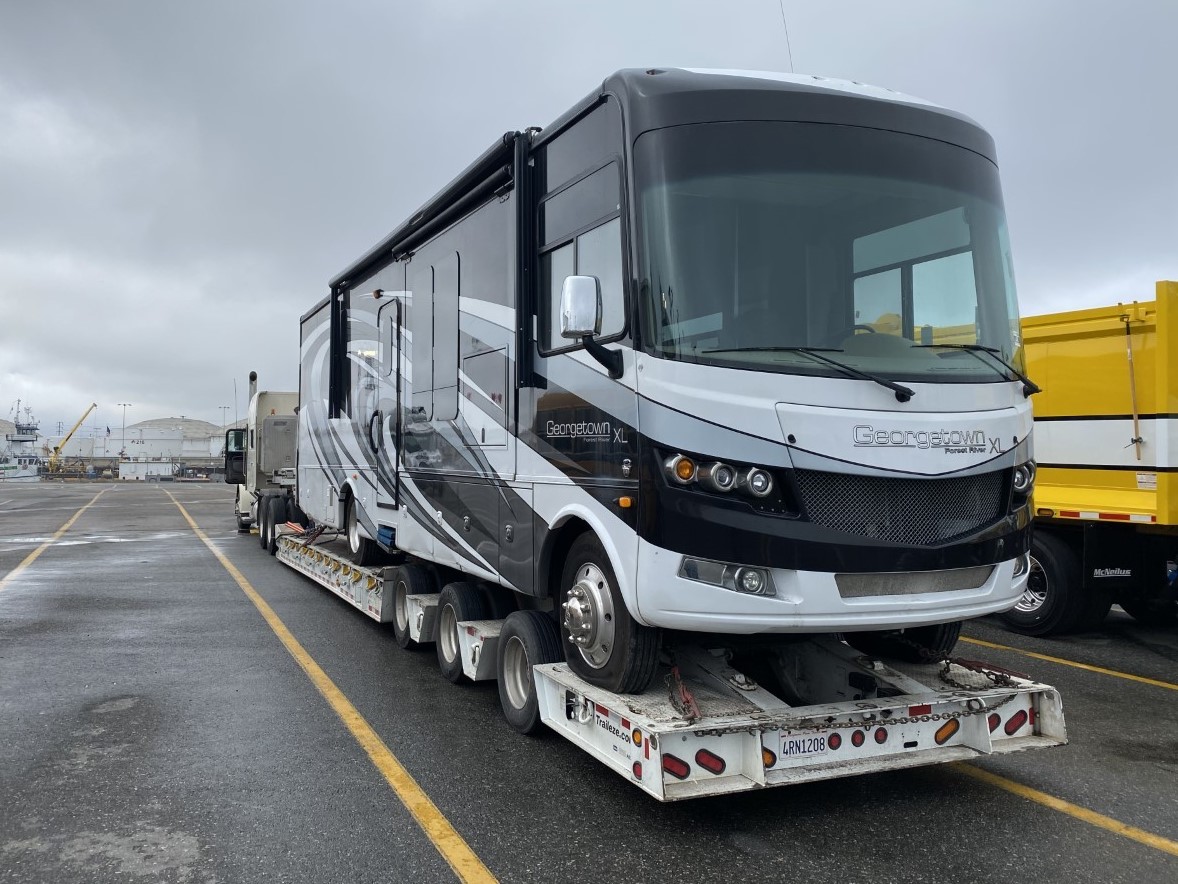 One of the more interesting parts of shipping a travel trailer or fifth wheel is how they get loaded onto a flatbed vehicle carrier. Some oversized vehicles, like a limo or bus, can be driven onto a flatbed trailer. This is obviously not the case with travel trailers or fifth wheels. RVs that are able to be driven without being towed may be able to be driven onto a carrier truck.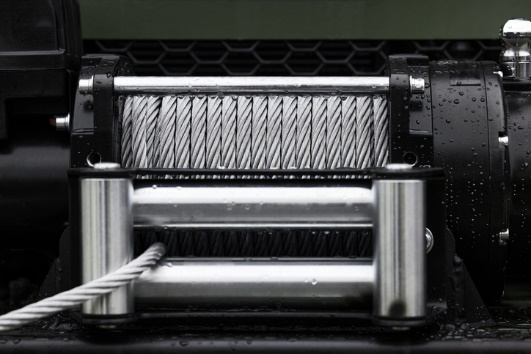 So, instead, they will only be shipped with a flatbed carrier that has an operational winch. A winch is a device that has a motor or mechanism with a strong steel cable that can extend out and retract back in. When the cable extends out, it is attached to a thick nylon strap or a chain. The strap or chain is then safely secured to the travel trailer or fifth wheel. At this point, the motor runs, and the trailer is slowly pulled onto the flatbed via a temporary ramp, or if it is a manual mechanism, the driver will operate it by hand until the trailer is on the flatbed.
Once the trailer or RV is on the flatbed, it then gets secured so that it cannot move while it is being shipped. This is done much the same way that cars are secured to typical auto carrier trucks. A set of straps of chains will be attached to the trailer in multiple spots, likely on the wheels. These straps or chains will then also be attached securely to the flatbed in a way that will not allow for movement of the trailer.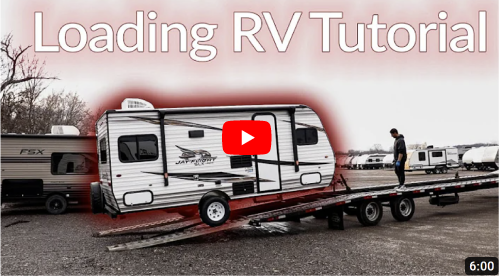 The Cost of Shipping a Trailer or RV
Much like shipping a normal passenger car or any vehicle, the cost of shipping a travel trailer or fifth wheel will vary based on several things. The factors that affect the cost of shipping a trailer are:
The distance of the shipment is the most important factor in the cost determination of shipping a trailer or RV because the further a trailer or RV gets shipped, the more labor and time is put in by your transport driver. Fortunately, longer-distance shipments are cheaper per mile overall than shorter-distance shipments of only one or two hundred miles.


The time of year when you ship a trailer or RV will affect your shipping cost because demand changes at different points throughout the year. If you have a trailer transported during a busier vehicle shipping season, such as over the summer, demand will be higher, and the supply of available carriers capable of transporting a trailer or RV will be much lower; thus, it will cost a bit more to ship then.


How far ahead of your pickup date that you officially schedule your shipment impacts the final price the same way how far in advance booking a hotel stay affects the final price. When you book a hotel stay several weeks in advance, it will be cheaper than if you waited until the last minute, the same is true when it comes to shipping a trailer or RV. It is recommended to book your shipment at least a month ahead of your desired pickup date in order to see the most savings.



Gas prices at the time of your shipment will cause shipping cost fluctuations simply because higher gas prices mean higher overhead costs for your shipping company. Like most industries, higher overhead costs that cannot be lowered get passed down to the consumer.
Let's say you were shipping a travel trailer exactly 1,200 miles. Initially, the rate is around $4 per mile for the first one hundred miles. However, as the distance increases, the cost per mile decreases. For the subsequent 1,000 miles, the rate can vary from $1 to $3 per mile. As we said, this can vary based on a multitude of things, so let's say the rate for the last 1,100 miles was exactly average at $1.50. That means your overall cost would be $2,050. $400 for the first hundred miles plus $1,650 for the rest of the trip.
How Long Will it Take to Ship a Trailer or RV?
The overall transit time (duration) of a trailer or RV shipment will depend on several factors as well. Much like with the cost of your shipment, the overall distance will be the most important variable in determining your shipment's transit time. However, what time of year you are shipping, along with weather and traffic along your transport route, will also affect how long your shipment will take.
The following are estimated shipping times for trailers:
Less than 500 miles

- 3 to 6 days

Between 500 and 1,000 miles

- 5 to 7 days

Between 1,000 and 2,000 miles

- 7 to 9 days

Between 2,000 miles and 2,500 miles

- 9 to 12 days

Over 2,500 miles

- 10 to 14 days
Preparation for a Trailer Shipment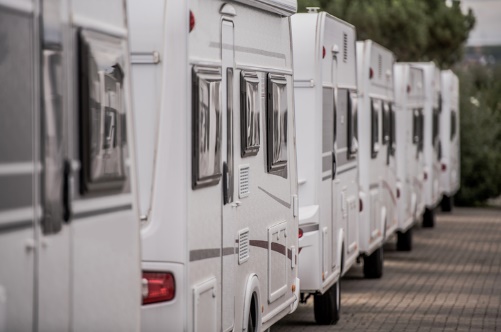 Getting your travel trailer or fifth wheel will be pretty easy. You just have to ensure that you clean the exterior and take any personal items out of the trailer. The outside of the trailer has to be clean so that your transport driver can efficiently conduct a visual examination for damage that existed prior to shipping. This is required by the vehicle transport company's insurance provider. Removing all personal items before shipping is necessary because transport insurance will not cover things like sunglasses, jewelry, and dinner plates if they are lost or broken.
Got questions about shipping an RV? Carefree has you covered!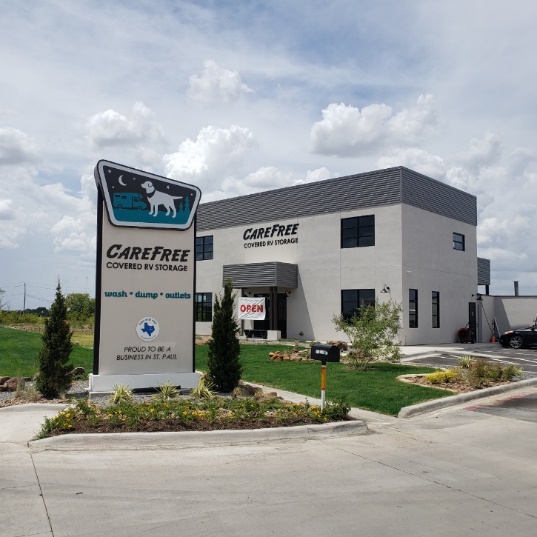 We love hearing about our clients' adventures, especially when they involve shipping an RV! And we've got plenty of advice and recommendations if you're just starting out on your RV shipping journey with your recreational vehicle. Here at Carefree, we've always got your back, whether you're on the road or shipping your RV.
Check out our facility video and tour, then stop by, and we'll get your RV prepared for shipping. When you store your recreational vehicle with us, you'll enjoy secure, quality covered RV storage with our extensive camera video surveillance. Plus, we offer 365-day automated access with our phone gate app, charging outlets, free WiFi, and free self RV wash and sewer dump facilities. We even provide complimentary bags of ice! At Carefree Covered RV Storage, you're guaranteed peace of mind, protection, and personalized, old-fashioned service with a smile.