You've dreamed about it for a while. You've even started researching and looking, and you've finally decided to take the plunge and purchase an RV. Congratulations! We know that you can almost smell the freedom of the open road awaiting you. Yet, with freedom comes responsibility, and the biggest task you'll have before you even drive your RV off the lot is deciding how you'll pay for it. Because, let's face it, with price tags ranging from $10,000 for a modest travel trailer, to $500,000 or more for a completely loaded Class-A rig, you'll likely need a little financing help to make your RV dreams a reality.
You may be thinking: "Yep, I'll need financing. I can get that through my RV dealership, right?" Well, the short answer is yes, you can. But, we encourage you to do your due diligence on finding the very best financing for you.
On the one hand, it's incredibly convenient to get an RV and an RV loan in one fell swoop — "one-stop-shopping," if you will. On the other hand, the dealer may raise your loan interest rate and take the difference as profit. Or, they might only tell you about the loan offer that makes them the most money.
Our advice right out of the gate? Prepare to get RV loan offers from a bank, credit union, or online lender before the RV dealership offers you a loan. By doing this, you'll know what rate you qualify for, and you can use it as a negotiating tool with the dealership.
Also, know this: It doesn't hurt your credit score to apply to multiple lenders, as long as you do so within 14 days.
For the sake of this article, we will aim to help you make the best financing decisions beyond RV dealership financing options. This guide will cover:
Types of RV loans and how they work
Types of RV lenders
How to negotiate the best RV loan
RV financing FAQs
RV financing next steps
Types of RV Loans and How They Work
There are two main types of RV loans:
Personal, or unsecured, loans from online lenders
Secured vehicle loans from banks or credit unions
An RV loan works like any other consumer loan, in that a lender will provide the funds for your purchase, and you'll pay the loan back with interest over a specified period.
A personal loan is not backed by collateral, which means you don't have to provide any asset as collateral. This may sound great, but remember that this makes unsecured loans riskier for lenders, so they often come with higher interest rates. Also, if you have a low credit score, lenders will consider you a higher risk — meaning you'll be better off with a secured loan.
A secured loan uses your RV as collateral to guarantee the loan. This means that if you can't make your monthly payments, the lender can repossess your RV. This type of loan offers the lender more security. So, if you have good credit, you can usually expect a lower interest rate.
Types of RV Lenders
As you may have gathered from the above section, apart from RV dealership lending services, there are two main types of RV lenders: online lenders and banks (or credit unions).
There are, of course, other lenders vying for your business in the lending marketplace — for example, Huntington, which offers specialty mortgages on items including motorcycles, boats, and RVs — but you'll likely be choosing between an online lender or bank.
Remember that online lenders will focus on unsecured loans, while banks and credit unions tend to specialize in secured loans. However, the latter may be willing to provide you with a personal loan if you're purchasing an older RV that is $10,000 or less. Review the above infographic for a shortlist of considerations for choosing to work with one type of lender over the other.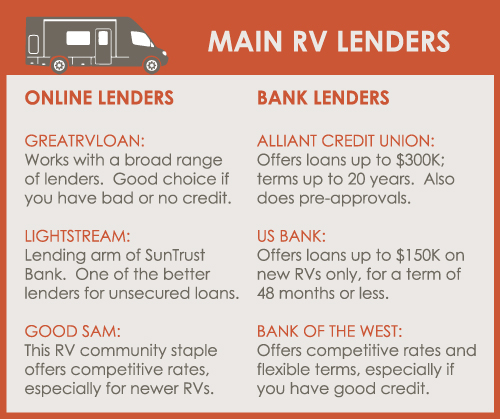 How to Negotiate the Best RV Loan
Consider these three helpful tips when negotiating the best RV financing for you:
1. Ask for a tier bump
Credit tiers are the various ranges lenders use to determine your creditworthiness based on your FICO score. For example, a "good credit" ranking is 670 to 739. The higher your tier, the more likely you are to get a reasonable loan rate. You may be able to convince a lender to bump you up to the next credit tier if you're right on the cusp, have good credit payment history, low debt, and a steady job.
2. Think carefully about add-ons
Don't simply sign up for every add-on thrown at you, like extended warranty, GAP coverage, interior protection, and tire warranty. They may be important but can cost thousands of dollars extra.
3. Shop around
We already mentioned this, but it bears repeating: Prepare to get RV loan offers from a bank, credit union, or online lender before the RV dealership offers you a loan. This way, you know what rate you qualify for, and you can use it as a negotiating tool with the dealership. Remember: It doesn't hurt your credit score to apply to multiple lenders, as long as you do so within a 14-day period.
RV Financing FAQ
1. What factors do lenders consider when determining loan eligibility?
Lenders typically look at your credit score, your debt-to-income ratio, employment history, and income.
2. What kind of credit score do I need to get an RV loan?
Most lenders will tell you that you'll need a credit score of at least 690, though you may be able to get a secured loan through a banking institution if you have a lower credit score.
3. What kind of interest rate can I expect on an RV loan?
As of this writing, you can expect to secure an interest rate as low as 3.99% if you have good credit. Otherwise, depending on your credit score, the type of loan, the lender, loan term, and down payment, you could expect to pay interest rates as high as 17%. Generally speaking, most RV interest rates fall into a range of 4.25% - 10%.
4. Are RV loans tax-deductible?
Your RV could qualify as a second home — or even your first if you're living in it full-time — which might make it eligible for a mortgage interest deduction. Please consult with your tax advisor for more information.
5. Do I need insurance to qualify for an RV loan?
You don't necessarily need insurance in advance to qualify for an RV loan, though some lenders may require proof of insurance. Once you purchase an RV, most lenders will expect you to carry full-coverage insurance because they'll want to be reassured that they'll get reimbursed on their loan in case of a loss. Check out these top-rated RV insurance companies.
6. What kind of down payment will I need for an RV loan?
Your total down payment percentage is based on your RV's cash selling price before tax, title, license, and loan processing fees. Here's a general breakdown of what you might expect to hear from lenders, though the amounts may vary from lender to lender: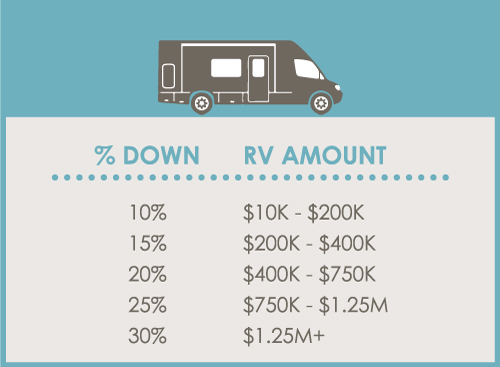 Much like a car purchase, a new RV can depreciate as much as 20% the moment you drive it off the lot. So, with a longer-term loan, you could find yourself owing more on the RV than it's worth. Our advice? Put down as much as you possibly can on your RV purchase!
7. How long is a typical RV loan term?
Given the heftier price tags on RVs, you can expect to find longer payment terms to help keep the payments more affordable. On average, RV loans can range from 10 to 15 years, but many lenders will extend the payment term up to 20 years for larger loans. If you can swing it, you can get terms ranging from 2 to 4 years, which means you'll likely pay less interest for the life of the loan.
8. Can I finance my RV's taxes, title, registration, and/or loan processing fees?
Yes, almost all lenders will let you include taxes, title, registration and/or loan processing fees in your loan amount, as long as it meets your lender's LTV (loan-to-value) guidelines. Most lenders will also let you pay for these fees out of pocket but payment must be received before funding your loan.
I'm Ready to Roll! What Are My RV Financing Next Steps?
We've spent a lot of time discussing the in's and out's of RV financing. There are a lot of these "in's and out's" because financing is a big decision. Securing financing may scratch that wanderlust itch in the short term, but without the proper research, your RV purchase (and even the financing you choose) can make financial regret overshadow any fun memories.
Only you truly know yourself and what you can afford. Most lenders recommend that you keep your RV loan to less than 20% of your income. Here's a handy loan calculator that may help in your planning.
If you're ready to proceed, then we offer these final 3 tips:
1. Be thorough about capturing all of your new RV's total costs.
These ongoing costs will last well beyond your initial RV purchase. List out all anticipated maintenance and upkeep costs, and start doing your due diligence on insurance rates. Also, don't forget to include some ballpark figures for gasoline and food while on the road, campground rental fees, RV storage, RV supplies, etc. It all adds up!
2. Start researching lenders now!
Get familiar with all of the factors lenders include in a loan: down payment, length and type of loan, if collateral is required, interest rates, and any other fees.
3. Think about where you'll park the RV while you aren't using it.
Between adventures, Carefree Covered Storage in Apache Junction and Chandler, Arizona offer safe and secure covered storage near you for your RV, boat, or trailer storage needs. We understand what your vehicle means to you. It's a big investment and a cherished memory maker, and our on-site managers treat it like our own.
Come Home To Carefree Covered RV Storage
Check out our facility video and tour, then stop by and we'll get your rig set up. When you store your recreational vehicles with us, you'll enjoy secure, quality covered RV storage with our 42-camera video surveillance, along with 365-day automated access with our phone gate app, charging outlets, free wifi, and free self RV wash and sewer dump. We've even got complimentary bags of ice! Also need a storage unit for additional small recreational toys, equipment, and supplies? We've got them!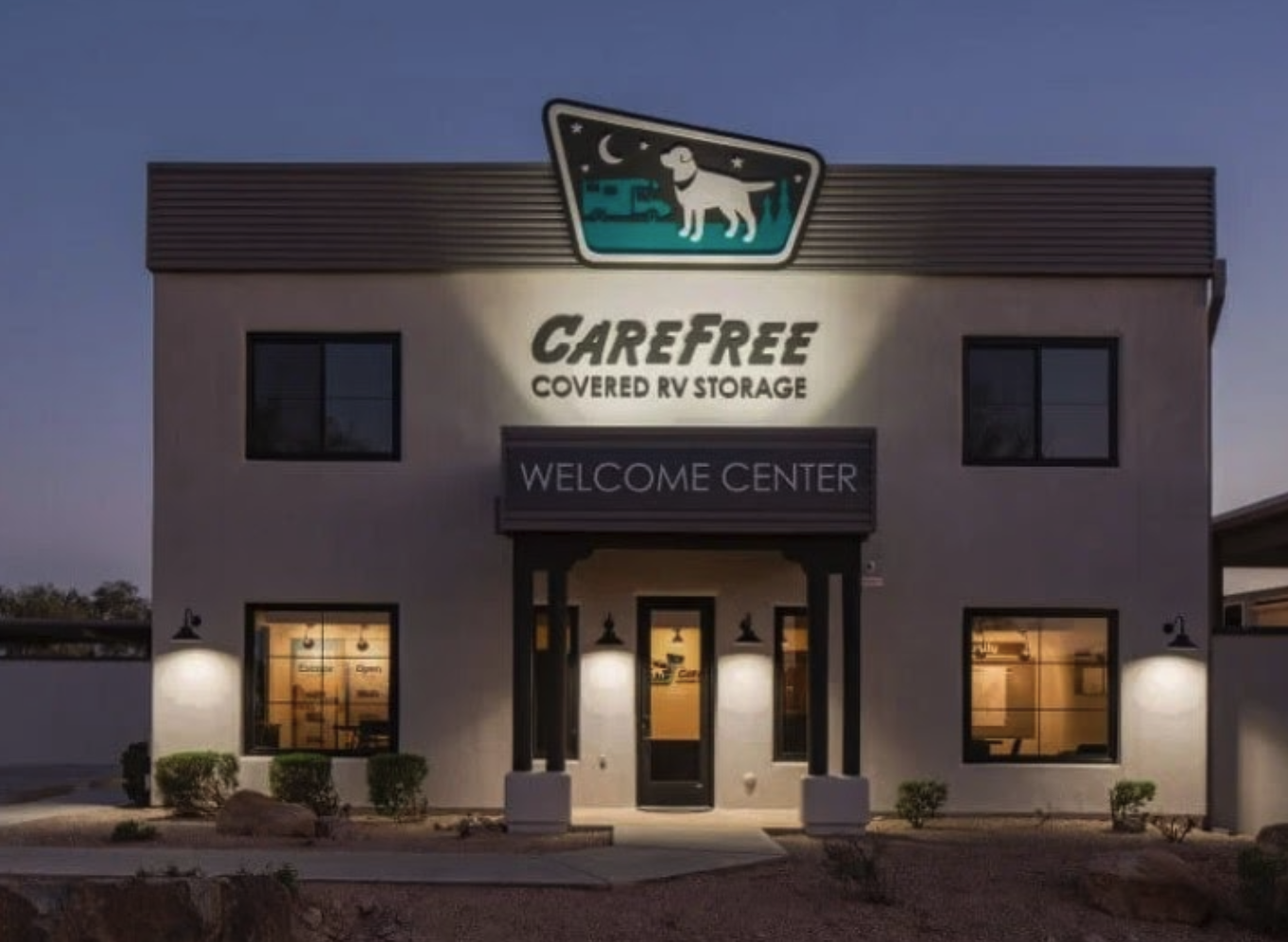 At Carefree Covered RV Storage, you're guaranteed peace of mind, protection, and personalized, old-fashioned service. We make it easy for you to rent and make payments online, maintain your vehicle, and get on the road — so that you can keep living the carefree life!