The open road is calling and flowers are blooming, but before jumping into your RV and cruising toward a new adventure, follow our guide to de-winterizing your RV. To stay safe and have a good trip, you'll need to check and inspect your vehicle and fix any issues. Unless you're on the road full time, this checklist is necessary since your RV has been sitting unused for a season. Stay with us through the nitty-gritty, and you'll be coasting down the beach or weaving up the mountains in no time!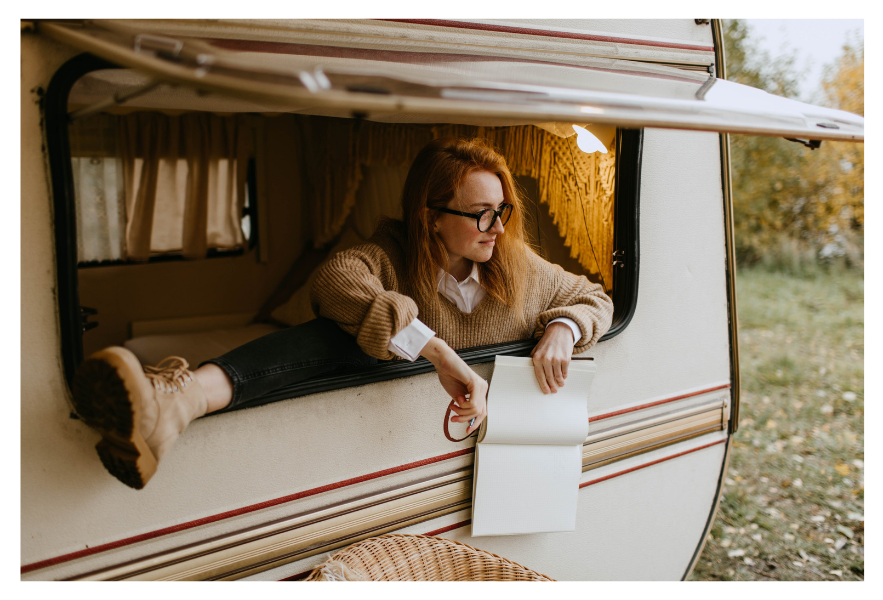 12 Easy Steps to De-winterize a Recreational Vehicle
1) Check Tires
Driving an RV with underinflated tires can lead to uneven wear, difficult handling, and, at worst, cause accidents. RV tires lose two to three psi of air pressure monthly when not in use. In colder climates, the loss can be even more significant. Look up the proper inflation pressure based on load determined by the tire manufacturer. Using a tire inflation gauge, inflate tires to the recommended inflation pressure.
Visually inspect the surface of each tire for cracks and confirm that you have a spare tire on board. Early detection of wear and tear can avert blowouts.
2) Check Plumbing
Check your plumbing system by turning on the electric pump. Be sure that there is fresh water in the tank before you begin. Listen to the pump's sound and once the plumbing system is at full pressure, wait to hear the pump turn off. If the pump runs continuously, never switching off, or if it turns back on after several minutes, there is a leak somewhere in your plumbing.
If you're comfortable locating and repairing leaks on your own, search for signs of the leak inside the RV. Check under the sinks, around the toilet, and anywhere else that plumbing is exposed. Once the leak is located, fix the problem, and test the system again.
If you're not comfortable fixing leaks in your camper, then take your RV into a service center and get the issue resolved. Leaks can cause mold and water damage, so quickly addressing the issue is essential.
3) Inspect Slide Outs and Awnings
If your RV has awnings, open each one, inspect the fabric for damage, and make sure they close with ease.
Extend slide-outs, making sure to note any resistance or errors. For rigs with hydraulic slide-outs, top off hydraulic fluid as needed. This can only be done when slide-outs are in the retracted position. Troubleshoot any issues that arise or call a specialist to diagnose the problem.


4) Inspect HVAC
While the AC unit is unplugged, access the roof of your rig and inspect the plastic cover over the unit. Examine carefully, noting any cracks. These can occur from UV damage or impact from foreign objects. If there are any signs of damage, purchase a replacement shroud to avoid further problems such as water leaking into the unit. Run the AC for several hours to confirm that the system is in working order and functions within the normal operating range.
5) Test Emergency Systems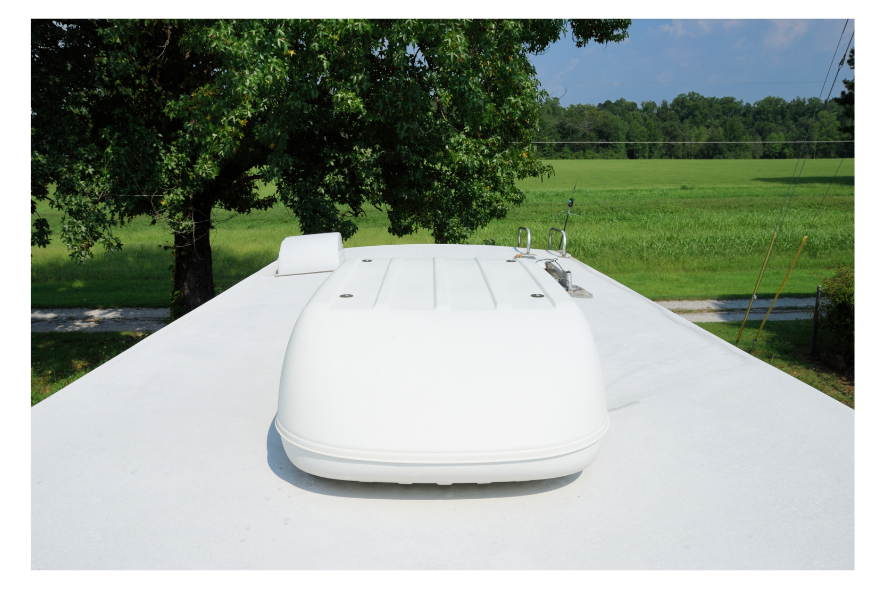 If you removed batteries during RV winterization, re-install them into all safety devices, including smoke and carbon monoxide detectors. If the batteries weren't removed, replace them with new batteries as best practice. Run tests on all devices according to their manuals and confirm that each one is operational.
Locate all fire extinguishers and check the expiration date. Replace any outdated extinguishers and check to see that the others are fully charged.
6) Charge the Batteries
When your RV sits unused for some time, the batteries naturally get drained. An essential step in de-winterizing an RV is to charge the batteries fully. While the battery charger is in the off position, connect the cables to the RV indicators, according to the manual. Traditionally, the cables get connected according to color, i.e., red to red and black to black.
With the voltage set to 12 volts, switch on the power and initialize the charging. The battery's size will determine how long it takes to charge but expect anywhere from a few hours to several days. Always give yourself enough time to fully charge all onboard batteries before rolling ahead.
7) Test Engine and Generator
For motorized RVs, check all the fluid levels to make sure they meet the vehicle manufacturer's guidelines.

Fluid levels to check include transmission, brake fluid, engine oil, windshield wiper fluid, and power steering. Top off anything that is low, or get your RV serviced if you suspect a leak.
Start the engine and check the gauges, making sure that all lights and controls are functioning correctly.

Confirm the functionality of your headlights, taillights, dash lights, windshield wipers, and blinkers. If a dash service light is illuminated, be sure to have a mechanic diagnose the problem before driving a long distance.
If you have a generator, examine the oil level.

If the oil level is low, you will need a professional to service it. If the oil level is within the suggested range from the manufacturer, then scan the exhaust system for visible damage, and turn on the generator if all checks out.
If the generator will not start or does not function properly according to the manual, then turn it off and take your vehicle into a repair shop.

If the generator is working well, then test appliances and outlets regularly powered by the generator.


8) Replace Propane Tanks
After having propane tanks filled at a propane station, re-install the tanks on their mounts and connect and test hoses. Open the gas line and test each gas-fired appliance. If any of the appliances don't work properly and you suspect a leak, schedule service immediately.


9) Replace Filters
Over time, even when not in use, air and water filters collect debris. Change out all the air and water filters in your RV for a fresh start to the travel season. Be sure to purchase properly sized filters for optimal efficiency. A snug fit is necessary to block bacteria and unwanted particles from seeping in.


10) Restock Emergency Supplies
Don't wait until the next emergency to re-up on much-needed supplies. Check expiration dates and restock expired or diminished food stashes and your bottled water supply. Replenish the first-aid kit on board and add new things to it as needed. To be extra safe, double-check your RV tool kit and make sure you have everything you need for on-the-road emergencies and vehicle maintenance.


11) Flush Water System
It is best practice to start the travel season off with clean, sanitized freshwater tanks. To do so, start by flushing all of the non-toxic RV antifreeze from the system if you used it during RV winterization. Having a reliable source of clean water can be the make or breaking point of a comfortable trip.
To flush the system:
Turn the water pump on.
Open all water faucets.
Leave the faucets on for several minutes, letting the water flow.
While the faucets run, flush the toilet three or four times.
When the running water is clear, close the faucets and turn off the pump.
Take the water heater out of bypass mode.
Dump your gray and black water tanks according to local ordinances.
If the water still has a residual anti-freeze flavor, then flush the system again. Once complete, you should have clean-tasting freshwater.
To sanitize the system:
Close and plug all drains.
Measure one-quarter cup of bleach for every 16 gallons of water the tank can hold.
Dilute the bleach with water in a large container.
Pour the mixture into the freshwater tank using a funnel.
Fill the freshwater tank with potable water.
Pump it through the system by turning on the water pump.
Open all faucets and keep the water running until you can smell the solution in the water.
Let the bleach sit in the tank and water lines for at least a few hours. Do not let it sit longer than 12 hours.
Drain the tank completely.
Fill the freshwater tank with fresh potable water.
Flush the system following the above instructions.
During the sanitization process, pay extra attention to the amount of time that bleach is left in. Any longer than 12 hours can cause damage to the system.


12) Deep Clean Inside and Out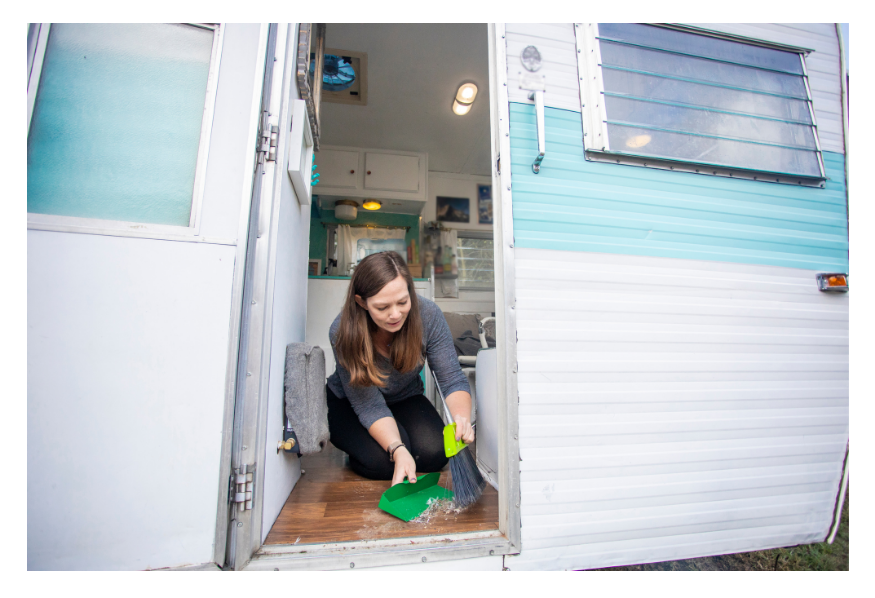 Approach deep cleaning your RV the same way you do your own home. Remove all linens and launder, scrub nooks and crannies, and wash the exterior with a specialty car wash solution. Open doors and windows to air out the rig as you sweep, mop, and wipe your way to a pristine and vacation-ready vehicle. Don't forget to:
Lay insect repellent and traps

Wipe out the inside and outside of the refrigerator and freezer

Dust hard to reach places and tops of electronics

Polish stainless steel with stainless steel cleaner

Vacuum baseboards and crevices in furniture


Come Home to Carefree Covered RV Storage
After following this checklist, pack your bags, drop some map pins, and get ready to drive. Your RV is in shape and ready to go on long-distance trips without hiccups and unexpected hazards. After a long and happy travel season, when you're ready to retire your vehicle for the winter, come home to Carefree Covered RV Storage for dependable and secure protection in the offseason.

Check out our facility video and tour, then stop by, and we'll get your rig set up. When you store your recreational vehicles with us, you'll enjoy secure, quality covered RV storage with our 42-camera video surveillance, along with 365-day automated access with our phone gate app, charging outlets, free wifi, and free self RV wash and sewer dump. We've even got complimentary bags of ice! Also need a storage unit for other small recreational toys, equipment, and supplies? We've got them!
At Carefree Covered RV Storage, you're guaranteed peace of mind, protection, and personalized, old-fashioned service. We make it easy for you to rent and make payments online, maintain your vehicle, and get on the road — so that you can keep living the carefree life!