Lavon Lake is a sprawling 21,400-acre lake in northeast Texas – four miles from Wylie that was made by impounding the East Fork of the Trinity River in 1952. It is used for many watersport activities of which one is fishing from a boat. While it is known as one of the best white crappie lakes around, it is home to many other types of freshwater fish, including two other popular sought-after species: Largemouth Bass and Blue Catfish.
Crappie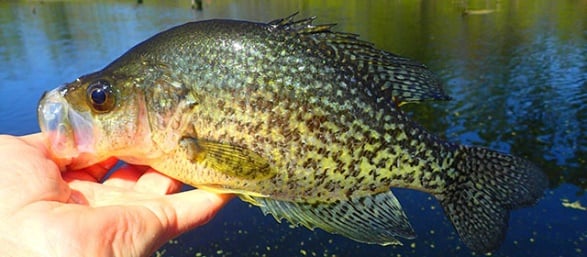 During the winter, crappies are usually found in relatively deep water and tend to hide out around bottom structure … like flooded standing timber, stumps and drop-offs.
However, in the spring, as the water warms up to between upper 50s to low 70s, crappies move into the shallower warmer water to spawn as a result are more aggressive and easier to catch.
Fishing at dusk in shallow water in the summer months is the best time to limit out. Sometimes the fish come to the surface to feed and the water boils with fish.
Because crappies are a schooling fish, it is best to either troll or drift from a boat until a school is found. Then anchor the boat and either jig fish straight down or cast and retrieve.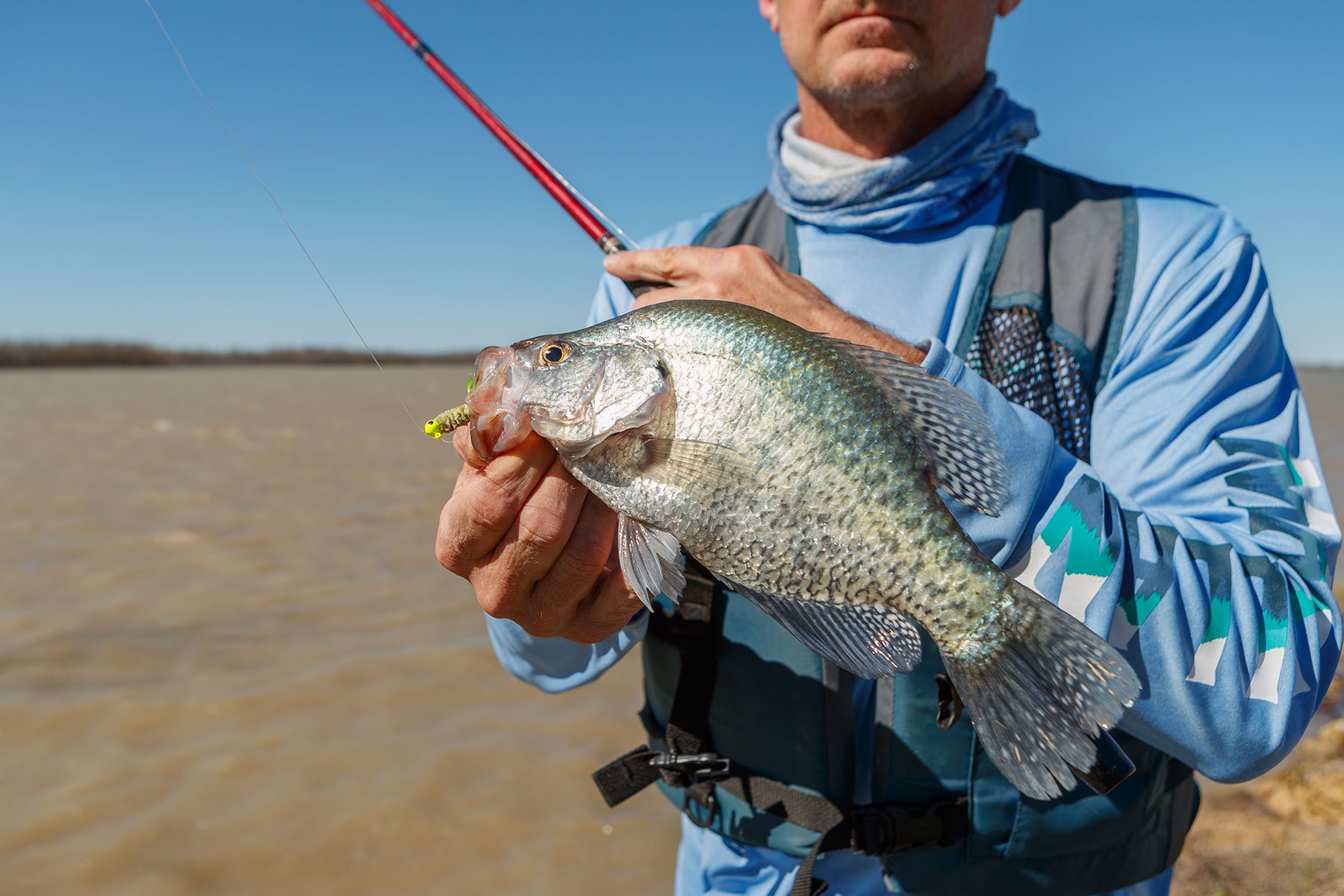 While the baits and lures vary by time of year, in the Spring and Summer, using a small 1/16th ounce jig in chartreuse, white or yellow with a live minnow are the choice of many fisherman. In the winter, switch to a very small 1/32 ounce black and white jig with a minnow.
On Lavon Lake, the season is open year around, but, the limit on white crappie is 25 fish with none being smaller than 10" measured nose to tail. The record on this lake for White Crappie is 16.00 inch, 2.91 pound caught on a blazin raisen.
Blue Catfish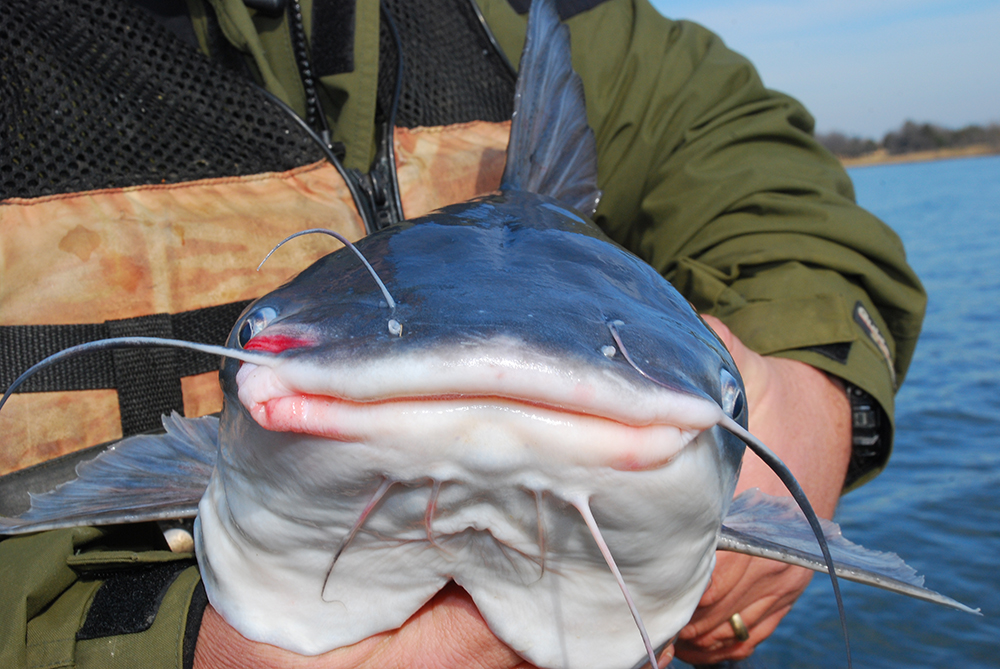 Blue cats are best fished deep during the winter by drifting in a boat or anchored off a drop-off or an open-water point. They like to hide out in bottom structure, such as hollowed out logs or under bank cuts.
While a live shad is the good choice of bait for most fisherman, blue catfish also prey on what appeals to their sense of smell and taste. This usually includes worms, frogs, mollusks, crayfish and prepared baits such as stink bait.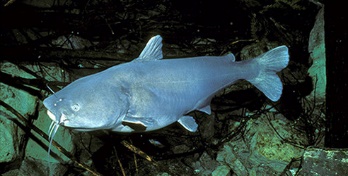 Blue catfish also like to trail large schools of baitfish. Look for a blackout on your boat's fish finder and fish just behind that school with a live shad as catfish like to target stragglers at the back of the school.
Like crappies, season is open year around for blue catfish on Lavon Lake. However there is a limit of 25 catfish and these fish get big; the lake record here is a 68-pound monster measuring 48.50 inches caught on a live shad.
Largemouth Bass
Also known as a Bucket mouth, Black Bass, Green Trout, Bigmouth and Lineside Bass, Largemouth Bass are most active in the spring when they too move into shallow water to spawn. In Texas, spawning begins when the water temperature reaches about 60 degrees Fahrenheit.
The males build nests in two to eight feet of water for the female to lay anywhere from 2,000 to over 40,000 eggs. Once the eggs are laid, the female is chased away and the males guard the eggs until they hatch in around 5 to 10 days depending on water temperature.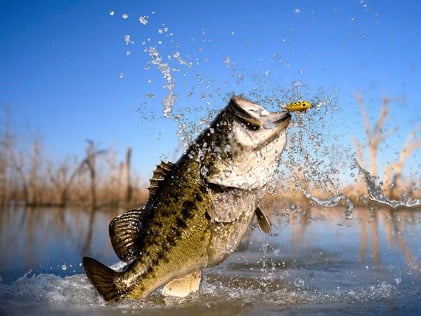 During this time of year, fish from a boat using a Texas-rigged 7-inch worms, Carolina-rigged 6-inch lizards or crankbaits. In the Fall, use white spinners with gold blades fished shallow or craw-fish crankbaits as well as pork baits work well also.
Largemouth bass are the most active in warmer shallower water. They tend to hang around any structure that provides a protective cover for them, such as logs, rocks ledges and even manmade structures, such as boat docks. Being a top predator in the aquatic ecosystem, they lay in the cover until a prey comes along when they then blast out and catch it.
Like the rest of the species noted, there is no closed season on Largemouth Bass; However, the limit is 5 fish with none kept being less than 14". The largest Largemouth Bass on record caught here is 12.06 pounds caught on a Norman Middle N crankbait in 2021.
Come Home to Carefree Covered RV Storage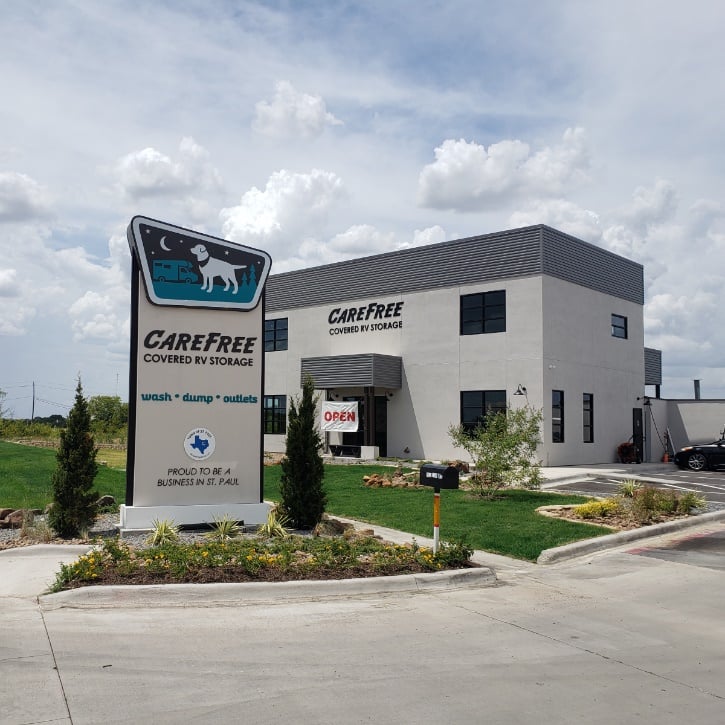 If at the end of a day or season of fishing, you need a safe secure place with a lot of amenities to store your boat and trailer, contact Carefree Covered RV Storage in Wylie, TX at (469) 520-6210 or email them at stpaul@carefreecoveredrvstorage.com. They are located just a short distance from the Lavon Lake and can accommodate all your boating equipment storage needs.
At Carefree Covered RV Storage, you're guaranteed peace of mind, protection, and personalized, old-fashioned service. We make it easy for you to rent and make payments online, maintain your boat or vehicle, and get outside to the great outdoors — so that you can keep living the carefree life.