There are few joys in life greater than bringing your pup on an RV trip. They'll love playing in national parks, seeing new wildlife, and snoozing while you rack up the miles behind the wheel. Likewise, you get to enjoy their company through your adventures and will feel a little safer knowing that you've got a dog along with you.
However, before you load Skippy up and start driving, you've got to assess your RV and ensure that it is right for your pup. Here are a few things to look for.
Removing Hazards
You may not realize it, but your RV is filled with dozens of hazards that can be extremely harmful to dogs. This might mean food or fluids that are not okay for dogs to drink, areas that might be too hot or cold for your four-legged furball, or even items that could fall from up high and bonk your little friend on the head. So, before you set off, you need to make a safety assessment and prepare your RV for its newest passenger.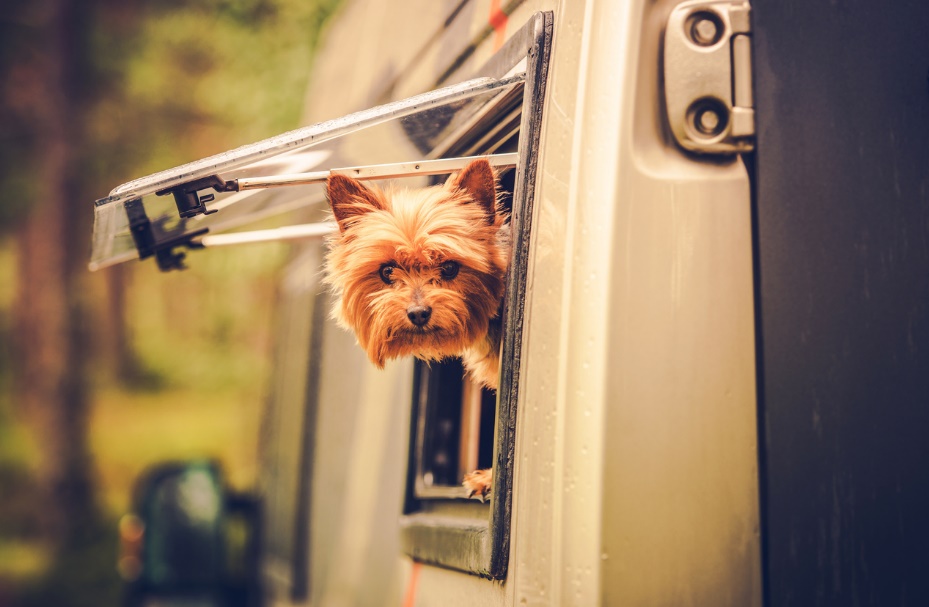 You can create a safe RV environment by taking the same steps you did to puppy-proof your home. This means you need to remove any hanging objects that could ensnare your pup and should take care to secure all chemicals that you need while on the road (yep, that means you need to fix the toilet door that won't stay shut on its own).
Accident Proofing
Many folks allow their dogs to roam free in their RVs while they are driving. This is a recipe for disaster. Your pup will be in real danger if you crash and may even cause an accident if they are interfering with your focus on the road — remember, they don't know you're driving.
The easiest way to minimize risk is to invest in a dog crate and crate-train your new pup before you hit the road. By crate-training them before you leave, you will save them plenty of stress and ensure that they feel comfortable enough to settle down while you're driving.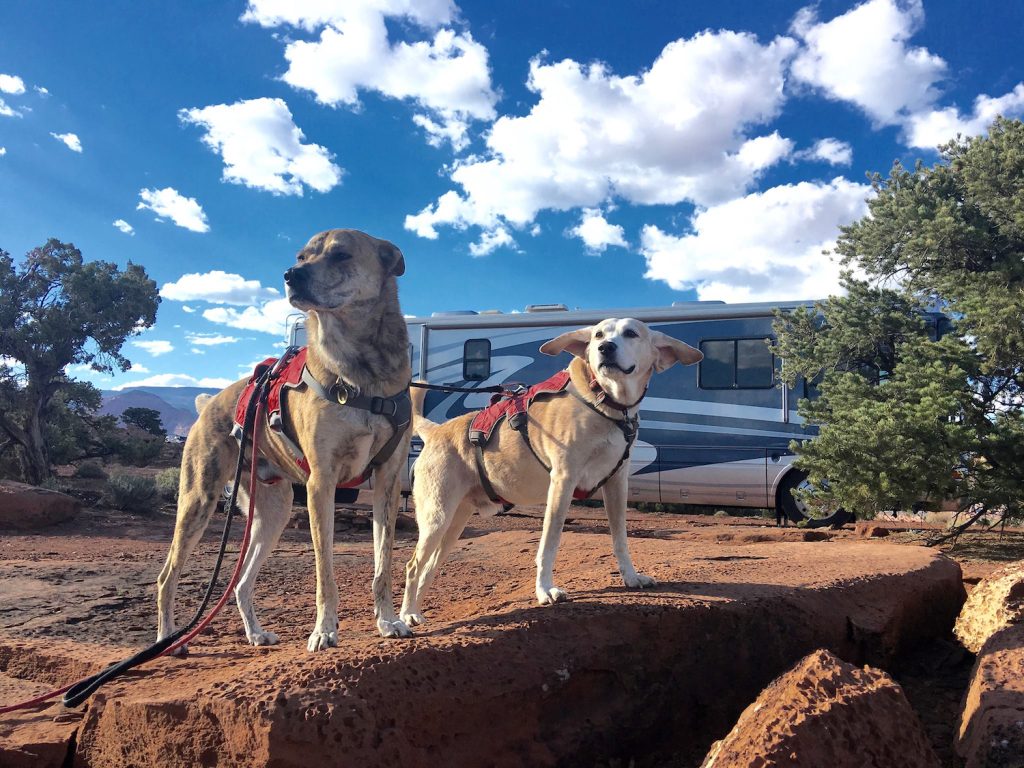 You can also opt for a crash-test harness which works much like a seatbelt for your dog. This allows them to come up front with you and sit on a seat while you drive. Again, you need to train your pup with the harness before you start using it on the road, as you cannot take your attention off the road while driving.
Finally, remember to invest in easy-to-clean flooring like hardwood and washable rugs, or plastic flooring protector, as well as separator gates to corral your dog when need be.
A Space for Them
Getting your RV ready for a pup is about more than just health and safety. Of course, you should do everything you can to ensure that the RV is a safe environment for them, but it also needs to be a fun, comfortable place for them to relax and enjoy your company. Bringing your dog along in your RV can help decrease isolation and benefit your health, so it's important to keep them safe and happy.
The easiest way to stimulate your pup is to purchase a few toys that you will keep in their crate. These toys need to be large enough that they won't roll between the bars of the cage and should be stimulating without your pup having to move them much. Typically, toys like Kongs or dog-safe ropes that can be chewed on will suit this purpose.
When you're not driving, it's nice to allow your pup to roam about your RV and the surrounding area. However, before you let your new pup play in your RV, you might need to reupholster your chairs and sofas, as your puppy's nails could tear through fabrics. It's also worth considering an outdoor pen with high walls if you don't feel comfortable letting your pup roam free outside just yet.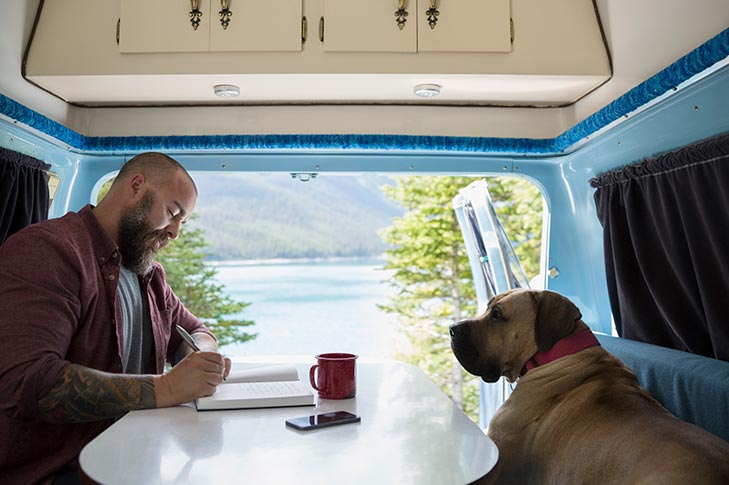 If you work while RVing, you'll need to keep a few extra things in consideration to ensure both you and your pup are taken care of. The best way to make a working routine is to maintain a consistent schedule. For example, if you work best in the mornings, take your pup out to potty and for a walk first thing, then sit down to work as soon as you get back in. You can install a puppy gate to keep them at bay at first and only take breaks when necessary for lunch or if they need to go outside again. Over time, this will create a habit that makes it easier for you to work and helps your pup relax.
Before You Hit the Road
Taking your pup with you on RV adventures is a great idea. However, you need to prepare your RV for a pup before you hit the road and start making memories together. You can ensure that your RV is a safe space for your new pup by securing any potential hazards, and by investing in a dog crate that will help them relax while you focus on the road ahead.
Got questions about RVing with dogs? Carefree has you covered!
We love hearing about our clients' family vacations! And we've got plenty of advice and recommendations if you're just starting out on RV adventures with your pets. Here at Carefree, we've always got your back, on the road and off.
Check out our facility video and tour, then stop by, and we'll get your rig set up. When you store your recreational vehicles with us, you'll enjoy secure, quality covered RV storage with our extensive camera video surveillance systems, along with 365-day automated access with our phone gate app, charging outlets, free wifi, and free self RV wash and sewer dump. We've even got complimentary bags of ice!
At Carefree Covered RV Storage, you're guaranteed peace of mind, protection, and personalized, old-fashioned service. We make it easy for you to rent and make payments online, maintain your vehicle, and get on the road — so that you can keep living the carefree life with the whole family!