IS YOUR RV ROAD-READY? OUR GUIDE TO LOCAL RV RESOURCES
To make sure your RV is road-ready, we've compiled a list of helpful local RV resources like maintenance and repair businesses to cover everything you'll need — from body and paint repair, to detailing, diesel engine repair, glass repair and replacement, mechanical and tire services.
Why is this important? Because we know that part of the thrill of exploring the open road lies in knowing that your rig is fit for the task. There's nothing worse than smelling "that smell" or hearing "that sound" that makes you start praying to the RV gods that you'll make it to the next exit.
So, while we love knowing that you've chosen Carefree Covered RV Storage to keep your RV
safe at our covered RV storage facility, we want to make sure your RV is also capable of keeping you happy and safe out there before it comes back to its "home" near you to rest up for its next adventures.
With each profile, we've aimed to provide you with basic information, a review, and a third-party validation. If one of these items is missing, it's because it is not available. But don't let the absence of one of those sway you. We have carefully curated this list of local RV resources based on personal relationships and experience with each of these vendors in the Apache Junction area. They are all locally owned businesses run by hard-working folks just like us, so that makes us even happier to recommend them to you.
While we hope you never have a need for them, we know the likelihood is greater that you will at some point. So, let's dive in, shall we? (And then bookmark this page just in case you need it someday!)
BODY/PAINT REPAIR

East Valley RV Specialists
Contact: Kevin or Frank
Phone: (480) 380-3801
Hours: M-F, 8am - 5pm (Closed weekends)
Location: 10020 E. Apache Trail, Apache Junction
Find Online: Website | Facebook | Yelp
Helpful Info:
Arizona's premier RV shop for service and parts. Family-owned and operated for more than 30 years. East Valley RV Specialists is a direct repair facility for most major insurance companies, extended-warranty companies, as well as motorhome manufacturers such as Newell Coaches, Tiffin Motorhomes, and Newmar Coaches. This allows them to receive warranty repair authorizations much faster than other repair shops. Learn more about their service philosophy.
Review:
"We have used East Valley RV Specialists for past repair and service work on our RV. Love working with Kevin and Frank. Their technicians are very experienced. They are very helpful in answering questions as we were new RV owners. This business is very trustworthy and professional if you are looking for a great RV repair and service facility." ~ M.C.

Touch-Up Pro
Contact: Chad Johnson
Phone: (480) 570-9885
Hours: M-F, 7am - 6pm (Closed weekends but available by appointment)
Location: Mesa (travels to your location)
Find Online: Website | Facebook | Yelp
Helpful Info: Top-quality car touch-ups, bumper repairs, headlight restoration, paint repair, and more. Check out their website for current specials, work examples, and services.
Review:
"My son pulled the driver's side of his bumper off from parking the bumper part of his car over a sidewalk area that was too high. Touch-Up Pro came to our house and it looked like new. They are awesome! Would highly recommend!" ~ S.E.
DETAILERS

Action RV Detail
Contact: Jeff Elliot
Phone: (858) 761-7798
Hours: Always open; by appointment
Location: Phoenix (travels to your location)
Find Online: Facebook
Helpful Info:
Jeff is a mobile RV detailer with 20 years in RV business and 17+ years in the auto detail business. His goal is to help you to maintain your investment, not just to wash and wax it!

AZ Extreme Wash
Contact: Tony Zepeda
Phone: (602) 330-9943
Hours: By appointment
Location: Apache Junction (travels to your location)
Find Online: Facebook
Helpful Info:
Tony and his team offer complete cleaning services: carpet and upholstery cleaning, tile and grout cleaning, exterior power washing, interior cleaning, RV wash and hand wax, fiberglass restoration, and more.
DIESEL TRUCK REPAIR
Diesels and More Repair
Contacts: Chris VanMeter and Cory Martin
Phone: (480) 206-2537
Hours: M-F, 8am - 6pm (Closed weekends)
Location: 725 E. 36th Ave., Apache Junction
Review:
"Chris and Corey are awesome guys! They're super honest and did everything they could to save me money when I came in for no-start issues that ultimately ended up being injectors. Communication was always great, and they were very accommodating when it came to my busy schedule as a trucker. I would recommend this shop to anyone looking for good, honest mechanics who know their way around these trucks. Thanks, guys. The truck runs beautifully, and I will be back for future work and more mods!" ~ Chuck

GLASS REPAIR/REPLACEMENT

Desert Sun RV Glass
Contact: Todd Coon
Phone: (480) 717-1025
Hours: M-F, 8am - 5pm (Closed weekends)
Location: Mobile service covering all of Arizona; in shop by appointment only
Find Online: Website
Helpful Info:
Todd has more than 30 years and 20,000+ RV windshield installations and replacements under his belt. You can trust that he'll do the job right the first time -- from popping out windshields, to stress cracks and all other issues. Check out the nice photo gallery of their work!
Review:
"They returned all my calls promptly. I had left messages for 4 other RV glass places and only two called back. They came to my campsite and popped my windshield back in plus sealed everything up. It was quick, easy, and less than he quoted on the phone. I would do business here again any day." ~ S.M.
MECHANICAL REPAIRS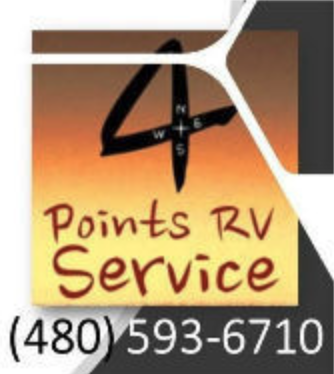 4 Points Mobile RV Service
Contact: Juan R.
Phone: (480) 593-6710
Hours: 8am - 5pm (Closed weekends)
Location: Mesa (travels to your location)
Helpful Info:
Juan and the team at 4 Points know that many of their customers live in their RVs, so they understand that it would be a lot of work and difficult to pack everything up and take it to a shop. They provide a mobile service to make your life easier and are a complete RV service company with one of the lowest service call fees and labor rates. Scroll through their interesting photo gallery!
Review:
"I had my RV awning break and I called a few mobile repair companies. 4 Points returned my call right away and helped me out quickly, professionally, and at a fair price. I recommend them to everyone and will use them again when I need them! P.S. They were also the only ones to return my call. Great people!" ~ P.E.
Cruz Mobile RV Repair
Contact: Manuel Cruz
Phone: (480) 566-9401
Hours: M-F, 8am - 5pm (Closed weekends)
Location: 11503 E 6th Ave, Apache Junction
Find Online: Website | Facebook | Yelp
Helpful Info:
Cruz Mobile RV Repair is committed to providing high quality, affordable on-site repairs with a flair for customer service. As a family-owned and operated business, they go the extra mile for their clients. They handle all interior, exterior, mechanical, and maintenance services for your RV — along with pre-trip inspections. And, they even maintain an RV tips blog.
Review:
"Wonderful experience. Punctual and professional, Cruz Mobile RV Repair did an excellent job. They worked fast and paid close attention to detail, also were very mindful not to damage the RV in any way. After the job was done they cleaned up the debris and paying was easy and secure. Thank you Cruz Mobile RV Repair for your service!" ~ R.P.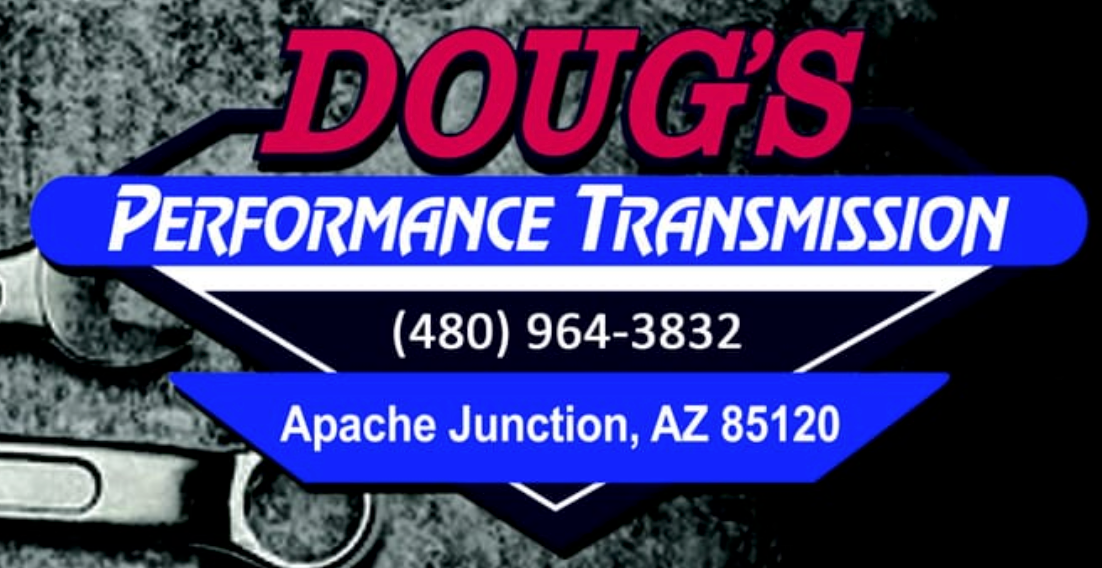 Doug's Performance Transmission
Contact: Darren
Phone: (480) 964-3832
Hours: M-F, 8am - 5pm (Closed weekends)
Location: 1286 W. Apache Trail #2, Apache Junction
Find Online: Website | Facebook | Yelp
Helpful Info:
Doug's is a family-owned and operated business specializing in transmission repair and service, and air conditioning and differentials — and they love working on RVs! Sign up here to receive current coupons and check out their long list of services.
Review:
"Had transmission problems while vacationing. Doug's helpful staff provided prompt, knowledgeable service, very fairly priced. We even got a lift back to our RV to wait while the truck was being serviced! Absolutely would recommend this shop as it is the best we have ever dealt with." ~ L.W.

Miller RV Service
Contact: JR Miller
Phone: (480) 982-1415
Hours: M-F, 8am - 4:30pm (Closed weekends)
Location: 3685 S. Winchester Rd., Apache Junction
Find Online: Facebook
Review:
"I was referred to Miller by two RV owners. They did an inspection and a few minor repairs and ended up charging a little less than their estimate. Update: We had Miller perform some routine maintenance plus replace our 15-year-old absorption refrigerator with a residential unit. Looks and works great! Work was done correctly the first time. Thanks!" ~ D.N.

Straight Line Suspension
Contact: Michael Csader and Mark Knudsen
Phone: (480) 422-8511
Hours: M-F, 6:30am - 4:30pm
Location: 1725 E Main St, Mesa
Find Online: Website | Facebook | Yelp
Helpful Info:
Locally-owned Straight Line Suspension services all truck, trailer, RV alignment, suspension parts, and service needs. They handle commercial truck and trailer service requirements as well as the local recreational vehicle community. We love that they have a page completely dedicated to RV alignment!
Review:
"We limped into Mesa with nonworking fifth wheel brakes. Mike at Straight Line was slammed with work but said to leave the trailer with him. In the meantime, he dropped us off at Denny's for breakfast. We got back, grabbed our truck, and went about our business. Straight Line called that afternoon with our brakes repaired and adjusted. Wow. Thanks, Mike. Great service!" ~ R.C.
TIRES

Roberts Tire Sales
Contact: Bob Darland
Phone: (480) 967-8805 (Mesa location)
Hours: M-F, 7am - 5:30pm; Sat, 8am - noon
Location(s): 4747 S. Power Rd., Mesa; 2602 N. 27th Ave., Phoenix;
701 N. Penrod Rd., Show Low
Helpful Info:
Family-owned and operated Roberts Tire Sales is all about excellent service, teamwork, and community. They love serving the RV community! Along with offering a handful of brand-name RV tires (Continental, General, Yokohama, Michelin, Sumitomo, Toyo), they also provide balancing, alignment, service repairs, oil changes, and generator repair. With three locations, they're pretty much an RV one-stop-shop. Check out their current coupon specials here.
Review:
"I had a big tire problem for my RV. My tires were installed by another shop and it did not go well. Roberts Tires probably lost money on me but gained a loyal customer that will pay back for years. They recognized my problems, went above and beyond just fixing the problem, and spent valuable time figuring out what had to be done. Their result was astonishing. They have a new happy client. Thank you!" ~ J.N.
MAINTENANCE ADVICE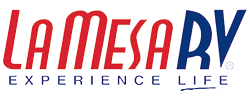 Looking to do a bit of your own RV maintenance? Our friends at La Mesa RV have compiled an amazing collection of "How-To" video tips. Check out their extensive library of videos and see what you might be able to accomplish on your own!