If you don't have plans to live up the RV life somewhere warm this winter, then now's the time for your RV to settle into hibernation. It's critical to take the necessary steps to winterize your motorhome before you put it in storage. That way, it will be sure to run smoothly when the season comes for you to set out on your next adventure.
What Exactly Does It Mean to Winterize Your RV?
Winterizing usually means the act of getting your RV ready for the freezing temperatures that usually come along with the winter months. However, even if you live in a warmer winter climate and don't plan to hit the road, you'll still want to take many of these steps to keep it secure for long-term winter storage — almost all of which is outdoors.
When Should You Winterize Your RV?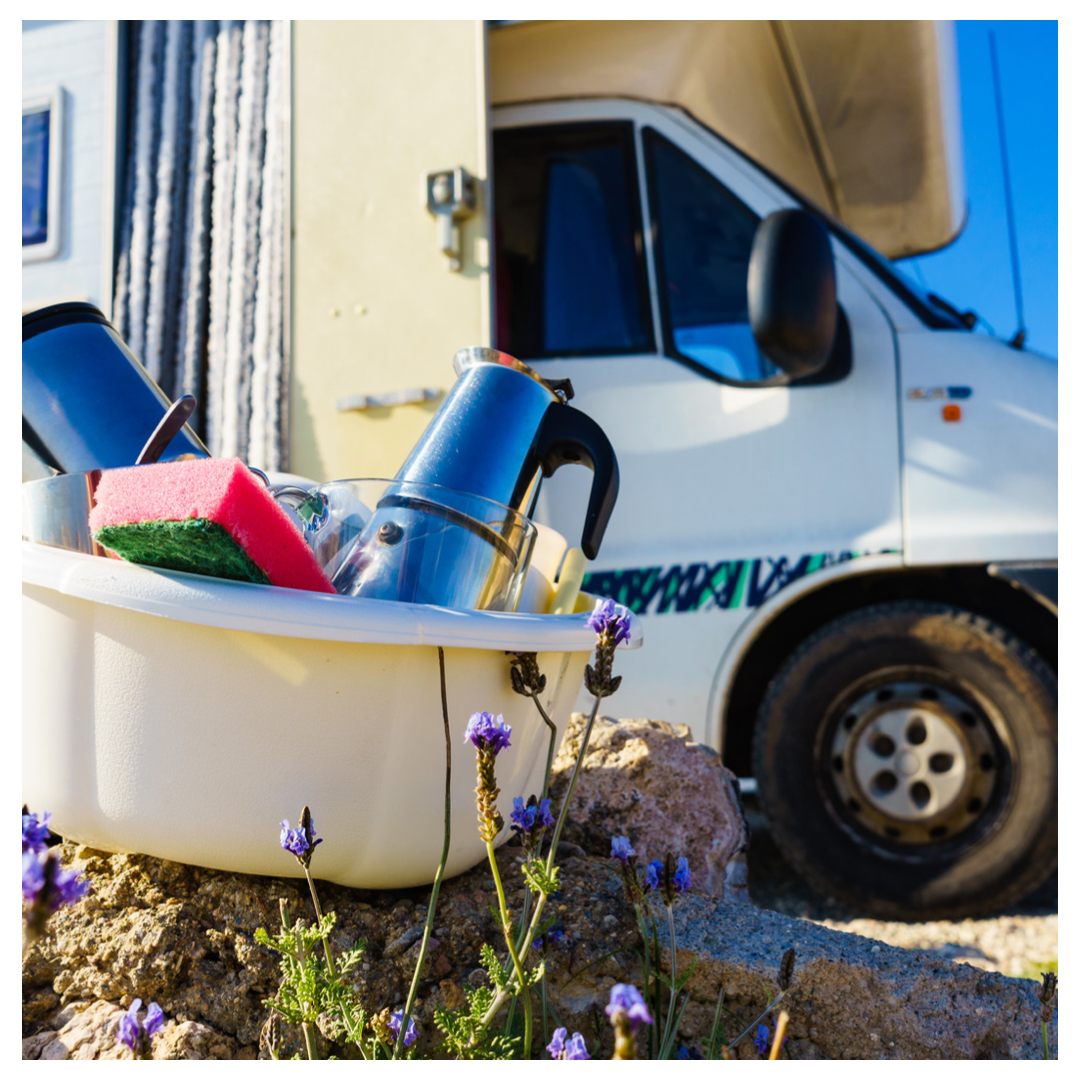 If it's cold enough for you to pause your RV excursions, that's a good sign your rig needs protection against freezing temperatures. General rule of thumb: It's time to winterize when the temperature falls below 20 degrees Fahrenheit. Keeping all systems — especially your plumbing — in good working order through the winter will depend on the steps that follow.
Give yourself a few days to focus on each task and prep your RV for its wintertime retreat. When springtime returns, you'll be thankful you took care to prepare with proper winterization.
How To Winterize Your RV: 8 Simple Steps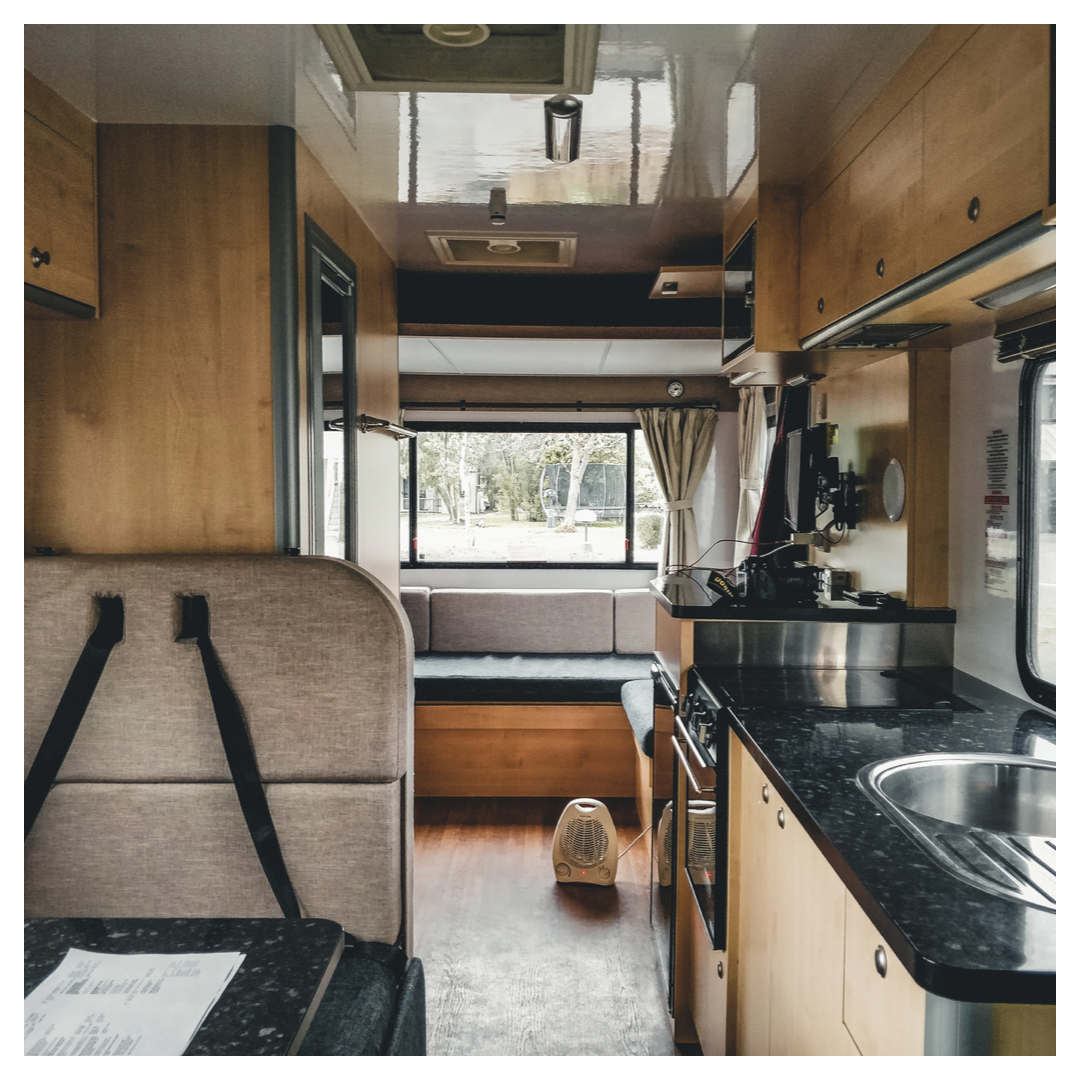 Note: The tips shared here are general and may differ for your RV. Consult your owner's manual for specifics before starting any winterizing procedure.


Step #1: Clean Up the Interior
Remove all food. You don't want any smelly and spoiled surprises come spring. Plus, it's a huge attraction for unwanted pests. (See #2.)

Prepare for a proper cleaning. Remove everything from cabinets and pull out seat cushions to get started on a thorough clean. Do all the things: Wipe down and sanitize surfaces, sweep, vacuum, etc.

Defrost the fridge and freezer. Leave doors propped so they'll stay open and prevent mold and mildew. It's a good idea to place baking soda or charcoal bags around to absorb odors.

Clean the A/C filters and vents. This involves several steps, including disconnecting the A/C from its source, removing and washing the filter, then returning it when it dries. The same goes for vent cleaning, and here's a great how-to video.

Leave blinds down. This will protect the interior from the sun.

Note and fix any water damage. This process involves locating the source of the water damage, then replacing or shoring up these damaged areas.


Step #2: Keep Pests Away
You want to seal off any possibility of critters camping out while you're gone. A deep clean is a significant first step, but the next most important task is to address any areas small rodents and insects could get through. Then, make sure to seal all entry points before leaving your RV stationed through the winter:
Fill any cracks and openings with spray foam or silicone sealant.

Place rodent repellent throughout the interior. Mothballs and peppermint spray are also effective options.

Eliminate rodent nesting materials. This includes paper and paper products (e.g., paper towels, toilet paper), cardboard, and clothing.

Don't forget non-food items. Besides edible food, remove flavored and sweetened contents like toothpaste or sugar packets that are tasty to bugs and rodents.
Step #3: Remove All Water and Use Antifreeze
Like your home plumbing, you want to protect water lines from costly repairs resulting from frozen pipes. Lucky for you, there are several brands of antifreeze designed specifically for winterizing your RV. Before you can add it, you need to remove all freshwater and wastewater from tanks and lines:
Empty all water tanks, checking the shower drain, toilet, or water heater for accumulation.

Pump out remaining water by attaching an RV blowout plug, opening all faucets and drains, and then pumping compressed air to clear all water lines. Here's a great guide for winterizing your RV's water system.

Add an RV-specific antifreeze mixture. If using an existing water pump to circulate, you'll need to use a bypass kit to keep antifreeze out of the freshwater tank and water heater.
Step #4: Fill and Stabilize Your Fuel Tank
Gasoline breaks down over time, and you don't want to run stale fuel through your engine next time you start up your RV. Leaving the tank empty leaves room for condensation damage, so you want to make sure to fill your gas tank to almost full:
Add fuel stabilizer to an almost full tank of gas and run the engine long enough for the stabilizer to disperse through the entire fuel system.

Get oil change service and top off fluids like antifreeze, plus power steering, brake, and windshield fluids.
Step #5: Disconnect Batteries
Winter temperatures are bad for RV batteries. Add to that those months of not charging while it continues to drain, and you will return to a battery that needs replacement. To prevent this:
Remove the battery from your RV.

Check the water levels and fill it up if needed (wear eye protection and safety gloves).

Fully charge the battery.

Store the battery in a warm, indoor location like a cellar. Don't rest the battery directly on the floor. Use cardboard or other material as a mat.

Attach a battery maintainer to keep it charged during storage. Some sources say not to let it fall below an 80% charge.

Check your battery monthly to make sure it is fully charged.


Step #6: Protect the Tires
Tires like to be in motion and stay out of extreme heat and cold. When parking your RV for a long while, you want to prevent flat spots on your tires by using a jack at each axle, or inflating to the recommended pounds per square inch (PSI) and rotating periodically. If not correctly maintained, tires could need replacing after storage, or worse, result in a blowout the next time you drive your RV:
Use properly fitted tire covers to protect from UV rays.

Use cardboard or blocks if you can't use a jack to lift tires off the ground. This will dampen the freezing temperatures against your tires.

Check tire pressure after storage and inflate them before your next trip.
Step #7: Preserve the Exterior
You don't want to leave dirt and grime to set in and break down the external paint and seals. As part of winterizing, it's a necessary time to clean up and inspect the outside of your RV. Give extra attention to the roof, sidewalls, seams, and windows for any leaks that need re-caulking or sealing before storing.
Use mild soap and water to wash the exterior and tires thoroughly before protecting with a spray-on wax.

Apply UV protectant spray to all rubber seals and gaskets on the slide-outs and storage doors.

Add baby powder to keep slide-outs from sticking (pro tip!).

Fit your RV with a winter cover to protect against UV damage and moisture.



Step #8: Choose a Safe Location to Store Your RV
Ideally, you'll be able to park your RV for the winter in a shelter or under a roof:
Driveway or yard: If you're planning to store your RV in your driveway or yard, find a location that's sheltered from wind, and park the RV away from trees that may come down in a wind or ice storm.

Street parking: If you're thinking of parking your RV on the street, check your city code first. There are parking regulations that may prevent you from doing this. There are other reasons why storing your RV at home may not be the best idea.



RV storage facility:

Of course, we'd encourage you to park your RV at a safe and secure RV storage facility like Carefree Covered RV Storage. We have two locations in Apache Junction and Chandler, Arizona.

If you're not in our area, then look for a facility that includes covered parking, washing station, vacuum, air, water, and a dump station. These amenities will conveniently allow you to prep your rig on-site before the cold front moves in.

It's also helpful to visit your RV every month or so to make sure it's still safe and secure.


RV Winterizing Resources
Check out these additional winterizing resources to ensure your RV is as safe and secure as it can possibly be before you put it in storage:




Come Home to Carefree Covered RV Storage
Check out our facility video and tour, then stop by and we'll get your rig set up. When you store your recreational vehicles with us, you'll enjoy secure, quality covered RV storage with our 42-camera video surveillance, along with 365-day automated access with our phone gate app, charging outlets, free wifi, and free self RV wash and sewer dump. We've even got complimentary bags of ice! Also need a storage unit for additional small recreational toys, equipment, and supplies? We've got them!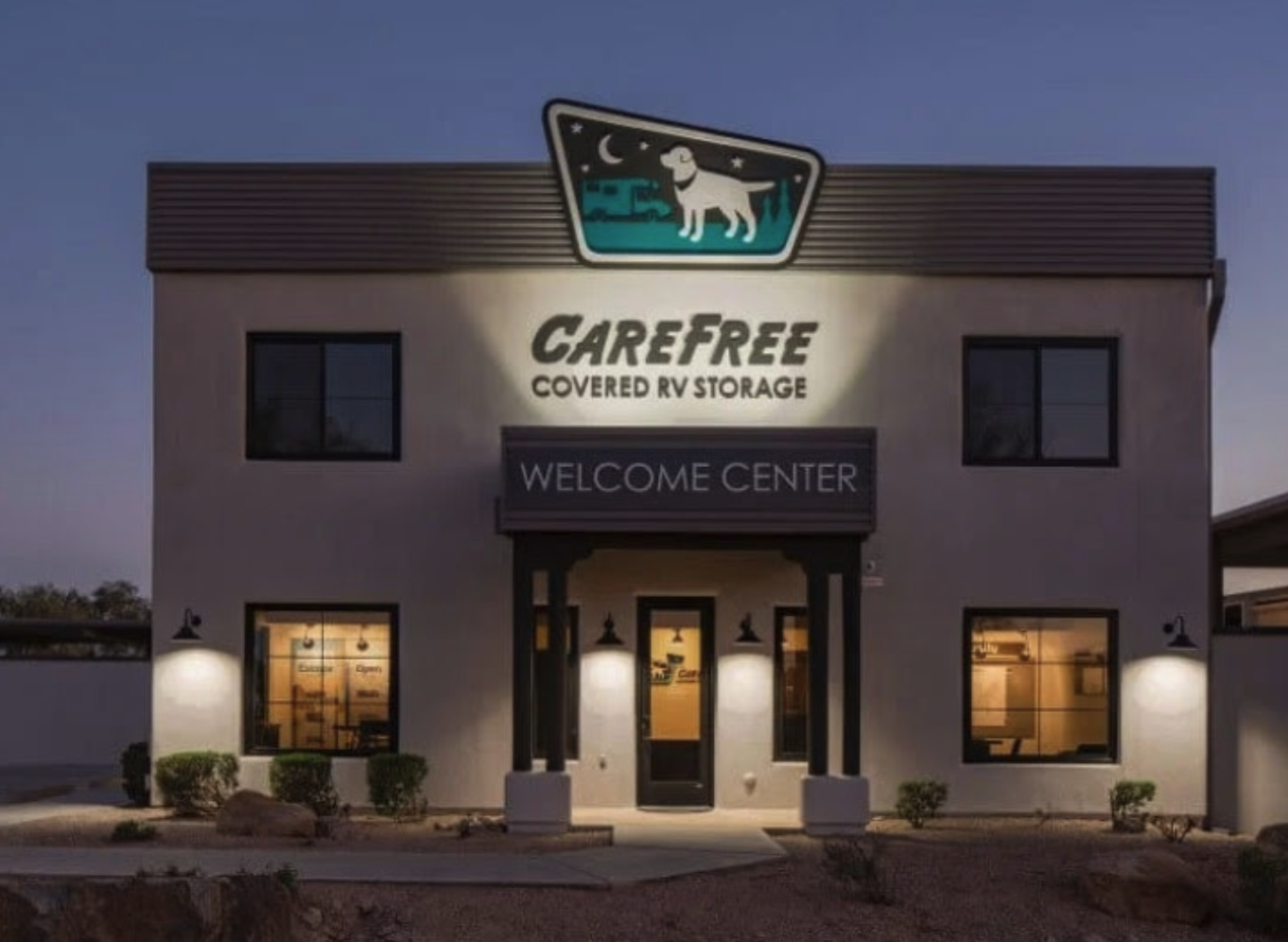 At Carefree Covered RV Storage, you're guaranteed peace of mind, protection, and personalized, old-fashioned service. We make it easy for you to rent and make payments online, maintain your vehicle, and get on the road — so that you can keep living the carefree life!