Spring is a time of hope and renewal — and it's hard to think of a spring with more hope and optimism in the air than Spring 2021. Vaccines are more available than ever, and people are starting to make springtime RV travel plans again with friends and families (fingers crossed!).
We at Carefree Covered RV Storage have compiled a list of five terrific Southwest spring break (or summer vacay!) ideas sure to suit just about everyone. So get going on that RV spring-cleaning, air out your home on wheels, fill up on fuel and snacks, and get ready to scratch that travel itch. After this past year, we've all gone a little stir crazy in lockdown. (Okay, maybe a LOT crazy.) You've earned some time away and the chance to stretch your limbs and enjoy some gorgeous spring destinations, brought to you compliments of the southwestern corner of the U.S.
Note: We know that these are still strange times, and COVID-19 guidelines continue to change. Always check ahead of time for availability and health updates with our recommended destinations.

#1. First on our list? Destination: Family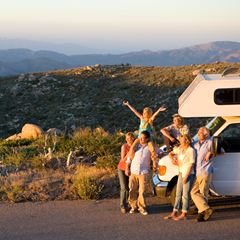 This spring's most popular RV destination? Wherever family is — especially those who have been waiting for months and months for a hug from their favorite people. If everyone is healthy and cleared to travel, your RV can take you anywhere your family awaits you. Or, why not plan a spring family reunion somewhere central?
Cave Springs Campground in Sedona is one family-friendly, reunion-worthy gem with 84 campsites and tons for kids to do — so the adults can kick back and get reacquainted (or visit one of Sedona's decidedly grownup spas)! Ten minutes away from Cave Springs Campground is Slide Rock State Park, which lives up to its name with its natural playground of rock formations that kids can slide down into the creek. There are no RV hookups at Cave Springs, though, so bear that in mind when planning. It's one of Coconino's National Forest's most visited campgrounds, so be sure to book early.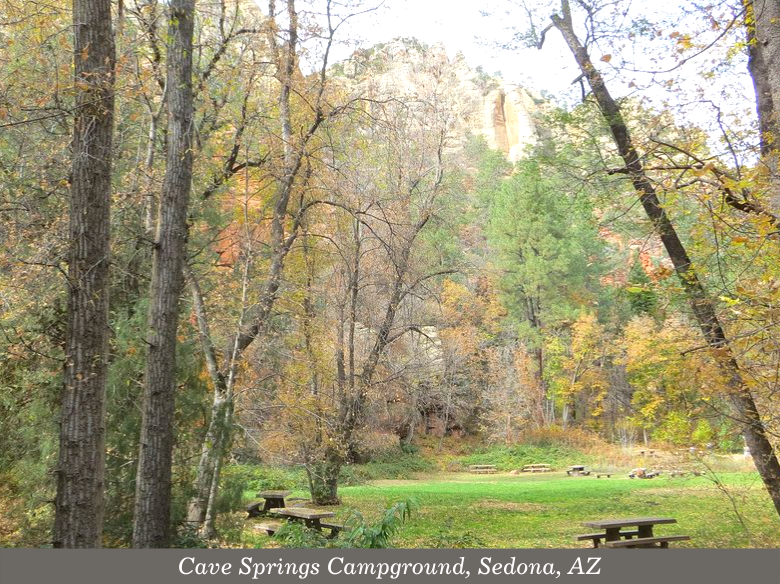 Mormon Lake Lodge RV Park and Campground is another one of our top picks for a long-overdue family reunion. The whole clan can gather for starlit s'mores or delight in the trout pond. Added draw? If RV or tent camping isn't Aunt Karen's cup of tea, there are cabins for rent — and a pizzeria and steakhouse, too, when everyone's had their fill of campside treats. Plus the campground is located just 30 minutes south of Flagstaff and all of its city offerings. Score!
Though most RV campgrounds and destinations are adhering carefully to stringent COVID-19 cleanliness and mandates, it's still a good idea to gauge everyone's comfort level in your family. Be sure to take precautions with relatives who are elderly or immune-compromised — chatting with more vulnerable family members by video is another way to help them feel included in any family get-together this spring and summer.
#2. Stop and smell the roses in Ogden, UT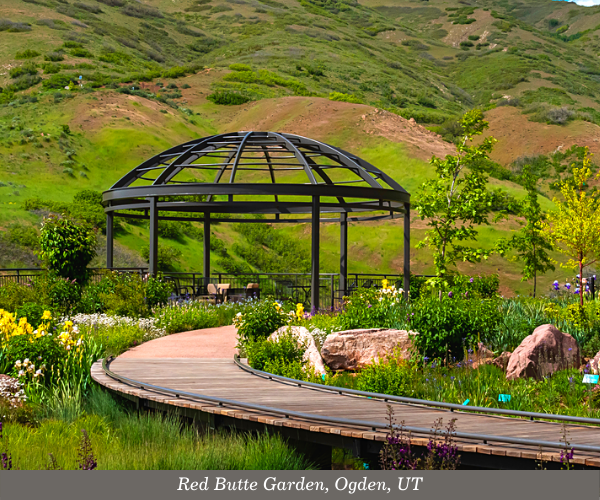 What would spring be without spring flowers? Stock up on that allergic medication and prepare to take in all the blooms the southwest has to offer this season. Our pick: the stunning Red Butte Garden in Ogden, Utah, at the University of Utah. Wander through 21 acres of gorgeous gardens and five miles of hiking trails that will have you feeling like spring has definitely sprung. (If you've got an Instagrammer on board, Red Butte is a must-see.)
Stay in the beautiful vistas of the Uinta-Wasatch-Cache National Forest. One great RV option: the Washington Lake campground, shaded by towering evergreens and dotted with wildflowers. Washington Lake is also a hotspot for kayaking, canoeing, and happy trout fishing: you'll find tiger, albino, brook, cutthroat and rainbow varieties waiting to hop on your hook.
#3. Celebrate spring...at a hot spring

The Southwest is of course known for its stunning desert landscapes. But another draw is definitely the region's many hot springs. Whether you're looking for a relaxing soak for your road-weary muscles, or you're more a fan of the sights you'll find hiking to a spring, we've got some recommendations!
Faywood Hot Springs in New Mexico is a little out of the way — a drive just short of 4 hours west from Tucson — but trust us, it's worth the trip. This natural, geothermal resort offers a variety of outdoor private and public soaking springs for those seeking true relaxation. RV sites offer full hookups, and there are tent sites and cabins, too.
FYI: Several pools are clothing-optional — don't say we didn't warn you!
Bashford's Hot Mineral Spa is located a couple of miles just southeast of the eerie and often deserted Salton Sea (we don't recommend bathing in that water, but it's definitely worth a visit for its truly unique history and haunting photo opps). Bashford's is a friendly 143-hookup RV campground nestled at the base of the Chocolate Mountains, with access to six mineral springs.
Don't worry, Arizona has great hot springs options, too. One great option? Arizona Hot Spring Trail will lead you to three fantastic soaking pools. You can also see the Hoover Dam nearby — another bucket-list item to check off. Temple Bar Marina RV Park and the Temple Bar Campground would be happy to host you and your posse on the scenic shores of beautiful Lake Mead.


#4. Get your kicks on Route 66

If you've never cruised along on the famous Route 66, what better time to do it than spring? The famous highway is a pathway to attractions far too numerous to list. There's plenty of RV camping along the way — take your pick. Route 66 Golden Shores RV Park is a gold-star candidate, with sunset views like you wouldn't believe right over Goose Lake. Kingman, Arizona is considered the heart of Route 66. Why not stop at the Kingman KOA Journey, which has a hot tub and pet playground. Did we mention Las Vegas is just 1.5 hours away?
Route 66 snakes its storied way through numerous states, so why not explore further? We're fans of Route 66's California and New Mexico offerings in particular. In California, be sure to hike the famed Amboy Crater, which is actually a volcano (we swear). The views are amazing and the volcano is sleeping, so you won't get hot feet. There's also a famous cafe you'll definitely want to get lunch or dinner in.
Stay a few nights at the Joshua Tree Lake RV & Campground at the edge of the Mojave Desert, and you'll be amazed by the sights and the crazy-bright nighttime skies. Joshua Tree National Park is also worth a visit for its fantastical Lorax-like cacti.
The Route 66 RV Park in Albuquerque, New Mexico, is a fab destination in itself, with lux amenities like a putting green, and a full casino steps away. Albuquerque is also a fun family town, with the Albuquerque BioPark Zoo being a popular stop. There you'll find a zoo, an aquarium, and a beach to fish from, in addition to numerous seasonal events and classes.


#5. Head to the Four Corners

Contrary to the above French proverb, you can be in more than one place at a time when you visit the Four Corners — the vertex of Colorado, Utah, Arizona and New Mexico. The area surrounding the somewhat underwhelming National Monument is sparsely populated and not often visited, ensuring amazing mountain views, canyon vistas, and sparkling lake scenes — plus a whole lot of peace and quiet.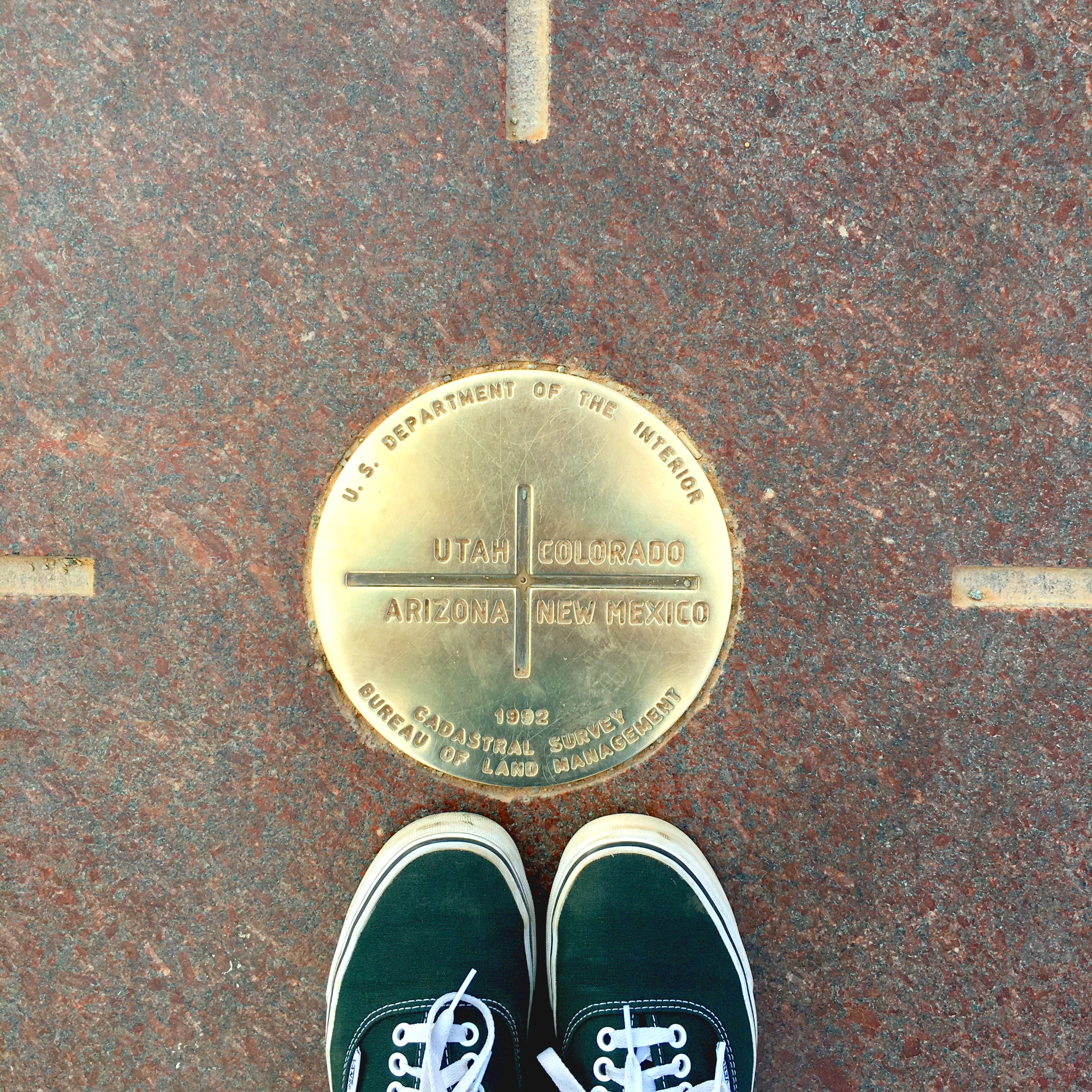 The Sleeping Ute RV Park in Towaoc, Colorado has all the calm you need (and each RV is treated to mountain views) but it's still close to the fun of the Ute Mountain Casino. The Cadillac Ranch RV Park of Bluff, Utah is low-key relaxation, with pull-through spaces for RVs and plenty of elbow room for uninterrupted downtime.




Come Home to Carefree Covered RV Storage
New to the area — or looking for a new home for your RV? Check out our facility video and tour, then stop by and we'll get your rig set up. When you store your recreational vehicles with us, you'll love coming home from time on the road.
Our clients enjoy secure, quality covered RV storage with our 42-camera video surveillance, along with 365-day automated access with our phone gate app, charging outlets, free wifi, and free self RV wash and sewer dump. We've even got complimentary bags of ice! Also need a storage unit for additional small recreational toys, equipment, and supplies? We've got them!
At Carefree Covered RV Storage, you're guaranteed peace of mind, protection, and personalized, old-fashioned service. We make it easy for you to rent and make payments online, maintain your vehicle, and get on the road — so that you can keep living the carefree life!