Does your RV crew include a dog or two? More and more RV adventurers are traveling with their canines, and it's not hard to see why. RV travel is a terrific way to bond with your dog and enrich their lives with novel sights and scents. These days, many RV campgrounds and parks are happy to welcome dogs, too, making RV travel one of the best ways to include your canine friend on family vacations. We've compiled a list of tips for safe and satisfying RV travel with dogs — including plenty of helpful links for planning your next dog-friendly RV adventure.
How to Travel with Dogs:
Set Realistic Expectations
First things first: Make sure your dog is up for an RV adventure. Be realistic about what your dog can and can't handle — not every dog is up for RV travel. Older dogs, dogs with chronic illness, and fearful dogs may struggle with leaving their familiar surroundings for a lurching, rumbling, crowded RV. Be kind and consider your planned trip from your dog's point of view. It's far more compassionate to leave an anxious dog behind with a trusted caretaker than to drag them along on your RV adventure. It's also a safety issue: Dogs that are stressed while traveling are more likely to bolt and get lost in unfamiliar areas.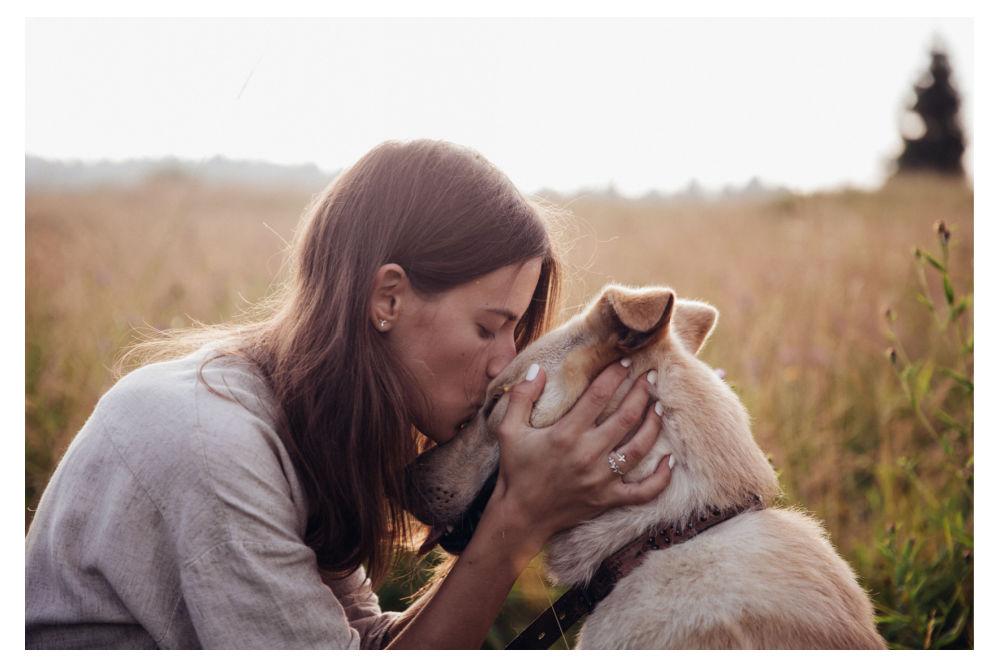 Create a Designated Dog Zone Onboard and Offboard
Make sure your dog has their very own area to retreat to onboard your RV. If your dog is crate-trained, all the better! If not, bringing a dog bed from home will do. Don't disturb your canine when they're napping in their crate or bed on the RV — it's vitally important that your dog has a place to go to tune out any travel chaos and feel safe. Even the most easy-going dogs can snap or act out when on the road if they feel cornered, so be sure to educate any kids onboard. Keep things safe by ensuring everyone — human and canine — has enough downtime to recharge between adventures. Consider restraining your pup with a travel harness when the RV's in motion.
When the RV's parked and the campground funs have begun, it's just as important to establish a comfortable, safe, and secure area for your dog outside. While you enjoy activities around the campfire or a pickup game of your favorite sport in the grass nearby, your dog should get a chance to enjoy the outdoors, also.
Even the most well-behaved dogs deserve to let loose and not worry about where they are and aren't allowed to roam. A lightweight and easy-to-set-up dog corral can be a lifesaver—sometimes literally. These pet playpens come in soft pop-up varieties as well as more rugged metal bodies for dogs that are larger or prone to chewing. However, these outdoor options are never acceptable for leaving your dog completely unattended. When heading off the site for any amount of time, we suggest letting your dog cozy up in their indoor space, safely tucked away from the outdoor elements and unexpected predators.

Another excellent option for keeping your dog restrained safely while still allowing some freedom is a corkscrew with a long lead. This method is ideal for quicker trips where you don't feel like lugging around or setting up an outdoor playpen. Essential safety tips for this method include measuring the lead length to know what's accessible to your dog and putting the stake in the ground where no one can trip. With a playpen or ground stake, you and your dog are bound to have many safe and secure travel adventures together.
Bring Along Enough Food and Treats
Be sure to pack familiar food and treats for the entirety of your RV trek. Don't make the mistake of grabbing a smaller bag of food from a different brand when you arrive at your destination. You're almost guaranteed to be rewarded with some very unpleasant GI distress — which is worse when experienced in the close quarters of a motorhome.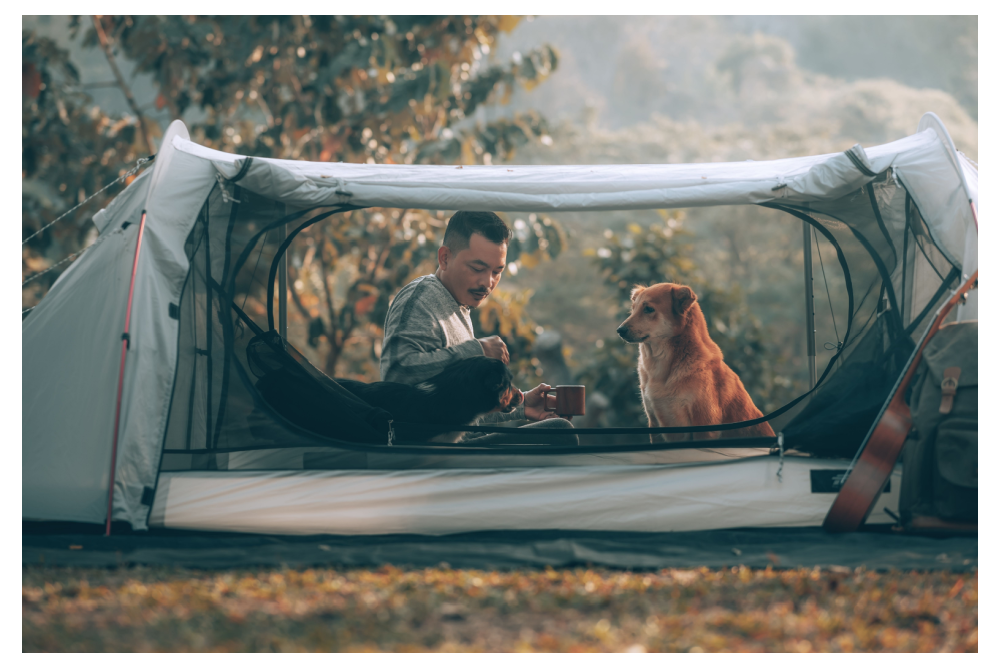 Toys Are a Dog's Best Friend—After Man, of Course!
When heading out the door and reviewing your packing list to ensure nothing gets left behind, be 100% certain that you loaded your dog's favorite toys into the RV. Dogs have complex emotions, so when you leave the comfort of their home for any extended period of time, taking along the right toys helps reduce stress and increase the fun.
While you might think you could easily find a stand-in for a left-behind toy at a pet store along the road, some dogs have attachments to particular toys, including how they smell. Make a list of the ones you want to bring, and double-check the RV immediately before heading out on your adventure.
If your dog needs new toys, check out the top 2023 choices, according to chewy.com. One of our personal favorites, the Chuck-it Ultra Rubber Ball, made the list! Dog owners know that having a dedicated toy bin is necessary to stay sane and not trip over bones and balls strewn across the floor. Staying organized while traveling by RV is especially important! To make the toy bin travel-friendly, seek out something with a handle, like these adorable and functional bone-shaped toy baskets.
Stick to a Schedule
On the road, keep a rough schedule in place for your dog. Humans can handle the schedule disruptions of travel far better than our canine friends can. Stick to a schedule similar to home for your dog, feeding at the usual mealtimes. Be sure to stop for potty breaks every two to three hours. Your dog might need to go even if you don't!
Make Sure Your Dog's Microchip and ID Are Current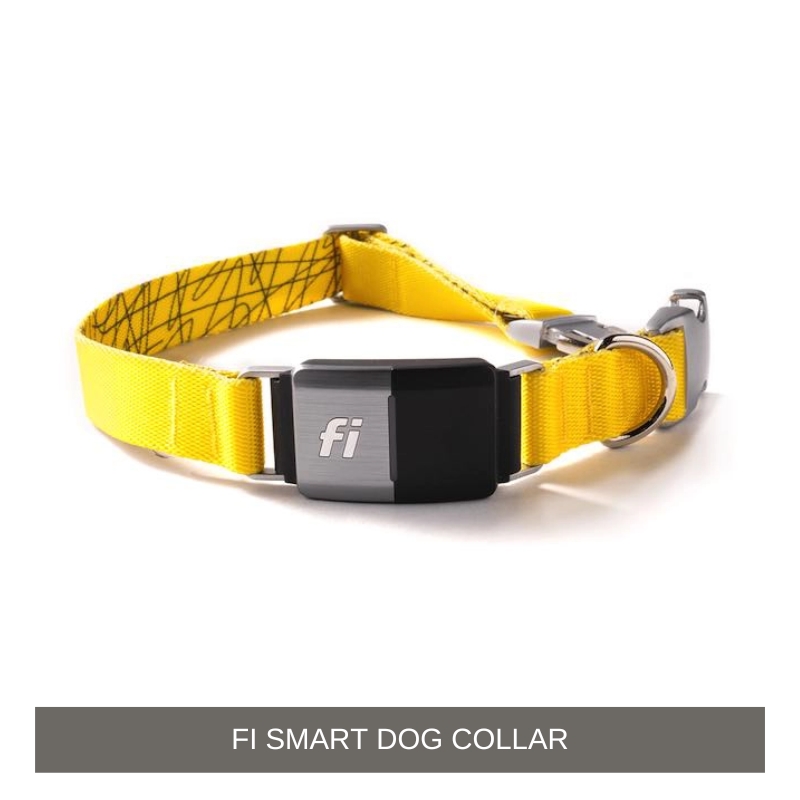 Make sure your dog is microchipped and that the microchip is linked to your current information. Many owners are dismayed and heartbroken to find out after it's too late that their lost dog's microchip registration has expired or was never entered into the system. This is probably the best thing you can do to be sure your pet can be identified in a worst-case scenario. Also, be sure your dog is sporting a collar with an identification tag.
You might also consider a smart tracker tag or GPS collar for your dog to wear on the trip in case they should become frightened and bolt. A smart tag or collar will enable you to track your dog's location in real-time and hopefully recover your beloved friend quickly if disaster strikes. Also: Be sure to keep a recent photo of your dog on your phone in the unlikely event that they go missing during an adventure.
Pack Vaccination and Health Records
It's always a smart move to bring along vaccination and health records for your dog, even if you don't expect to need them. Emergencies happen on the road, and up-to-date health info from your vet at home will ensure continuity of care should you need to get medical help for your pet.
Hydrate Your Hound
Always, always bring more water than you think you need on hikes for you and your dog. You don't need to travel with a clunky metal bowl, either. There are plenty of hiking-friendly options, like this handy collapsible rubber water bowl and this cool 2-in-1 dispenser and bottle.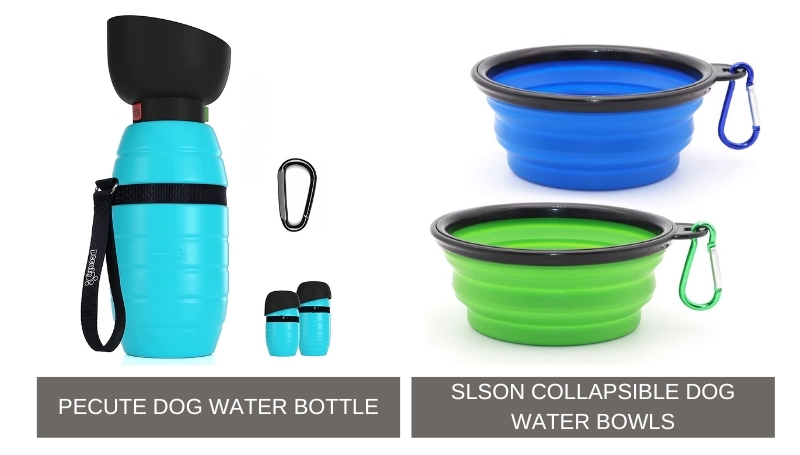 Beware of Heatstroke and Other Dangers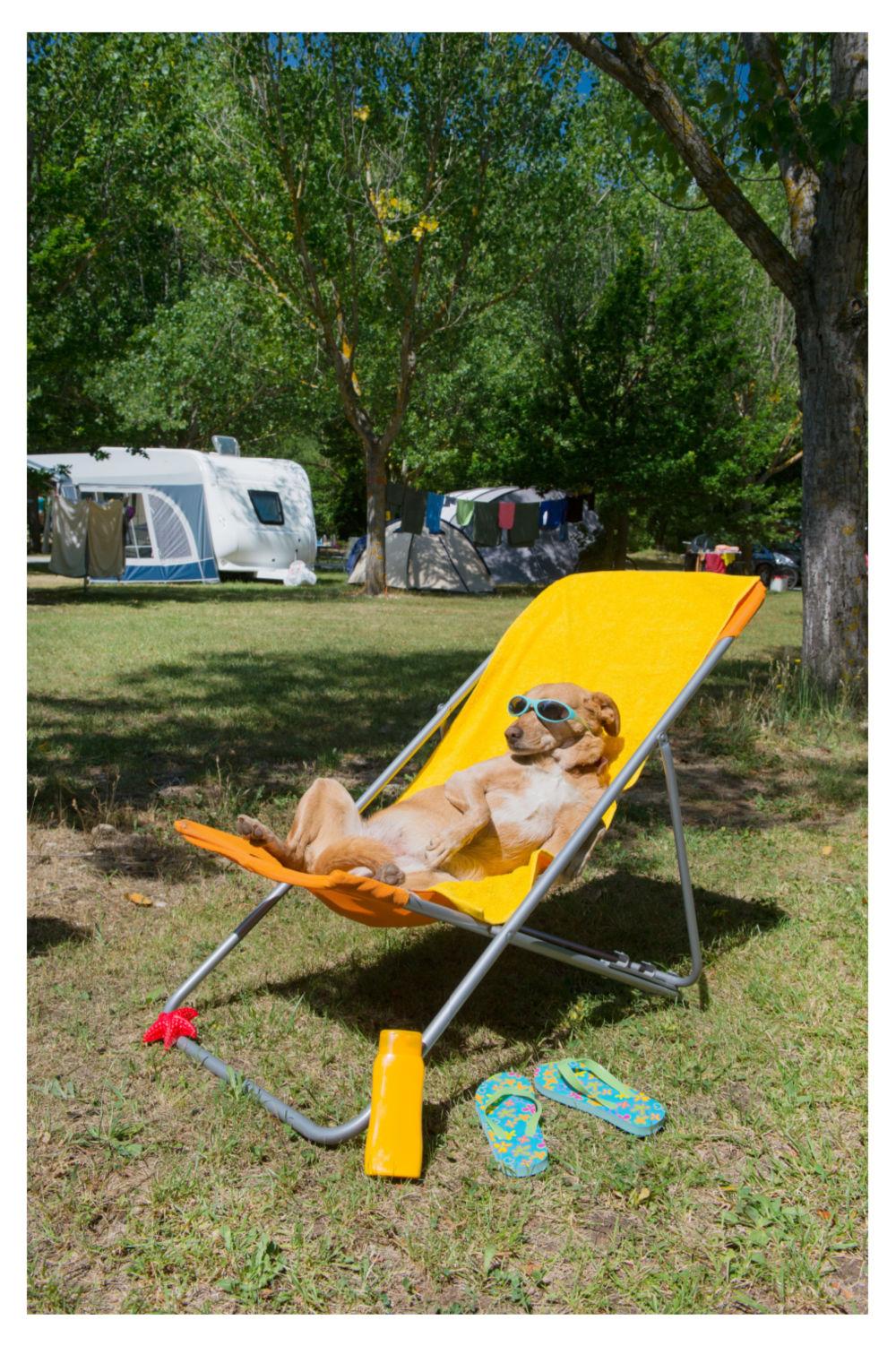 Definitely leave your dog behind on especially hot days. Dogs only sweat from their noses and paw pads, so they can't cool themselves as efficiently as we do. Heatstroke in dogs can be deadly, so know the warning signs: fast breathing or panting, collapse, drooling, discoloration of the gums, sticky or dry mouth, lethargy, vomiting, disorientation, or seizures. Rapid response is necessary if you suspect heatstroke in your dog. Get your pet to a shady or cool area, and pour cool (not icy!) water on them, if possible, while you call an emergency vet.
Hiking can be a blast, but there are some dangers to be aware of when it comes to your dog. Keep a first-aid kit for your dog in the car. Also, keep an eye out for snakes, coyotes, bears, and biting insects, as well as toxic or sharp plants such as cacti. Be sure you know the terrain well enough to protect your dog from a fall or mishap.
Check Campground Policies in Advance
Not all campgrounds accept canine visitors, so don't risk being turned away after a long haul. Do your homework in advance and keep a running list of pet-friendly campgrounds along your route, and make reservations well in advance whenever possible. Some campgrounds pride themselves on exemplary canine amenities for their RV guests.
One that garners rave reviews is Waggin' Tail Ranch RV Resort in Pilot Point, Texas, which boasts a dog park, agility course, swimming pond, dog wash station, and fab amenities for the humans on board. Staying close to home in Arizona? Here are five great in-state RV campgrounds that welcome dogs. We also like this article about the most dog-friendly campground in each state. Remember: Even if your campground is dog-friendly, remember to keep your dog from wandering into other guests' areas. Not everyone will love your dog the way you do!
Don't Leave Your Dog Alone
Don't leave your dog unattended in your RV if you can help it. Dogs are pack animals and naturally become anxious when left behind, but even more so on the road. If you must, be sure to leave the air conditioning on in hot weather and heater on in cold weather.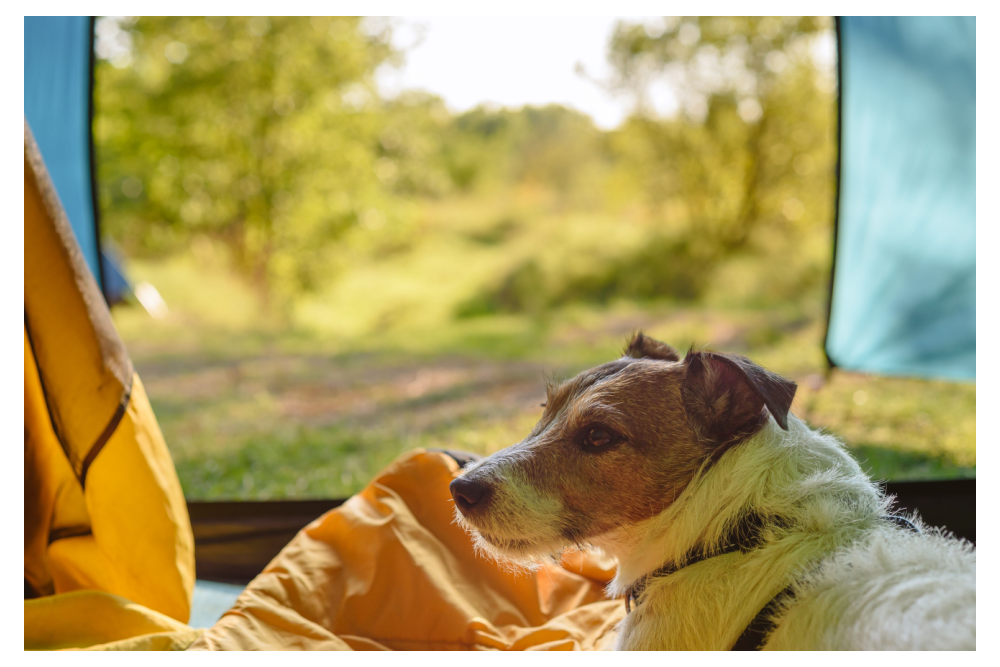 Don't Forget Poop Bags
You'll definitely want to bring along a hefty supply of bags to pick up your dog's waste. You might also consider a hands-free leash, dog backpack, and other hiking gear if you plan to take long hikes and explore off-road with your pup.
Let Your Dog Take You for a Walk
Let your dog take you on a hike for a change! Dog-led walks are incredibly important, as dogs need to sniff to make sense of their world — especially new places. And be sure to check leash laws for the area you're exploring together.
Plus, all the extra time cooped up in a moving vehicle is bound to make for one rowdy pup. Dogs not only love to exercise, but it is essential for their psychological and physiological health. Hiking, walking, running, or whatever you and your dog's favorite fitness mode is can fall to the wayside easily when you're distracted by adventures, new towns, campgrounds, and family activities. REMEMBER to give your furry family member the proper amount of exercise every single day, no matter how many driving hours you need to fit in to keep travel timing on track.
Got questions about RVing with dogs? Carefree has you covered!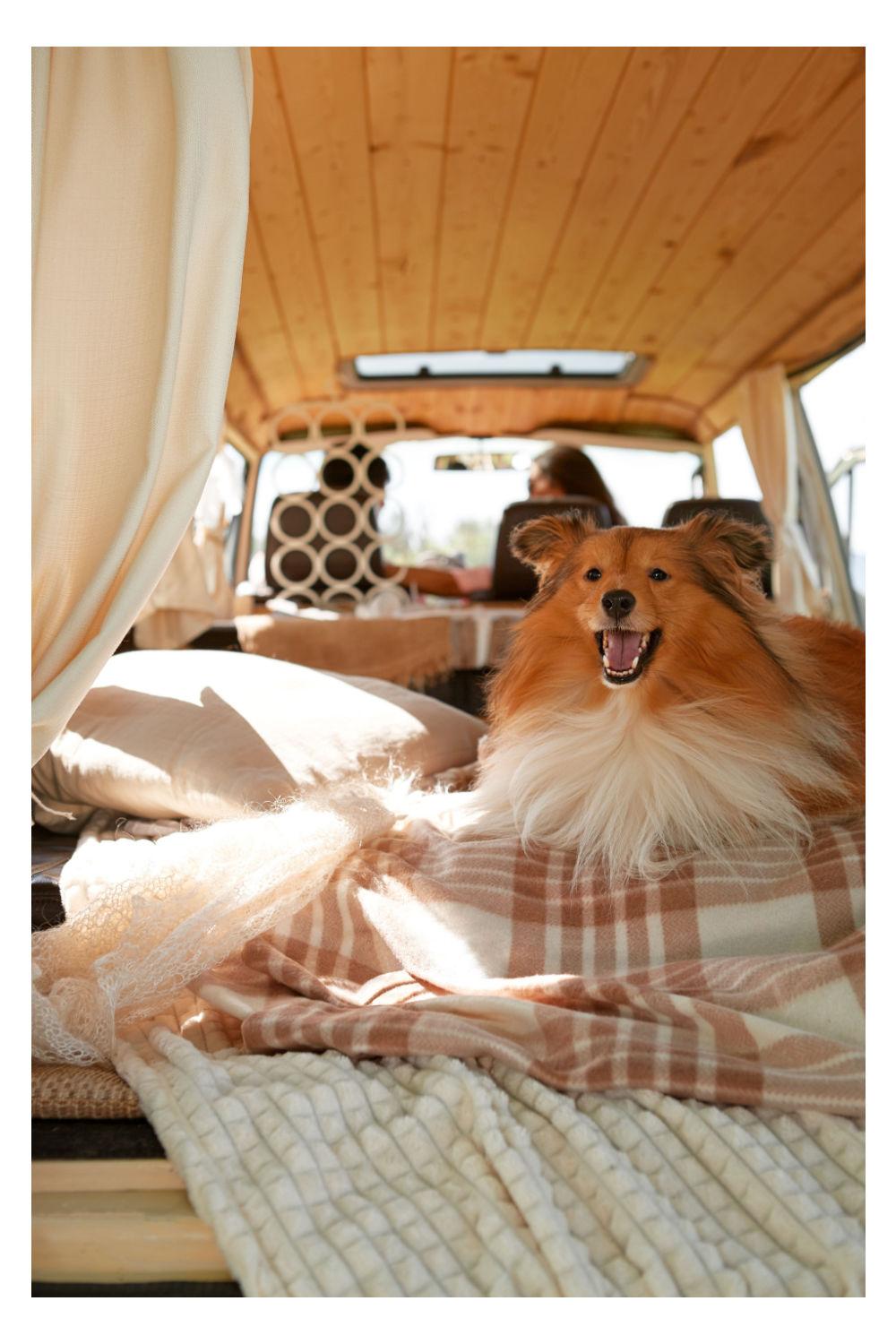 We love hearing about our clients' adventures, especially when they involve traveling with dogs! And we've got plenty of advice and recommendations if you're just starting out on RV adventures with your furry friends. Here at Carefree, we've always got your back, on the road and off.
Check out our facility video and tour, then stop by, and we'll get your rig set up. When you store your recreational vehicles with us, you'll enjoy secure, quality covered RV storage with our 42-camera video surveillance, along with 365-day automated access with our phone gate app, charging outlets, free wifi, and free self RV wash and sewer dump. We've even got complimentary bags of ice! Also need a storage unit for other small recreational toys, equipment, and supplies? We've got them!
At Carefree Covered RV Storage, you're guaranteed peace of mind, protection, and personalized, old-fashioned service. We make it easy for you to rent and make payments online, maintain your vehicle, and get on the road — so that you can keep living the carefree life with the whole family. Happy T(r)ails!