Find the Best Covered RV and Boat Storage at Carefree Covered RV Storage in Apache Junction
If you need a place in Apache Junction to keep your RV or boat stored out of the sun between getaways, then Carefree Covered RV Storage has got you covered — literally.
Are you motoring back from a weekend in Show Low or the Grand Canyon? Or, are you returning from a boating trip on nearby Saguaro, Canyon, or Roosevelt lakes? With our first-rate amenities and good, old-fashioned customer service, we provide the perfect landing spot for your hard-working RV or boat in a safe, covered storage facility near you before the next adventure.
Our team at Carefree Covered RV Storage loves calling Apache Junction home. Located just 30 minutes east of Phoenix, near Scottsdale, Tempe, and Mesa, this small and quiet East Valley suburb nestled against the iconic Superstition Mountains (or the "Supes," as the locals call them) offers affordable and peaceful living for its 40,000 residents.
In many ways, Carefree Covered RV Storage is a direct reflection of the affordable, peaceful community we live in. Like Apache Junction, we're a secure and shining desert star for your RV or boat. We understand what these vehicles mean to you. They're big investments and cherished memory makers. We treat your recreational investments like our own, and provide a safe haven for them so that you can live life care-free.
One loyal customer has referred to our location as an "RV storage resort," and we happily aim to live up to that claim each and every day. In this spotlight of our Apache Junction storage facility, you'll:

Learn how we purchased and renovated the RV, boat, and trailer covered storage facility that we now call Carefree Covered RV Storage
Meet our excellent on-site property manager, Lisa Rowen
Get the inside scoop on local restaurants and activities worth checking out near our covered RV storage facility


Creating Carefree: Before and After
We purchased our Apache Junction RV, boat, and trailer storage facility from the prior wonderful owners in September 2019. We immediately conducted a facility facelift to reflect our company values and customer service philosophy. We renovated the Welcome Center, canopies, storage units, and the RV wash area. We also added height to the security wall and new LED perimeter lighting to increase safety.
The property went from looking like this:

To looking like this:

Our Welcome Center is now a modern and homey desert oasis. Our Community wall and video surveillance screens highlight our passion to keep our customers safe and connected.
Every good home needs a dog, and Barkley the watchdog figures prominently in our logo. His pose of being at "attention" is a good reminder that we're "on it" at our properties, ever keeping a watchful eye on your prized possessions.
Our secure keypad entry, LED lighting system, heightened walls, and 42-camera surveillance system keep your belongings safe, and our free RV wash station keeps them clean.

Enjoy this quick, two-minute video of our beautiful new facility. We hope it's evident that these improvements serve to provide an excellent experience for our customers.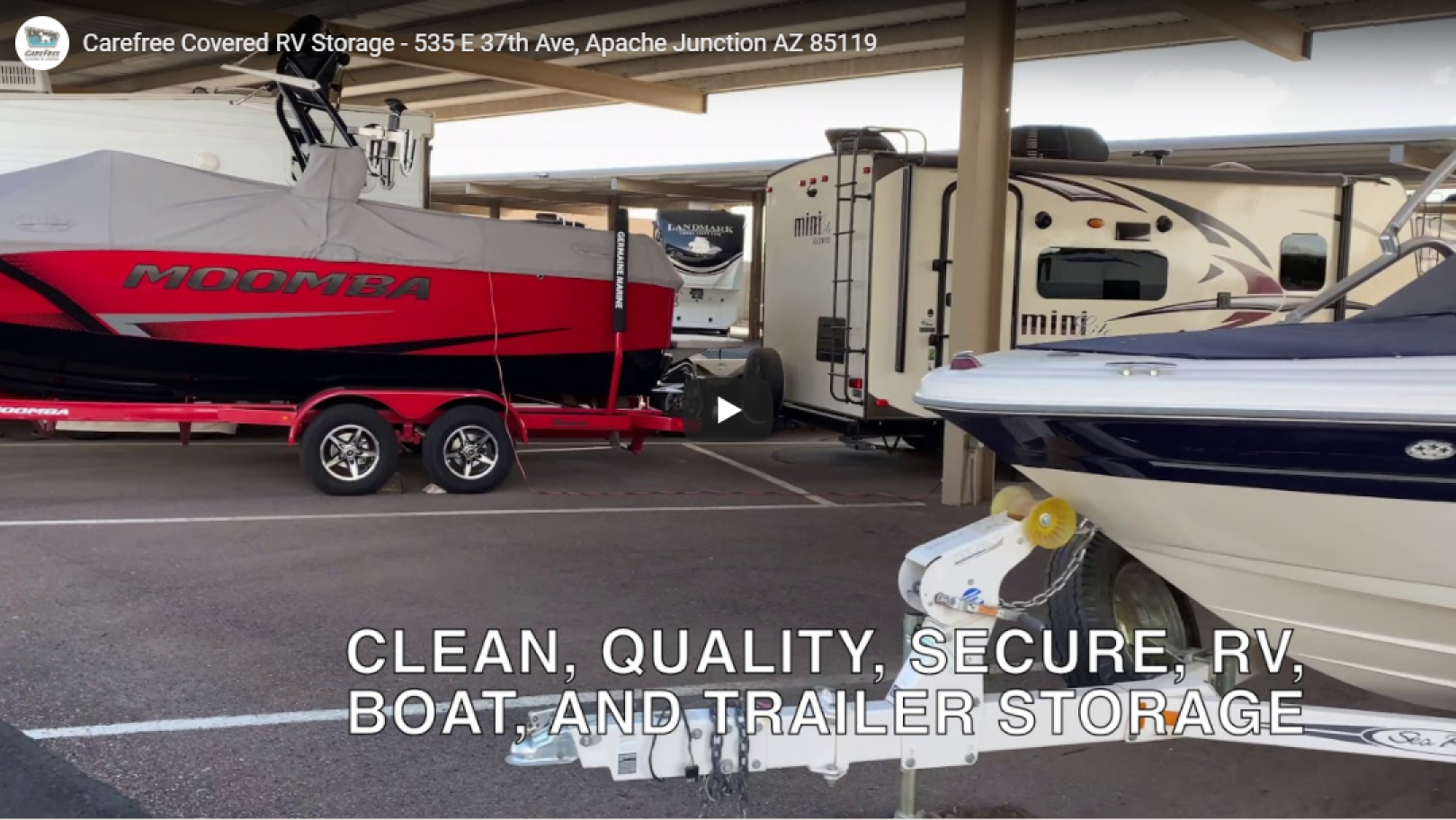 Apache Junction Carefree Covered RV Storage Facility Features and Amenities
There are plenty of RV storage options available in and around Apache Junction. And, as RV owners ourselves, we know there are several factors that should guide your decision on where to store your RV, boat, or trailer. We took all of these into account to help Carefree Covered RV Storage stand out from the competition. Check out this amazing line-up of what we hope you'll agree are best-in-class amenities
Clean, quality, secure RV, boat, and trailer storage
We offer 266 covered spaces, 41 self-storage units, and 11 uncovered spaces
Covered parking and clean, all-asphalt facility
365-day automated access with phone gate app
42-camera HD video surveillance and perimeter security
LED lighting for enhanced nighttime visibility
On-site manager lives on the property
Free self RV wash and sewer dump
Free dump station, water, and air
Charge plug-ins at your space
Online reservation and autopay options
Open 9am - 6pm Mon - Sat; access hours are 5am - 10pm daily
Storage units available
Plus FREE ice and wifi on-site! (We really did try to think of everything.)
Take 5: Meet Our On-Site Manager, Lisa Rowen
After going the extra mile to create a top-notch facility with first-class amenities, it's vital that we have a smart, friendly manager who represents our core values and can keep things running smoothly. Enter Lisa, our on-site property manager. She holds the keys to our customers' experience, so we thought you'd enjoy getting to know her better!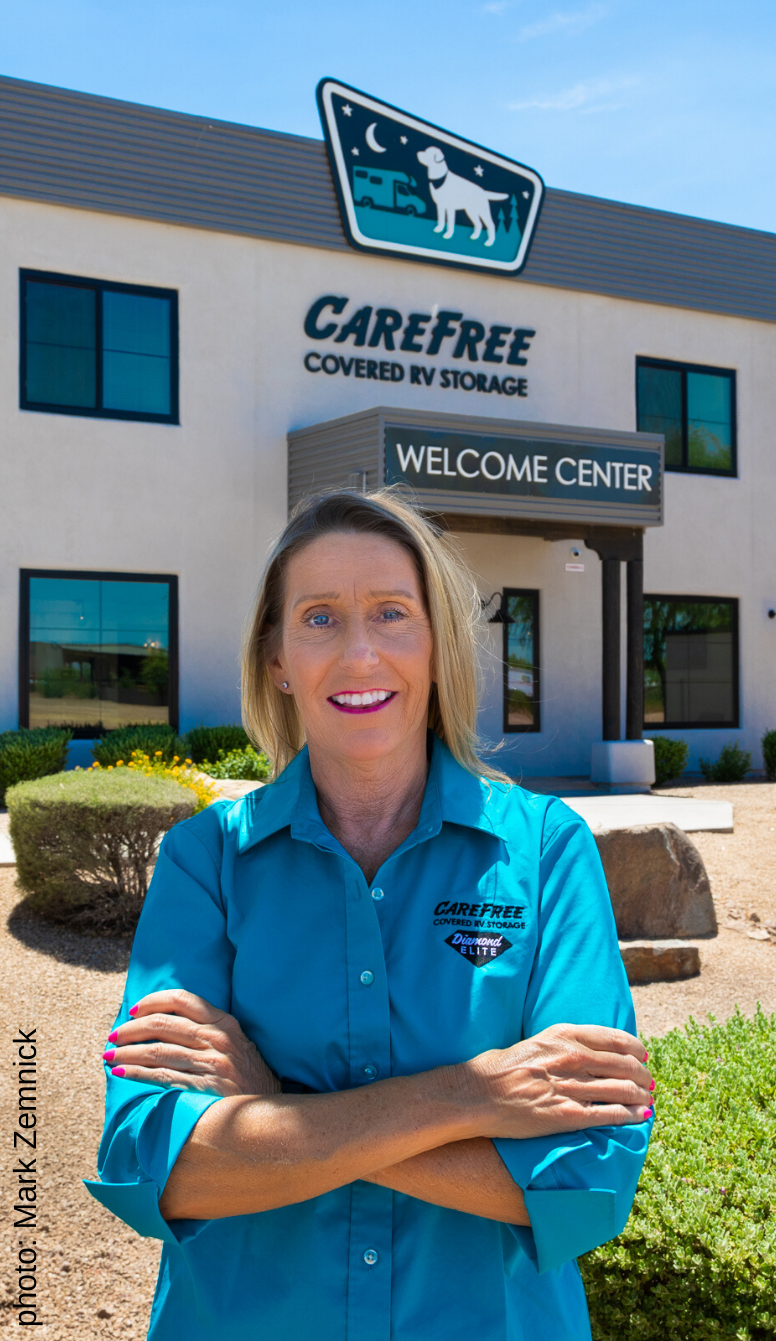 1. What do you love about working at Carefree?
Carefree Covered RV Storage is a wonderful company. I enjoy working by myself and not being stuck in an office or a cubicle all day. I can go outside and enjoy the fresh air. Whether I'm cleaning around the property or talking to customers about their day, I appreciate this variety the most.
2. What do you want your customers to know?
If you have a problem or just need an extra hand with something, I'm here to help! We pride ourselves on offering good, old-fashioned customer service. This, combined with our many amenities and great security, brings our customers a level of comfort that is hard to beat.
3. What do you enjoy about living in Apache Junction?
I love looking at the beautiful Superstition Mountains every day! Apache Junction is a quiet little town, with a night sky that is flooded with stars to look at.
4. How do you like to spend your free time?
When I'm not taking care of my customers, you'll find me hiking, working out, cooking and meal prepping — which makes it so much easier to eat healthy during the week! I also love to explore new things to do and places to see.

5. What's something people might be surprised to learn about you?
Playing with plants and digging in the dirt are my therapy!
Don't just take our word for it. Listen to what five-star Google reviewer Joy Smith has to say about Lisa:
"Lisa, the property manager, is wonderful and extremely helpful. After we moved in, we noticed there was an issue with the electrical outlet not working. She went out and fixed the problem for us right away! Talk about great customer service. She gives us peace of mind knowing our investment is being watched over and in good hands. We plan on being customers for a long time!"


Restaurants Near Carefree Covered RV Storage in Apache Junction
Whether you're about to embark on a new adventure or you're just returning from one, the first order of business usually includes topping off the ol' hunger tank. Instead of heading to a chain restaurant, our Carefree team recommends some local favorites for fueling up — and they're all within a 10-minute drive of our location at 535 E. 37th Avenue.
Our Top Choice: Handlebar Pub & Grill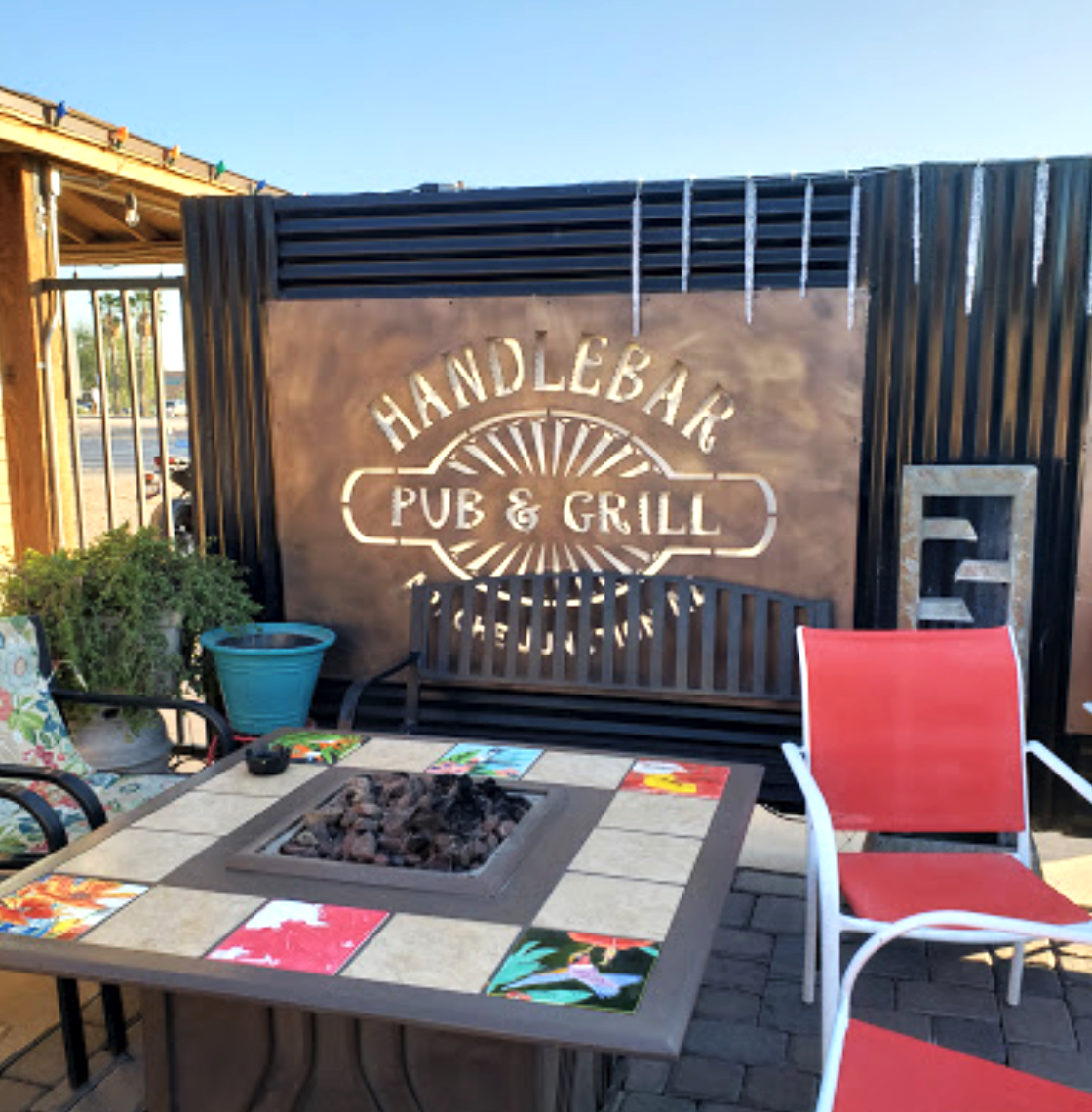 The Handlebar Pub & Grill at 650 Apache Trail is a true hidden gem for travelers but a legendary hangout for locals! Don't let the outside fool you. Step inside and you'll find an inviting "Cheers"-like atmosphere with an extensive craft beer list and BBQ to die for. Their claim to fame? None of their food is fried! They also have a beautiful tree-covered patio for relaxing, listening to live music, and enjoying some fun pub-style games they have on hand. With its 5K+ fan following, their Facebook page keeps you up to date on their menu specials, events, and more.
You Might Also Like: Sol Azteca Mexican Kitchen and Thai Kitchen
If you're looking for something to get in and out a bit faster, but still satisfy your craving for unique and delicious fare, then Sol Azteca Mexican Kitchen (9265 E. Baseline Rd.) and Thai Kitchen (10720 E. Southern Ave.) in Mesa are great, authentic choices. We love supporting these local, family-owned businesses. The Azteca burrito and pork carnitas are a must at Sol Azteca, and the yellow curry and summer rolls at Thai Kitchen are definitely worth checking out.
Things To Do Near Carefree Covered RV Storage in Apache Junction
Our Top Choice: Salt River Tubing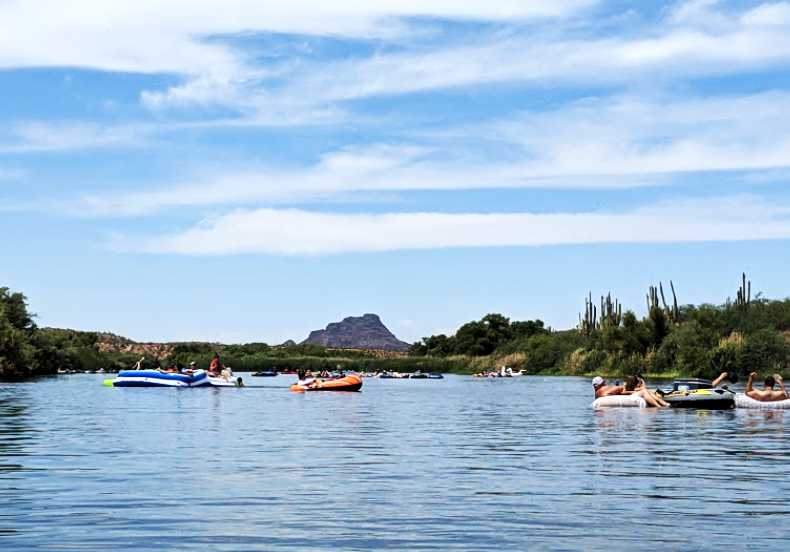 If you're looking for a fun, relaxing way to spend the day "like the locals do," then it's hard to beat tubing down the nearby Salt River in Tonto National Forest.
Float, swim, or paddle past serene scenery, including huge cacti and towering cliffs. If you're lucky, you might even catch a glimpse of the infamous Salt River wild horses. Not only are they the pride of the community, but they're also a favorite subject of photographers and the icon of the wild, free spirit of Arizona and the American West.
At Salt River Tubing (9200 N. Bush Hwy.) in Mesa, $17 (cash only) gets guests 8 years old and older a floating tube and shuttle ride down to the river. This is a definite full-day trip, taking anywhere from two to six hours to tube the river, depending on where you launch, where you stop, and how the water is flowing. Make sure to read up on their website to make sure you go fully prepared. In order to make the experience enjoyable for everyone, Salt River Tubing asks their guests to bring only plastic bottles (no glass), wear close-toed shoes, stay hydrated, wear sunscreen, and stash their own trash.

You Might Also Like: Superstition Zipline and Mesa Marketplace
Located at Goldfield Ghost Town in Apache Junction, the Superstition Zipline (4650 N. Mammoth Mine Rd.) is a truly dynamic and daring way to take in the stunning vistas of the Superstition Mountains. Cap off a day at Goldfield enjoying gold-mine tours, Old West gunfights, and history museum with a truly memorable sunset or night zipline "flight." $12/person. No reservations required except for sunset and night flights. It's just a 15-minute drive from our Carefree facility.
If a day of recreational shopping is more your speed, then look no further than the Mesa Marketplace Swap Meet (10550 E. Baseline Rd.) in Mesa — less than a 10-minute drive from our Carefree facility. Meander through this market featuring local artists and wares every Saturday and Sunday, 7:30am to 2:30pm. Definitely check out the market's coupon page before you go for food court specials and savings with select vendors!
Come Home to Carefree Covered RV Storage in Apache Junction
To help plan your next RV travels, visit our favorite RV websites for inspiration, rentals, gear, and information — like Outdoorsy, Camping World, and Harvest Hosts. RVShare, GoRVing, and RVLifestyle are also excellent resources.
Between your road trips, Carefree Covered RV Storage here in Apache Junction offers safe and secure covered storage near you for your RV, boat, or trailer storage needs. Barkley the watchdog and manager Lisa Rowen personally see to it!
Customer Will Ocampo's five-star Google review makes us feel like we're achieving our goals:
"Great spot to store your RV/travel trailer, or other toys! Super clean, ample space, and let's not forget the awesome amenities. Lisa, the manager, is extremely professional and knowledgeable. We are very happy with our site and location. It's a true RV storage resort!"
Ready to start living the Carefree way? Reserve or rent your Apache Junction covered RV and boat storage unit today!