Are you ready for an adventure through the vibrant heart of the American South? Buckle up — and get ready to explore the rich tapestry of cultures, music, and flavors as we embark on an RV road trip from the vibrant city of Dallas to the soul-stirring melodies of New Orleans.
History comes alive as you traverse charming towns and picturesque landscapes where America's story unfolds. Music enthusiasts will appreciate the soulful rhythms reverberating through places like Baton Rouge and New Orleans. And let's not forget the food! Prepare your taste buds for a gastronomic delight as you indulge in mouthwatering cuisines that define the essence of the South. From finger-licking BBQ to succulent Creole dishes, each bite will take you on a culinary adventure you won't soon forget.
This RV expedition promises to be more than just a trip; it's a kaleidoscope of experiences that will captivate you. Embrace the thrill, immerse yourself in the culture, and let the magic of this unforgettable journey unfold.
The RV Road Trip Map:
Dallas: The Gateway to Southern Adventure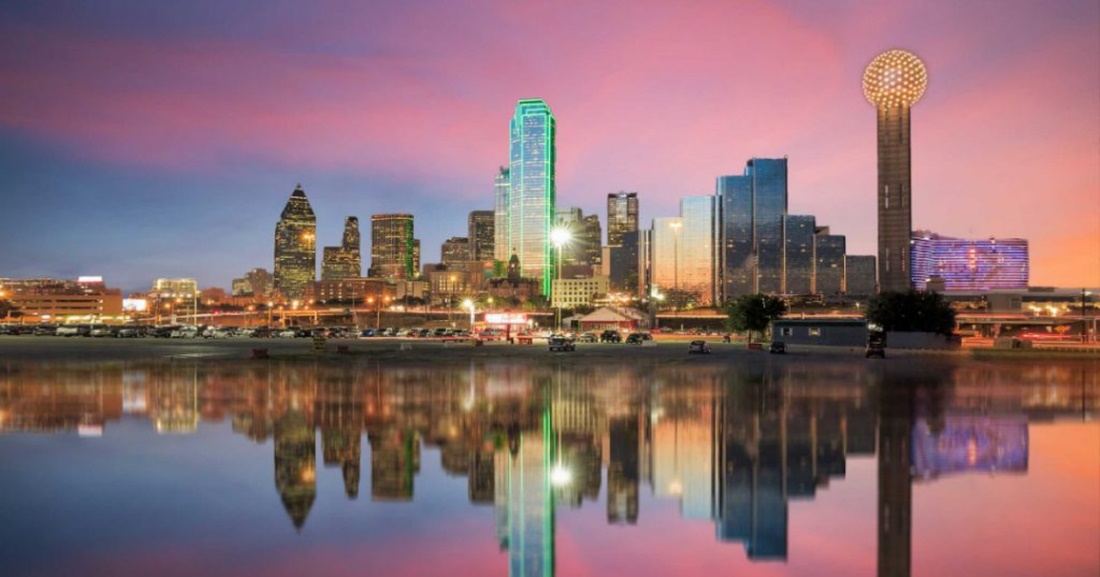 Kick-start your adventure in Dallas, the vibrant gateway to the Texan spirit! This bustling city sets the perfect tone for your journey, offering a great introduction to the rich culture and history of the American South. Explore its dynamic city center, where modern skyscrapers coexist with timeless landmarks. Visit the iconic Sixth Floor Museum at Dealey Plaza, a place of historical significance that tells the tale of our nation's past. Wander through the Dallas Museum of Art, where masterpieces from around the world await your admiration. Get back to nature at the Dallas Arboretum, one of the world's top botanical gardens. For an artsy and eclectic vibe, don't miss the Bishop Arts District, a haven for creativity, boutique shopping, and delightful cafes.
Dallas is also a food lover's paradise, featuring a diverse culinary scene that celebrates various cuisines and flavors. Here are a select few of the many noteworthy foods to try while exploring Dallas on your RV adventure:
Texas BBQ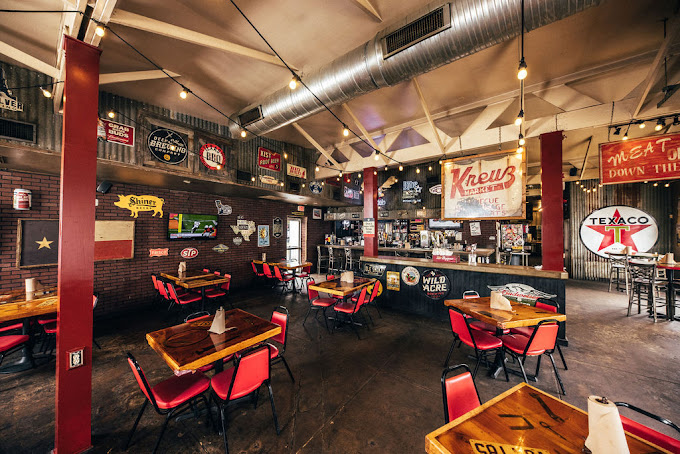 Dallas is renowned for its mouthwatering barbecue, with numerous BBQ joints throughout the city. Indulge in slow-cooked, tender brisket, flavorful ribs, and succulent sausages, all seasoned with a perfect balance of smoky and savory flavors. With almost 4,000 reviews and a 4.4-star Google rating, my top pick is Lockhart Smokehouse. They have three locations, but I recommend the Bishop Arts District location. It's a must-visit place for delicious Texas BBQ.
Tex-Mex Cuisine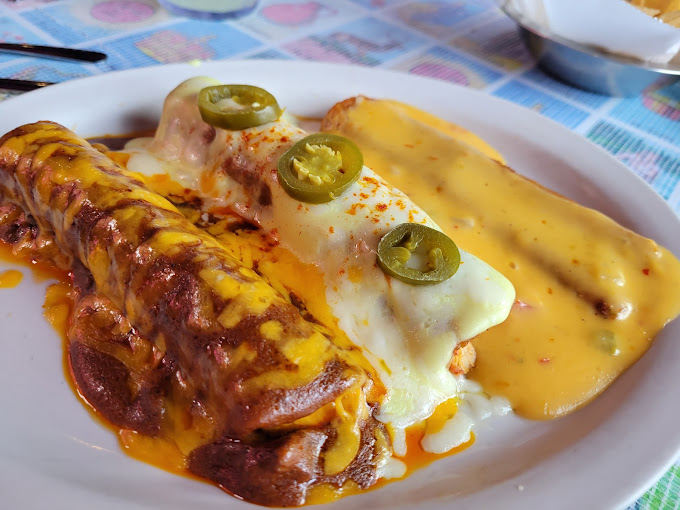 Dallas is famous for its Tex-Mex cuisine, a fusion of Texan and Mexican flavors. Dive into plates of sizzling fajitas, cheesy enchiladas, and zesty tacos; all served with fresh guacamole and salsa. I recommend a local favorite, Mia's Tex-Mex. A bustling, casual eatery since 1981, Mia's is popular for its brisket, tacos, enchiladas, and other Tex-Mex fare. Their raving 4.5-star Google rating will have your mouth watering long before you get there.
Pecan Pie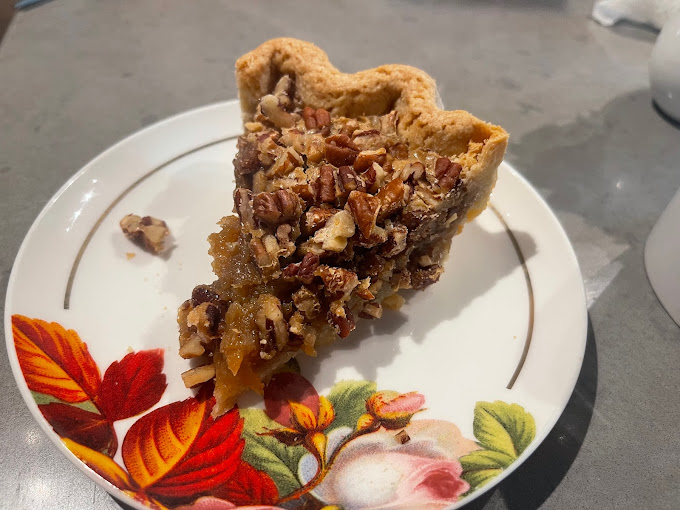 When in Dallas, don't miss your chance to try a classic Southern dessert, pecan pie. Its rich, gooey filling and crunchy pecans make this sweet treat a quintessential taste of Texas. Where can you find the best slice? Mosey on down to Emporium Pies. What started as a small shop selling pies out of a remodeled 1930s Victorian bungalow in the Bishop Arts District has blossomed into a small chain of locations around the city. Order "The Drunken Nut" and prepare to be blown away. You will never try another pecan pie quite like this one.
Where to Stay in Dallas
Conveniently located near major attractions, the Dallas/Arlington KOA is an ideal central base for exploring all the Dallas-Fort Worth area offers. The location, accommodations, and amenities make it a perfect place to park your RV. They offer full hookups, Wi-Fi, and a pool.
Nestled in the shade of 2,000 oak trees, Treetops is located just minutes from the Dallas-Fort Worth Metroplex. The family-friendly RV community offers 165+ spacious RV sites with full hookups and concrete patios, plus premium sites with barbeque grills. Modern amenities and a peaceful atmosphere make Treetops a great place to enjoy your stay in Dallas.
Shreveport: A Taste of Louisiana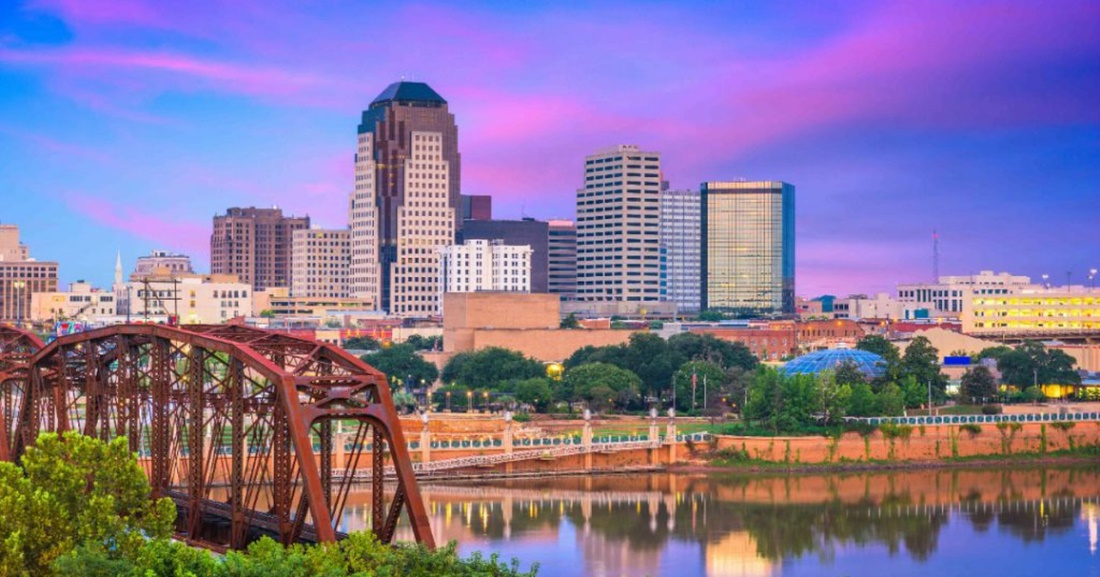 As you cross the Texas-Louisiana border, get ready to make a memorable pit stop in the captivating city of Shreveport. Known as the "Sportsman's Paradise," this hidden gem offers an abundance of outdoor adventures that will leave you spellbound. Dive into a world of fishing, boating, and hiking in Shreveport's natural wonders. Whether you're an experienced angler or a novice adventurer, the city's shimmering lakes and winding rivers beckon you to cast your line and reel in unforgettable experiences.
But that's not all – don't miss the fascinating exhibits at the Louisiana State Exhibit Museum. Completed in 1939 as a New Deal Public Works project, the museum is an architectural jewel built in the ultra-modern style of the time. Discover the intriguing history and diverse heritage that shaped the Pelican State, leaving you with a profound appreciation for its unique identity.
Feeling lucky? Roll the dice and try your hand on one of the riverboat casinos. They were established in 1991 when clever lawmakers realized they could soften opposition to gambling with floating casinos that conjured historical images of riverboats steaming up and down the Mississippi River. The thrill of gaming, combined with that charming Louisiana spirit, creates an atmosphere that promises to make your visit fun and exciting.
Shreveport offers a delectable array of Southern cuisine and Louisiana specialties that will tantalize your taste buds during your RV adventure. Here are just a few noteworthy dishes to try:
Crawfish, Catfish, and Gumbo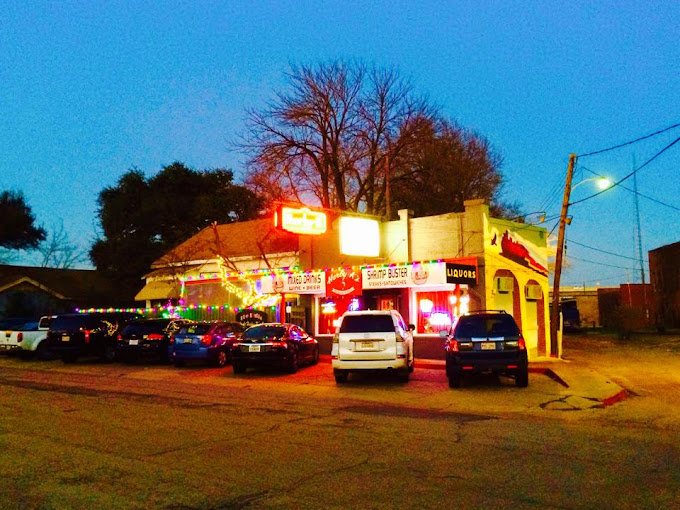 Shreveport, like many parts of Louisiana, is known for its love of crawfish, and given Shreveport's proximity to the Red River, fresh catfish is also a local favorite. Add a Louisiana classic: the rich, flavorful stew known as gumbo. Where can you sample such culinary delights? There's no place like the local favorite, Herby-K's. A classic "hole in the wall" since 1936, this historic and nostalgic seafood restaurant in Shreveport's West End is family owned and operated. Serving Creole and Cajun fare, the menu includes crawfish etouffee, gumbos, hand-battered onion rings, sauteed catfish, oysters on the half shell, and their famous Shrimp Buster. Herber Busi (Herby K) started a great tradition, and his family continues to offer Southern hospitality, high-quality ingredients, and time-tested recipes. Locals will tell you: If you're looking for a quintessential Shreveport spot, go to Herby-K's.
Po-Boys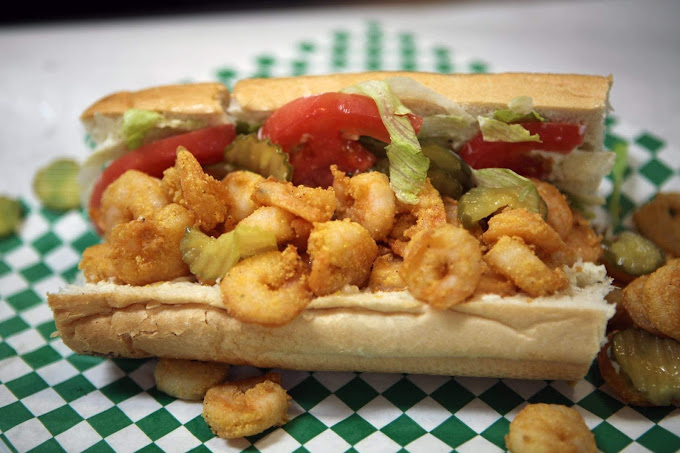 What is a Po-Boy? It's a sandwich piled with lettuce, tomato, pickles, and filled with roast beef, fried shrimp, oysters — or whatever protein you choose. Po-Boys are stuffed and slathered with sauce or mayonnaise, and served between two long pieces of French bread. To sample this Southern treat, check out Marilynn's Place and be amazed at the variety of fillings they offer: shrimp, andouille sausage, brisket, and everything in between. There's a Po-Boy for everyone's tastes. Marilynn's is a true locals' spot. On pleasant days, the casual eatery opens its old garage doors, letting in fresh air to give diners an al fresco dining experience.
Strawberry Shortcake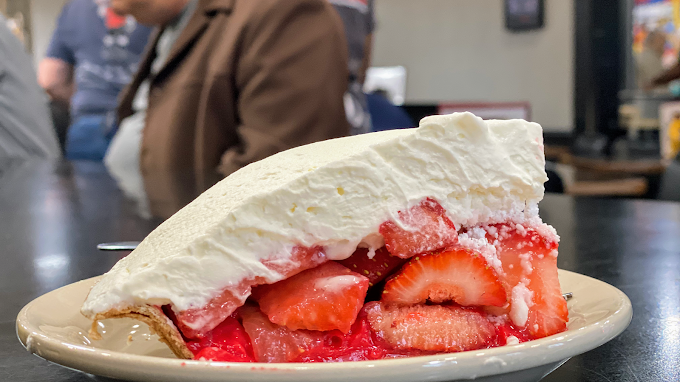 If you have a sweet tooth, treat yourself to Shreveport's famous strawberry shortcake. This classic dessert features fresh strawberries, fluffy shortcake biscuits, and a generous dollop of whipped cream, creating a delightful treat that celebrates the city's love affair with strawberries. I highly recommend Strawn's Eat Shop for the tastiest treat. Featured on the Food Network, Strawn's opened in 1944 and is one of Shreveport's oldest, most iconic restaurants. They serve all sorts of great food but leave room for their famous pies and cakes that are made fresh daily.
Where to Stay in Shreveport
No matter which direction you're headed, this award-winning campground provides a welcome rest spot. Stretch your legs — and your pooch's — in two off-leash dog parks. Let the kids burn off energy in the playground or pool. This campground offers full hookups, cable TV, Wi-Fi, and a pet-friendly environment.
About five miles west of Shreveport on I-20, Southern Living RV Park is nestled in the quiet, historical town of Greenwood. It's a short ride to the Louisiana Boardwalk and outdoor adventures on the Red River or various local lakes. Full hookups with overnight concrete pull-through sites, newly remodeled restrooms, showers, a saltwater pool, coin-operated laundry, and Wi-Fi.
Natchitoches: Southern Charm and History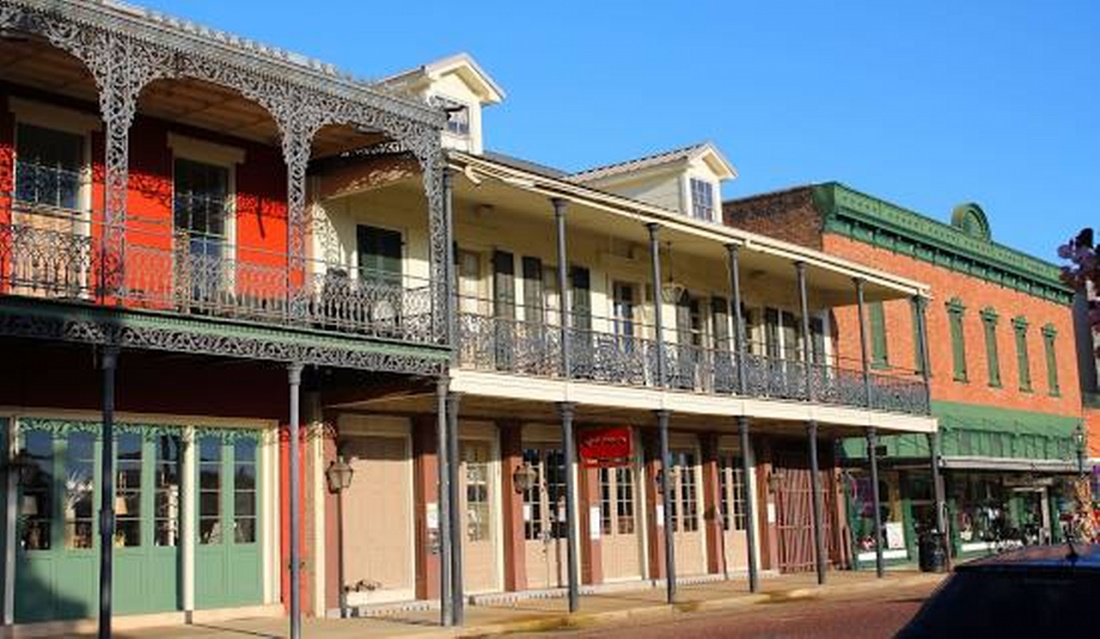 A short journey south from Shreveport is Natchitoches, the oldest settlement in the Louisiana Purchase. The drive is only about an hour, so this can be either a great day stop or overnight stop that will truly take you back in time. Pronounced "Nack-a-tish," this quaint town is known for its original French colony appeal as well as being the film site for Steel Magnolias. Its cobblestone streets and well-preserved French colonial architecture are a delight to behold.
Explore the landmark historic district with shopping, dining, and attractions, plus historic fort sites and museums. Don't miss Kaffie-Frederick General Mercantile, established in 1863 — the oldest continually operating general mercantile store in Louisiana. For natural beauty, head over to nearby Cane River Lake. Popular with boating and fishing enthusiasts, its lush, scenic shoreline features a national heritage trail known for its agricultural landscape, historic plantations, and distinctive Creole architecture.
And what better way to savor the essence of Natchitoches than through its local delicacies?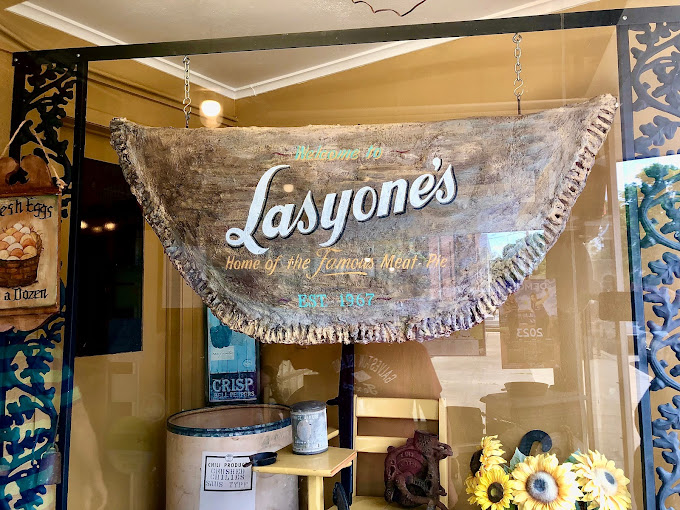 Prepare your taste buds for an explosion of flavors as you sink your teeth into the legendary Natchitoches meat pies. These delectable culinary wonders are a true Southern delight, filled with savory goodness that you won't be able to resist. Visit Lasyone's Meat Pie Restaurant for an authentic experience. Family owned and operated since 1967, Chef Angela Lasyone and Tina Lasyone Smith run the kitchen and restaurant just as it has been for over 40 years: Homemade with lots of soul and love.
Where to Stay in Natchitoches
Nakatosh Campgrounds are ideally located only minutes from three historic fort sites, Creole plantation homes, the Cane River National Heritage Area, many museums, and historic homes. Whether you're an avid camper looking for the best Natchitoches campground or just an RV park to "call it a night" in your home away from home, the Nakatosh Campgrounds offer options to suit any need. Restrooms, showers, full hookups, pull-throughs, cable tv, Wi-Fi, plus other amenities will make your stay worry-free.
If you want to get closer to nature, campgrounds like Grand Bayou and Kisatchie Bayou offer a rustic camping experience amid nature's beauty. The parks are well-kept and have RV hookups plus tons of recreational opportunities: hiking, biking, horseback riding, fishing, and boating, to name a few. More of a rural experience (no cable tv or Wi-Fi) but you won't miss them with so much beauty to see and family adventures to enjoy.
Lafayette: Cajun Culture and Hospitality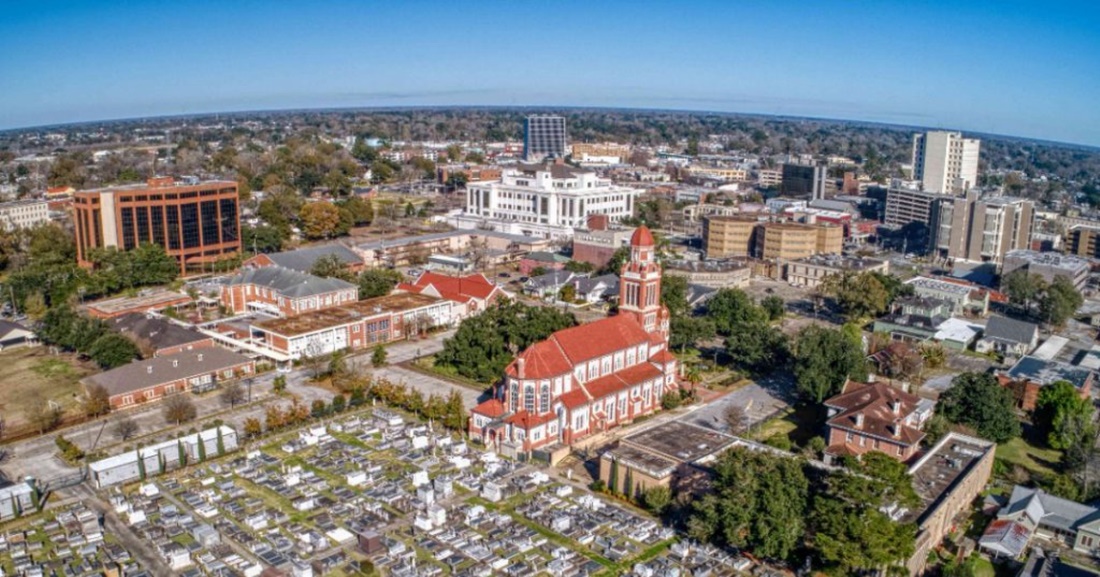 Next, head south to Lafayette, the heart of Cajun country. Here, the cultural tapestry weaves a blend of French, African, and Caribbean influences that give birth to a vibrant way of life. Lafayette is a symphony of sounds and flavors, where the music echoes with soulful rhythms of Zydeco, a music genre that blends blues, rhythm and blues, and music indigenous to Louisiana Creoles and Native Americans. Enjoy live performances at local venues, where every note resonates with the region's spirit. Explore the Acadian Village, an 1800s Cajun village with authentic and replica buildings that will take you back in time to experience the wonders of Acadian culture.
But the true essence of Lafayette lies in its cuisine, which celebrates the bounties of the local land and waters. Savor mouthwatering crawfish étouffée, a tantalizing blend of flavors that dance on your palate. And don't forget the delectable boudin sausage, a Cajun delicacy that will leave you wanting more.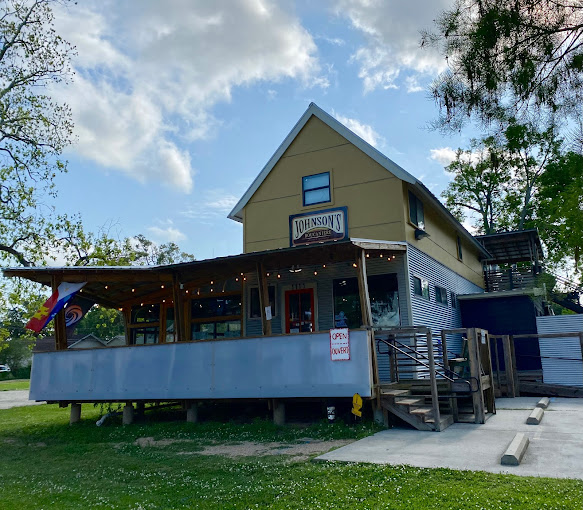 Known for smoked meats and boudin, Johnson's Boucanière restaurant continues the traditions of the world-famous Johnson's Grocery. Opened in 1937, Johnson's Grocery was the first dry goods store to sell boudin commercially in 1948. They continue the tradition, using the same recipes to make boudin, smoked sausages, and Tasso. With over 600 Google reviews and a 4.7-star rating, it's a must-try for authentic Cajun flavors.
If you crave authentic Cajun cuisine like crawfish étouffée, Bon Temps Grill is the place for you. Brothers Steven and Patrick O'Bryan grew up in Louisiana and have always loved good food, especially authentic Cajun. They combine their favorite things: delicious food and great times with friends and family, at their neighborhood grill. With 2,500 Google reviews and a 4.5-star rating, you're in for a great Cajun meal at Bon Temps Grill.
Where to Stay in Lafayette
Poche's RV Park is a Cajun campground located approximately 20 minutes from downtown Lafayette in beautiful Breaux Bridge, Louisiana. Sitting on 93 breathtaking acres, Poche's RV Park has 85 full hookup sites with large concrete slabs. About 95% of its RV sites back up to beautiful ponds, so you can walk out of your camper and start fishing within a few feet. The property features five different fishing ponds — roughly 51 acres of water — teeming with largemouth bass, bream, white perch (sac-a-lais), and several types of catfish. You can also explore the ponds in paddle boats or single and tandem kayaks, which they have on-site.
The Lafayette KOA campground offers Cajun camping at its best! Stay at this national award-winning KOA in the heart of Cajun Country. Level concrete pull-throughs will accommodate big rigs up to 70 feet. Stroll along the 10-acre lake or bring your pole and catch a mess of fish for supper — no license required! Relax in the cool shade of huge oak trees, or cool off in either of two large pools. This campground offers full hookups, Wi-Fi, and a dog park for your furry companions.
Baton Rouge: Louisiana's Vibrant Capital
About an hour east of Lafayette is Baton Rouge, another day stop or overnight depending on your pace and sightseeing plans. Prepare to be awe-struck as you stand before the majestic Louisiana State Capitol, the tallest state capitol building in the entire United States. Its stunning architecture and regal elegance speak of a legacy that continues to shape the state's destiny. But Baton Rouge isn't just for politics and governance; it's a city that embraces the arts. Venture into the enchanting Shaw Center for the Arts, a gathering place for viewing art, listening to music, watching dancers and movies, seeing dramas, and dining. The building covers an entire city block in downtown Baton Rouge and offers a fantastic view of the Mississippi River.
As the sun sets and the aroma of Cajun spices fills the air, follow your taste buds to local eateries and brace yourself for an explosion of flavors as you savor Cajun seafood dishes. Where to go for a memorable meal? Here are a few top picks: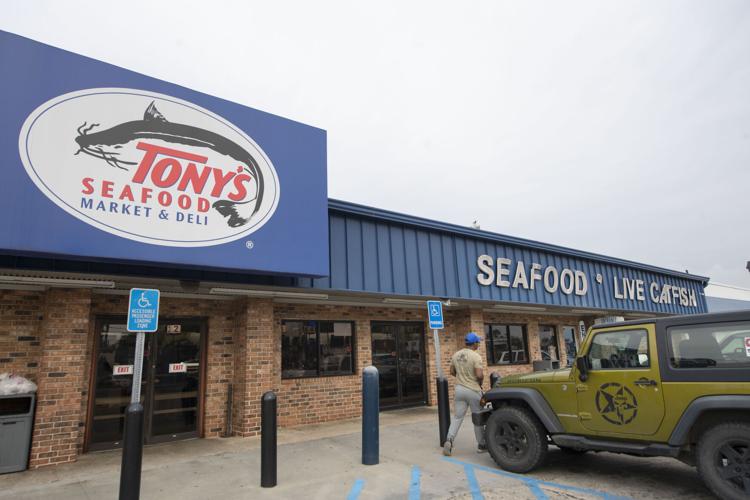 Tony's Seafood is a must-visit for seafood lovers. The market and deli offer specialties from alligator sausage to shrimp cocktail. Their boiled crawfish have made Tony's the largest seafood market in the Gulf South. Their regular menu offers mouthwatering Cajun dishes like crawfish, catfish po-boys, and gumbo.
Located in the heart of the mid-city district, Parrain's Seafood Restaurant is a local specialist cooking up recipes in a rustic space with porch seating. Opened in September 2001, Parrain's brings you the freshest, highest-quality seafood in Baton Rouge. Known for its crawfish étouffée, seafood platters, and delectable fried seafood. Over 6,600 Google reviews with a 4.6-star rating and a Tripadvisor Travelers' Choice award tell you that this place is not to be missed.
Where to Stay in Baton Rouge
Stay in the cool shade of this quiet campground just a few minutes from the Mighty Mississippi, and sample all the cultural and natural treasures that are uniquely Louisiana. Tour the area's grand plantation homes and their glorious gardens. Feast on authentic Cajun cooking in down-home cafes. Wind through a world of bayous and swamps by boat. Discover great finds antiquing in a nearby historic district. Offering full hookups, Wi-Fi, a pool, and a dog park, this campground is conveniently located near downtown, with a variety of restaurants within walking distance.
This park on the west side of town has a 4.7-star Google rating and is a nicely run, quiet place to stay. A smaller RV park than the KOA, it is well-maintained and can accommodate a range of RV sizes. Not a resort, but a clean, level, well-lit site with full hookups and all the regular amenities including Wi-Fi.
New Orleans: A Melting Pot of Music and Cuisine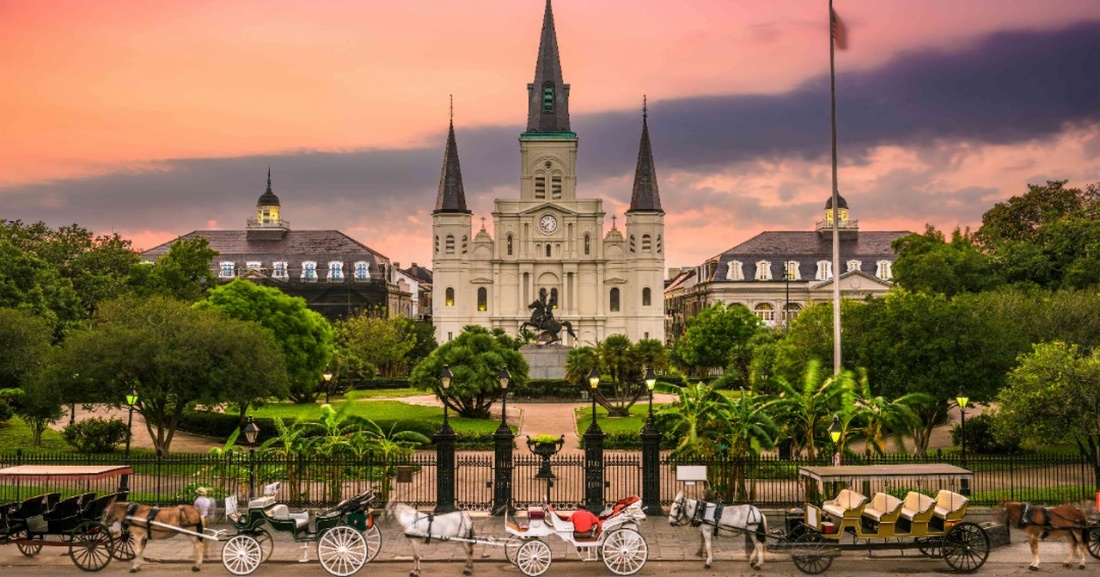 One more hour's drive south and you've reached the grand finale of your road trip: New Orleans, with its intoxicating, irresistible rhythm. It's not just a city; it's an experience — a sensory playground where every corner beckons with an invitation to indulge in its magic. Wander the French Quarter and experience the epic revelry that is Bourbon Street, named for a royal family in France and not the amber-colored alcohol. Experience the soul-stirring melodies of jazz on Frenchmen Street or at the iconic Preservation Hall, a New Orleans jazz tradition since 1961. Don't miss your chance to stroll through the elegant Garden District, where oak-lined streets shade breathtaking mansions and hide whispers from the past. New Orleans is a living history book with countless chapters waiting to be explored. Pay your respects to the past at the National WWII Museum, where stories of heroism and sacrifice come alive. Take a hauntingly beautiful walk through historic St. Louis Cemetery No. 1, the oldest extant cemetery in New Orleans and the burial site of voodoo queen Marie Laveau plus other historical notables.
But the true essence of New Orleans lies in its cuisine, a tantalizing feast that reflects the city's cultural tapestry. Dive into this world as you savor piping hot beignets, slurp flavorful gumbo, sink your teeth into a mouthwatering po-boy, and sample the spicy rhythms of jambalaya, an authentic Cajun classic.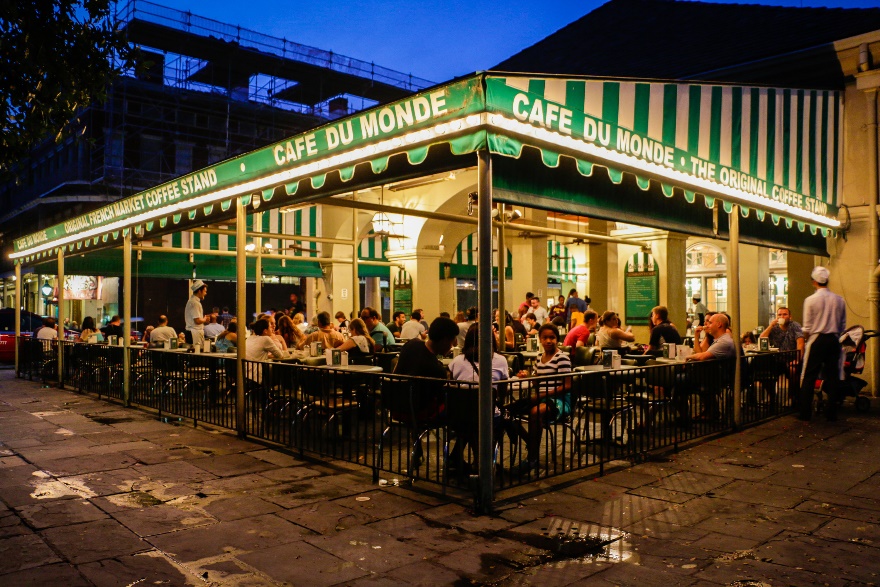 Established in 1862 at the New Orleans French Market, Café du Monde is the oldest and most iconic beignet shop famous for its beignets and café au lait, a perfect spot to start your day and savor this popular tasty treat. Be prepared for crowds, especially at the original location near Jackson Square, which is my favorite. Here's a tip given to me by a local resident: locals don't wait in the line out front. That's for tourists. Enter the restaurant through the side and sit down at a table. You will be served just the same and faster.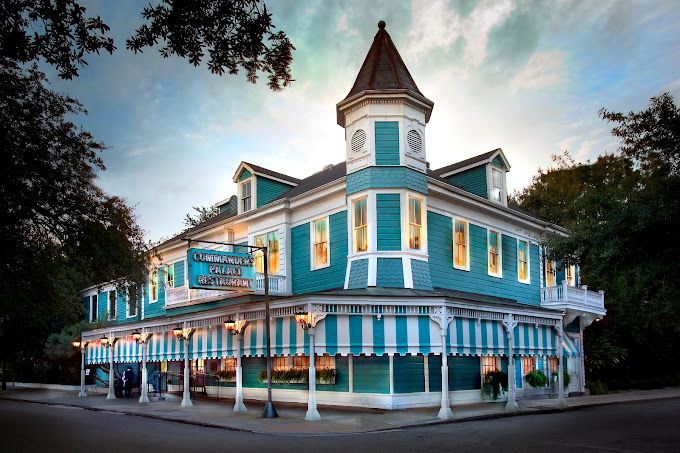 Considered one of the best restaurants in New Orleans and an unforgettable upscale Creole dining experience, Commander's Palace is known for award-winning food and a convivial atmosphere. This famous restaurant's history offers a glimpse into New Orleans' storied past and is the go-to destination for Haute Creole cuisine and whimsical Louisiana charm. The winner of seven James Beard Foundation Awards, Commander's Palace has evolved into a culinary legend.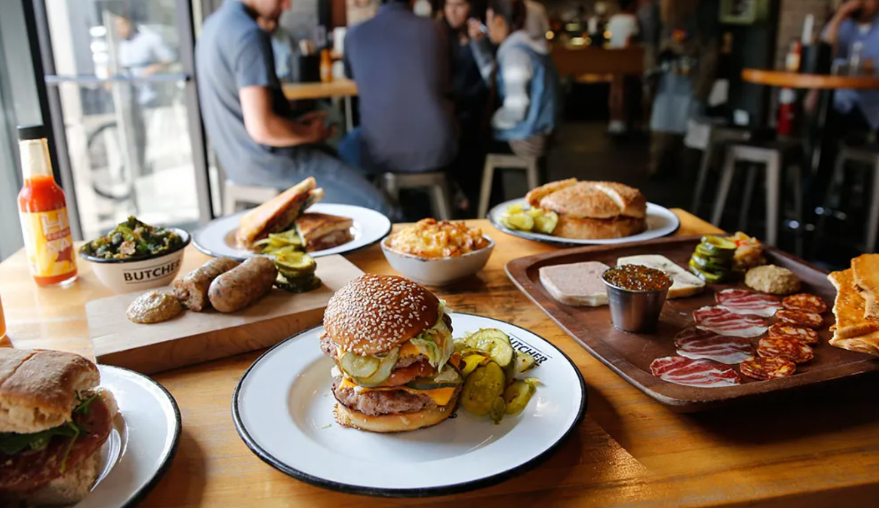 A renowned restaurant in the Warehouse District, and a personal favorite of mine, Cochon Butcher serves modern Cajun and Southern cuisine, with dishes like wood-fired oysters, fried alligator, and pork belly with watermelon. Cochon is a tribute to old-world butcher and charcuterie shops. The menu features specialty sandwiches, small plates, and daily lunch and dinner specials, all incorporating the meats, terrines, and sausages they make daily. With an almost perfect Google review rating of 4.8 stars, this experience should not be missed.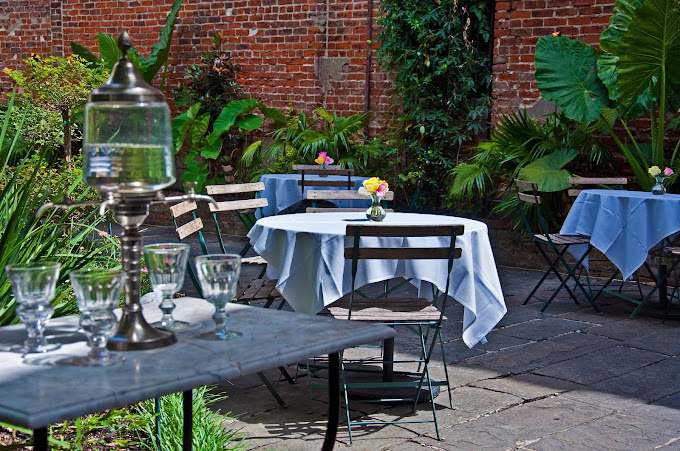 Founded in 2005, Café Amelie was named for Amelie Miltenberger, the mother of Princess Alice, the first American Princess of Monaco, who lived in an accompanying townhouse in the mid-1800s. Café Amelie is known for having one of the most beautiful and romantic courtyards in the French Quarter, where patrons can dine al fresco or inside the lovely, air-conditioned dining rooms of the historic Carriage House. Café Amelie has a full bar offering an array of signature cocktail creations. Whether for brunch, dinner, or just a drink, the experience is truly New Orleans.
Where to Stay in New Orleans
The French Quarter RV Resort (FQRV) is just blocks from New Orleans' historic French Quarter, with easy access by bicycle, car, or on foot. Conveniently located just off Interstate 10, you won't have to maneuver narrow, one-way New Orleans streets in your RV. Gated and secured, providing full hookups, and back-in sites with 20/30/50-amp service, including water, sewerage, cable, and complimentary Wi-Fi, plus an outdoor pool and fitness center.
Situated just outside the city, Jude Travel Park is a full-service RV park with 30- and 50-amp service, gated, free Wi-Fi, pet friendly, free walking tours of NOLA, a shuttle to the French Quarter, and located on the bus line. Locally owned and operated, it's a great value and only five miles from all the major attractions New Orleans offers.
Come Home from Your Southern Adventure to Carefree Covered RV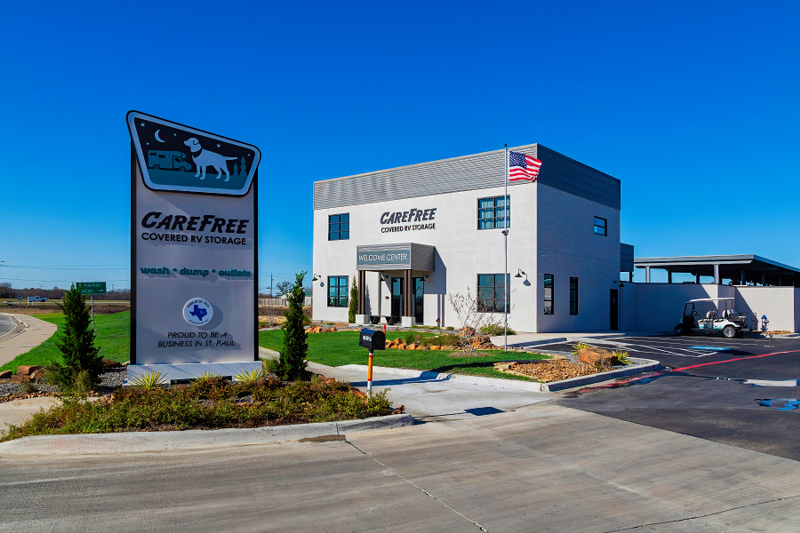 An RV road trip from Dallas to New Orleans is an extraordinary adventure that allows you to uncover the true essence of the American South. From the vibrant city life of Dallas to the lively streets of New Orleans, the journey is filled with history, culture, music, cuisine, and comfortable stays at RV-friendly locations. After your trip, I bet you'll be happy to be home reminiscing over all the memories you made along the way. Storing your RV, trailer, or boat when you return can be a hassle, but it doesn't have to be. At Carefree Covered RV, we've got you covered.
Check out our facility video and tour, then stop by, and we'll get your rig set up. When you store your recreational vehicle with us, you'll enjoy secure, quality, covered RV storage with our 32-camera video surveillance, along with 365-day automated access with our phone gate app, charging outlets, free Wi-Fi, and free self-RV-wash and sewer dump. There are complimentary bags of ice, and propane is available. There's even a dog park where your furry friends can frolic!
At Carefree Covered RV Storage, you're guaranteed peace of mind, protection, and personalized, old-fashioned service. We make it easy for you to rent and make payments online, maintain your vehicle, and get on the road — so you can keep living the carefree life with your family.
Written by: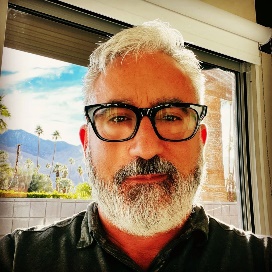 Steve Reed has over 30 years of experience in the technology sector and is the Director of IT for
Business Property Trust
, a real estate investment firm located in Portland, Oregon, that owns and manages
covered RV
and
self-storage
in Arizona and Texas. Between his travels, road trips, and food experiences, he also manages digital resources and content for businesses, including
realsimplebusiness.org
.