Did you know that the Lone Star State is larger than any country in Europe? Around every bend, there's something amazing to discover in your RV, from historical landmarks — remember the Alamo! — to stunning national parks and Instagram-worthy landscapes. Texas is home to all sorts of family fun, as well as fantastic music, restaurants, and nightlife.
Texas truly is an RV'er's dream. And these days, RV resorts are upping the ante, with friendly five-star facilities and luxe amenities guaranteed to please even the pickiest road travelers. Our clients regularly rave about their Texas RV trips, so we've compiled a list of top Texas RV resorts for you to consider for your upcoming adventures.
The state's official motto is "friendship," originating from a Native American word for "allies." And you can bet you'll make new friends in Texas, whichever corner of the state you choose to explore. So get that RV road ready and set your sights on these four fantastic destinations in Texas.
17200 Termini-San Luis Pass Rd, Galveston, TX 77554
Why We Love It
If you and your RV crew are happiest by the sea, look no further than the Jamaica Beach RV Resort in Galveston. The location and the view couldn't be better: the Gulf of Mexico is literally a hop across the street, so there's no need to drive to the beach. There are 181 pull-through RV sites with full hookups, concrete pads, cable TV, and wifi — and did we mention the resort is a 2021 Trip Advisor Travelers' Choice Award Winner?
And the resort has amenities to match the view: a 700ft lazy river, a tiki-themed beach pool, the Infinity Spa, an outdoor theater, life-sized chess, pickleball, and a splash pad — that's just for starters. The resort loves pets and kids, too, so nobody feels left out.
What to Enjoy Nearby
Stay put and enjoy laid-back beach living and on-site water fun, or meander along walking or biking paths and take in the sights of Galveston. The historic mansions are stunners, and the downtown area is home to some seriously amazing restaurants.
What People Are Saying
"Between the outdoor pool, indoor heated pool, splash pad, dry sauna, adult spa, and extra large hot tub, and a playground with a bouncy house, not to mention the nicest dog park we've seen yet, if you can't find something you love, you must be pretty hard to please!"
"Premium sites offer a secluded yard area, surrounded by flowering plants and palm trees… Our main reason for camping here was the beach, but we were so impressed with the pools, splash pad, lazy river, mini golf, night movies, and more, we only spent one morning at the actual beach!"
131 S Rueckle Rd, New Braunfels, TX 78130-97261
(830) 202-5499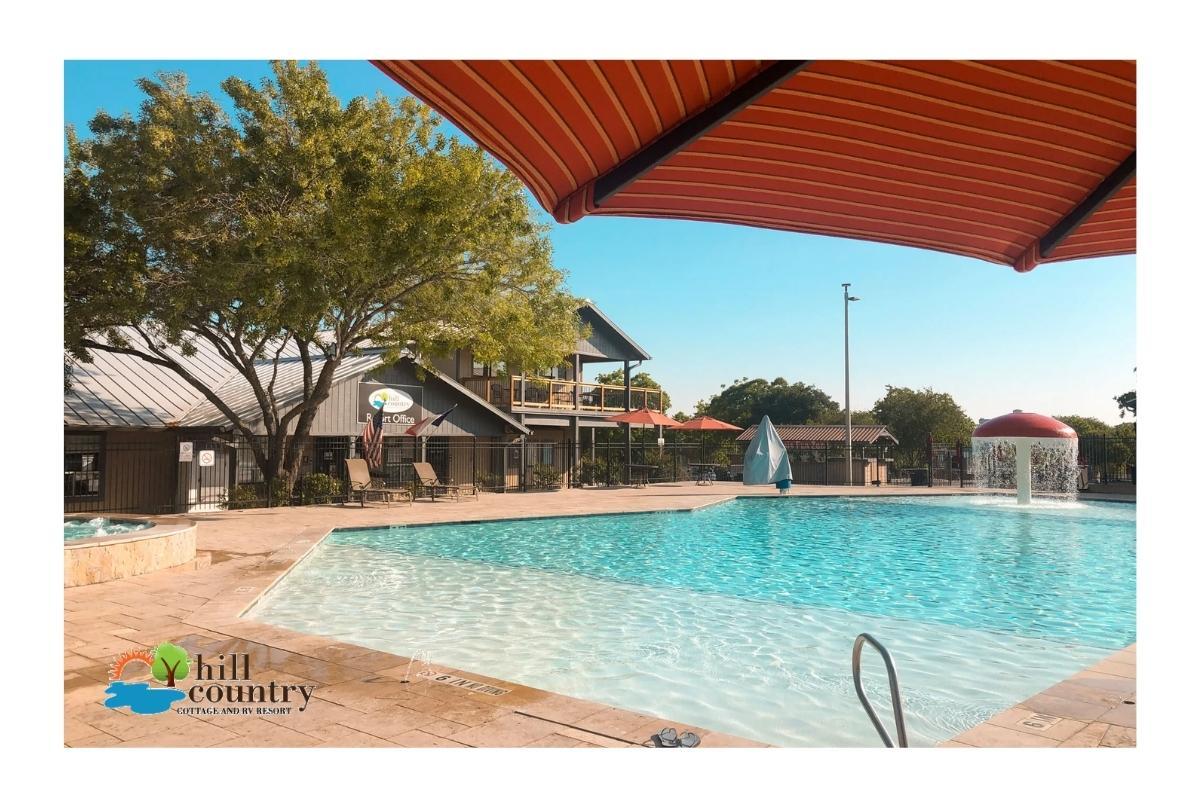 Why We Love It
What's not to love? Two heated pools and two hot tubs, a fantastic fitness center, clean laundry facilities (three of them!), brand-new outdoor playground, BBQ grills, yard games, and even a sewing and craft room are yours to enjoy with a stay at Hill Country Cottage and RV Resort near San Antonio.
250 RV sites on 32 acres of prime Texas Hill Country are waiting for you. If you're tired of nights in the RV, you can also upgrade to a furnished cottage to unwind. This resort is special in that it offers a variety of terrific activities, such as outdoor movie showings, fitness classes, game nights, and even live music. The staff is warm and accommodating, and there's something for every age to enjoy.
What to Enjoy Nearby
The Schlitterbahn Waterpark is just ten minutes away, and golfers won't mind the proximity to the Landa Park Golf Course, either. You can also take the gang and float down the Guadalupe or Comal River on a hot day or browse the adorable shops in downtown New Braunfels. And don't miss a day of exploring the wondrous Natural Bridge Caverns.
What People Are Saying
"We visited here twice. The first time was during the Texas winter storm that affected so many. The park took excellent care of everyone, providing water, meals, and making sure the propane delivery truck made its rounds to those that needed it."
"The staff was amazing. Every single person was kind, smiling, welcoming, and pleasant."
"The playground is great. It's good for big and littles and is in a good spot with great lines of sight… and the pools look like you are at a resort and not just a motel. You need to see them. And they are heated!"
665 County Road 451 El Campo, Texas 77437
979-275-1600
Why We Love It
Well, you may have heard everything is bigger in Texas, and this still-new luxury RV resort will blow your mind with its over-the-top amenities. The Lost Lagoon is situated between Victoria and Houston on Highway 59, about 30 miles south of I-10. It opened in May 2019, so word is still getting out about its fab offerings. But we're guessing it might be hard to get a reservation in a few years, so what are you waiting for? Lost Lagoon boasts the world's (yes, the world's) biggest RV resort swimming pool.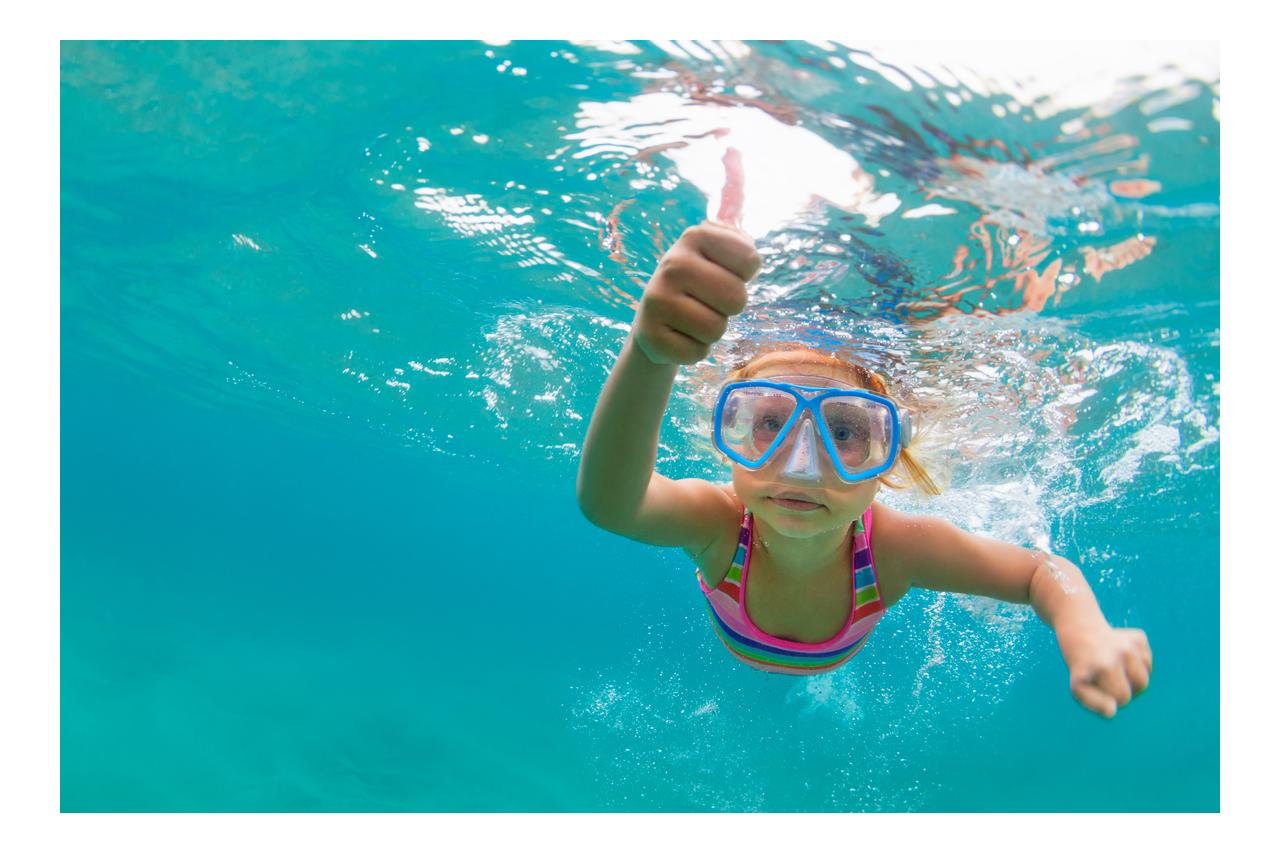 That's 700,000 gallons of water at your disposal, with a hilarious Wibit watercourse for family competitions, a 21-foot slide, swim-up bar, cabanas, kiddie lagoon, and waterfall. There's a snack hut, a cafe, a pavilion, and a convenience store, too. There's also an arcade, golf cart rentals, and a remote control car track for racing toys. Gaga ball, a fishing pond, a dog park — we're pretty sure we've missed something, but we trust you get the idea. And of course, there are all the basics: plenty of sites, 50 and 30 amp hookups, water, sewer, and wifi. But something tells us you won't be thinking much about the wifi with all of the activities available at this awesome resort.
What to Enjoy Nearby
If you do decide to wander off-site to explore (but, really, why would you?), Houston beckons with culture, nightlife, world-class restaurants, and excellent attractions like the Houston Zoo and the Space Center.
What People Are Saying
"Simply WOW! This place is amazing! We loved everything about it. The staff was friendly, and they have many activities planned for everyone in the family. Super clean and fun! We will definitely come back."
25928 Haynie Flat Rd, Spicewood, TX 78669-1483
512-559-4284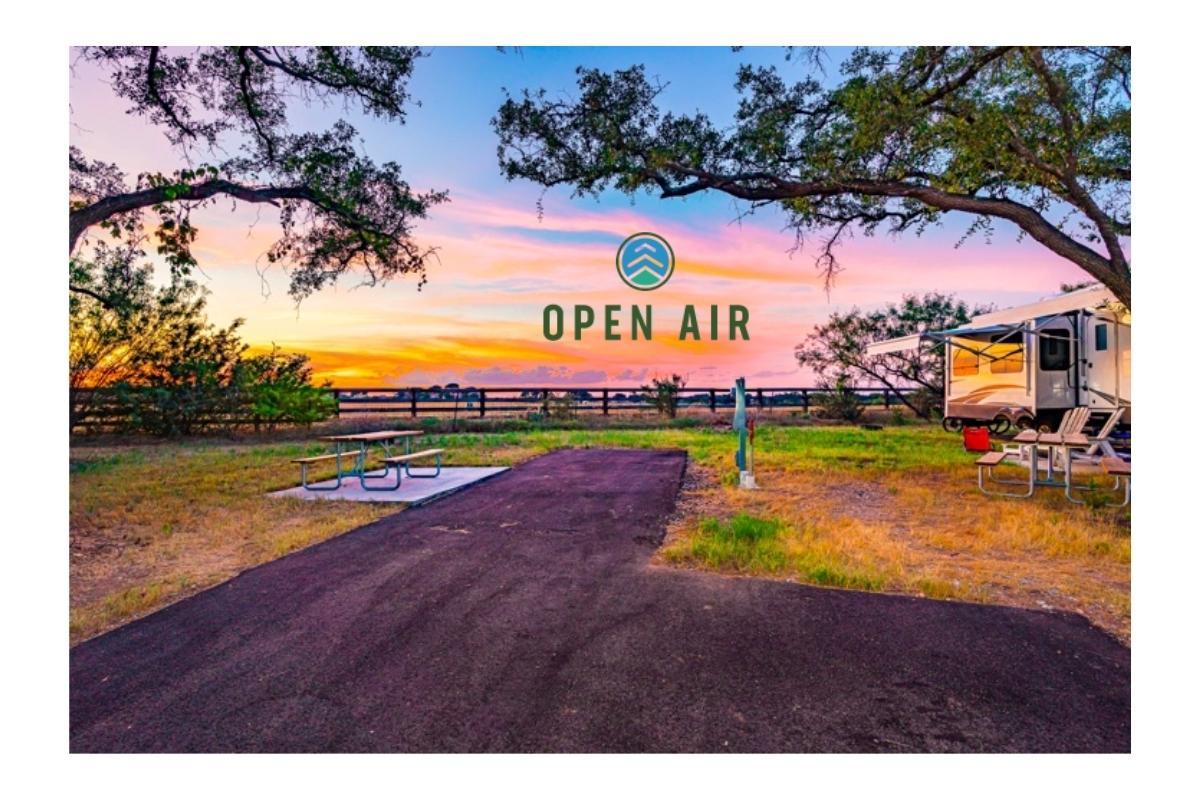 Another newcomer on the Texas RV scene is the peacefully posh Open Air Resort in Spicewood, about 30 miles northwest of Austin, the capital of Texas. The park offers 120 RV and tiny homesites and an array of amenities your whole posse will love, in addition to the obvious must-haves like wifi and hookups. There are several Open Air locations, but we love the serenity of the Spicewood resort — and the option for waterfront RV sites. A fishing pond, luxury swimming pool, sports courts, convenience store, an incredibly clean bathhouse, and laundry facilities with gorgeous natural surroundings all add up to a memorable getaway where it's easy to unwind.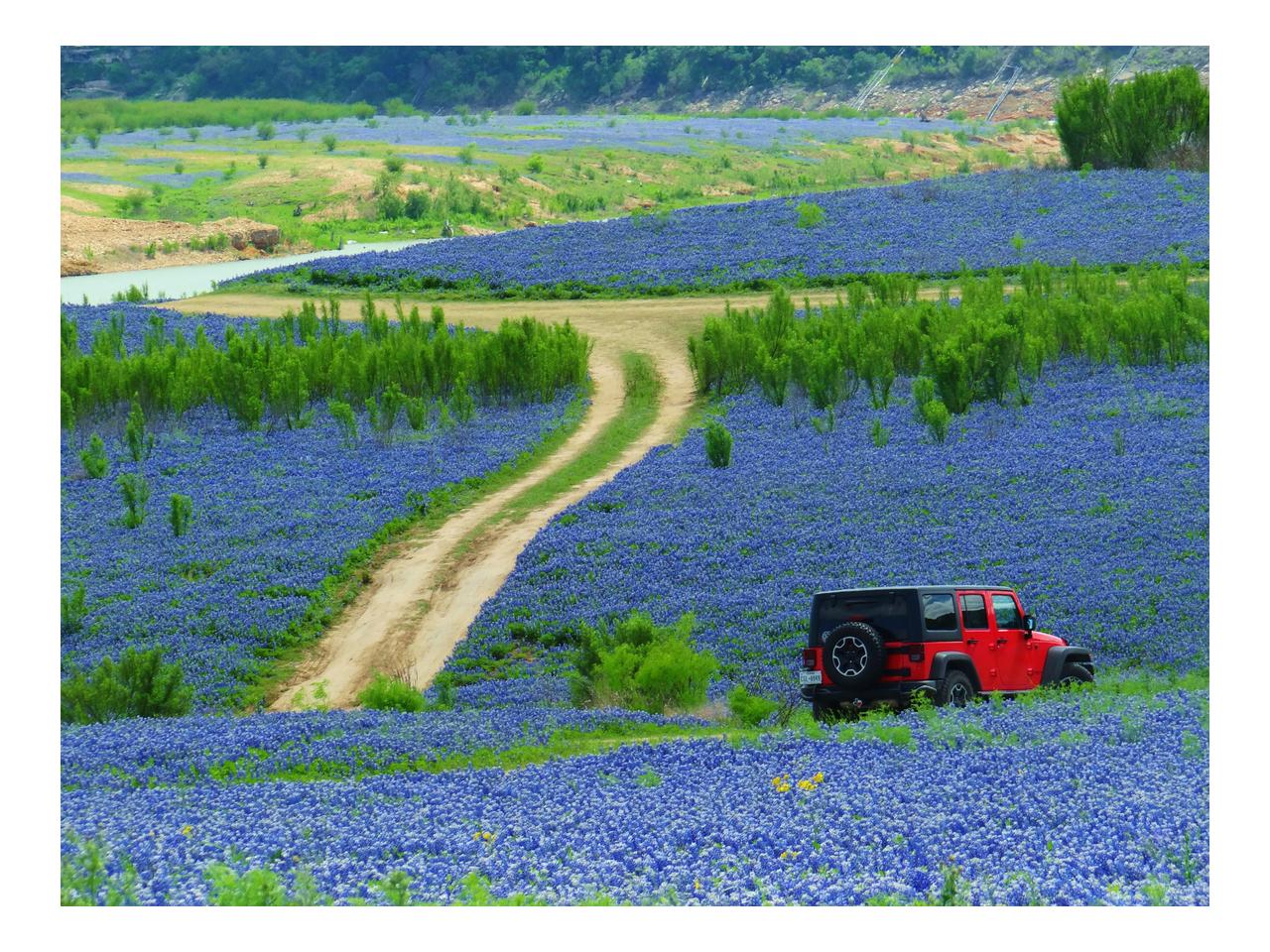 What to Enjoy Nearby
The Spicewood area is an outdoor paradise. Enjoy natural hot springs, wildlife refuges, horseback riding opportunities, and wine-tasting at one of the many local wineries. If you're up for a short drive, Downtown Austin will feed your soul and your belly whenever you need a little bit of urban adventure.
What People Are Saying
"Very nice new little resort. The staff is super nice, and the facilities are great. If you like peacefulness, then this is the place to go. It is tucked away from the hustle and bustle. Don't miss out on this gem."
"Open Air offers a quiet, quaint, and unique Hill Country getaway with easy access to Lake Travis, hiking trails, and great restaurants! All of the staff is super warm and welcoming, and the amenities such as the pool, volleyball courts, and fishing pond are clean and always ready for use. I could not recommend this location more!"
Come Home to Carefree Covered RV Storage
So come home to Carefree Covered RV Storage for dependable and secure protection after experiencing all the amazing RV destinations in Texas.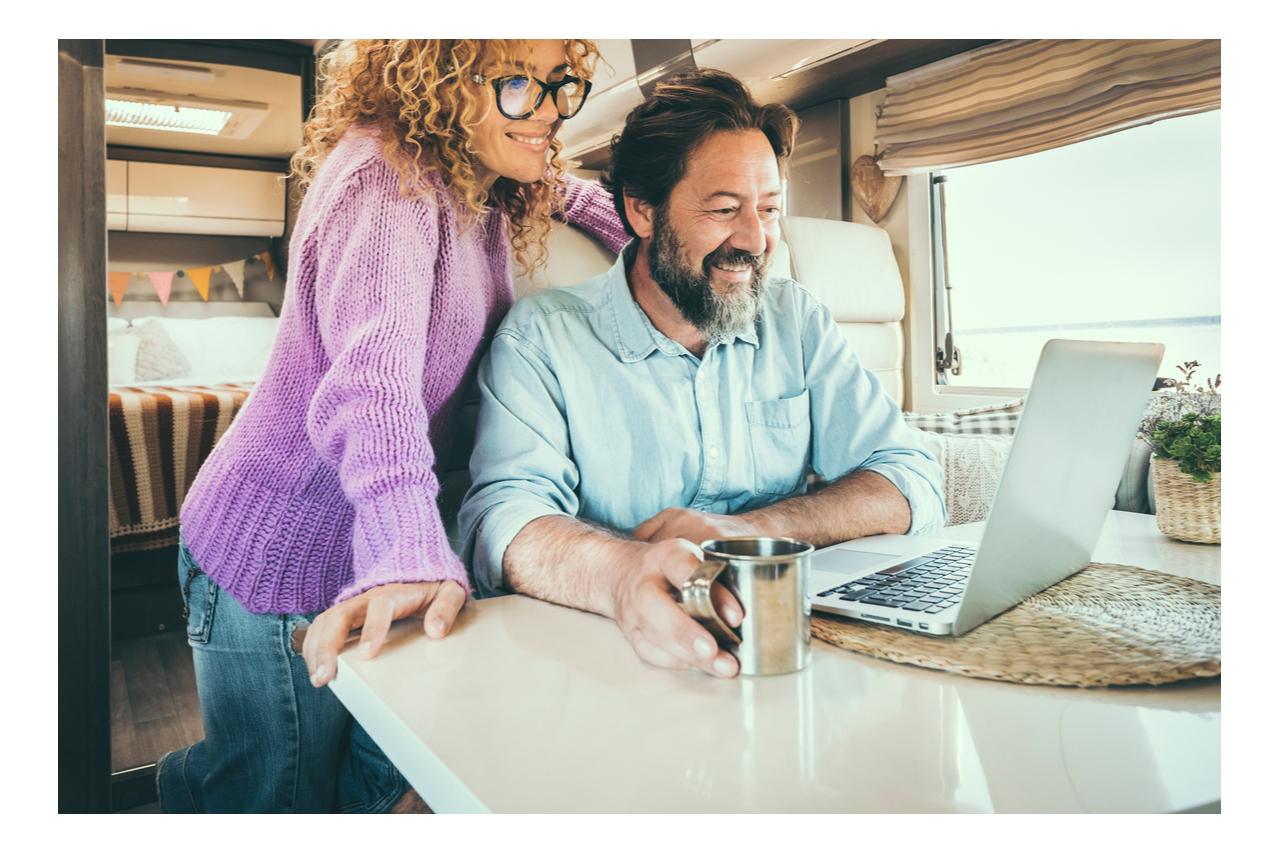 Check out our facility video and tour, then stop by, and we'll get your rig set up. When you store your recreational vehicles with us, you'll enjoy secure, quality covered RV storage with our 42-camera video surveillance, along with 365-day automated access with our phone gate app, charging outlets, free wifi, and free self RV wash and sewer dump. We've even got complimentary bags of ice! Also need a storage unit for other small recreational toys, equipment, and supplies? We've got them!
At Carefree Covered RV Storage, you're guaranteed peace of mind, protection, and personalized, old-fashioned service. We make it easy for you to rent and make payments online, maintain your vehicle, and get on the road — so that you can keep living the carefree life.