Facebook isn't just another social media platform — it's a great resource for RVers. Plenty of RV camping groups — public and private — welcome RV newbies and veterans and offer a wealth of crowdsourced wisdom. Off-the-grid boondocker or a full-time campground resident? Rent or own an RV? There's an FB group for you. Traveling solo as a woman, with your family, or with your dog? You'll find like-minded souls on Facebook for sure. And don't be put off by some groups' "private" designation. Most FB groups require a quick, easy process to join (like acknowledging the group rules and basic group etiquette).
Here are 9 of the best RV camping groups on Facebook. Don't see one for you? Search for your particular RV niche on FB, and you're almost sure to find your tribe. There are also plenty of groups for specific RV brands (Airstream Addicts, anyone?) and for various locations (Southwest RV Snowbirds, for example). Have fun meeting new RV friends online, and happy travels!
It doesn't matter what kind of RV you have — this group is for everyone who loves RV life. This group describes itself as "all about the RV lifestyle, traveling North America in an RV, no matter the size, model, style or manufacturer." The group is run and owned by journalist Mike Wendland as an offshoot of his RV lifestyle travel blog, podcast, and YouTube Channel. If adventuring in North America is your jam, RV Lifestyle Group is for you. Share travel tips and RV photos, ask and answer RV questions, and enjoy the camaraderie of other road explorers.
Cool RV Stuff — Gizmos, Gadgets, Decorating, Etc.

(private, 581k members)
The super popular group Cool RV Stuff has one simple rule: "It needs to be about RVs. If you think it's cool or interesting, post it." The group welcomes photos, stories, and helpful links to gear and decor "so long as it is stuff for RVers and adds to the conversation in a helpful way."
RV Storage and Organizing Ideas

(public, 254k)
Using space wisely is key to enjoying the RV life. This group corrals all kinds of handy storage and organizational tips for RVers. It's a must-bookmark group for those traveling with multiple passengers (and pets) and wanting to maintain some sense of sanity.
50 and Over RVers

(private, 94k members)
This group is for "people 50 and over who enjoy the RV lifestyle or would like to know more about it." You must be 50 or over to join this crowd online and swap experiences and pictures. Members are also encouraged to post reviews or info on vendors and products they've used. Links are encouraged, too, as are questions of all kinds. Bonus: This is a great community for retired folks or those interested in selling RVs or RV gear.
Workampers

(public, 122k members)
If this term is new to you, workamping is just what it sounds like—a combo of camping and work. A workamper is someone who pairs PT or FT volunteering or paid work with RV or tent camping, often in return for a free place to camp as well as paid utilities and modest wages. This Workampers group "is for discussing workamping jobs, seasonal, and/or remote onsite employment for RVers," including gigs (some seasonal, some year-round) at campgrounds or resorts, mobile home parks, amusement parks, farms, state and national parks, and many more. More and more retirees are joining the workamping community, as are younger folks looking to sustain a nomadic lifestyle.
If you're an off-grid adventurer who only likes socializing online, this group might just be for you. It bills itself as a place for "fellow travelers and like-minded people who want to travel and not waste away their money." Members are welcome to add information or stories about boondocking, dispersed camping, and free camping in the United States
RV Camping for Newbies

(private, 116k members)
If you're new to RV life, this is a terrific starting point. This group is "a community of RV camping enthusiasts that are here to share ideas, answer each others' questions, and learn from each other. Newbies, Weekend Warriors, Full-Timers, EVERYONE is Welcome." No question is too basic, and you're guaranteed to get plenty of support as you venture out into the world of RV camping.
Full-Time

RVers

(private, 62k members)
If RV life is 24-7, 365 for you, and you can't imagine going back to a house without wheels, you'll definitely want to connect with Full-Time RVers. This group is for sharing "your knowledge, information, and experiences with other Full-Time RVers and those who wish to become Full-Time RVers." Posting photos and links is encouraged, and anything goes with creating posts "as long as it is RV-related and within the rules."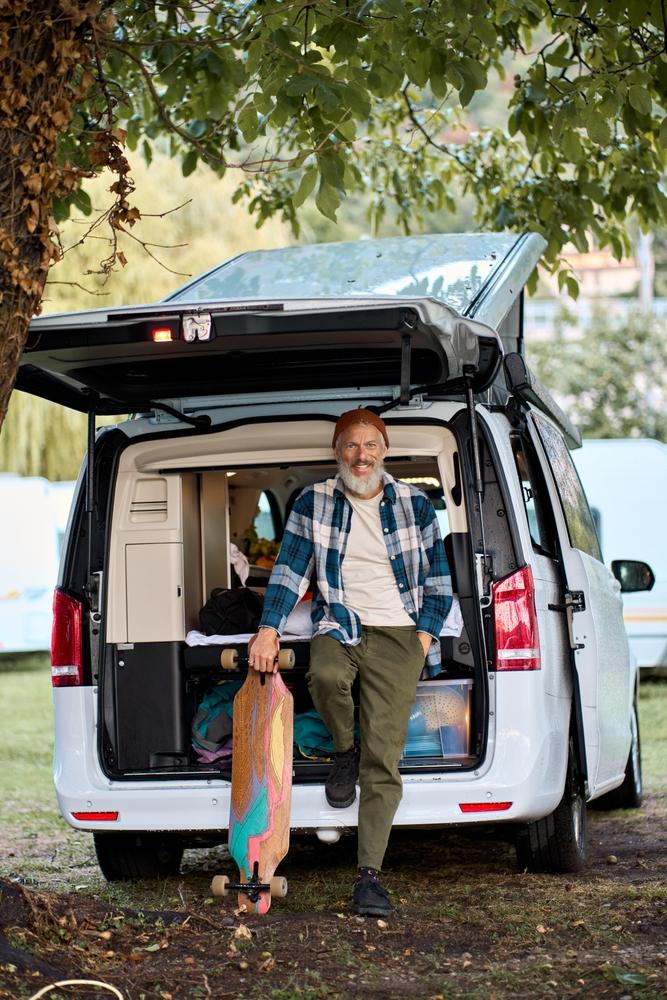 Dispersed Camping

(public, 48k followers)
This is another boondocking group worth a mention. The group bills itself as "a community of boondockers for boondockers!" So, if your happy place is anywhere scenic that you can set up your RV camp without hookups or a credit card, this group will be a huge help when planning your adventures. It's a wonderful place to get advice or ask questions. Not everyone is willing to share their favorite dry camping spots, but some members are, so definitely feel free to ask for suggestions. Members also share dispersed camping hacks and tips. This group really cares about maintaining a large, friendly, inclusive, and supportive community, so know that you'll be welcome.
Come Home to Carefree Covered RV Storage
Being part of a community makes living your best RV life more of a reality, and Facebook is an excellent way to get that extra support. These 9 RV camping Facebook groups are a great place to start, but we encourage you to dive in and explore beyond this list. From great advice to inspiring recommendations, these communities will get you on track. But when you finish your next adventure, there's no need to crowdsource information on the best RV storage companies in Arizona and Texas. That's us!
When you store your recreational vehicles with us, you'll enjoy secure, quality covered RV storage with our extensive camera video surveillance, along with 365-day automated access with our phone gate app, charging outlets, free wifi, and free self RV wash and sewer dump.
We've even got complimentary bags of ice! We're always here for our customers at Carefree Covered RV Storage. Check out our facilities in Texas and Arizona, then stop by, and we'll get your rig set up.
At Carefree Covered RV Storage, you're guaranteed peace of mind, protection, and personalized, old-fashioned service. We make it easy for you to rent and make payments online, maintain your vehicle, and get on the road — so that you can keep living the carefree life.