Carefree Covered RV Storage offers secure, affordable storage in Apache Junction, Arizona for the recreational vehicles (RVs) in your life, and that includes boats. When we consider the diverse group of these recreational vehicles on our lot, we know that each one tells a story and holds a million memories — not to mention close calls, near misses, and other tall tales.
We also know that while our customers may be vastly different, they're connected by a love of adventure and a belief that the open road or waters can clear away life's details to remind us of what's really important.
We think these stories are worth telling, so we're spotlighting a few of our many cherished customers who trust us to keep their RVs safe in between adventures. We love visiting with our customers, including Carefree customer Paul Bancroft and his family. It's hard to miss them with their bright red, immaculately kept 23' Moomba Max wakeboard boat. It's a beauty!
We talked with Paul between his family boating trips to learn more about him and his family, his boat, and his experience as a Carefree Covered RV Storage customer.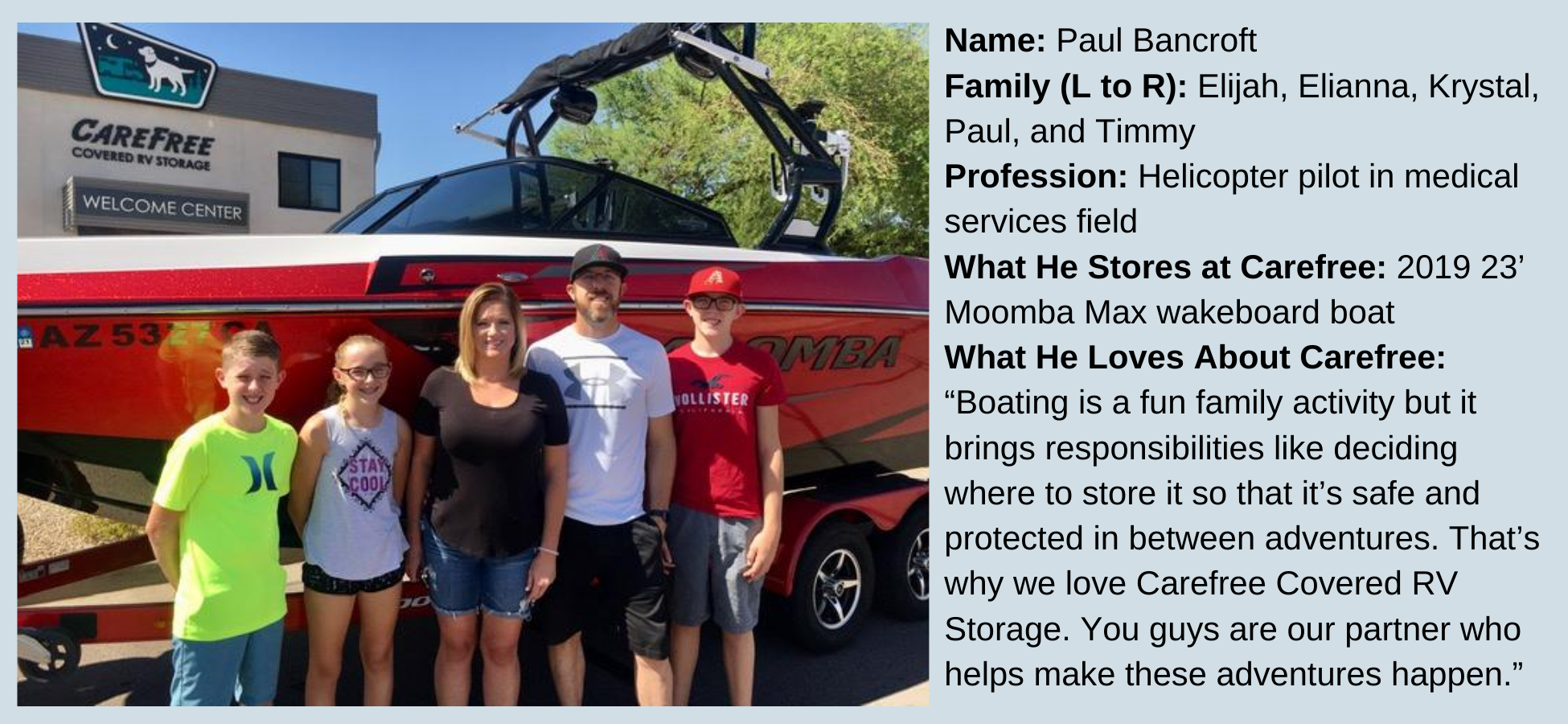 Ripple Effect: Sharing the Love of Boating with a New Generation
When Carefree customer Paul Bancroft reflects on his childhood, some of his favorite memories involve boats. He'll tell you that's because if you're lucky enough to have grown up in a boating family, then you know that in a kid's eyes, boating time often equals family time. And, quality family time in our childhood is what leads to some of our most cherished memories as adults.
What's not to love about a family day of boating on the lake? Dad captaining the boat, giddy kids splashing and swimming, Mom doling out sandwiches and sunscreen. It's an epic boat day when everyone is sun-drenched, water-soaked, and that good kind of tired that makes you fall into bed and dream about doing it all over again just as soon as you can.
It's exactly those kinds of memories that Paul has carried into his adulthood and it's what he and his wife Krystal want to pass along to their three kids: 13-year-old Timmy, and 12-year-old twins Elijah and Elianna. To borrow a water term, family traditions can carry a ripple effect. What started with Paul's parents' love for boating has flowed through him, and now on to his children. And if he's lucky, his children's children will be bitten by the boating bug too.
Hi, Paul! So glad to chat with you. Telling us a bit more about you.
Thanks! Well, I'm a helicopter pilot in the medical services field, and my wife is in finance. Between our jobs and raising three kids who are active in sports, we're a busy family. It can quickly feel like we're all going in different directions. And this will only be more true as the kids get older. But, boating offers us a way for us to slow down the hectic pace for a second and do something fun as a family.
It's so important to prioritize family time. Is this your first boat?
This is actually our second boat. We had an older used Sea Ray for a few years, but it seemed like there was an issue with it every time we took it out on the water. I was considering getting a new boat and was talking with someone about it when they pointed out that my oldest son would probably only be home for something like five more summers. We see boats as "adult toys." Sure, they come with their fair share of expense and upkeep but they're also a memory maker and that's priceless. So, in those terms, I was like, "Where do I sign?"
We totally understand that. You guys sound like great parents. Amazing memories for everyone, especially the kids, even if they don't see what it takes behind the scenes to make a fun day of boating happen.
Right! There's the responsibility of taking care of the boat, hauling it in and out of the water, cleaning it, and deciding where to store it so that it's safe and protected in between the adventures. That's why we love Carefree Covered RV Storage. You guys are our partner that helps make these adventures happen!
We love that. Well, we've seen the whole family help you clean the boat when you bring it back, so it seems like you're exposing them to all the aspects of boating and what it means to own a family investment like this.
Absolutely. At home we say that if you dirty it up, you help clean it up, so they help us wash and clean the boat when we bring it back to Carefree after a day on the water. I've kept the boat here since before you guys took over the management of the property, and I have to say, when you made the wash bay free, I realized that you really do care. That, and the free ice! I know those things are covered by our monthly rental but it just makes the process easier. Not having to dig out change for the wash bay, or pull into a gas station with a small lot just to get ice. Carefree Covered RV Storage removes those little hassles.
Thanks! And we really do care! Let's talk more about boating. What kind of activities do you do on your boat? Where do you go?
We love to wake surf, wakeboard, water ski, and go tubing! I grew up in Apache Junction. As a kid, my family loved to go boating on Canyon, Roosevelt, and Powell lakes. So, that's where we take our kids now. We can have the boat in the water at Canyon Lake in less than 30 minutes from Carefree.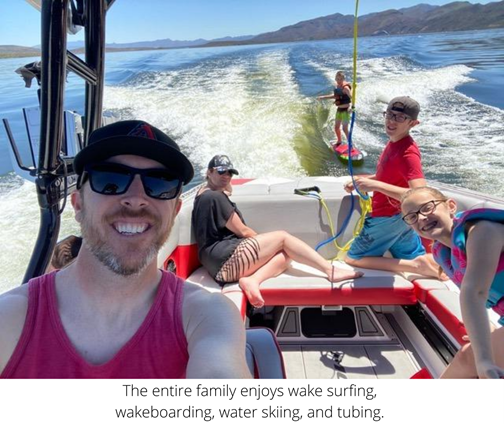 Sounds amazing! And, we're happy to stay and hold down the fort. And we take seriously the responsibility of keeping your boat safe in between trips.
Well, you guys are definitely a partner in making the adventure happen. When I invested in a brand new boat, I knew I needed to find a safe place to store it. A covered space is a necessity to protect it from the hot Arizona sun. When you all started managing this property, I noticed the extra security — taller walls, more lighting, great video surveillance. And, in this time of COVID, I also appreciate the Carefree keypad app that lets us use our code to activate the security gate for coming and going. Plus, it can be hard to navigate a large rig like a boat or RV to get close enough to the keypad to activate the gate.
I also like that you keep close tabs on things. I remember when you were walking around the lot and brought to my attention that there was a scrape on the side of my boat!
Yes, we remember that!
Turns out it was some adhesive lettering from a guide pole in the lake that I must have bumped up against with the boat. Tough pill to swallow for me as a new boat owner, but then again, we say our boats are our toys, and toys are meant to be played with. Things happen!
That's a good way to look at it. What are some of your fondest memories in your boat?
It's hard to think of something specific. I guess I'd say just being out on the water with our kids and their friends, seeing them swim and smile and have fun. Sometimes we'll just stop and have a floating lunch. My wife makes the BEST sandwiches, so we'll just sit there on the boat, enjoying our food. Then we'll get a second wind and we're back at it.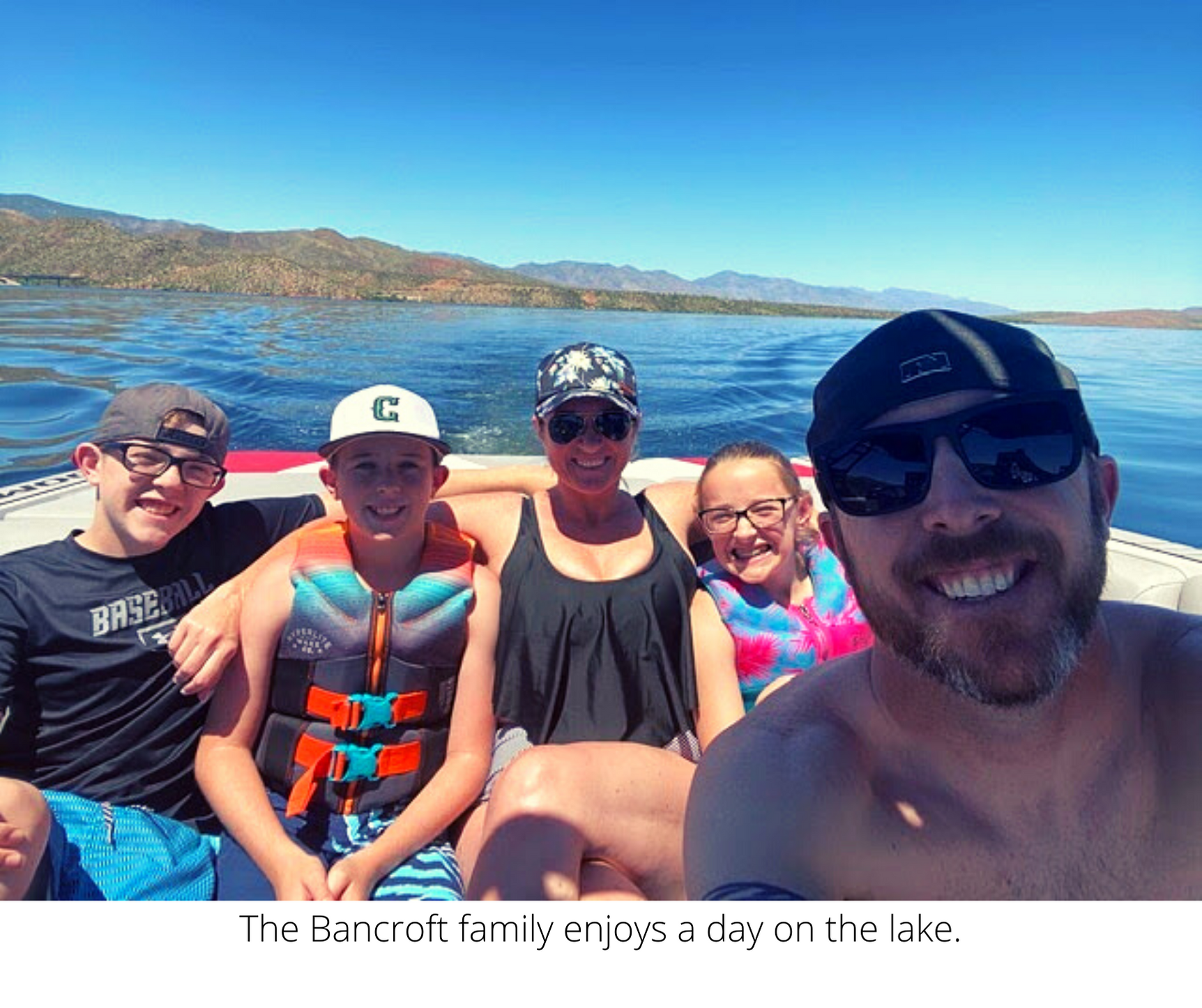 We love it. Any plans to venture further out beyond the local lakes?
We have so much to choose from right outside our front door, but I'd love to take the family to Lake Powell, right at the Arizona-Utah border. It's a beautiful lake, about eight hours away. We'll get there one of these days!
Any place else on your bucket list that you'd love to go to?
My dream trip would be to take my family to Table Rock Lake in Missouri. I was born in Missouri but my family moved to Arizona when I was two years old. As a kid, my family would take vacations back to Missouri and I have fond childhood memories of spending time on Table Rock Lake. It's about a 25-hour drive there, so that would be a major road trip. Something to plan for, for sure.
That would definitely be a special trip. What about smaller outings? Your boat is a great family boat. Do you and your wife Krystal ever take it out for a little boating date?
You know, we really haven't! We've taken it out with friends, but we're mostly with our kids. We've been together for more than 16 years and we say that we've beaten some of the toughest relationship odds: a long-distance relationship, a home remodel, and now being boat owners. So, a date night on the boat would be a great way to celebrate all that!
You should do it! Thank you so much for taking the time out of your busy schedule to chat with us. It's been a real pleasure.
Thanks for inviting me to talk today. It's been fun!
Thank you! We look forward to seeing what new boating adventures you get to experience. Maybe one of these days we'll get to hear about your future trips to Lake Powell and Table Rock Lake — perhaps with your kids at the wheel, in their own boat, carrying on the family tradition!
That would be amazing. That's what life is all about!
Come Home To Carefree Covered RV Storage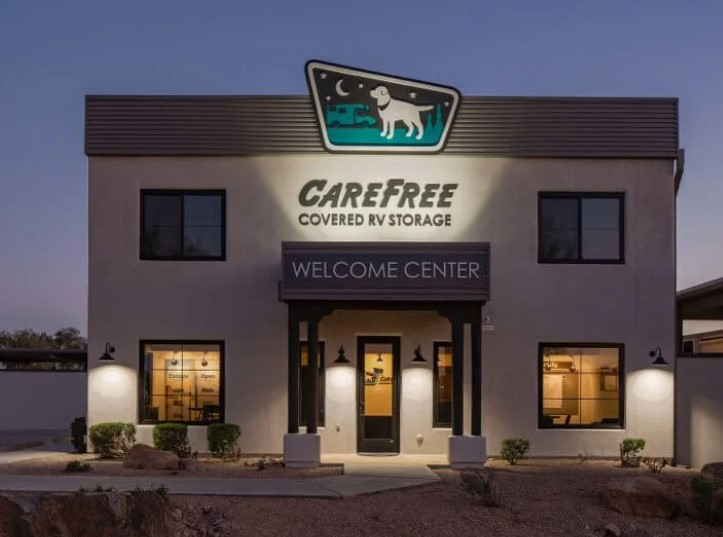 Between adventures, Carefree Covered RV Storage here in Apache Junction, Arizona offers safe and secure covered storage near you for your RV, boat, or trailer storage needs. We understand what your vehicle means to you. It's a big investment and a cherished memory maker, and our on-site managers treat it like our own.