Carefree Covered RV Storage offers secure, affordable storage in Apache Junction, Arizona (and now in Chandler!) for the recreational vehicles (RVs) in your life. When we consider the diverse group of these recreational vehicles on our lot, we know that each tells a story and holds a million memories — not to mention close calls, near misses, and other tall tales.
We also know that while our customers may be vastly different, they're connected by a love of adventure and a belief that the open road and waters can clear away life's details to remind us of what's really important.
We think these stories are worth telling, so we're spotlighting a few of our many cherished customers who trust us to keep their RVs safe in between adventures. We love visiting with our customers, including Carefree customers Paul Bancroft, Tom and Gail Seibolt, and Dwight and Lori Baker.
In this fourth installment of our Customer Spotlight series, we visit with Carefree customer Ann Ross. Her RV story is a bit more unconventional, and you might say it is one of our most unique customer interviews. Read on to see why!
Hitting the Road to Broaden Others' Horizons:
Mobile Dentistry of Arizona Offers an Oral Care Oasis in the "Dental Desert"
When you purchase a recreational vehicle, it's almost always 98% because you plan to broaden your horizons through some seriously epic road travel. Our Carefree customers agree, and we've chronicled some great stories about how our customers' RVs have rolled out some truly once-in-a-lifetime experiences.
And, then there's the other 2% who buy RVs for other adventures, or should we say ventures? We're not talking about remote workers who hit the road in their RV to mix laptops with leisure, though this group is growing in our COVID world with more reliable Internet options.
We're talking about a very special group of business owners who buy an RV to create a mobile business that actually serves to broaden others' horizons. You've seen the model before with bookmobiles, mobile hair salons, food donation trucks, and mobile clinics offering a modern version of the good, old-fashioned house call.
Thanks to the last example, this is where Ann Ross, owner of Mobile Dentistry of Arizona, enters the picture. Since 2000, there's been a surge in dental professionals joining other medical road warriors to offer dental services to the elderly and otherwise compromised patients who can't get to a dental clinic.
Ann is one of them, and this is her story.
Ann, thank you so much for joining us today. We know how busy you are!
Thank you. It's my pleasure!
Tell us about you and your dental background.
I'm a dental hygienist. I graduated from the University of Iowa, licensed in dental hygiene, and I've been passionate about dental care for more than 20 years now. I'm a strong advocate of supporting our patients' total well-being through oral health.
What brought you to Arizona to practice dentistry?
I moved here from Iowa City many years ago seeking an opportunity in the dental field. I knew that dental professionals were in need here in the Valley and I wanted to get away from the snow!
You're the first person we've interviewed who uses their RV for business, and this model of dental care intrigues us. Tell us more about how you got into the world of mobile dentistry.
Sure! Well, about 17 years ago, I was practicing dentistry privately, and I was working with a lot of inter-generational families — adult patients and also their parents and extended families. I started to notice that many of my elderly patients weren't returning for follow-up appointments and regular cleanings. On further investigation, I learned these patients weren't returning because of the challenges they faced getting to the dental office.
What kinds of challenges were you seeing?
Primarily there were either mobility issues with getting themselves to the clinic — whether that was driving a car or navigating the trip with a wheelchair or walker — or physical and cognitive issues where the individuals could not make the trip due to poor health or diminished capacity.
I spent almost two years thinking about this problem. The more I thought about it, the more I knew I wanted to do something to help solve it.
We've never thought about it, but you're absolutely right. It makes total sense to find a way to provide dental care to this category of patients. How did you go about doing it?
I owned a dental office at the time, so I understood the systems and type of managerial experience needed to run a successful practice. Once I completed my research on the issue and how I wanted to solve it, I knew that if I put together the right team, we could be onto something really great.
You could take your show on the road, so to speak!
Exactly! At first, I enlisted another dentist to help me, and he set me up with a toy hauler that we towed around with a diesel truck. This was back in 2006, and we operated that way for a few years. We could fit two patients in that RV. It served us well at the time but I dreamed about owning a Class A RV.
That's amazing, Ann. This is such an essential service. And, of course, we know that you made that RV dream come true. What kind of RV do you operate out of now?
We now have 3 Class A Coachmen Miradas, and each one is equipped with one operatory, a mobile lift for wheelchairs, scooters, and other ambulatory devices, plus space for additional equipment and consulting with our patients.

Speaking of your patients, we've read that something like one-fifth of the US population lives in "dental deserts" with few or no places delivering oral care. You are like a traveling oral care oasis for this population, and this analogy seems even more fitting right here in Arizona.
You're right, and our specific focus is on the demographic of people who just can't get themselves to the places that do offer dental care. Plus, with periodontal disease and tooth decay on the rise, there's growing evidence suggesting that a lack of oral care can contribute to significant health complications like cardiovascular and heart disease, or diabetes. That's why a service like this, especially for our immuno-compromised elderly patients, is so crucial. We want to eliminate these barriers that are preventing patients from receiving oral care.
We totally understand. So, what kind of dental services do you offer and what areas do you serve?
We're a comprehensive dental clinic that offers any type of service you'd find in a brick and mortar dental office, from dentures, crowns and bridges, to periodontics, dental implants, restorative and cosmetic dentistry, emergency, and palliative dental care.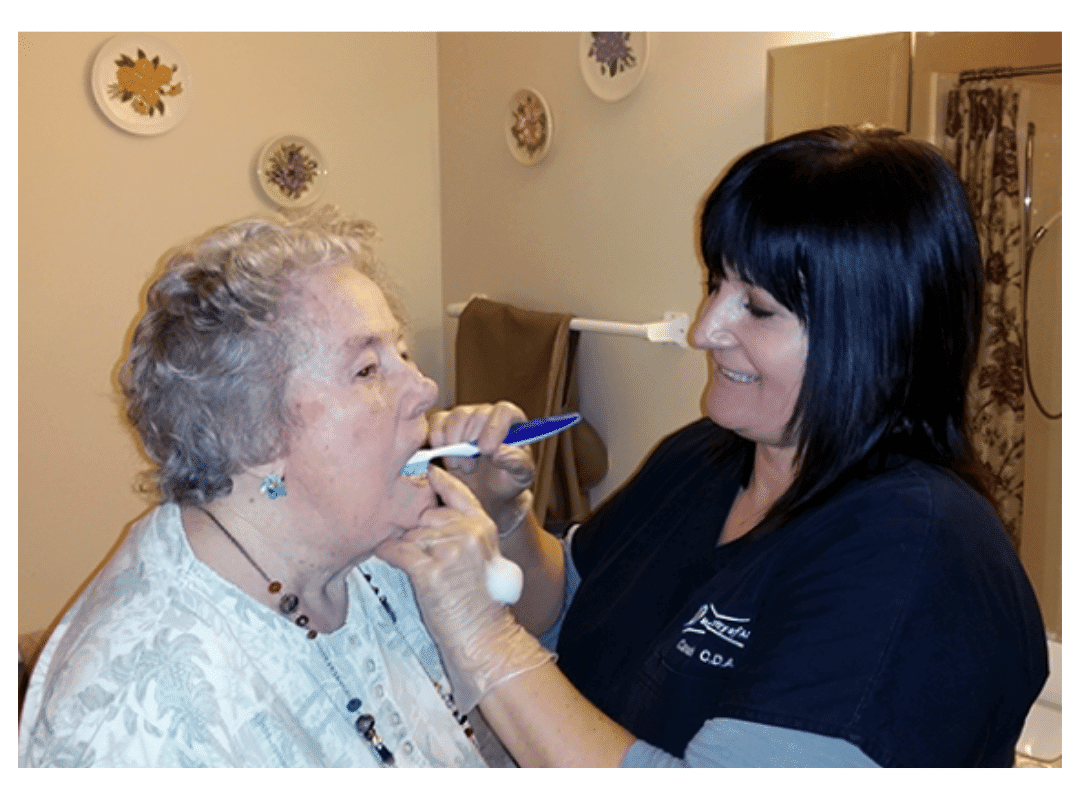 I also direct an oral care program for all patients who cannot maintain their own oral care on a daily basis. I select a skilled provider, customize their oral care, and select products that we carry to help keep them healthy and prevent further dentistry or tooth loss.
We see amazing results from this weekly care, and it is only 35.00 per week! Occasionally we will get a request for twice a week.
Many of our residents are bed-bound or wheelchair bound and cannot get to their bathrooms easily. Sometimes their dexterity is minimal and they have arthritis or cannot cognitively help themselves. We get a lot of satisfaction caring for our residents and see the results very quickly!
We offer mobile dental services in the greater Phoenix area, including Pima, Pinal, Maricopa, and Yavapai counties.
Bringing dental care directly to our patients allows them to age in place. Our practitioners are highly skilled in caring for patients with very complex medical histories as well as behavioral and cognitive concerns. We've got a great team, all of whom are caring and experienced, providing that special touch with the aging population, or to anyone who needs that extra personal assistance.
We're curious about some of the differences in operating a mobile dental office and working with this population. There must be additional factors at play.
When we refer to mobile dentistry, this can include services offered in our RV clinic and also in-home, whether that's a patient's residence, assisted living facility, or even bed-side.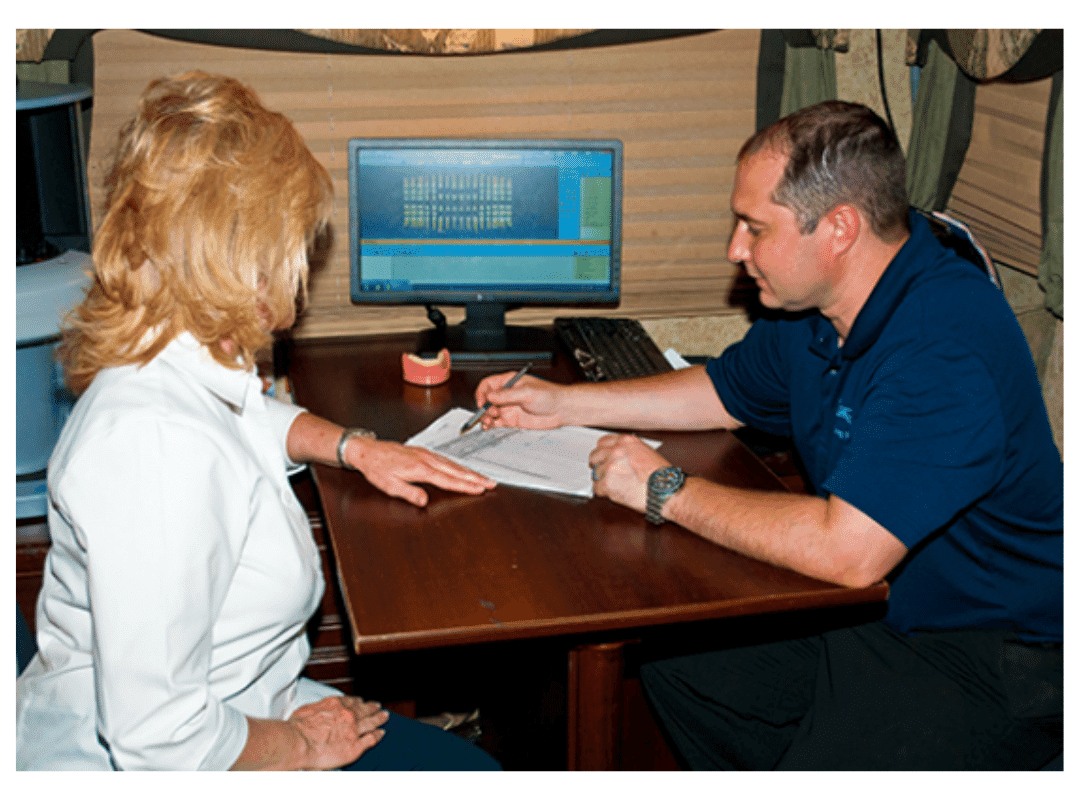 As for differences, you're definitely correct. It takes a special type of person to succeed in this niche of oral care, and it can be stressful working with patients who have behavioral challenges like dementia. A simple 10-minute procedure can turn into an hour-long appointment. You must have patience, empathy, level-headedness, a strong ethical compass, and a genuine love for people to do this work.
Absolutely. Are there any other challenges that come with running a mobile dentistry practice?
Yes, just think about the traveling, traffic, vehicle maintenance. Plus, we have to hire drivers who also serve as an additional assistant. But, I don't mind handling these operational issues because we know that what we're doing is a good thing. It's what drives us to keep doing what we do. I believe that if you love your profession, then you find the challenges invigorating. And, I do enjoy a good challenge!
Well, we're thankful that you're doing it. Does your team have to have special training to work with this population?
Absolutely. We're dementia care-certified and have qualifications to provide all dental services and qualifications that we keep current on, along with internal training. We've also been recognized with different awards — from Crest Oral B where I was named first "Pro in the Profession" in 2012, to a grant I won soon after that focused on a memory care community locally for comprehensive preventive care and training for caregivers. I also won an award from the Arizona Dental Hygiene Association for "delivery of care in our community," a point of pride for us and validation for the work we're doing.
That's wonderful. Keep up the good work! We had a chance to see some of the patient testimonials on your website, and it seems like they agree.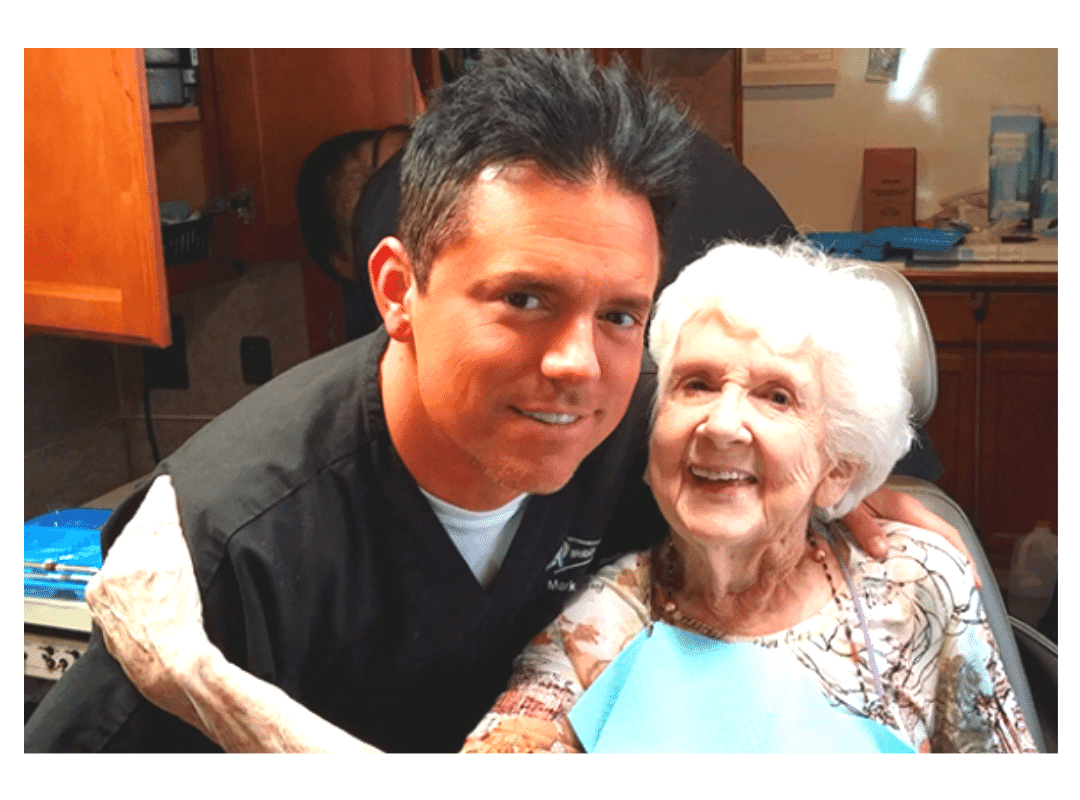 Our patients are wonderful! They definitely keep us going — and we're going on about 15 years now!
Congratulations! Given your role in going out to the community, are you involved in any community service or with specific community organizations?
Yes, we've formed good partnerships with several relevant organizations, including MEAPA (Maricopa Elder Abuse Prevention Alliance), AzGS (Arizona Geriatrics Society), Alzheimer's Association, AHCA (Arizona Health Care Association), and the Arizona chapter of ALFA (Assisted Living Federation of America) — among others. We're proud of the work we're able to do with these partners.
Well done. We're sure they appreciate you too. We have to ask: How has COVID-19 impacted your business?
As you might expect, we've definitely been hit hard. We only have about one-third of our staff working right now and one RV in operation. Business has been a bit slow since last March, but we're still serving our patients as an essential service.
Like other medical and dental professionals, we take the health and safety of our patients very seriously and are following all local, state, and federal guidelines — including the use of proper PPE (personal protective equipment) and limitation of travel when possible.
That's interesting about the downturn in business. You would think that with COVID, more people would welcome not having to travel to a dental office and be around people.
That's true, and thankfully we are still operating, just not at full capacity. Peoples' lives have been so impacted by COVID, and we understand that it can be hard to keep up with the basics like dental care.
Now that the COVID vaccine is here, we have a lot of clients (and our staff) receiving it, so we hope that extra assurance for patients sees an uptick in our business — because we want to be out there serving our patients again!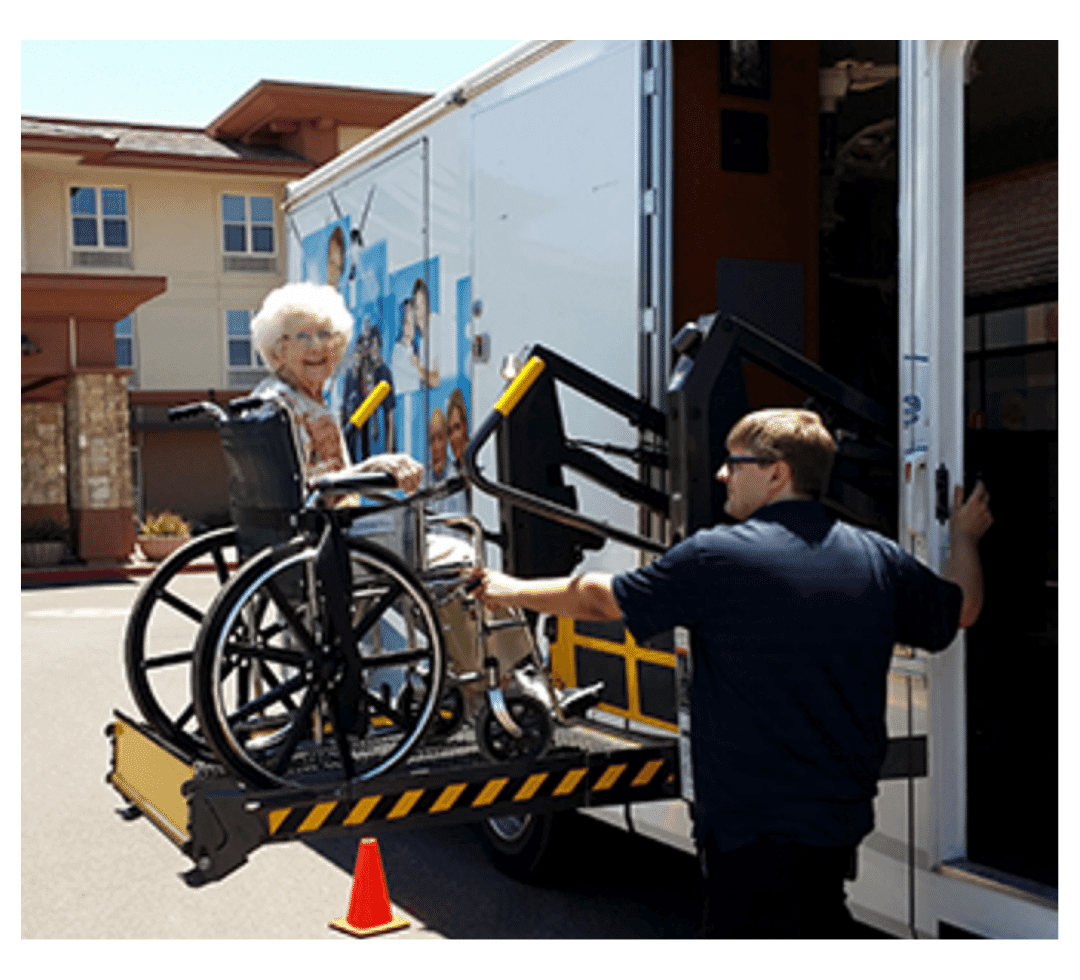 We have also started offering COVID-19 rapid testing — both antigen (swab) and antibody (finger stick) testing. Our fee is $120 at our mobile location, and $150 at patients' locations. It feels good to offer this service to our community and remove some of the testing burden from our local healthcare providers in this way.
We certainly hope you're able to keep supporting your patients too! They need you, especially during this COVID pandemic, given how optimal oral care is such a direct link to overall health and a strong immune system.
Exactly! In fact, the four essential risk factors for severe COVID-19 — diabetes, high blood pressure, heart disease, and obesity — are also associated with poor oral hygiene and oral infections.
Well, we've noticed your RVs here at our Carefree facility much more than we're guessing you'd want — meaning, you're not out on the road serving people — but we're happy to keep them safe and secure here in the meantime. How long have you been a Carefree customer?
Thanks, we love being here. We've been a Carefree customer since 2009 or 2010. It's hard to remember exactly. But it's been a good decade now!
Wow, time does fly! What about Carefree suits the needs you have for your 3 mobile dentist offices?
Your customer service is really above and beyond. I know that I can reach out at any time and get questions answered immediately. You all just care. It's not about the slot we're paying for. It's clear that you care about people.
And your facilities are top-notch. You make sure everything is in perfect shape, from the security cameras, the spaces, the cleanliness — even the bathrooms are spotless! All of these things matter. We also love the amenities, and that they're included, like the car wash and dump station. This is especially nice for a business, since this means we don't have to manage petty cash with staff for these items.
Thank you, Ann. You know that we love being here for you. And we've loved our time with you today. Hopefully someone reading this will have a need for your services and seek you out for dental support.
Thank you. Thankfully, we are still getting new patients. We get most of our business by word of mouth, plus internal and website referrals — and opportunities like this.
We're so happy to do it! You know, so much of what you've shared as a business owner resonates for us too. We're all about improving our customers' lives in any way we can. We aim to establish a genuine personal connection with everyone who walks through our doors.
Definitely. You can't do anything like what either one of us do if you don't love people. No way.
We couldn't agree more. Thank you so much, Ann!
Thank you!
Reader Note: If you or a loved one could benefit from the comprehensive and compassionate care that Ann and her team of dentists, hygienists, and assistants can provide, we encourage you to visit Mobile Dentistry of Arizona's website and connect with them to learn more.


Come Home To Carefree Covered RV Storage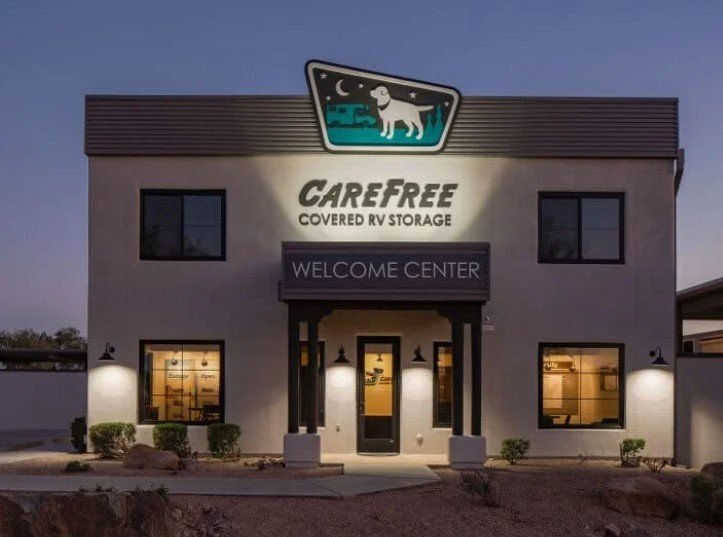 Between adventures, Carefree Covered RV Storage in Apache Junction and Chandler, AZ offers safe and secure covered storage near you for your RV, boat, or trailer storage needs. We understand what your vehicle means to you. It's a big investment and a cherished memory maker, and our on-site managers treat it like our own.
Check out our facility video and tour, then stop by and we'll get your rig set up. When you store your recreational vehicles with us, you'll enjoy secure, quality covered RV storage with our 42-camera video surveillance, along with 365-day automated access with our phone gate app, charging outlets, free wifi, and free self RV wash and sewer dump. We've even got complimentary bags of ice! Also need a storage unit for additional small recreational toys, equipment, and supplies? We've got them!
At Carefree Covered RV Storage, you're guaranteed peace of mind, protection, and personalized, old-fashioned service. We make it easy for you to rent and make payments online, maintain your vehicle, and get on the road — so that you can keep living the carefree life!