Carefree Covered RV Storage offers secure, affordable storage in Apache Junction, Arizona for the recreational vehicles (RVs) in your life. When we consider the diverse group of these recreational vehicles on our lot, we know that each one tells a story and holds a million memories — not to mention close calls, near misses, and other tall tales.
We also know that while our customers may be vastly different, they're connected by a love of adventure and a belief that the open road and waters can clear away life's details to remind us of what's really important.
We think these stories are worth telling, so we're spotlighting a few of our many cherished customers who trust us to keep their RVs safe in between adventures. We love visiting with our customers, including Carefree customers Thomas and Gail Seibolt. We talked with Thomas and Gail to learn more about them, their 2018 25' Rockwell travel trailer, what calls them to the open road, and their experience as Carefree Covered RV Storage customers.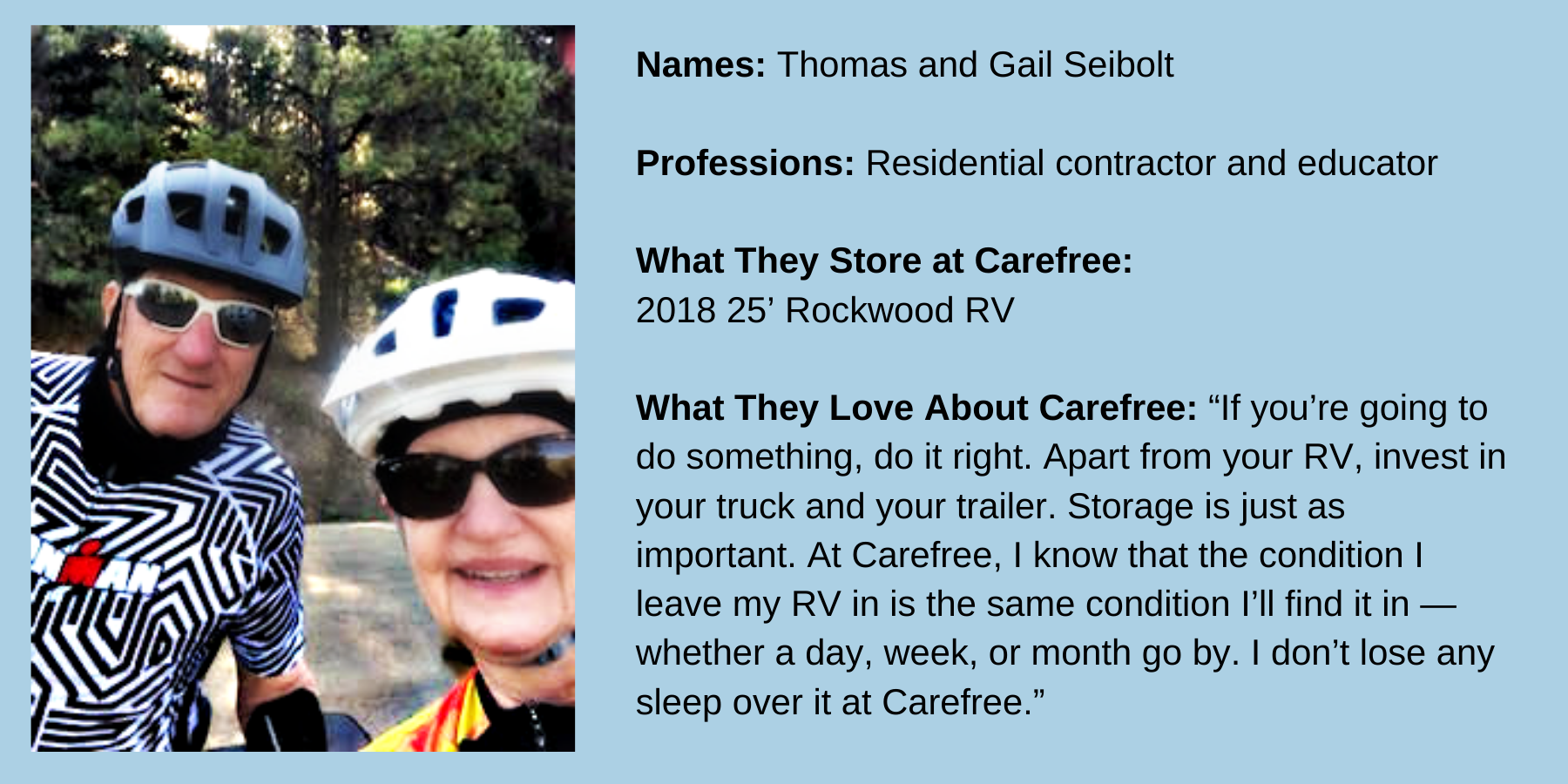 It Pays To Be Prepared: How One Couple Has Taken Their "Second Act" On The Road
At Carefree Covered RV Storage, we've never thought that youth is wasted on the young, as Irish playwright George Bernard Shaw is said to have argued, because we see so many of our customers heading into retirement with a sense of stamina and curiosity that would put many younger folks to shame.
If we let our life experiences prepare us for the next ones, then we can leverage that with the perspective and patience gained along the way to make our second act in life much more exciting than the first. Because even once we reach a "certain age," there's still a big, wide, fascinating world out there, and our customers — especially Tom and Gail Seibolt — are first in line to get out there and explore it.
Hi, Tom and Gail! Thanks so much for chatting with us today! So, tell us about yourselves. What should we know about you?
Tom: Hi there! Well, we live in Gilbert. I build custom homes and have had my contractor's license since 1979. After about 40 years, I've got the ability to come and go with work. I don't ever want to retire!
Gail: I'm a retired elementary teacher. Now, I'm an instructor and supervisor at Northern Arizona University, and I've got a fairly flexible schedule. We're both at a phase in our careers now where we can take a bit more time for ourselves and enjoy some new life adventures.
That's great! Tell us how you got into the RV lifestyle.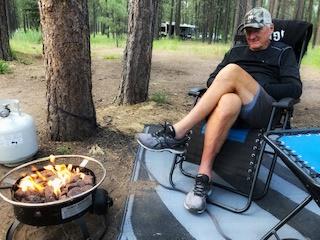 Gail: A few years ago, I worked out with some friends who had travel trailers. Like us, their kids were grown and gone. We'd spent the last 10 years involved in Ironman activities and triathlons and we were done with that chapter. The RV life sounded exciting and was something different for us, and we had a blast the first time we tried it. One thing led to another, we've changed trailers three times in 2.5 years, and now we go RVing at least once a month. We're both still working some, so we usually go on shorter trips, but we always try to schedule a good 10-day trip every year.
Wow, you just shared a lot of information that we've got to know more about! How did you get into Ironman and triathlons?
Tom: We've always been into health and fitness. Our kids are in their 30s now. Our daughter is a pharmacist and our son is a cardiologist. When our son graduated from college in 2009, we weren't sure what we wanted to do with our growing free time.
Gail: I was a runner and did the RAGNAR race, which is a long-distance running relay race, and our daughter suggested that we might want to try cycling. So, we decided to give it a try, and before we knew it, we both had Ironman fever! Even now, a decade later, we bike 25-30 miles a week. We enjoy riding our road bikes in the valley, and our mountain bikes in the summer where it's a bit cooler up in the mountains. We don't train so much anymore due to COVID, but we mainly do it now just to stay healthy.
Tom: Right, and now we'll get up around 4:30am on a Saturday and go on a ride so that we're not out during the hottest part of the day. We'll ride from our house in Gilbert to the storage unit and back around in a loop that's about a 25-mile round trip. There's less traffic at that time of day too but still, it's all about safety. We've got big lights on our bikes. You've just got to be smart about it.
That's dedication! And, we love that you've explored the open road by foot, bike, and now travel trailer. You're triple threats! This is of course made even more impressive by the fact that we hear you're "part bionic man," Tom. Tell us more!
Tom: Well, I guess you could say that. Not sure where to start! I've had seven hip replacement surgeries, and I've got a Watchman pacemaker device in my heart.
This interview just keeps getting more interesting! You're amazing, and you caught our attention when you said you've changed trailers three times in 2.5 years. Why is that?
Tom: Well, we started with a hybrid half trailer-half tent and knew within the first couple of months that it wasn't what we wanted. So, then we got a travel trailer that we kept for a year. There was a warranty situation that the manufacturer handled very well. As great as technology is, there was a computer glitch that caused an "adventure," to say the least. From there, we graduated up to the 25' Rockwell travel trailer that we have now.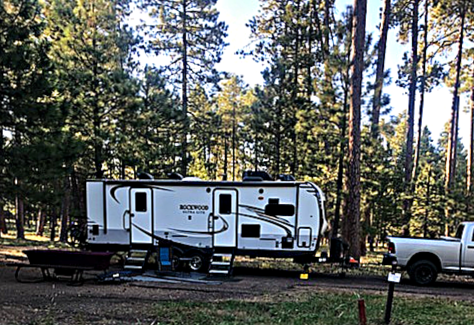 Sounds like the third time's the charm! What is it that you love so much about this travel trailer?
Tom: It has a full, big kitchen with a dinette, a hideabed couch, a fireplace, and a separate full bedroom. It fits us perfectly. We tow it with a Dodge ¾-ton 4-wheel drive with a Hensley anti- sway trailer hitch.
Those Hensley Hitches aren't cheap but they're supposed to be great.
Tom: Exactly. It is great. We've learned that it really pays to invest in your equipment in order to travel safely. When you're prepared with the right equipment setup, it makes RVing so much easier and enjoyable.
Would you say that it makes your trips more "carefree?" See what we did there?
Gail: Ha! And, absolutely!
So, speaking of that, how did you find out about Carefree Covered RV Storage?
Gail: We had heard about the storage facility when it was under prior management. We kept a boat there a few years ago, so when we transitioned to a travel trailer it just made sense to stick with the same place since it offered safe, covered storage. And, now that you all are managing the property, we're even more pleased with our experience. Even though we live in Gilbert, which is around 25 minutes away, we feel very comfortable with our trailer there. We never think twice about it. Our nextdoor neighbor stored their travel trailer in a spot where people were able to throw things over the fence and damage their trailer. Thankfully, with your higher perimeter fencing, that's something we don't have to worry about.
We're sorry to hear about your neighbor's situation but we're so glad that you've had a great experience with us.
Gail: Definitely. We know that we probably pay a bit more but it's worth it in the long run. The whole facility is really well taken care of. You all have made really nice improvements and it's beautiful! We recommend Carefree Covered RV Storage to our friends. It is worth the drive to store our travel trailer with you!
That is so great to hear! Thank you. So, when we're not watching over your travel trailer here, where do you like to take it?
Tom: Wherever we can ride our bikes! We love going up to McDowell Mountain up by Fountain Hills. It has a lot of great trails for mountain biking and hiking. We also enjoy going up to Canyon Point near Heber and "the Rim" (aka Grand Canyon).
Two great spots, for sure! How about places further out?
Tom: We love Angel Fire RV Resort in New Mexico, Lake Havasu in western Arizona, Zion River Resort near Zion National Park in Utah, and various places in Durango, CO. We also enjoy camping in national forest parks, but you have to schedule those about six months in advance. We have a system where we'll reserve them just after midnight as soon as reservations open up. We're booked all the way out through July 2021 right now!
Gail: And, most RV parks these days offer pretty good Internet access and cell phone coverage, so we can still get some work done.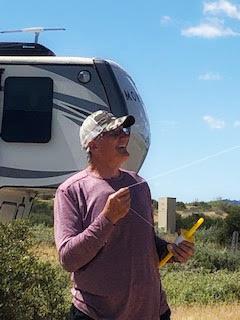 You mentioned you've got two grown kids. Do you ever turn it into a family affair? Any grandkids?
Gail: We've got six grandkids! We've done a couple of overnight trips with some of them but they're pretty active themselves. They're all under the age of 8, so they're a bit too young now. Instead, we make a tradition of doing Sunday dinner but our oldest grandkids have expressed an interest to tag along more. It's probably something we'll do more of once they're all older.
That makes sense. Plus, it sounds like they wouldn't be able to keep up with you two! Okay, so let's say you had all the time and money in the world. What's your dream RV trip?
Tom: For me, I'd say taking a long road trip to Yellowstone, then up into Northern Colorado, and back down to Angel Fire in New Mexico. Take about four weeks to do it in a big loop. I'm originally from Kansas City, MO, so it would also be nice to go visit my brother at his cabin at Lake of the Ozarks.
Gail: To me, every trip is fun. It's an adventure! I don't need a huge, long trip to be happy. I just like getting away from home to someplace cooler. Our travel trailer lets us fix our own food and sleep in our own bed. It's wonderful.
Got any good stories from your adventures to share?
Tom: Well, I'll tell you this. Like I said, my brother has a place at Lake of the Ozarks and he said to me once, "Why don't you get a vacation place out here with me too?" I told him, "Look, I've already got a place….at the lake, the ocean, and the mountains with our travel trailer!" That's the best thing about it, the ability to travel to so many places and experience new things. It's a wonderful memory maker. There's always tomorrow and somewhere to go with it. But the key is you've got to plan and buy good, safe equipment. We don't mind the work when we're prepared.
We're sensing a theme here. You've mentioned several times the importance of being well-prepared, whether you're biking or RVing. It definitely makes the trip more enjoyable.
Tom: It does. Listen, I have no patience at all with most things, but if you have an RV, you just have to accept that things will go wrong. You just have to roll with it, so that's one area where I've had to learn to have patience! That's why I like being prepared to the extent that I can, because it makes it just a little bit easier to "go with the flow," as they say.
Great point. Any advice for RV newbies?
Tom: We follow some expert RVers on YouTube, and between what they and Gail's brother (also an RVer) have to say, we can tell you that it's hard to know what you really want in a travel trailer until you're on about your third or fourth one. You've got to start somewhere, so just get started. Not everyone can start with a Class A rig, and you can't wait and save up for the grand deluxe model. Just start small and enjoy every step, because it all helps you figure out what you really want and need, and what suits you best.
That's great advice. You've just got to get out there! Okay, this has been so enjoyable. Do you have any parting words for us?
Tom: If you're going to do something, do it right. Apart from your RV, invest in your truck and your trailer. Storage is just as important. I know where I can take my RV and drop it off in the same spot every time. I know that the condition I leave it in is the same condition I'll find it in — whether a day, week, or month go by. I don't lose any sleep over it at Carefree.
Thank you, Tom and Gail! And you're exactly right: We definitely see ourselves as part of the larger investment and preparation process for our customers. Thank you again for your time. This has been wonderful!
Tom and Gail: Thank you! It's been fun!
Come Home To Carefree Covered RV Storage
Between adventures, Carefree Covered RV Storage here in Apache Junction, Arizona offers safe and secure covered storage near you for your RV, boat, or trailer storage needs. We understand what your vehicle means to you. It's a big investment and a cherished memory maker, and our on-site managers treat it like our own.
Check out our facility video and tour, then stop by and we'll get your rig set up. When you store your recreational vehicles with us, you'll enjoy secure, quality covered RV storage with our 42-camera video surveillance, along with 365-day automated access with our phone gate app, charging outlets, free wifi, and free self RV wash and sewer dump. We've even got complimentary bags of ice! Also need a storage unit for additional small recreational toys, equipment, and supplies? We've got them!
At Carefree Covered RV Storage, you're guaranteed peace of mind, protection, and personalized, old-fashioned service. We make it easy for you to rent and make payments online, maintain your vehicle, and get on the road — so that you can keep living the carefree life!
Update: We were saddened to learn of Tom Seibolt's passing in early September shortly after this interview. With his wife Gail's permission, we are publishing this piece in remembrance of Tom. The Seibolt's will always be part of our Carefree Covered RV Storage family. As Tom said, "RVs are a wonderful memory maker. There's always tomorrow and somewhere to go with it." In honor of Tom, we encourage you to get out there and enjoy your next RV adventure.