If you're searching for guidance on the best recreational vehicle for your lifestyle — not just for your wallet or your Instagram — then you're on the right route if you've landed here!
At Carefree Covered RV Storage, we know there are many different pathways to RV ownership, but once you've decided to go for it, you'll have right and wrong turns to navigate along the way. We're guessing you've already weighed the pros and cons of RV ownership and determined that you're ready to make the big purchase. And, you probably already know that the tax benefits and money-making potential of RV ownership can make it a pretty sound financial decision.
So, as you start your RV decision-making journey, please know this: Your research and deliberation will pay off but now is not the time to rush the rest of the process, as tempting as that can be.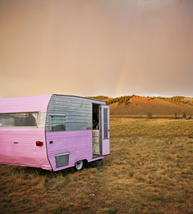 Our experts' most helpful advice? Purchase an RV type based on your day-to-day lifestyle — not the dreamscape lifestyle you imagine living on the road, but the realistic, practical ways you will spend your days. (Hint: It probably won't look that different from your current daily routine, just more contained. We are creatures of habit, after all.)
Buying the largest, most luxurious rig or the cutest, most photogenic trailer for the wrong reasons will set you up for failure down the road. Aim to own a vehicle that you're not just infatuated with but absolutely love because it seriously supports your lifestyle. Genuinely appreciating and understanding your RV inside and out will make the prospect of travel more practical and enjoyable, setting you up for a long, happy tenure as an RV owner.
When you set out to buy, you'll notice an array of dimensions, amenities, and terminology that might be unfamiliar to you. Don't let overwhelm or seemingly intimidating technicalities lead to rash purchasing.
A little studying before heading to the sales lot is a good idea, so we've done the hard work to help you set off on the right foot. This article includes two mini-guides to help you make the best RV purchasing decision:

Our RV mini-guide outlines motorhome types, amenities, and additional considerations like towing, accommodations, and insurance
Our Camper Lifestyle mini-guide matches 5 traveler scenarios to the ideal RV type to support each lifestyle


Know Your RV ABC's: A Mini-Guide to Motorhome Classes
Whether you're a newcomer to RV culture or a pro, you need to have a general idea of what each motorhome class offers before purchasing a new motorhome, RV, or towable rig. Stick with us below, and you'll be ready to jump into the next debate about the merits of RV class types with your campsite neighbors.
The below graphic outlines the 3 main motorhome class types and their basic details: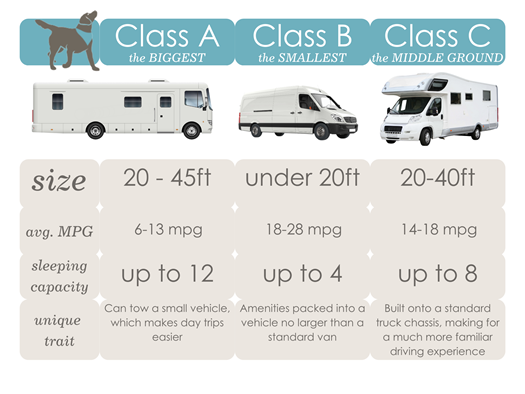 Motorhomes can weigh 10,000 pounds, 40,000 pounds, or anywhere in between, making all the difference for gas mileage. If you're interested in breakdowns of specific motorized RV models and their average miles per gallon, we sourced this information for you from Camper Report.


To Tow or Not to Tow? A Breakdown of Motorhomes vs. Trailers
Now that you're more familiar with motorhome class types, it's time to comprehend the difference between motorhomes and towable trailers. If this feels like a curveball, just know that it's all in the name:
A motorhome is a motorized home that includes an engine to propel the vehicle forward. This category includes the Class A, B, and C options we just reviewed.
A towable trailer is precisely what it sounds like — a motorhome, except without any of the parts required to drive. A primary vehicle is required to tow the lodging along. Because of this, a few additional requirements might make it the wrong choice, depending on your driving comfort level and available resources.
There are two main classifications of towable rigs but many subcategories, including tent trailers, toy trailers, airstreams, and teardrops. It's best to read up on the two basic trailer types — travel trailers and fifth wheels — first, and only dive into the niche models if you're truly considering a towable unit. The way the trailer physically hooks up to the primary vehicle dictates the two main categories of towable units:
| | |
| --- | --- |
| Travel Trailer | Fifth Wheel |
| | |
| A travel trailer is pulled by an automobile and equipped for use as lodging. Travel trailers are typically available in lengths between 12-35 feet. They are defined by the way the hitch hooks up to the primary vehicle. A travel trailer hitches to the rear bumper of a car, SUV, or truck. | A fifth wheel is a trailer that hitches to the primary vehicle directly over the rear axle. Fifth wheels generally range in length from 25-45 feet and are significantly heavier than travel trailers. Due to their large size, you will need a powerful truck to tow them. Fifth wheels often have multi-level options, making a trip feel extra private due to the sound absorption this provides. They also can accommodate built-in generators, depending on the unit. |


Towing, Accommodations, and Insurance
Regardless of the rig, your primary vehicle type and towing mechanism matter a great deal. When traveling down windy highways, it can be terrifying to get pushed off-road by the sway of your trailer in the wind. The bigger the rig, the harder it is to manage while driving. While you can unhook and go into town without the trailer, having to do so can be cumbersome. Splurging on a tow that balances the unit's weight and smooths out motions can make all the difference. However, the costs add up once you include the necessary equipment for a carefree driving experience.
Something else to keep in mind: Many small campgrounds can't accommodate large trailers, so if you're not a planner, you might get left with nowhere to go. This won't be an issue with a tiny trailer like a teardrop model but it is especially important if you're towing a fifth wheel. Also, in favor of motorized homes, gas mileage is better, averaging 6 - 8 miles per gallon vs. the 8 - 12 mpg average of towing a trailer.
And, one more thing: Insurance for trailers can be tricky. Technically, towable rigs do not have to be legally insured since they are not being driven. However, motorhome insurance will average between $1,000 and $4,000 a year, depending on the class.
While it would be unwise to tow an uninsured asset that cost a pretty penny, getting a cheap trailer on a microbudget would allow you to save thousands of dollars on insurance a year. If living on the road to save money is your goal, then a trailer might be the way to go. If having a comfortable trip is more important, then we advise against the cheap uninsured trailer route.


RV Amenities
After deciding between a driveable and towable unit, it's time to dive deeper into the endless list of potential amenities. To avoid getting seduced by add-ons that you'll never use, list what's most important to you and skip past anything that feels unnecessary to your unique travel style.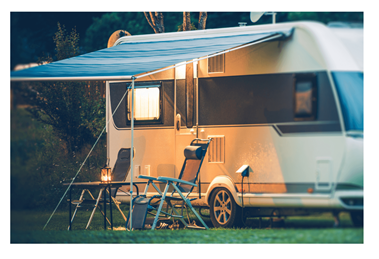 Amenities impact the weight, shape, and cost of an RV, so deciding what you can and can't live without will ultimately save you money on the purchase. There are many RV amenities on the market that aren't listed below, but the below chart is a good starting point for newcomers to study.
Some external amenities to consider:

Some internal amenities to consider:




Electric vs. Manual Awning
Sliding Porch
Automatic Leveling System
Automatic Entrance Steps
Hitch Receiver
Outdoor Entertainment Center

Slide Outs (walls that expand)
On-Board Laundry Hook-Ups
Full Kitchen with Ample Storage
Spacious Bathroom(s) — Shower vs. Full Bath
Coat Closet
Bunk Beds
Furnace and AC Unit
Power Lift Bed with Storage Underneath
If you get the opportunity, we recommend renting several RV styles for upcoming trips. Getting a feel for an RV model's driveability and comfort before making a purchase is a modern opportunity that would be a shame to pass up. If you've ever stayed in an Airbnb or VRBO, know that there are companies out there for RV rentals as well.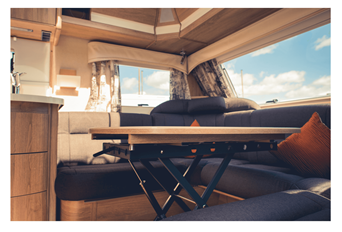 By exploring vehicles this way, you'll get a chance to communicate with RV owners and ask questions that could end up saving you a big headache in the future. Defining your intentions will steer you in the right direction, so ask yourself the following questions:
How long will you be staying in the RV at a time? (e.g., full-time living, summer vacation, weekend outings, etc.)
How many times a year do you plan to travel?
How many individuals will be traveling and sleeping in the RV? What are their ages?
How much money do you have to allocate to a gas budget per year?
Do you plan to camp outside on your trips or use the vehicle as your primary lodging?


Matching Camper Style to Lifestyle
The type of camper you are depends on key factors like who will join you behind the wheel or how tight your gas budget is. Use our road map to identify which scenario fits you best, and skip ahead below!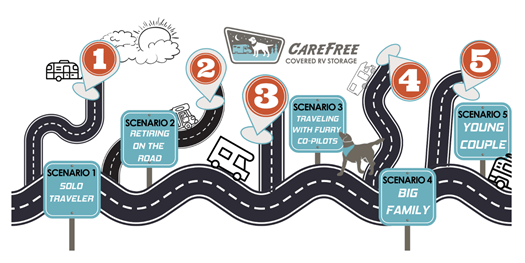 Scenario 1: Solo Traveler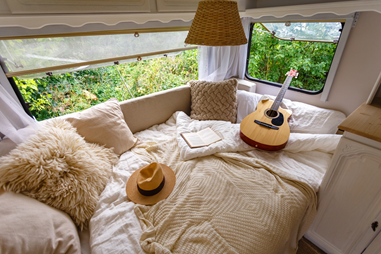 If you're a lone wolf who doesn't plan to host, we recommend a Class B motorhome. Being independent is important to you, and with an RV size no longer than 20 feet, you'll be able to efficiently run errands, camp at most campgrounds, and spread out during down time. By driving a smaller RV, you'll get better gas mileage, freeing up your budget for added destinations!
Having a self-contained motorhome suits your lifestyle because of the freedom it allows, the ease of setup and breakdown, and the driveability. When traveling solo, safety is a priority, so it's critical to have a dependable vehicle that won't leave you stranded alone in the middle of nowhere. While towable rigs are technically more reliable, since they don't have engines, we do not recommend towing your lodging if you're on the road alone. Not only is driving more difficult but having an extra set of hands is often required when establishing a campsite with a towable vehicle.


Scenario 2: Retiring on the Road
If you plan to retire on the road, reliability and ease of setup are pivotal to having a good trip. You'll need a vehicle that is manageably sized but provides plenty of space to spread out. Since you and your partner will share close quarters, leveling up amenities is a good idea.
All of this considered, a Class C motorhome is ideal for mobile retirement. It provides ample room without the headache of maneuvering a massive vehicle down unfamiliar roads and city streets. Class C motorhomes contain many of the same creature comforts and amenities as Class A — just packed into a smaller body.


Scenario 3: Travelers with Furry Co-Pilots
When traveling with a few pets, having a unit that accommodates safe cross-country travel for everyone involved will ensure a great trip.
With fur companions, hitting the road in a large RV can be difficult. Your dogs just want to pace around in traffic or disappear around a corner only to worry you when you hear a mysterious crash from the other room. Having a towable rig is the best choice for groups that include dogs and cats — unless you're traveling solo with your pet (see Scenario 1 above). Of course, you can keep a crate in either unit. However, if you've got pets that hate being crated, the added stress can ruin a trip.
If you don't like the hassle of towing a unit behind your vehicle, then getting a Class C trailer with slide-outs is the next best option. You'll be able to collapse large portions of the common space and close doors to rooms in the back. There are even handy dog harness seat belts for purchase if you want to make sure that your canine sidekick doesn't slide around or get injured while the unit is moving down the road at high speeds.


Scenario 4: A Big Family!
Unless you plan on stepping over toys daily, fighting over room at the dinner table, or sharing beds, a Class A motorhome may fit your needs best. An included generator means never running out of power.
Class A motorhomes have floorplan options that can accommodate up to 10 people. However, occasionally you see sleeping quarters that can fit up to 12 people. No one will be left wanting for space on the road when you've got walled-off bedrooms to retire to and a king-sized bed in the primary bedroom.
Traveling with young ones is hard enough in a car, but keeping tots buckled up is especially important in one of these large motorhomes. Luckily, most models come with ample seat belts and comfortable seats, making travel stress-free. Your family is full of rock stars, so why not travel in a tour bus-style Class A like one?


Scenario 5: Young Couple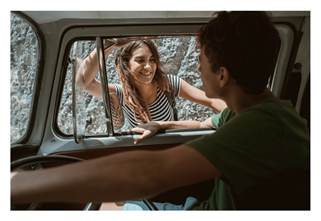 If you're hitting the road with a partner after graduating or looking to spread your wings on the road before you turn 30, then a Class B camper van could be the best option. Exploring the country with someone you love is a blast, especially if you're able to do it before kids come into the picture.
Freedom and spontaneity are easy to accomplish when you can drive wherever you want, park in any spot with relative ease, explore small towns with narrow roads, and crash at night in your van wherever you choose. Nowadays, camper vans can be found with ample convertible spaces that function as dining rooms, sleeping quarters, and lounges depending on the configuration of the furniture and the built-in features.
Many young couples traveling in camper vans use their van as a homebase, while spreading out and taking advantage of external space at campgrounds. Whatever your strategy, you can't beat the drivability and compact amenities that come with traveling in a camper van. Stress-free #vanlife travel is just four wheels away.


Which Scenario Describes You?
Now that we've outlined these five RV lifestyle scenarios, which one best describes you? The below graphic makes it easy to determine the best choice for your RV adventures: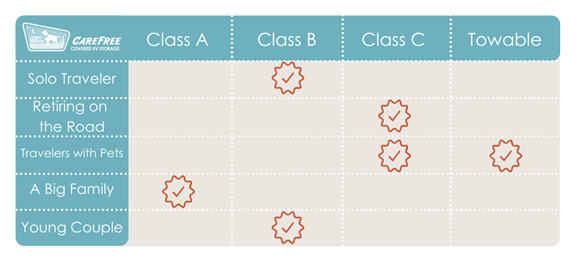 Come Home to Carefree Covered RV Storage
RV-ing is such a rewarding way to travel! Whether you're hitting the road solo or setting off with the whole pack, you're bound to discover new things and have a ton of fun.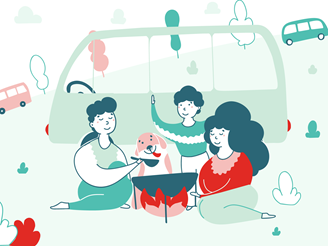 Why suck the enjoyment out of the experience by purchasing the wrong vehicle type for your lifestyle? Post questions you have on forums, identify RV owners to mentor you, or plan a trip in a rental RV. By taking a little extra time to make your final decision, you're clearing the path of troubles and making way for good times.
Now that you're familiar with the similarities and differences between RV classes and towable units, it's time to dive into the endless excitement that is RV ownership. As important as your travel plans are, it's also essential to plan ahead for storing your vehicle. Nobody wants to look at a large motorhome taking up primary parking spaces in your driveway. At Carefree Covered RV Storage, you're guaranteed peace of mind, protection, and personalized, old-fashioned service. We make it easy for you to rent and make payments online, maintain your vehicle, and get on the road — so that you can keep living the carefree life.