Carefree Covered RV Storage offers secure, affordable storage in Apache Junction, Arizona (and now in Chandler!) for the recreational vehicles (RVs) in your life. When we consider the diverse group of these recreational vehicles on our lot, we know that each tells a story and holds a million memories — not to mention close calls, near misses, and other tall tales.
We also know that while our customers may be vastly different, they're connected by a love of adventure and a belief that the open road and waters can clear away life's details to remind us of what's really important.
We think these stories are worth telling, so we're spotlighting a few of our many cherished customers who trust us to keep their RVs safe in between adventures. We love visiting with our customers, including Carefree customers Paul Bancroft, and Tom and Gail Seibolt.
In this third installment of our Customer Spotlight series, we visit with Dwight and Lori Baker to learn more about what calls them to the open road, and their experience as Carefree Covered RV Storage customers.


All Who Wander Aren't Lost: How Wanderlust Brought the Bakers Back to Basics
All that is gold does not glitter;
Not all those who wander are lost:
The old that is strong does not wither,
Deep roots are not reached by the frost.
— J.R.R. Tolkien, "The Riddle of Strider" poem from The Fellowship of the Ring
If you're a Lord of the Rings fan, then you probably know that no one phrase from the movie series is more well-known than the second line of the above stanza. It's become a popular quote for bumper stickers and mugs, wall art, and keychains.
But does this phrase mean what we think it means? Wandering can feel deliciously aimless and adventurous, and there certainly are plenty of wanderers who are lost. But, Tolkien makes clear throughout the larger LOTR opus that the wise know to wander with conviction and direction toward an end.
Carefree customers Dwight and Lori Baker have shared a love of travel and adventure for most of their adult life, living in at least six states during their 40+ years of marriage, and traveling extensively for their first 20 years.
The Bakers might be quick to say that raising their three adult children — and traveling often with them — has been their biggest adventure. Now that their children are grown with kids of their own, Dwight and Lori have revived their love of traveling and exploration by embracing RV life.
With Midwestern small-town roots, the Bakers have found a kindred RVing community that embraces a simple lifestyle based on, as Dwight puts it, "an unwritten, unsigned, undocumented trust."
This discovery, especially during a year underscored by the COVID-19 pandemic, has led the Bakers to back-to-basics living with some blessings in disguise to guide their RV wanderings toward a new home base.
Dwight and Lori, thank you so much for taking the time to visit with us today! As you know, you're the third in our customer spotlight series because we were waiting for you to return from a trip, which feels so fitting!
Thank you for asking us! Yes, we just returned from spending several months in Show Low. We thought it would be for only July and August, but it extended into September.
Nice! Well, it's been worth the wait. So, please tell us more about you both. What's your "story?"
Dwight: Well, we've lived in Arizona for 22 years, and before that in California for nine years. But we've lived all over the US: Prior to California, we were in Portland, OR, before that St. Louis, MO, and before that, Des Moines, IA.
We owned our own business for 10 years and then finally opted to sell it and venture down to the Phoenix area back in 1998, where we raised our three kids. I worked for SRP (Salt River Project) Electric in Mesa for 16 years and just retired in October 2019.
Congratulations! Lori, tells us about you…
Lori: In addition to being married for 40 years and raising our family — I didn't work when the kids were younger — I've spent the last 21 years working in the accounting department for University of Phoenix. Well, I moved over to University of Phoenix in 2017 but started with their parent company, the Apollo Group, in 1999. My plan is to retire on September 29, 2023!
That's such a specific date! Sounds like there's a story there.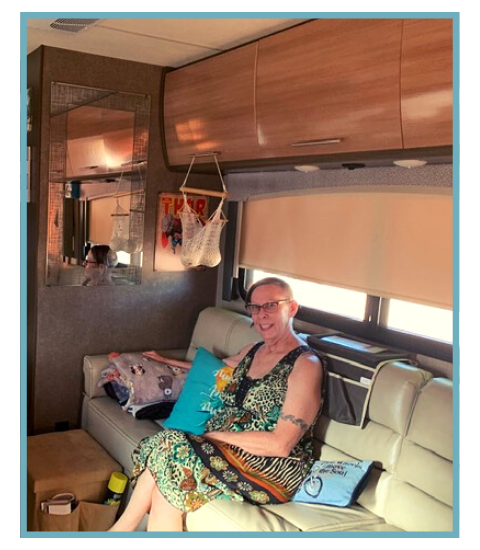 Lori: Oh, there is. I left work at Thanksgiving several years ago to start chemo for a cancer diagnosis and spent a year working from home. When I completed my treatments and was ready to return to work full-time, I knew I didn't want to work in an office five days a week. So, I moved to Accounts Payable to continue to work more from home — even if "home" is an RV park for a couple of weeks or months. It's nice to be able to work remotely.
That decision has been good for my health and has allowed me to experience some of this "work-life balance" we hear so much about. Plus, I'm so much more productive! Add to this a diminished carbon footprint and not getting steeped in internal politics. It's been great! But, I'm ready to join Dwight in retirement. I turn 63 on September 29, 2023, and that's the day I'll retire. Everyone at work knows that I've got this date marked on my calendar, and the countdown has begun!
Ha, we love it! We're also sorry you had to go through that cancer diagnosis, and we hope all is well.
Yes, I'm doing well now, thank you.
We know you love to travel. Tell us how you got into camping and RVing specifically.
Lori: Back when we were first married, we bought a tiny pup tent that we actually still have! We were poor newlyweds, and we had a dog who loved to go camping with us. Then we had our first two kids, and they didn't like the tent. So, we upgraded to a tiny camper outfitted simply with a stove, bathroom, and two beds. That's it!
The first night we camped in it, our young son slid out of the top bunk and landed right on us below! So, we installed a guard rail and camped in that for a couple of years.
Ah, great story! Sounds like one of those family vacation memories you don't forget.
Lori/Dwight: Exactly! Then, when we moved to Arizona, we sold that little camper. For the first couple of years after that, we didn't do a lot of camping while our kids were teenagers. But we slowly ventured back into camping after our kids left home.
We purchased a pull-behind travel trailer that we didn't have for long. It was a lot of work, and we were too old for that! And then, long story short, we bought our 2018 Thor Vega Class A motorhome. It was the best decision!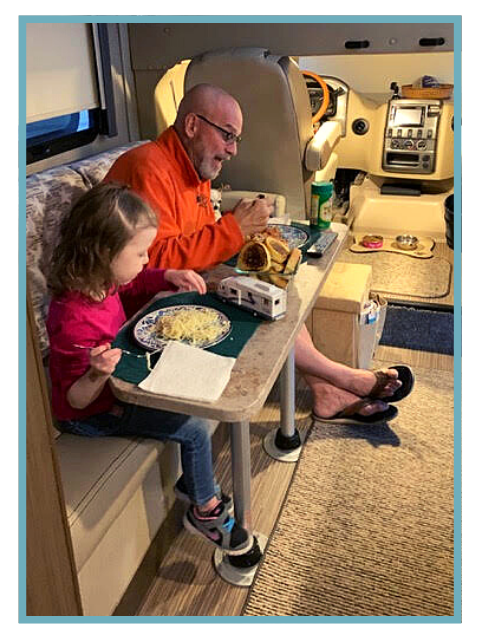 Our adult kids join us all the time, and our little granddaughter, who is almost 7 years old, is our new camping buddy. She loves it, and we can only hope that this sense of adventure grows for her.
Speaking of adventure, we took our youngest daughter and our granddaughter to Disneyland in the RV this past March and had a magical time!
Oh, how wonderful! We know that's another family memory you'll all treasure forever. So, tell us about RV life after Disneyland.
Dwight: Well, we've stayed in RV parks by Tombstone and Show Low, as we've mentioned. In fact, we were home from Disneyland for just one week when we decided to hit the road again. So, we packed up the RV and went to Tombstone. We thought it would be for two weeks, but that ended up turning into 2-½ months!
Wow, what drove that decision?
Dwight: Well, when the beginnings of the pandemic hit this past spring, we were in Tombstone, as you know. When it came time to leave after two weeks, we thought, "Why are we leaving? With everything going on right now in the world, it's peaceful and isolated here." So, we stayed through May.
Lori: Then, it started getting warm in Tombstone, so we came home for the month of June. We'd booked a spot in Show Low for July and August because it's cooler there, and then once again, we ended up staying through September!
Dwight: It might sound odd, but the pandemic, awful though it is, has been a bit of a blessing in disguise. It has allowed us to ease into a "sort of" full-time RV lifestyle that we've talked about during most of our marriage. With both our Tombstone and Show Low trips, we only intended to stay for a few weeks. But with the evolution and continuation of the pandemic, we ended up staying longer than planned in both places. So far this year, we've lived about five months full-time in our RV.
So, we can see where this might be heading. Do you plan to shift to full-time RV life soon?
Dwight: We think so. Another thing about easing into the lifestyle: We really had to see if we could live in such close proximity to each other. Even after 40 years of marriage, there can still be such a thing as needing some personal space! We were worried about relationship dynamics, but, again, these opportunities to ease into a kind of "full-time" RV lifestyle have shown us that we'll do okay.
We certainly understand you there! Lori, do you agree?
Lori: Oh, yes! We're ready to go!
Dwight: Everyone is ready to go! You probably know that there's been something like a 300% increase in RV purchases since the pandemic hit. Everyone wants to get out of the craziness, to become nomadic RVers.
Yes, RV sales are through the roof right now! So, what's next for you and Lori?
Dwight: We don't have plans to go anywhere until after the holidays. We consider our current motorhome a "weekender." We're contemplating selling our home over the next year or so and buying a bigger motorhome and living in it full-time.
But there are so many factors involved in making a decision like that. We'll definitely be watching the economy closely and have to see what happens with the pandemic. These and other things will help us decide how long to stay put and when to pull the trigger.
That said, we do plan on going back to Show Low from May until October in 2021. We like to stay at the Ranchero RV Park right before you get to Lakeside. We're just attracted to this particular place; it really takes us back to our RV roots.
There are so many great RV parks in Arizona, each with their own attributes. We're glad that you found some that are a good fit for you.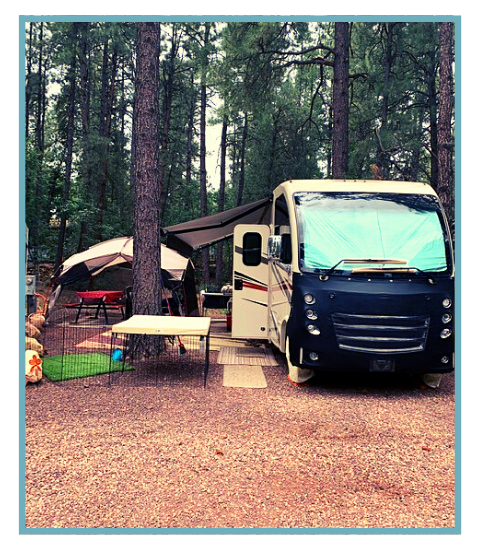 Dwight: We are too. I'll tell you a little story about Show Low. As you know, we have this 2018 motorhome. It only had about 10,000 miles on it at the time. We drove to Show Low with no issues. We stopped to get gas and then got to the RV park right off the highway. We didn't expect anyone to be there to meet us onsite since it was a Sunday.
Well, when we went to move the RV to our lot, we couldn't get the RV out of park and into drive. We were pulling a 14-foot trailer behind us, and we thought, "What are we going to do?" We called the roadside assistance company. They finally sent a tow truck driver out. He figured out that the cables had been burned through.
This tow truck driver had to climb into our RV to switch the gears so that we could get into our spot. That man stayed with us for more than an hour and even showed Lori how to shift gears while I steered the RV.
We also had a couple small generator mishaps during our stay, but the point is that everyone was willing to help us! We love that kind of small-town, neighborly mentality.
What a great story, and you're so right. A good, helping hand can turn anything — whether it's a minor inconvenience or a major catastrophe — into a bright spot. What else do you look forward to when you transition to full-time RV life?
Dwight/Lori: Besides having fewer responsibilities, we love meeting people in the same scenario. As you well know, there's an unwritten camaraderie among RVers. We love building that network, and that includes people like Lisa at Carefree.
Lisa has been the biggest attribute at Carefree. Storing our motorhome there is an easy process, just like RVing is supposed to be. It's secure and inviting, and we love the amenities and one set fee. There's honesty, transparency, and no hidden agenda — all things that aren't around much anymore. There's no need to worry with Carefree. They couldn't have come up with a better name!
Thank you so much for that feedback! This has been a delightful conversation. Thanks again for your time. We hope you have happy holidays and enjoy your time in Show Low next year. And during that in-between time, we trust you'll be thinking a lot about your next exciting chapter of RV living. We can't wait to see where you land!
Dwight/Lori: You and us both! Thank you!
Come Home To Carefree Covered RV Storage
Between adventures, Carefree Covered RV Storage in Apache Junction and Chandler, AZ offers safe and secure covered storage near you for your RV, boat, or trailer storage needs. We understand what your vehicle means to you. It's a big investment and a cherished memory maker, and our on-site managers treat it like our own.
Check out our facility video and tour, then stop by and we'll get your rig set up. When you store your recreational vehicles with us, you'll enjoy secure, quality covered RV storage with our 42-camera video surveillance, along with 365-day automated access with our phone gate app, charging outlets, free wifi, and free self RV wash and sewer dump. We've even got complimentary bags of ice! Also need a storage unit for additional small recreational toys, equipment, and supplies? We've got them!
At Carefree Covered RV Storage, you're guaranteed peace of mind, protection, and personalized, old-fashioned service. We make it easy for you to rent and make payments online, maintain your vehicle, and get on the road — so that you can keep living the carefree life!